Discover John Thomson's incredible images of China
Discover John Thomson's incredible images of China
21 May 2019 - 13:52 BY The Arts Society
John Thomson spent four years photographing regions of China and is regarded as one of the most influential photographers of his generation. He was travelling just two decades after the invention of the medium, carrying a portable darkroom and bottles containing poisonous chemicals. He captured everything from architecture and rural life to landscapes and street scenes, but he also had a particular focus on women from every social class. To coincide with an exhibition of his work at the Russell-Cotes Art Gallery & Museum in Bournemouth, we take a look at a few of his arresting portraits.
---
A MANCHU BRIDE

Photograph by John Thomson, 1871. Credit: Wellcome Collection. CC BY
Thomson took many photographs of Manchu brides and their magnificent wedding costumes. In this example he adopted a style that is both discreet and intimate, showing his sensitivity towards the sitter. The glimpse of sadness in her eyes reflects a gloomy view of a Manchu bride's prospects in marriage: Thomson likened it to a life of slavery.
---
Canton (Guangzhou), Kwangtung province, two Cantonese boat women

Photograph by John Thomson, 1869. Credit: Wellcome Collection. CC BY
At the time that Thomson travelled to China, many of Guangzhou and Hong Kong's poorest communities lived on boats, a practice that only began dying out as recently as the 1950s.Boats provided a more comfortable way of living and also a source of regular income, not to mention a convenient mode of transport. A single boat was often home to an entire family.
---
Canton (Guangzhou), Kwangtung province, a Cantonese woman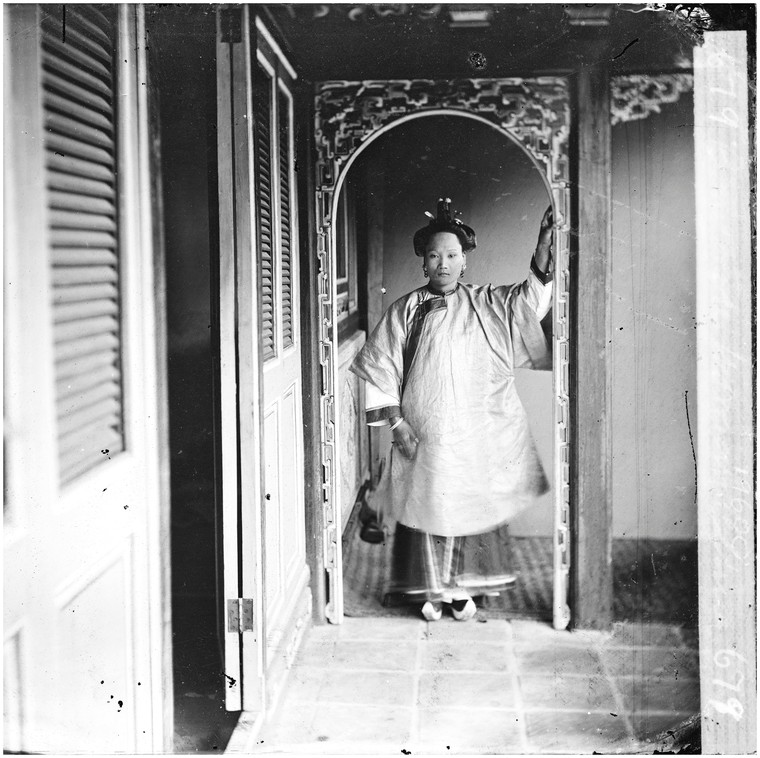 Photograph by John Thomson.Credit: Wellcome Collection. CC BY
Portraits were a vital aspect of Thomson's photographic work and a regular source of his income. Throughout his journeys in China he adapted his style to local taste, but also tried to give as accurate a record as possible of a wide range of Chinese society and life. He was particularly interested in portraying women of varied social backgrounds, including subjects such as this wealthy Cantonese lady wearing a silk robe and a stylish hair ornament.
---
Manchu lady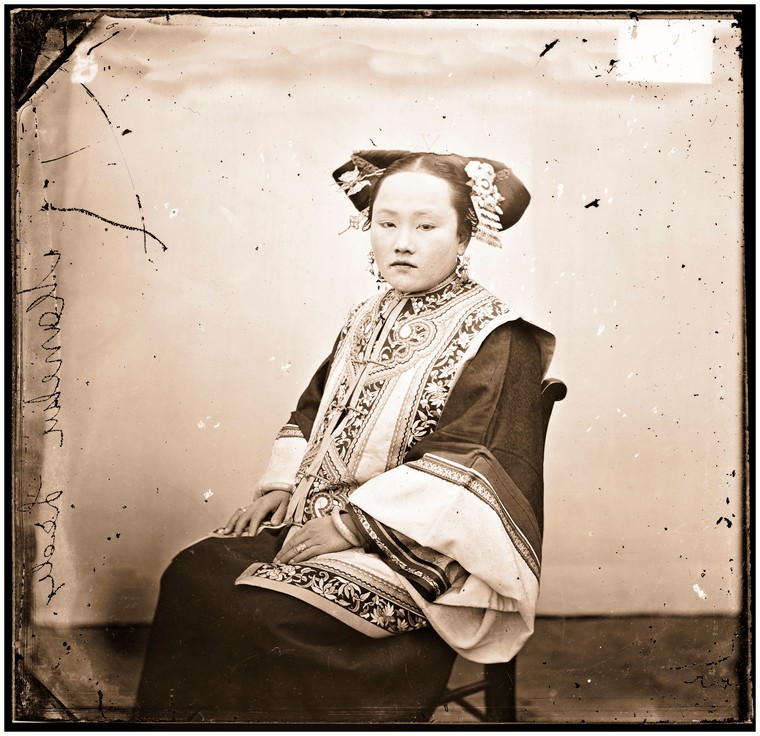 Photograph by John Thomson. Credit: Wellcome Collection. CC BY
Thomson was fascinated by the different hairstyles he saw on his travels. This coiffure, worn by a married Manchu lady, was a trademark style in the late Qing era. It required the hair to be wrapped up in an elaborate triangular pattern around a wood, ivory or metal fillet fastened behind the head. When completed, a coiffure extended out at the back as well as to both sides. Flowers or tassels were often attached to make it more impressive.
---
SEE

China: Through the Lens of John Thomson (1868–1872)
Until 2 June
Russell-Cotes Art Gallery & Museum in Bournemouth
Become an instant expert!
Find out more about the arts by becoming a Supporter of The Arts Society.
For just £10 a year you will receive invitations to exclusive member events and courses, special offers and concessions, our regular newsletter and our beautiful quarterly arts magazine, full of news, views, events and artist profiles.
FIND YOUR NEAREST SOCIETY