CURATOR'S CHOICE: THE WILD AND CULTIVATED ROSE
CURATOR'S CHOICE: THE WILD AND CULTIVATED ROSE
Curator Amy de la Haye talks us through some of the incredible pieces now on show at the Garden Museum
---
The rose is a powerful symbol. It can represent romance, beauty, power and pain, and has been used as a sociopolitical, sartorial and literary motif for centuries. All of these ideas are explored in the Garden Museum's latest exhibition, Wild & Cultivated: Fashioning the Rose, which brings together everything from Victorian postcards to contemporary couture. Curator Amy de la Haye – who collaborated with set designer Simon Costin – introduces us to some of the most wonderful objects on show.
---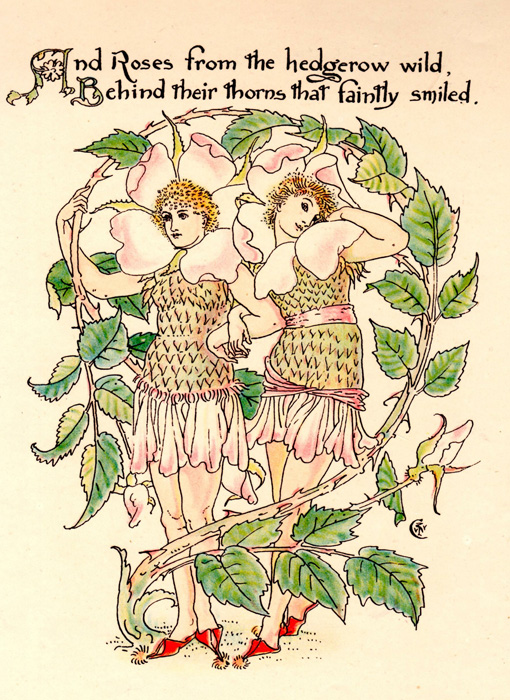 ---
Walter Crane, Roses, 1889
This is a wonderful example of flower personification, which comes from a book written and illustrated by Walter Crane, titled Flora's Feast. Historically, it is primarily female bodies that have been likened to roses. However, these two figures are what we might now term gender neutral, and Crane has naturally queered the image by employing a form of quasi-medieval dress that alludes to courtly love.
Crane was very interested in dress; he campaigned against cumbersome and corseted trends for women as a member of the Healthy and Artistic Dress Union. Here, he pays real attention to the garments, and plays on one of the main explorations within the exhibition, which is perceptions of sexuality in terms of 'natural' and 'unnatural', the idea of wild and cultivated.
---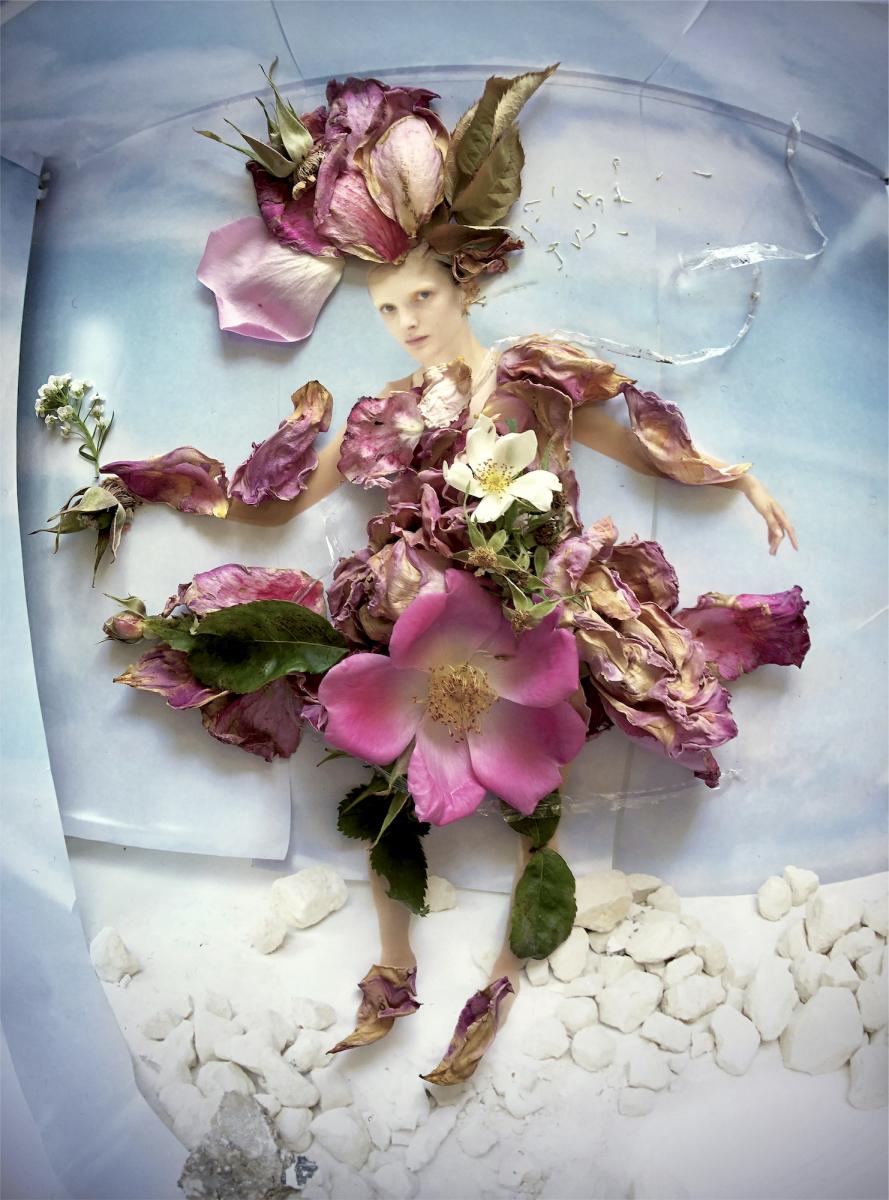 © Tim Walker Studio

---
Tim Walker, Primrose Archer Dressed In Flowers From My Garden, Hackney, 2020
This image could not be more apposite in relation to Walter Crane's illustration. Tim Walker is known for his high-end fashion photography, but he took this photo on his iPhone, placing petals from his garden on top of an image of model Primrose Archer. It is the lead image for the exhibition, so beautiful and delicate, and something of a contemporary counterpart to Crane's rose-ification of bodies.
---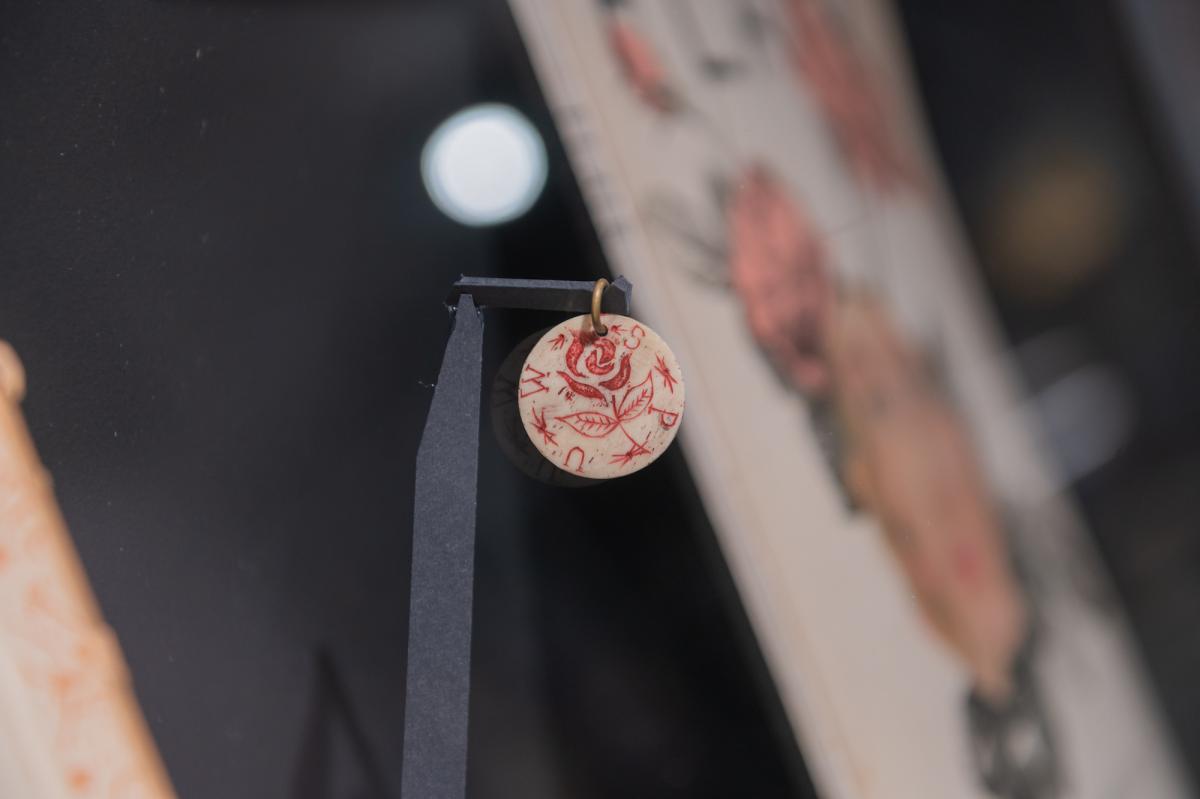 ---
Women's Social and Political Union lapel pin, enamel engraved on bone, 1916
I found this lapel pin on eBay, sold by someone who had a vast collection of objects that were once in a museum that has since shut down. The pin is slightly smaller than a 10p piece and is made from very thin bone. On one side there is an engraving of a pink rose, along with the initialism WSPU, which stands for the Women's Social and Political Union – the most radical branch of the suffragette movement. On the other side it reads 'hunger strike 1916' in black, marking the fact that the women who wore these pins protested while incarcerated in Holloway Prison.
The rose has been a political symbol since the War of the Roses, but it really sprung up again in around 1910 within the creative industries. It has been used to raise awareness about LGBTQI rights, gender identity and anti-female genital mutilation campaigns. Although the rose was not a core motif for the British suffragette movement, a yellow rose was often used in the USA, while a red rose was the symbol of anti-suffrage. So this is quite an extraordinary object.
---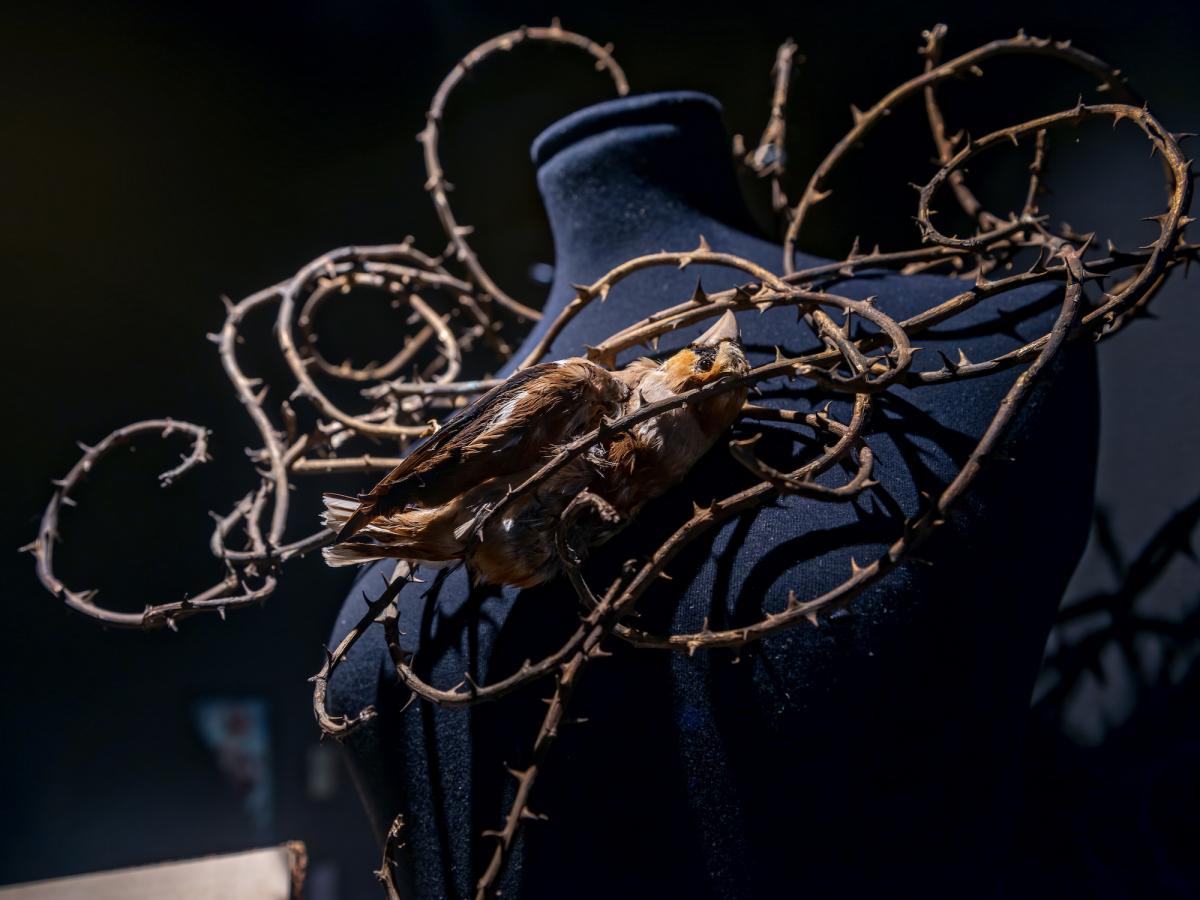 ---
Simon Costin's The Nightingale and the Rose necklace, 1989
This necklace is made from rose branches and features a stuffed nightingale and a dried red rose. It is inspired by Oscar Wilde's tragic fairy tale of the same name, in which the songbird pierces its heart with a thorn and dies, in order to give a young lover a red rose. Unfortunately, the girl the young man loves is swept away by a much richer man, and he throws the rose into the gutter. This wonderful necklace is beautiful, but it mirrors the pain that was suffered by the nightingale by inflicting it back onto the wearer.
The funny thing is that Costin (who was my creative collaborator on this show) had the necklace packed away for about 10 years, and when he unpacked it for this exhibition, the poor nightingale – who had bled to death in the story – had completely perished. So in this show, we have a surrogate finch!
---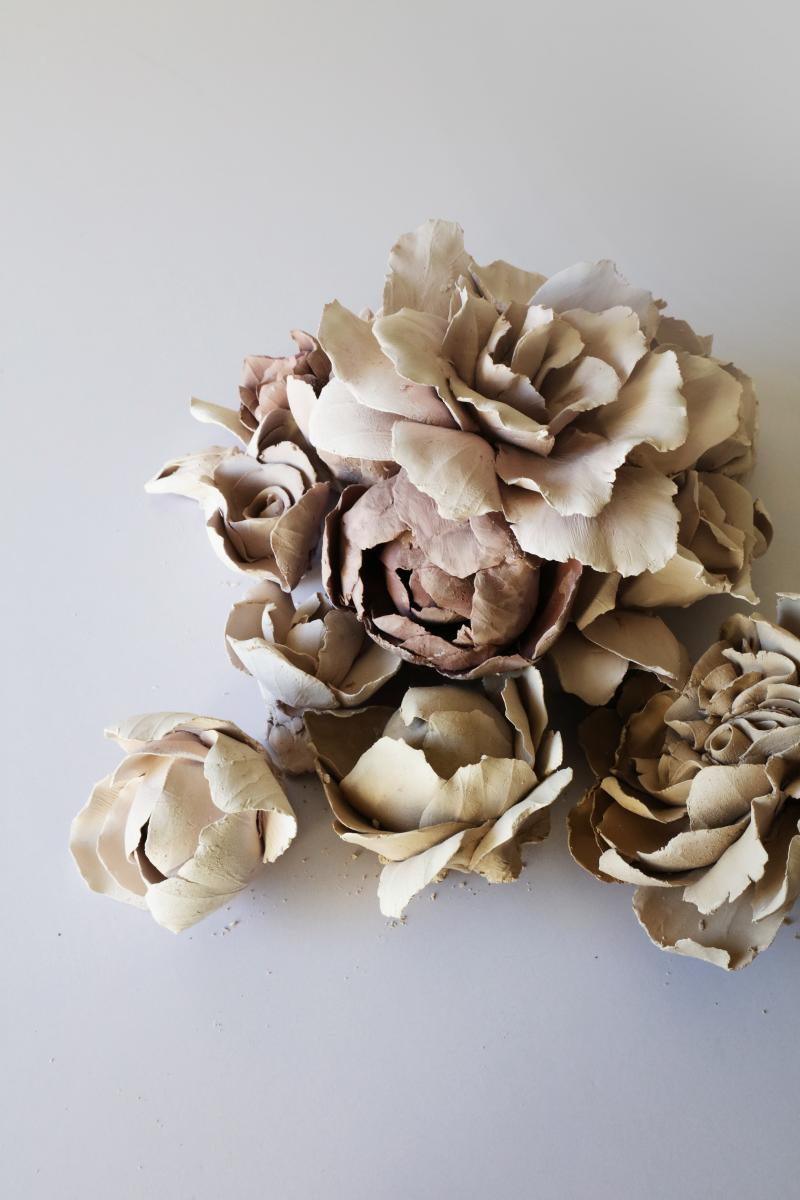 ---
Phoebe Cummings, Study – Roses, 2022
Phoebe Cummings has made an installation for the exhibition out of raw clay that features all kinds of different roses, rendered in different colours. They appear in something of an unstable state, and there is a beautiful fragility to them that can be likened to human life. Cummings explores ceramics as a time-based medium, and the work is designed to disintegrate. In a way, she is creating the imagined gesture of a flower. The genus of the rose is sumptuous and promiscuous, which is why they grow nearly all over the world, but the flower itself is fragile.
---
© IMAX Tree

---
Philip Treacy hat in Alexander McQueen's Spring/Summer 2007 collection, Sarabande
To my mind McQueen is fashion's rosarian, and the aesthetics of roses have been continued by Sarah Burton, who is the label's creative director. She has spoken about recalling the rose festivals of her childhood, which are lesser known than May Day nowadays. Every year in June a young woman would be chosen for her skills and virtues to be crowned the Rose Queen, and she would be adorned in roses and accompanied by maidens, and festivities would include dancing around a rose pole, as opposed to a maypole. This hat was designed by Philip Treacy for Sarabande, which was the most romantically floriate of all his collections. The hat is shaped like a huge bouquet of flowers, complete with enormous stalks.
---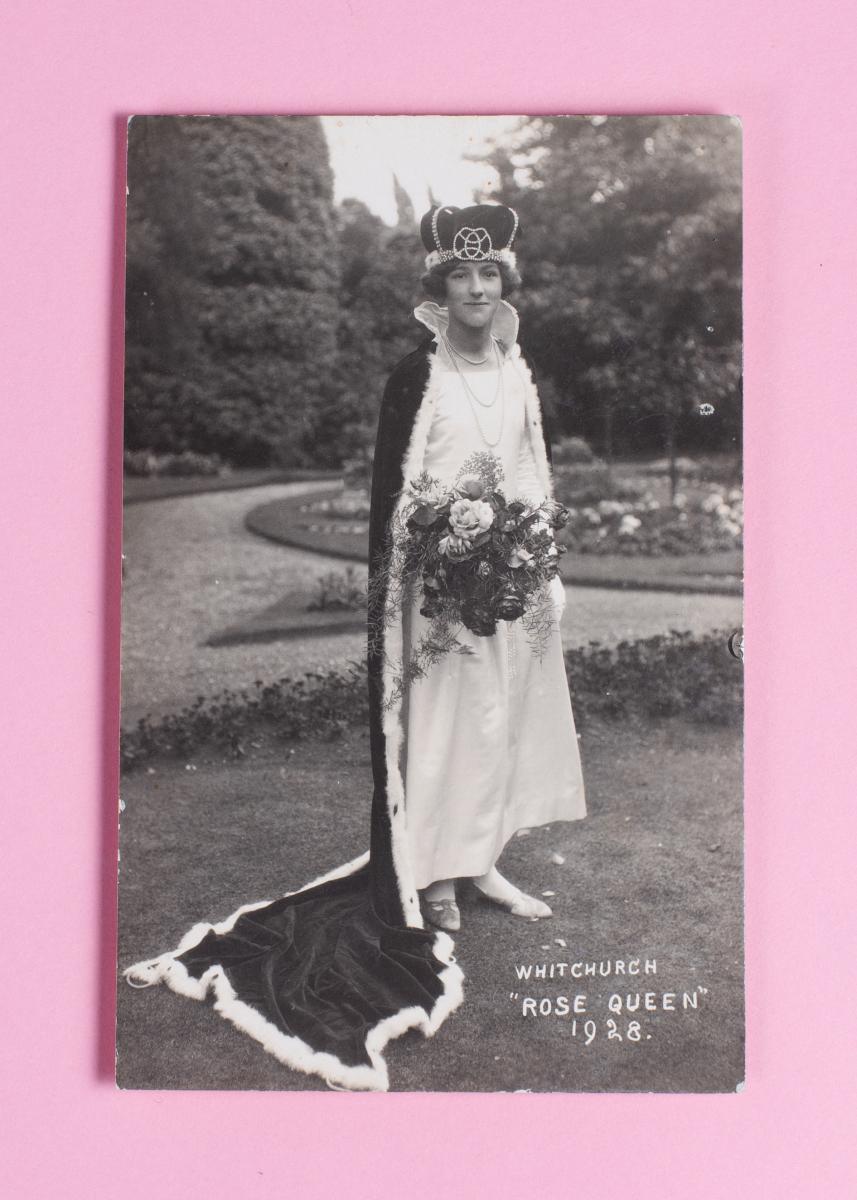 Photographic postcard, 'Whitchurch "Rose Queen" 1928', un-posted

---
SEE

Wild & Cultivated: Fashioning the Rose, at the Garden Museum, until 19 June
About the Author
Amy de la Haye
Professor Amy de la Haye is a curator, writer and tutor. She is Rootstein Hopkins Chair of Dress History & Curatorship and Joint Director of the Research Centre for Fashion Curation at London College of Fashion, UAL.
Become an instant expert!
Find out more about the arts by becoming a Supporter of The Arts Society.
For just £20 a year you will receive invitations to exclusive member events and courses, special offers and concessions, our regular newsletter and our beautiful arts magazine, full of news, views, events and artist profiles.
FIND YOUR NEAREST SOCIETY