Curator's Choice: Pablo Bronstein's visions of hellish excess
Curator's Choice: Pablo Bronstein's visions of hellish excess
Dr Louise Stewart introduces us to the artist's surreal and sinister vision at Sir John Soane's Museum
---
Hell in its Heyday, the latest temporary exhibition at Sir John Soane's Museum, presents a group of large watercolours by British-Argentinian artist Pablo Bronstein, who is known for his surreal visions that interrogate the principles of historical architecture, whether it be through drawing, installation, performance or a wonderful mix of all three.
His latest works were created especially for the museum, where he has spent a considerable amount of time since his youth. The pieces imagine hell as a decadent, monumental city that the visitor is invited to tour. As we visit hell's casinos, gardens, resorts and cinemas, it seems that every desire and pleasure can be satisfied. We have invited Dr Louise Stewart, curator of exhibitions, Sir John Soane's Museum, to share the stories behind some of these surreal and sinister works.
---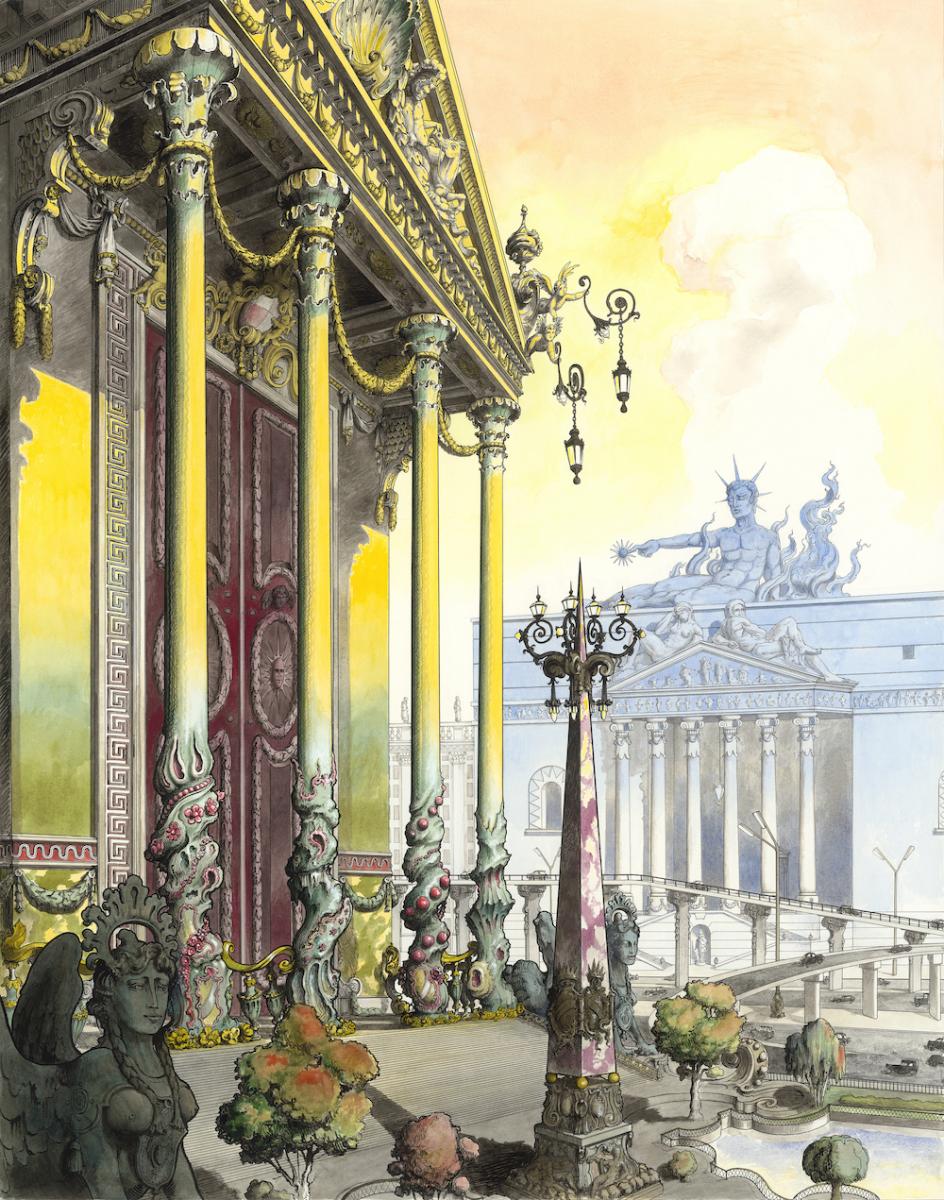 ---
Central Bank and Administrative Buildings
Ink, watercolour and pencil on paper, 2020-21
A visit to hell begins in this ceremonial city square. The eccentric columns of the bank in the foreground are designed to represent tree trunks, demonstrating the origins of the classical orders of architecture from trees and plants. They also refer to the bank as being intrinsic to hell, as the trunk is to the tree. In the background sits a temple-style administrative building with a statue of Lucifer on the roof. At the centre of the image is an elevated motorway, which cars whizz along. The rich ornament, symbolic architecture and modern road are typical of Bronstein's vision of a hell in which there is little distinction between the monumental and the mundane.
---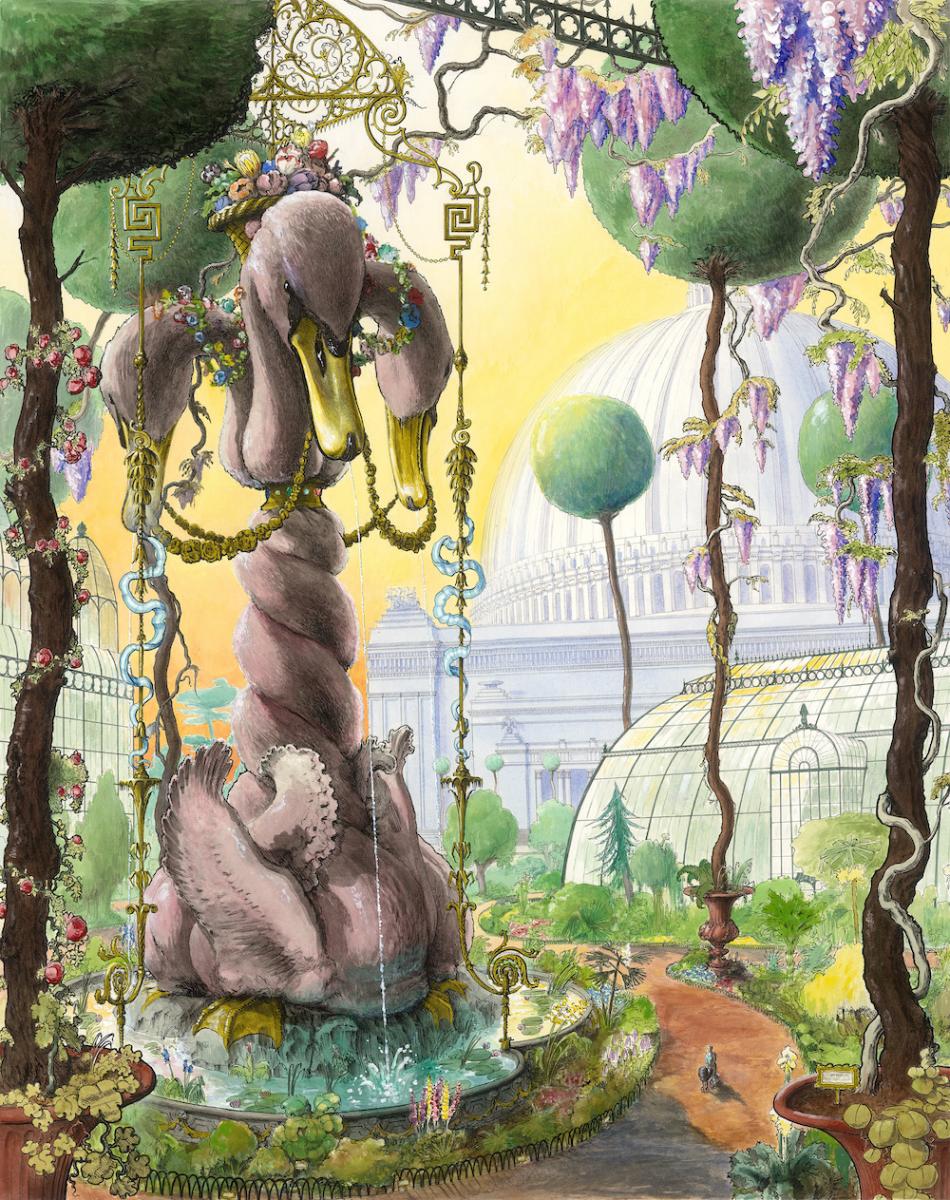 ---
Botanical Gardens
Ink, watercolour and pencil on paper, 2020-21
At first glance, this is a thoroughly enticing image of hell's botanical gardens, with its picturesque fountain made up of pink swans, framed by trailing roses and wisteria. However, the image contains a number of unsettling elements. The swans' necks are torturously twisted and cruelly clasped together. The sky is a sickly yellow. The huge building that dominates the background of the image is Albert Speer's Volkshalle, intended as the centrepiece of Adolf Hitler's Germania following the planned Nazi victory in World War II. These features undermine the viewer's pleasure in a seemingly attractive image.
---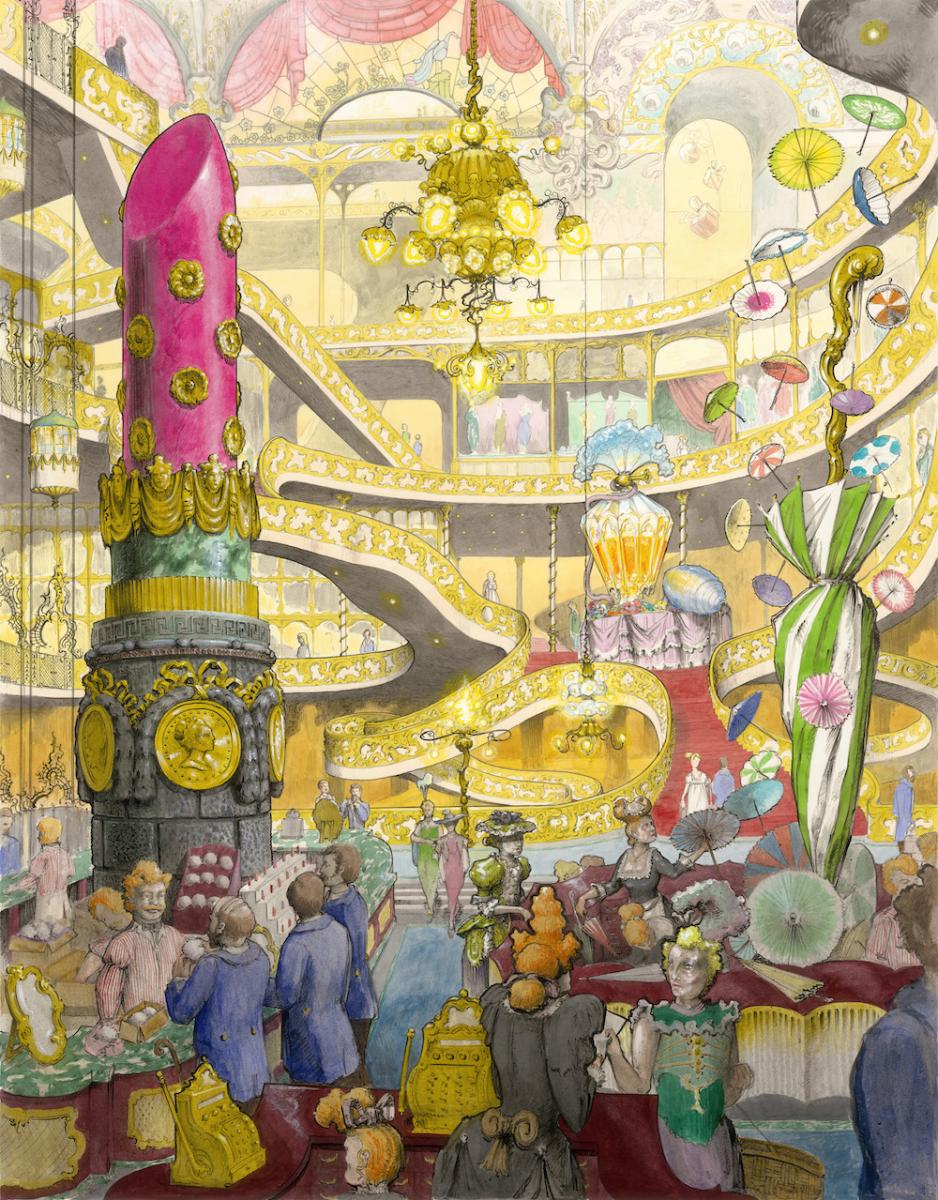 ---
Department Store
Ink, watercolour and pencil on paper, 2020-21
Bronstein's hell is characterised by seemingly limitless consumption. In this department store, a lipstick in the style of Giovanni Battista Piranesi advertises the marble-topped cosmetics counter, where a sale of powder puffs is currently under way. Across the aisle, a cascade of coloured parasols tumbles from on high. Each mezzanine is dotted with entertaining retail experiences, including a perfume promotion with a giant scent bottle. The multitude of Art Nouveau light fittings illuminate the merchandise and create a dazzling visual spectacle. The elaborate decoration suggests that in hell, shopping is the ultimate cultural experience.
---
---
Container Ship
Ink, watercolour and pencil on paper, 2020-21
This barge carries red and white shipping containers and is encrusted with golden, Baroque ornament. Atop the modern command tower are figures of ancient sea gods Neptune and Amphitrite riding a chariot in triumph, while Hokusai's The Great Wave is placed in the foreground. The watery landscape is in a chinoiserie style, with pagodas and temples evoking the types of imagery created in China for export to 18th- and 19th-century Europe. All of this suggests that in hell, art functions to serve trade and wealth.
---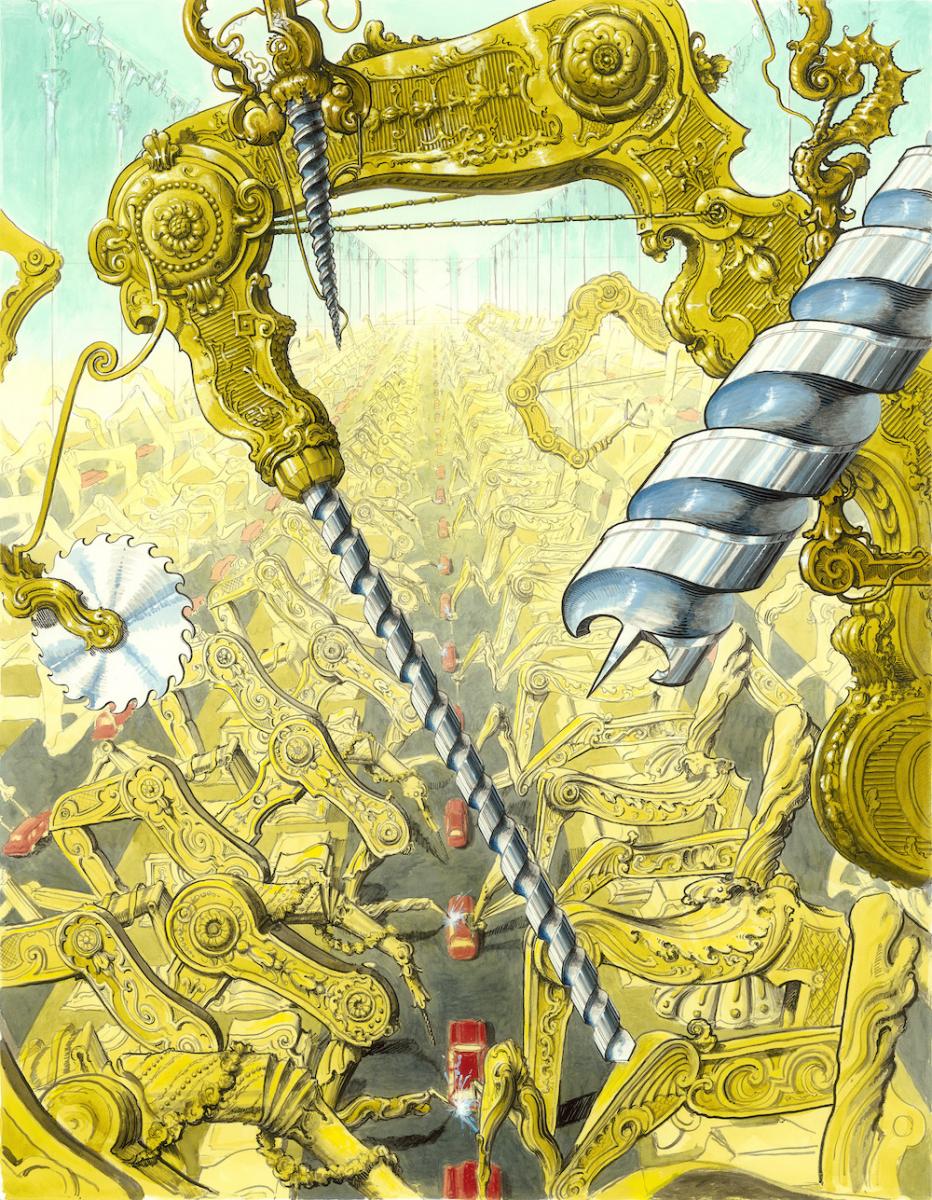 ---
Car Plant
Ink, watercolour and pencil on paper, 2020-21
A factory produces an endless stream of glossy, red cars. The machines compete to outdo each other in their ormolu decoration, while the shiny, barley-twist drill-bits appear to have been lifted directly from 1950s advertising imagery. The car plant's seemingly endless repetition and recession instils a sense of vertigo and a type of claustrophobia. This is an image of total mechanisation in which humans have become obsolete.
---
SEE

Pablo Bronstein: Hell in its Heyday
At Sir John Soane's Museum until 2 January 2022
About the Author
Dr Louise Stewart
Dr Louise Stewart is Curator of Exhibitions, Sir John Soane's Museum
Become an instant expert!
Find out more about the arts by becoming a Supporter of The Arts Society.
For just £20 a year you will receive invitations to exclusive member events and courses, special offers and concessions, our regular newsletter and our beautiful arts magazine, full of news, views, events and artist profiles.
FIND YOUR NEAREST SOCIETY