Curator's choice: Celebrating the wild world of Eileen Agar
Curator's choice: Celebrating the wild world of Eileen Agar
The multidisciplinary artist was never stifled by convention, as a new retrospective at the Whitechapel Gallery shows
---
Eileen Agar never adhered to convention. She combined Abstract and Surrealist principles, utilising collage, assemblage, painting, photography, sculpture and more to create her own distinct world. She was inspired as much by Cornish beaches as she was the philosophical conversations of the avant-garde (she counted André Breton, Dora Maar, Lee Miller and Man Ray among her friends) and exhibited with some of the most celebrated artists of the day. Yet her eclectic vision has been largely overlooked, until now. To celebrate her major retrospective at the Whitechapel Gallery, curators Laura Smith and Grace Storey talk us through five of her most inspired works.
---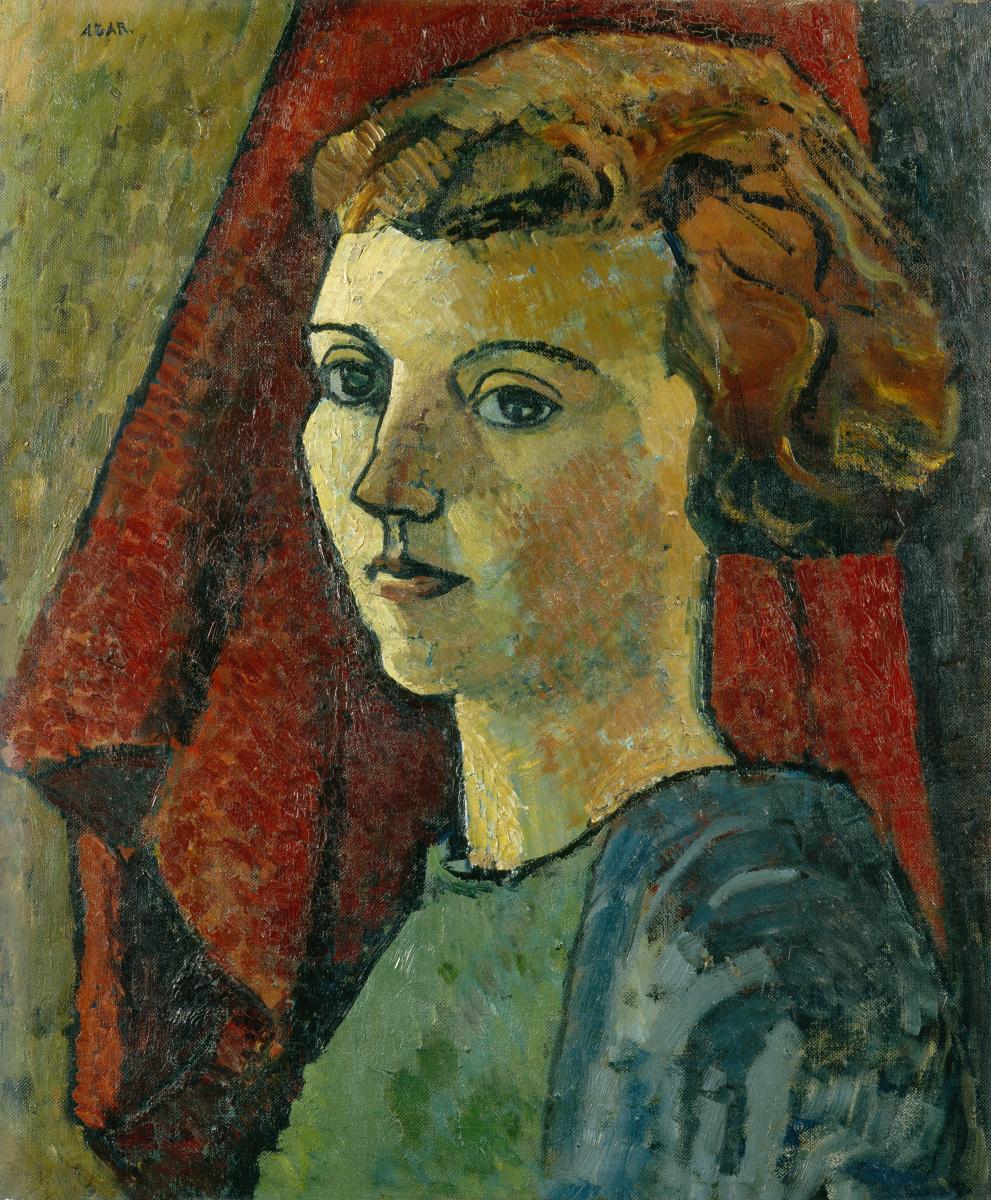 Eileen Agar, Eileen Agar, 1927. Oil on canvas © Estate of Eileen Agar/Bridgeman Images

---
​Self-Portrait, 1927
In 1925, following her education at The Slade, Agar, frustrated by its traditional teachings and embroiled in a rift with her parents, ran away to Cornwall and shaved her head 'to celebrate my new freedom!'. The same year she destroyed the majority of her work to date, dissatisfied with its development. She returned to London in 1926 and moved into a flat alongside her new lover, Joseph Bard. Here, she was able to paint with a newfound self-assurance: 'Everything I had done before was academic in approach, careful of other men's teaching.' She created Self-Portrait to represent her burgeoning confidence. Painted in thick impasto, it has a fresh, sunlit look, celebrating Agar's new approach to expression and her self-reliance as a worthy painter: 'I had thrown off the shackles and started a new life, and I painted what may be considered my first successful work.'
---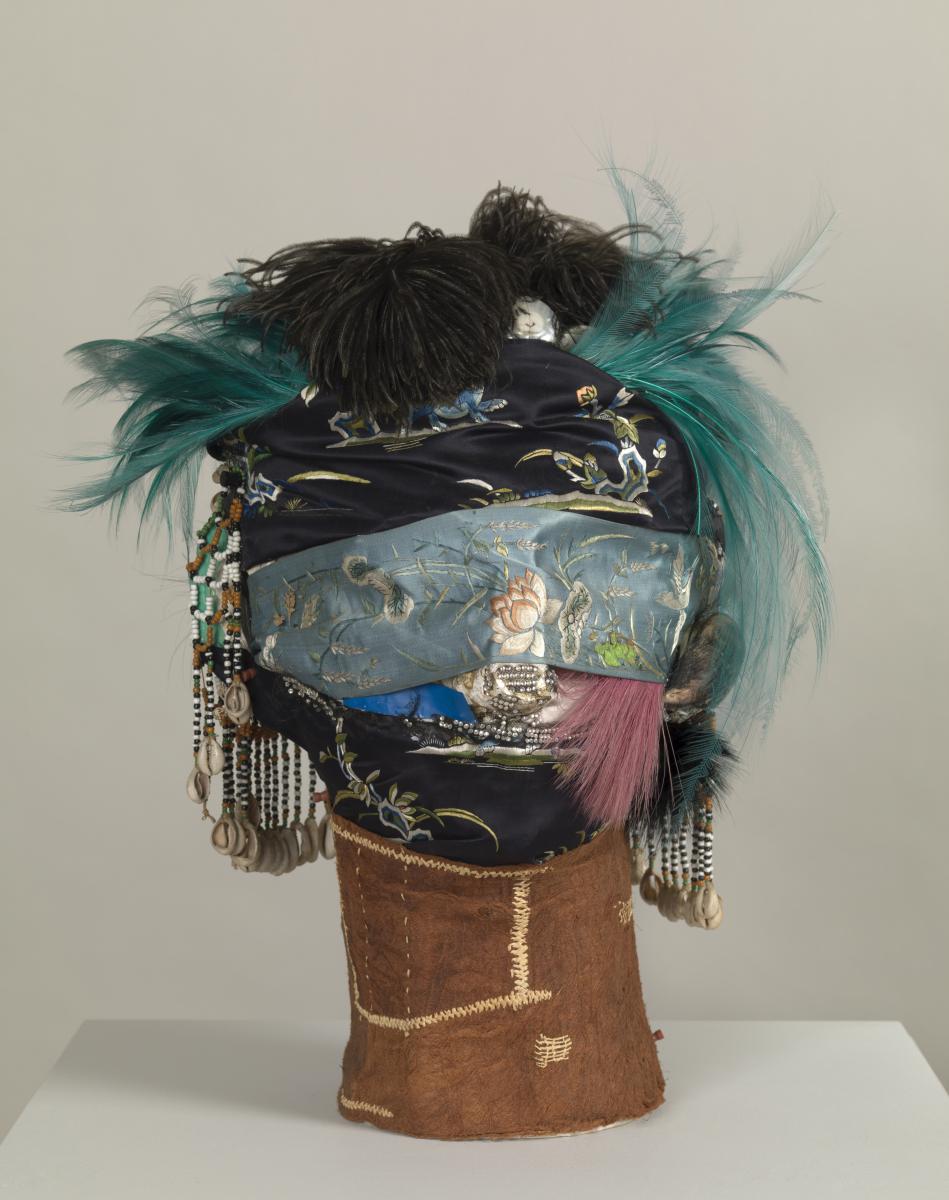 Eileen Agar, Angel of Anarchy, 1936-1940. Plaster, fabric, shells, beads, diamante stones, other materials © Tate Images

---
Angel of Anarchy, 1936–40
This is the second version of an earlier sculpture with the same title, which was sadly lost. Both sculptures began as plaster-cast heads of Joseph Bard. When Agar initially saw the casts she was dismayed by the 'deadness' of the white plaster – 'it looked like a death sculpture'. So she adorned this version with furs, embroidered silks, gemstones, seashells and ostrich feathers. While some elements suggest facial features, others are decorative accessories. Similarly, the patterned textile is both a skin and a blindfold, creating ambiguous allusions to seduction and submissiveness, as well as a blinkering of Europe's uncertain political future. Agar stated that with this new work she wanted to create something 'totally different, more astonishing, powerful... more malign'. It suggests the foreboding and uncertainty that she felt about the future in the late 1930s.
---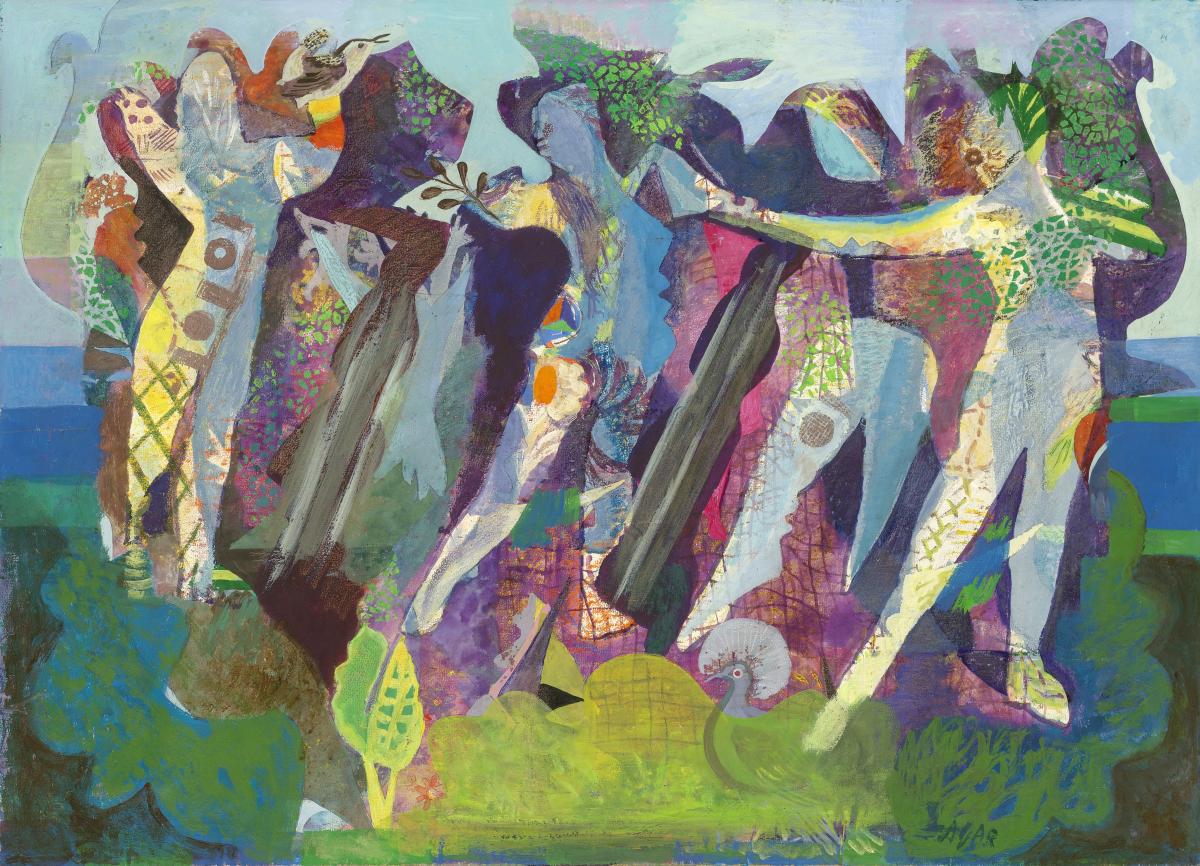 Eileen Agar, Dance of Peace, 1945. Collage and gouache on paper. © Estate of Eileen Agar/Bridgeman Images

---
Dance of Peace, 1945
Possibly the first painting Agar made after the end of the war, Dance of Peace embodies a budding and tentative optimism. Painted in pastel washes with bucolic forms, the arrangement of dancing figures seems to draw directly from Agar's processes of collage, layering and overlapping. Here semi-translucent animals, birds, leaves, flowers and faces emerge between and behind the main figures, all set against a backdrop of rolling hills and a seaside horizon. In direct contrast to the violence of war and the rapid social changes it had wrought, Dance of Peace recalls a pastoral idyll – perhaps a May Day or harvest celebration – looking fondly back to humankind's more rural past.
---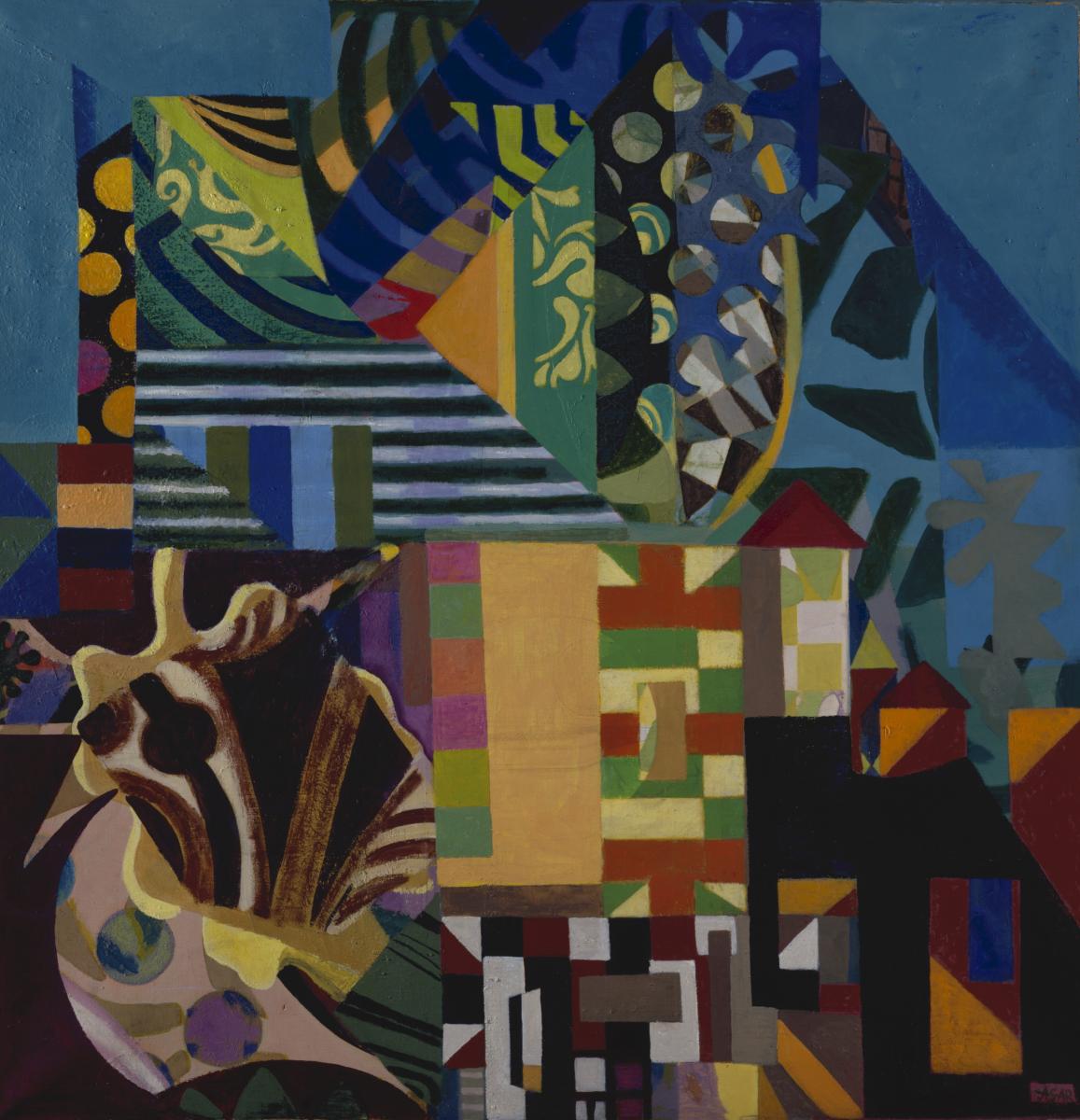 Eileen Agar, Collective Unconscious, 1977. Courtesy of Royal Academy of Arts © Estate of Eileen Agar/Bridgeman Images

---
Collective Unconscious, 1977–8
The lyricism and vibrant colouring of Collective Unconscious is highly representative of Agar's late work. The composition combines Surrealist elements – shell-like forms and hybridised foliage – with abstracted cut-outs on a densely painted surface. Although the title of the painting refers to the unconscious, in this work Agar does not employ any of the automatic techniques intrinsic to Surrealist methods that she has used elsewhere. Rather, the work is perhaps a survey of all of the forms and ideas that have influenced Agar throughout her career; the forms that collectively fill her unconscious – molluscs, shells, leaves, sea anemones, seaweeds and fossils – 'their muted colour and embedded beauty. They reach us as signals in time, isolated objects which reach to some moment far back beyond the mists of human memory.'
---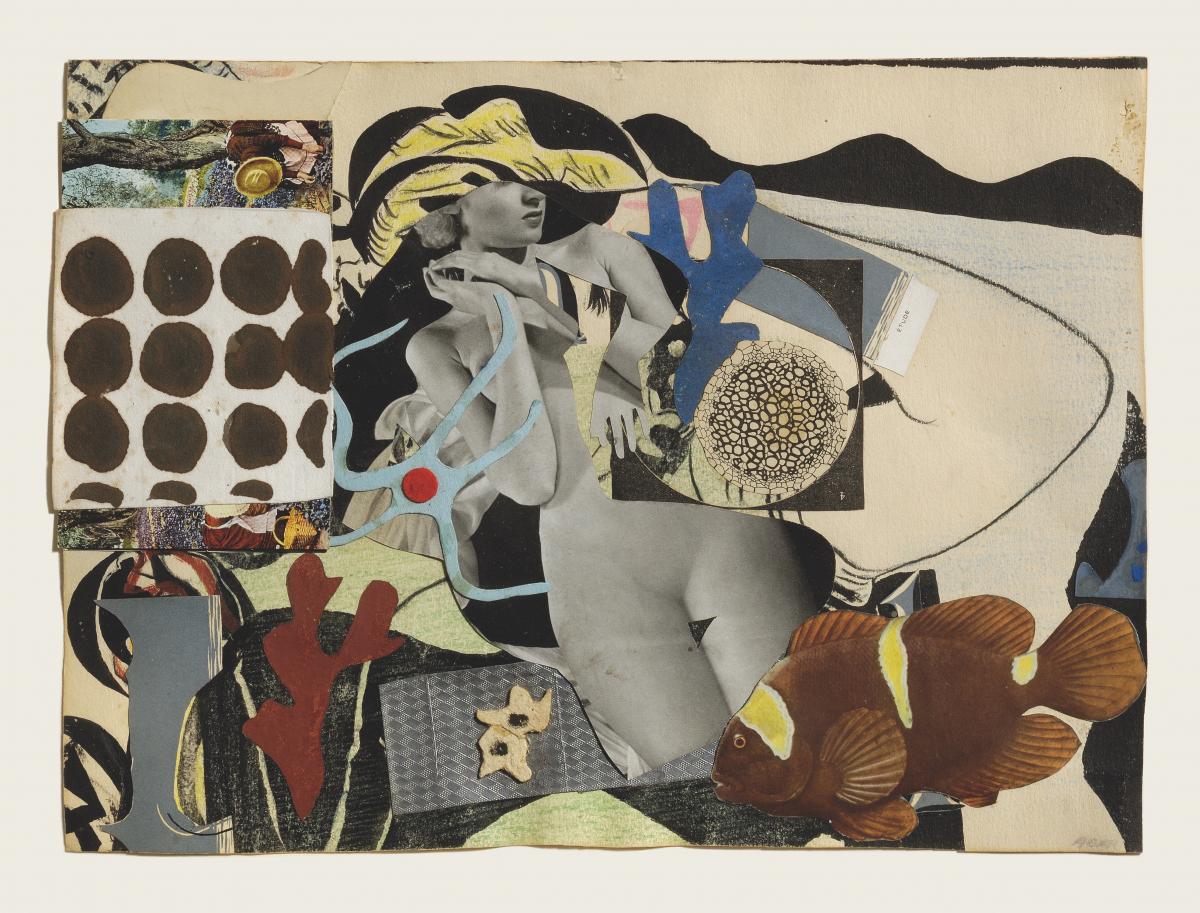 Eileen Agar, Erotic Landscape, 1942. Collage on paper. © Estate of Eileen Agar/Bridgeman Images. Photograph courtesy Pallant House Gallery, Chichester © Doug Atfield

---
Erotic Landscape, 1942
Despite the deep apprehension she felt as a result of the war, Agar embraced the medium of collage and its political and overt origins: 'How does one communicate with any subtlety when the world is being deafened by explosions?' In 1942 she had a solo exhibition at the Redfern Gallery, where she showed 24 new collages; one of these was Erotic Landscape. It depicts a cut-out photograph of a nude woman, surrounded by a fanfare of plant and marine life, wave-like drawings and twisting, cellular tendrils. A girthy tree trunk grows sideways in the top-left corner and a small spiky, black triangle peeps out of the woman's crotch. The work is dense and loaded – here, desire feels passionate and urgent. It is as though Agar is trying to summon all that is sensual and natural as a way of surmounting the struggles of war.
---
SEE

Eileen Agar: Angel of Anarchy
Whitechapel Gallery, until 29 August
About the Author
Laura Smith and Grace Storey
Laura Smith is Curator of the Whitechapel Gallery and Grace Storey is Assistant Curator
Become an instant expert!
Find out more about the arts by becoming a Supporter of The Arts Society.
For just £20 a year you will receive invitations to exclusive member events and courses, special offers and concessions, our regular newsletter and our beautiful arts magazine, full of news, views, events and artist profiles.
FIND YOUR NEAREST SOCIETY