Curator's choice: The beautiful art of botany
Curator's choice: The beautiful art of botany
The science of botany first gained traction in the 17th century when brand new worlds were 'discovered' by Europeans during the Age of Exploration. Yet the preservation and transportation of specimens often ended in failure, and thus the meticulous and creatively inspired art of botanical drawing was born.
Now, as Oxford Botanic Garden celebrates its 400th anniversary, the first major exhibition exploring the advent of plant sciences and its incredible visual history has opened at the Bodleian Libraries, complete with rare books, incredible prints, paintings and specimens. We asked the show's curator, Professor Stephen A Harris, to tell us the stories behind five incredible works on display.
---
Copper engraving Hortus Botanicus, The Physick Garden in Oxon from David Loggan's Oxonia Illustrata (Oxford, 1675)
Courtesy Bodleian Libraries

---
David Loggan was appointed 'public sculptor' to Oxford University around 1668. Among the copper engravings he made is a 'bird's-eye view' of the Physic Garden, the foundation stone of which was laid in 1621. Loggan showed the design and horticultural achievements of the first keeper of the garden, Jacob Bobart the Elder, following his appointment in 1642. The elaborate Danby Gate (completed in 1632) is guarded by two topiary giants. The walled garden is quartered by paths running north-south and east-west; each quarter surrounded by a gated yew hedge. One of the yews survives in the modern garden.
---
Oil portrait of Robert Morison, probably by William Sunman (before 1699)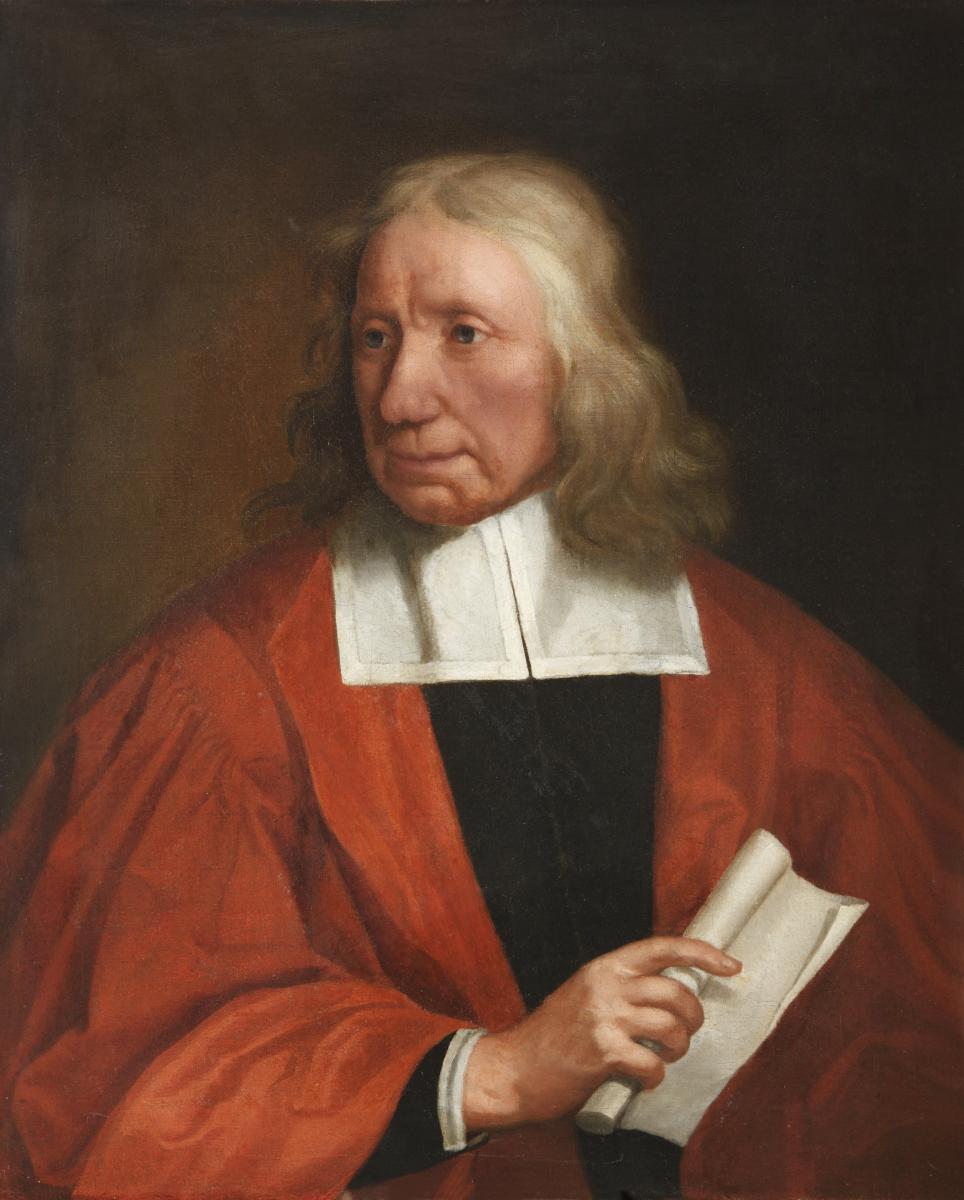 Courtesy Department of Plant Sciences, University of Oxford

---
William Sunman's portrait shows Aberdeen-born Robert Morison in his mid- to late-50s, although it is unknown whether the portrait was made from life. Morison fought the Royalist cause, escaped to France and, in 1669, was elected Regius Professor of Botany at the University, the first such position in Britain. Morison's first university lecture, in September 1670, was not about medicinal plants as might be expected, but on his fruit-based plant classification system. An affable man, who spoke rapidly with a strong accent, Morison is remembered for championing the value of illustrations in botany.
---
Pen-and-ink field sketch of American lotus (Nelumbo lutea), Mark Catesby, Carolinas [USA] (1720s)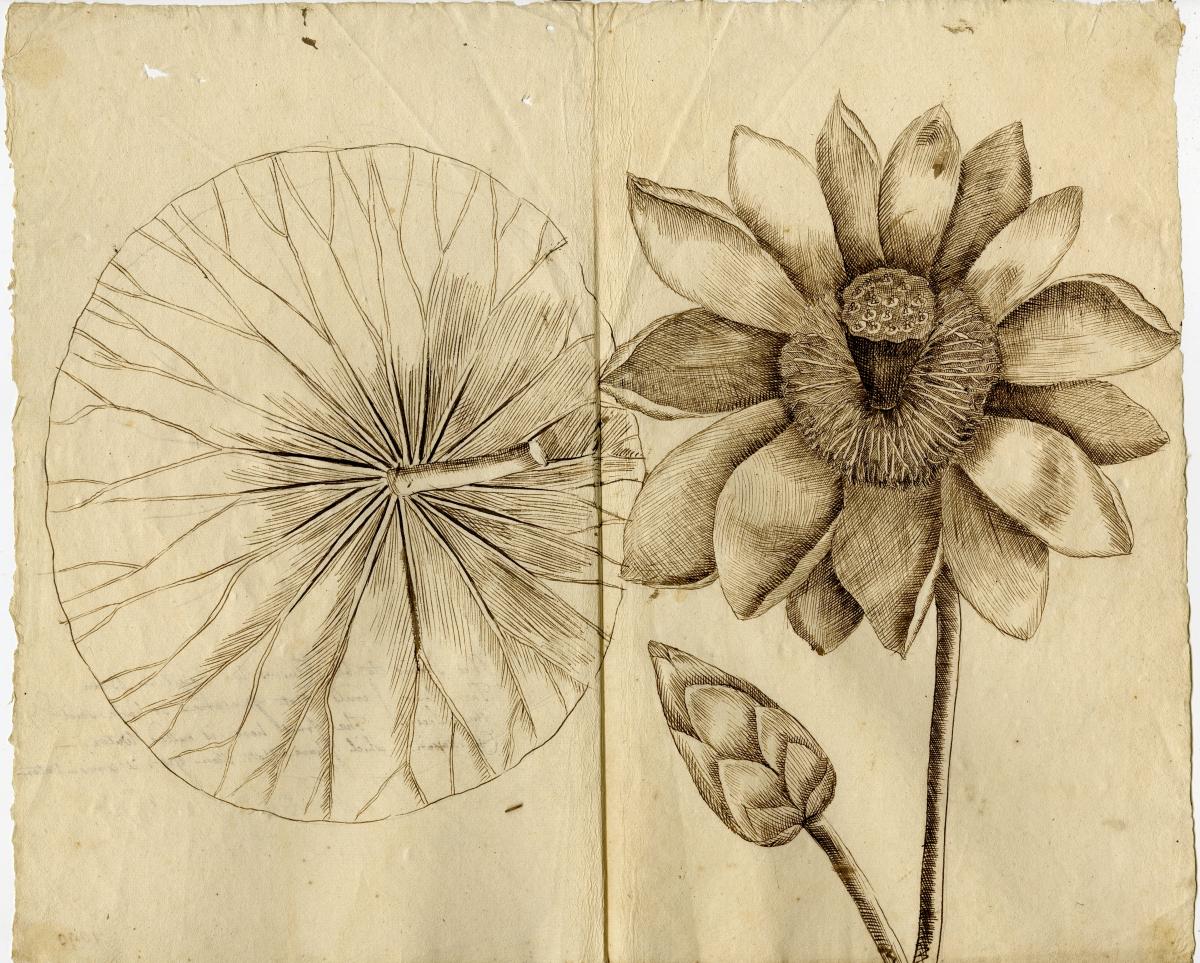 Oxford University Herbaria

---
North America offered the prospect of great natural riches for 18th-century collections. However, skilled, dedicated and reliable collectors such as Mark Catesby were essential. Between 1722 and 1726, Catesby travelled through the Carolinas into Georgia, Florida and on to the Bahamas. He sent hundreds of dried specimens back to England. When samples proved difficult to preserve, Catesby, a self-taught artist, drew them. This pen-and-ink drawing of the American lotus flower (Nelumbo lutea) was sent to one of his patrons, William Sherard, along with the note: 'The flowr I could not preserve so have sent this scetch.'
---
Watercolour of Fritillaria sibthorpiana based on pencil field sketch, Ferdinand Bauer (between 1787 and 1794)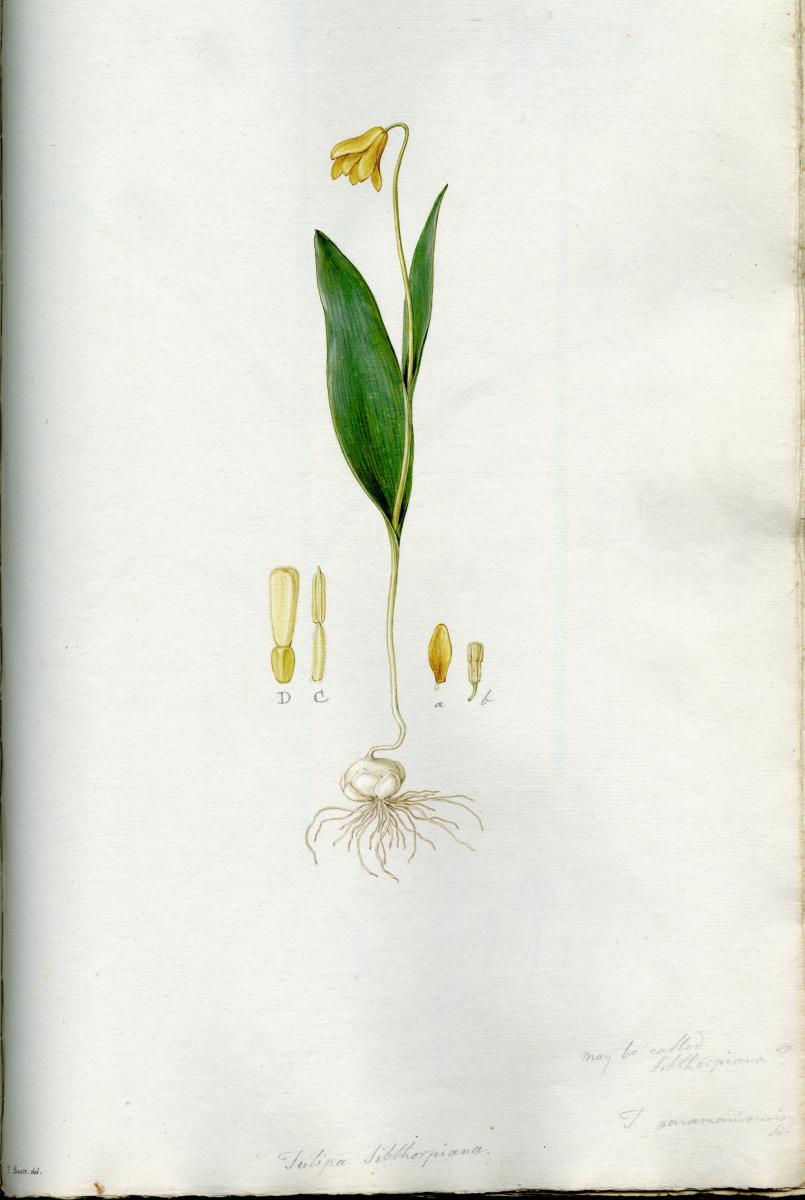 Courtesy Sherardian Library of Plant Taxonomy, Bodleian Libraries

---
Moravian artist Ferdinand Bauer 'joins to the Taste of the Painter, [with] the Knowledge of a Naturalist'. In 1786 and 1787, together with Oxford professor John Sibthorp, he recorded plants of the eastern Mediterranean. Bauer worked quickly and accurately, often under harsh conditions. He made hundreds of pencil sketches on locally acquired paper, surrounded by clouds of numbers representing his own colour-code system. In Oxford, Bauer converted sketches into 966 botanical watercolours. His work is characterised by attention to detail, speed of execution and colour quality. Watercolours were eventually published as hand-coloured copper engravings in the exceptionally rare Flora Graeca.
---
Watercolour of black pine (Pinus nigra), Rosemary Wise (2014)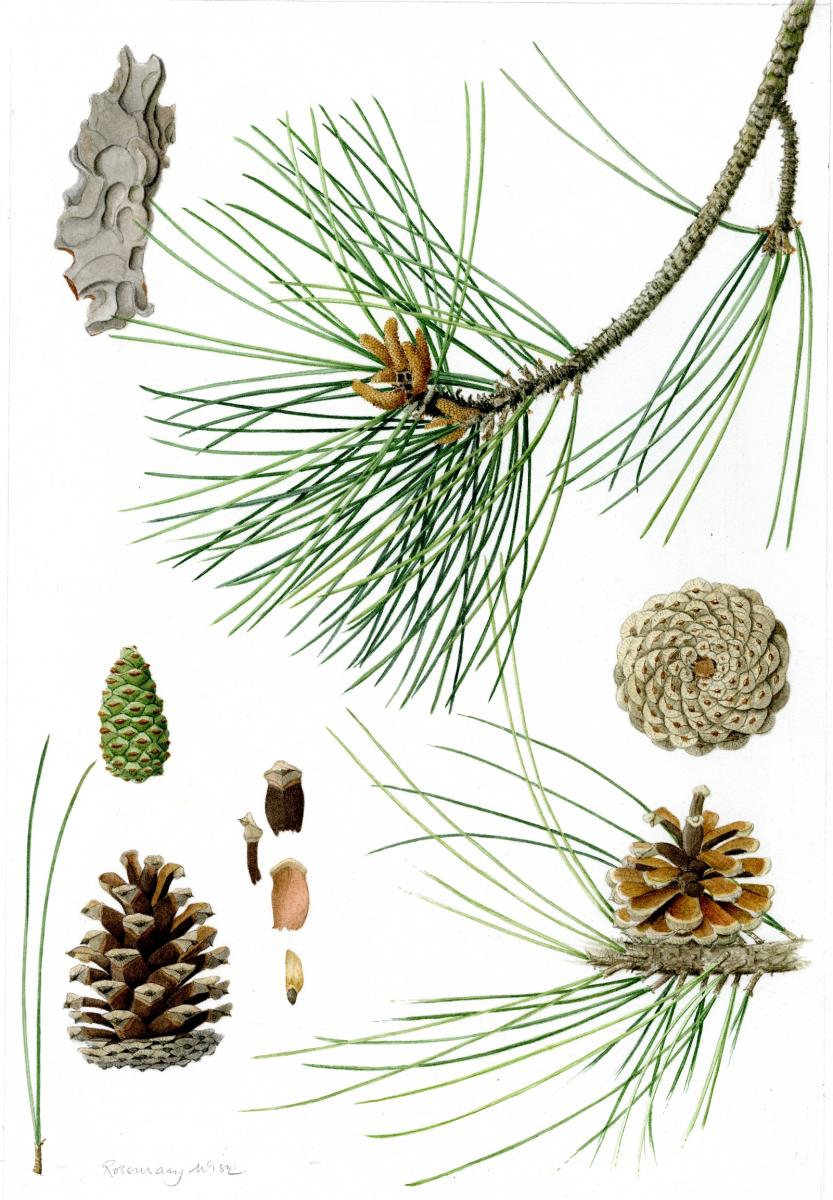 Courtesy Oxford University Herbaria

---
The skills of botanical illustrators have been important for Oxford plant sciences since the late 17th century. In modern times, the most prolific and long-serving illustrator associated with Oxford is Rosemary Wise. In a career spanning over 50 years, Rosemary has illustrated more than 14,000 species for the academic publications of generations of botanists. One of her watercolours, of an approximately 180-year-old black pine in Oxford Botanic Garden, was completed just before the tree had to be felled. Moreover, Rosemary's championing for the Botanic Garden and Harcourt Arboretum Florilegium Society, which she helped found, helps develop the skills of modern illustrators.
---
SEE

Roots to Seeds
Until 24 October 2021 at the Weston Library, Bodleian Libraries, Oxford
About the Author
Professor Stephen A Harris
Professor Stephen A Harris is Druce Curator of Oxford University Herbaria. He is the author of 'Roots to Seeds: 400 Years of Oxford Botany'
Become an instant expert!
Find out more about the arts by becoming a Supporter of The Arts Society.
For just £20 a year you will receive invitations to exclusive member events and courses, special offers and concessions, our regular newsletter and our beautiful arts magazine, full of news, views, events and artist profiles.
FIND YOUR NEAREST SOCIETY