Curator's Choice: Art from across the globe at the Eden Project
Curator's Choice: Art from across the globe at the Eden Project
14 Aug 2020 - 08:08 BY Misha Curson
With plenty of us choosing to stay within the UK this summer, there is no better time to visit the Eden Project in Cornwall. What's more, a new visual art map created by Cornwall-based designers Two Design offers viewers the chance to make the most of their on-site visit, or take a virtual tour in an accompanying online video. We asked senior curator Misha Curson to share some of the highlights on display.
This selection of artworks, set amid Eden's unique landscapes, offers a diversity of practices, from grass-root to internationally significant artists. They represent human reflections on ecological priorities such as climate change, biodiversity, extinction, the vital relationship between global communities and natural resources, and their social-political consequences.
The collection serves as our opportunity to bring subjective human narratives back into Eden, to provide space for reflection, and inter and intrapersonal provocation. All while offering a platform for a diversity of voices to engage with the environmental debate, more commonly dominated by political voices of the global north.
Works range from loans and acquisitions to site-specific commissions – often created through a cross-disciplinary collaboration between the artist and Eden's scientific and ecological networks. They offer esoteric moments that can abstract our conventional wisdom, challenge the status quo and affect us on an emotional and existential level.
---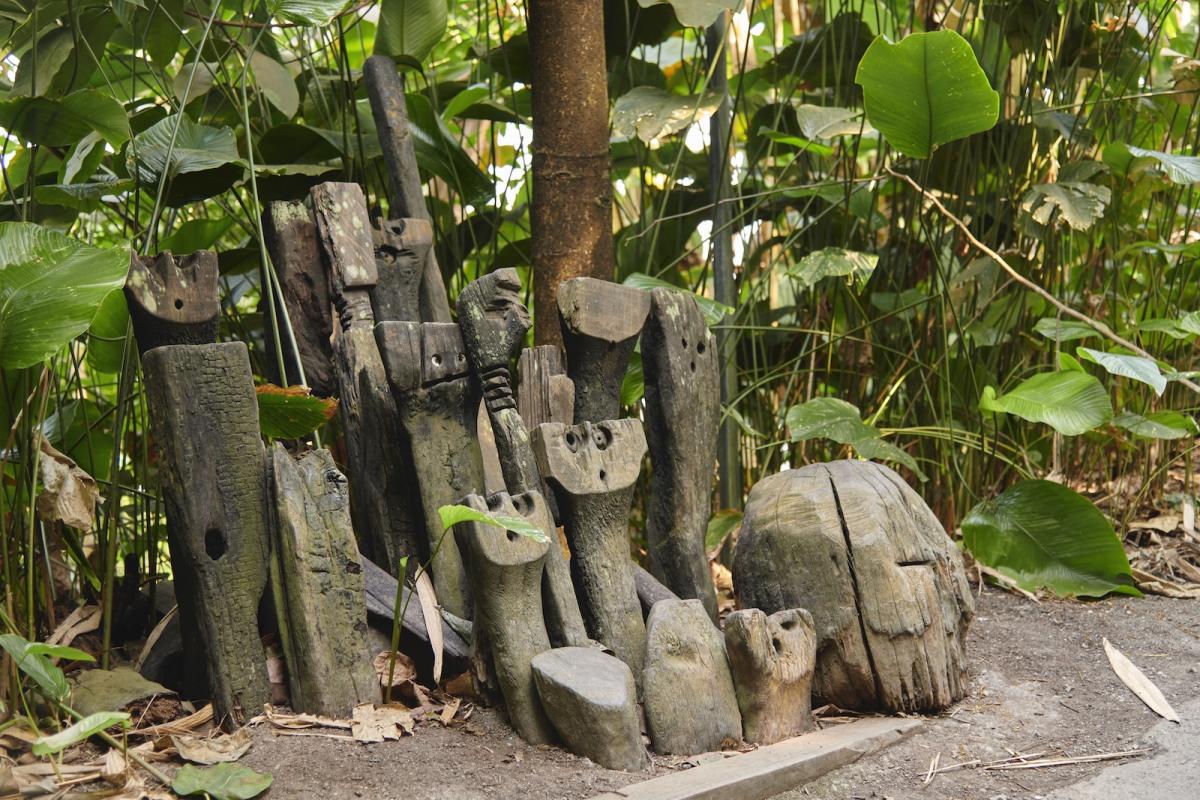 Courtesy The Eden Project Ltd and The Artist. Photo Ben Westoby
---
El Anatsui, Aziza Gate, 2004
Anatsui plays a major role in redirecting the Western focus on contemporary art, emerging from the vibrant post-independence art movements of the 1960s and 1970s in West Africa.
Aziza Gate was carved from West African hardwood as a bespoke commission for Eden. The material, repurposed from charred timbers of the nearby Falmouth Docks (built in the 1860s to become an internationally significant trading port), is now reclaimed by the surrounding rainforest within our Rainforest Biome.
Anatsui draws connections between consumption, waste and human impact on the environment, while hinting at the broader narratives of the colonial and post-colonial economic and cultural exchange between Africa and the Western world.
---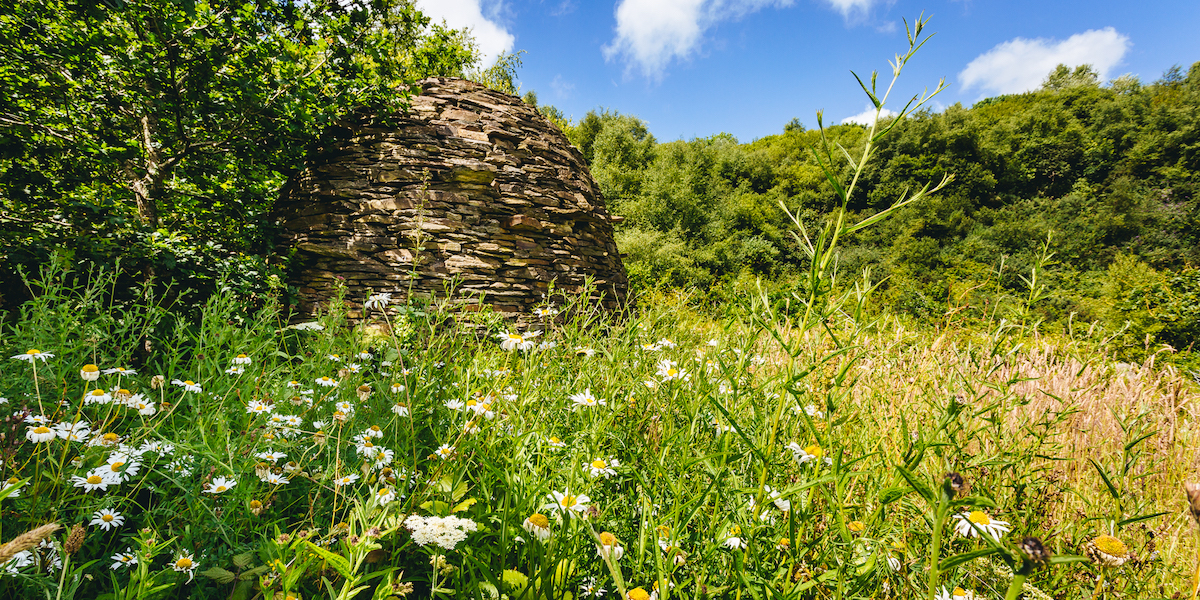 ---
Chris Drury, Cloud Chamber, 2002
This still, silent and meditative space is made within, and from, the surrounding landscape in the tradition of the land and environmental art movements originating in 1960s America. The beehive chamber, built by local dry-stone hedgers, was constructed from nearly 120 tonnes of Cornish granite and slate.
Drury is one of several British contributors to the wider environmental and landscape art movements. He harnesses multidisciplinary processes to forge connections between nature and humanity, often collaborating with scientists and specialists from a broad spectrum of expertise across technology and material innovation.
---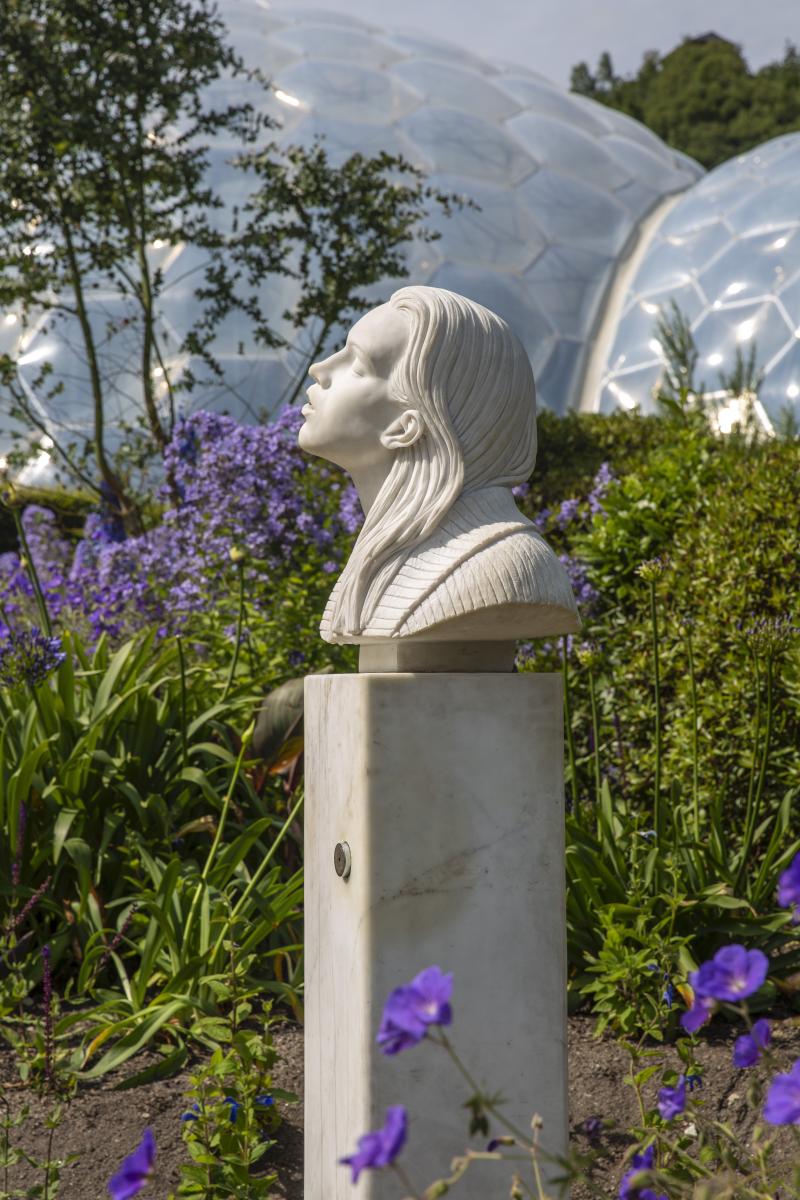 Courtesy The Eden Project Ltd and The Artist. Photo Ben Foster
---
Ryan Gander, To employ the mistress… It's a French toff thing, 2015
Water courses through our bodies, our society and our planet. It is our lifeblood yet is often taken for granted. This drinking fountain is fabricated in the likeness of the artist's wife, Rebecca, as she leans in for a kiss, while playfully spitting water. The sculpture references fountains in classical gardens, where mythological divinities and other strange creatures are turned into whimsical 'natural' springs. Gander's work involves a questioning of language and knowledge, as well as a reinvention of both the modes of appearance and the creation of an artwork.
---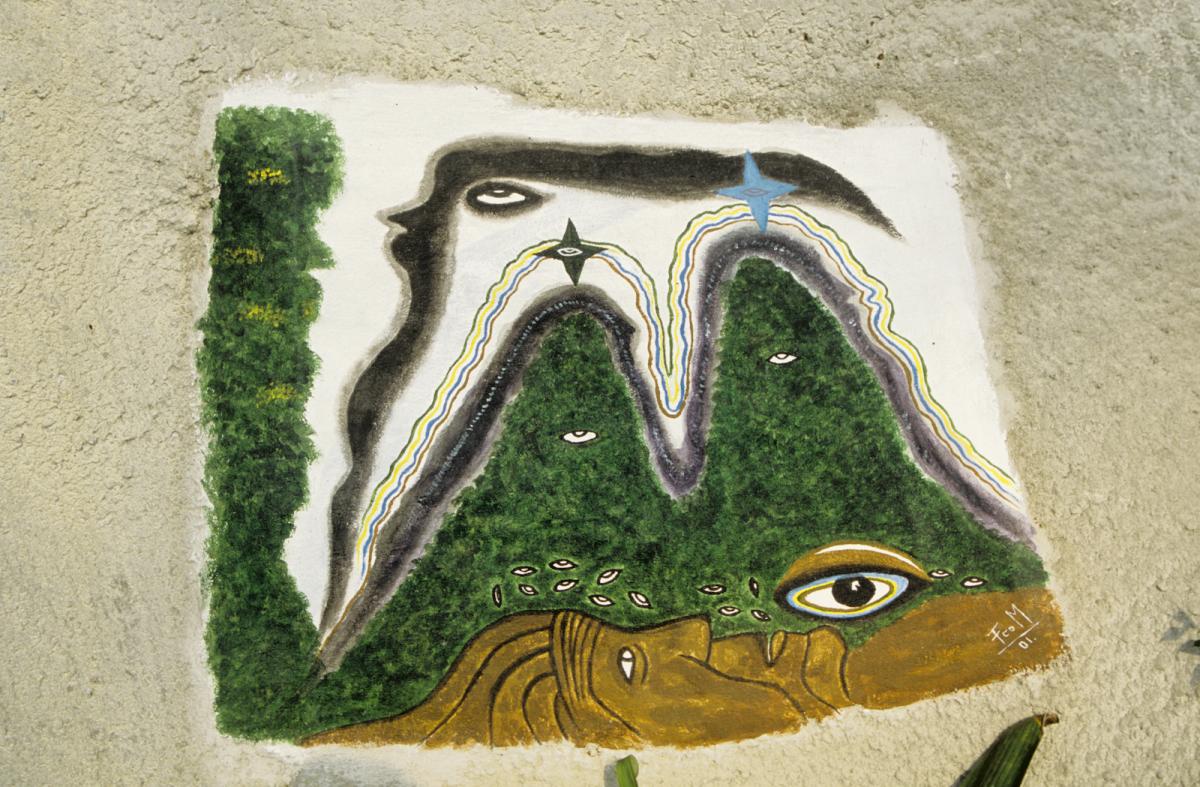 The Eden Project Ltd and The Artist. Photo: Steve Tanner
---
Don Francisco Montes Shuna and Yolanda Panduro Baneo, Vegetalistas paintings, 2001
This series of 14 murals was painted in Eden's Tropical Biome by the Peruvian maestro vegetalista [traditional herbalist] Don Francisco Montes Shuna and Yolanda Panduro Baneo. To the Capanahua, a secluded tribe indigenous to the rainforest of Peru, vegetalista are said to gain their knowledge and power to heal from the plants of the region. Traditional herbalists work with the sacred ayahuasca vine and other psychoactive plant infusions believed to enhance our understanding of the world. The murals portray different narratives and depictions of the plants that Shuna and Baneo work with, while also exploring the spiritual connection between plants and humanity.
---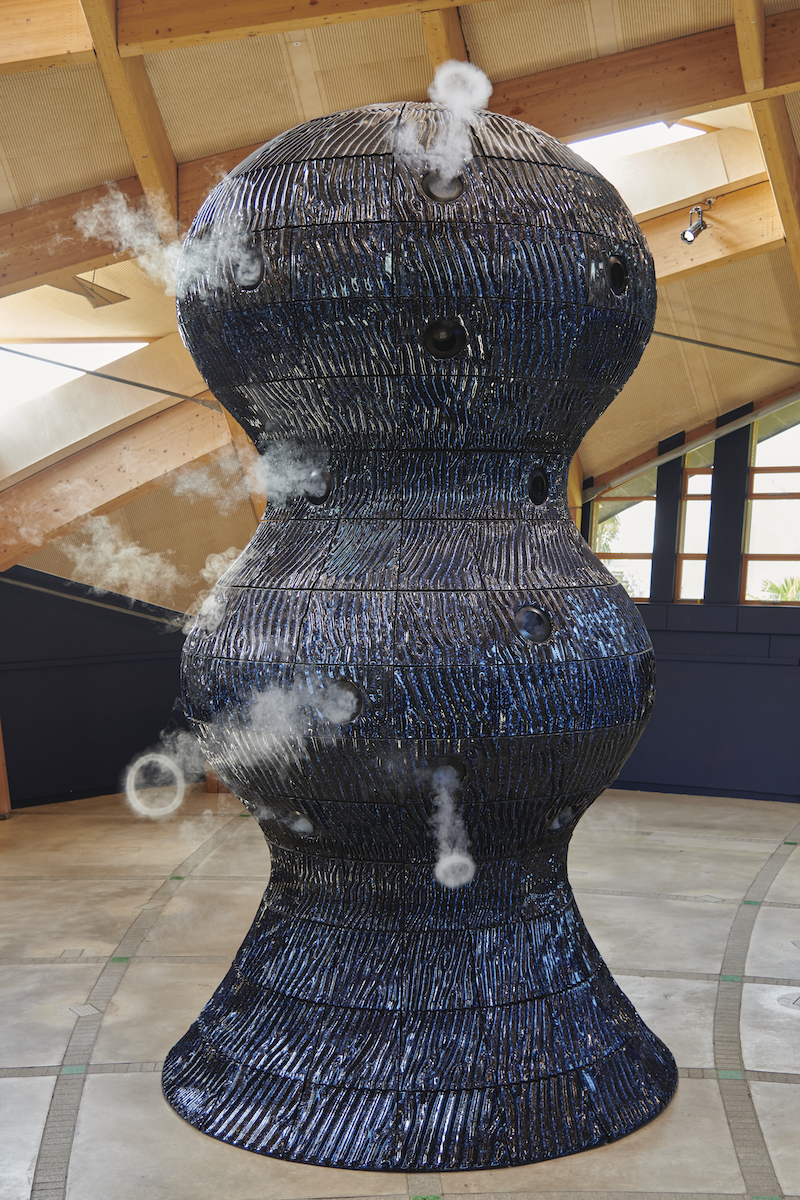 Courtesy The Eden Project Ltd and The Artist. Photography Petr Krejci. Commissioned for the Eden Project, Cornwall.
---
Studio Swine, ∞ Blue (Infinity Blue), 2018
This huge ceramic 'breathing' sculpture pays homage to one of the world's smallest but most important organisms: the cyanobacteria. It is a monument to their vital creation, which continues to provide the oxygen in every breath we take.Cornish clay and oxide glazes nod to the industrial history of the Eden Project site and the interdependence of humans on the natural world.
Studio Swine (Super Wide Interdisciplinary New Explorers) is a leading artist-architect collective established in 2011. It joins a contemporary movement of 'studios' whose practices straddle visual arts, architecture, science and technology.
---
VISIT

The Eden Project, Bodelva, Cornwall
---
Stay in touch with The Arts Society! Head over to The Arts Society Connected to join discussions, read blog posts and watch Lectures at Home – a series of films by Arts Society Accredited Lecturers, published every fortnight.
Become an instant expert!
Find out more about the arts by becoming a Supporter of The Arts Society.
For just £10 a year you will receive invitations to exclusive member events and courses, special offers and concessions, our regular newsletter and our beautiful arts magazine, full of news, views, events and artist profiles.
FIND YOUR NEAREST SOCIETY