Could it be magic at the Royal Academy?
Could it be magic at the Royal Academy?
Holly Howe introduces some of the highlights from the Royal Academy's 253rd Summer Exhibition
---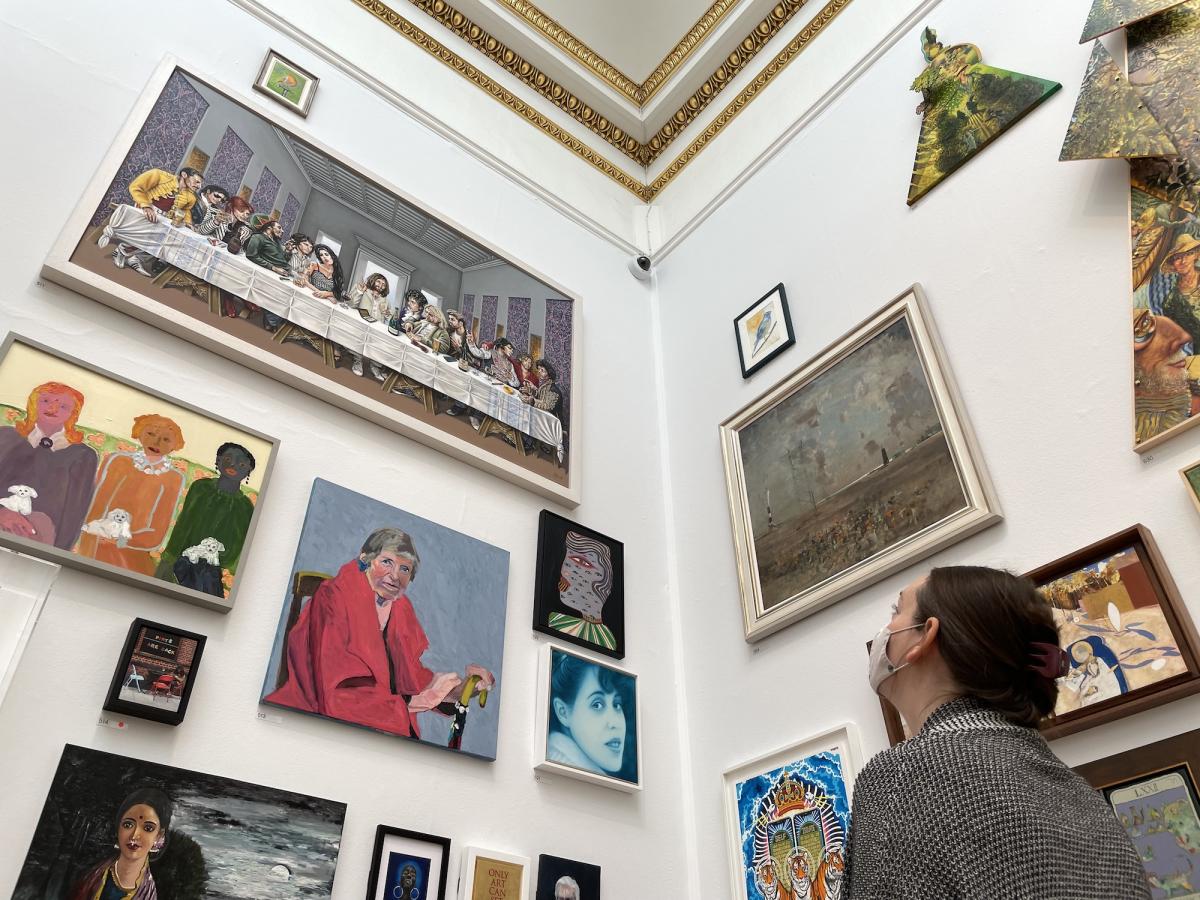 Holly Howe at the RA, photo by Wayne Chisnall

---
For the second year in a row, the Royal Academy's annual Summer Exhibition has opened in the autumn, due to delays caused by the pandemic. Remarkably, it has never been cancelled since its inception in 1769 and holds its position as the world's largest open-submission show. It is also one of the very rare occasions when visitors have the opportunity to buy an exhibited artwork, with prices starting at a reasonable £50. Of course, if you're feeling flush, you could spend up to £540,000 on Ellen Gallagher's Elephantine. There are almost 1,400 to choose from, although some are tantalisingly labelled 'NFS' – not for sale.
This year's exhibition is coordinated by Yinka Shonibare, alongside a number of his fellow Royal Academicians, with the theme of 'Reclaiming Magic'. Shonibare says: 'This exhibition seeks a return to the visceral aspects and the sheer joy of art making. It will celebrate the transformative powers of the magical in art and transcend the Western canon which formed the foundations of the Royal Academy, seeking to restore value to marginalised practice as equally valid forms of enlightenment.'
---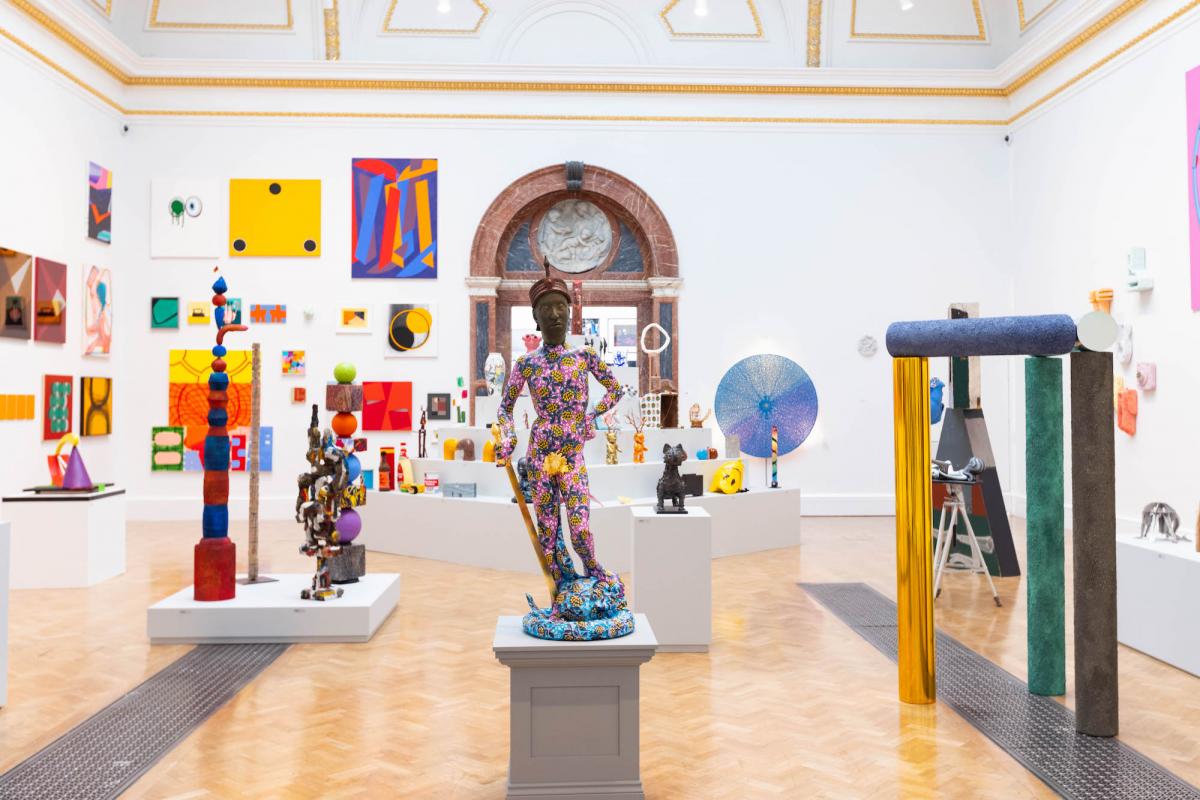 © David Parry / Royal Academy of Arts

---
The exhibition opens with five works by self-taught American artist Bill Traylor (1853–1949). Born into slavery, Traylor only started producing art at the age of 85. These drawings and paintings feature observations of characters he encountered and remind us that you can never be 'too old' to develop a passion for art. With so much to see, enjoy our guide to some of the most remarkable works on show, selected by Holly Howe.
---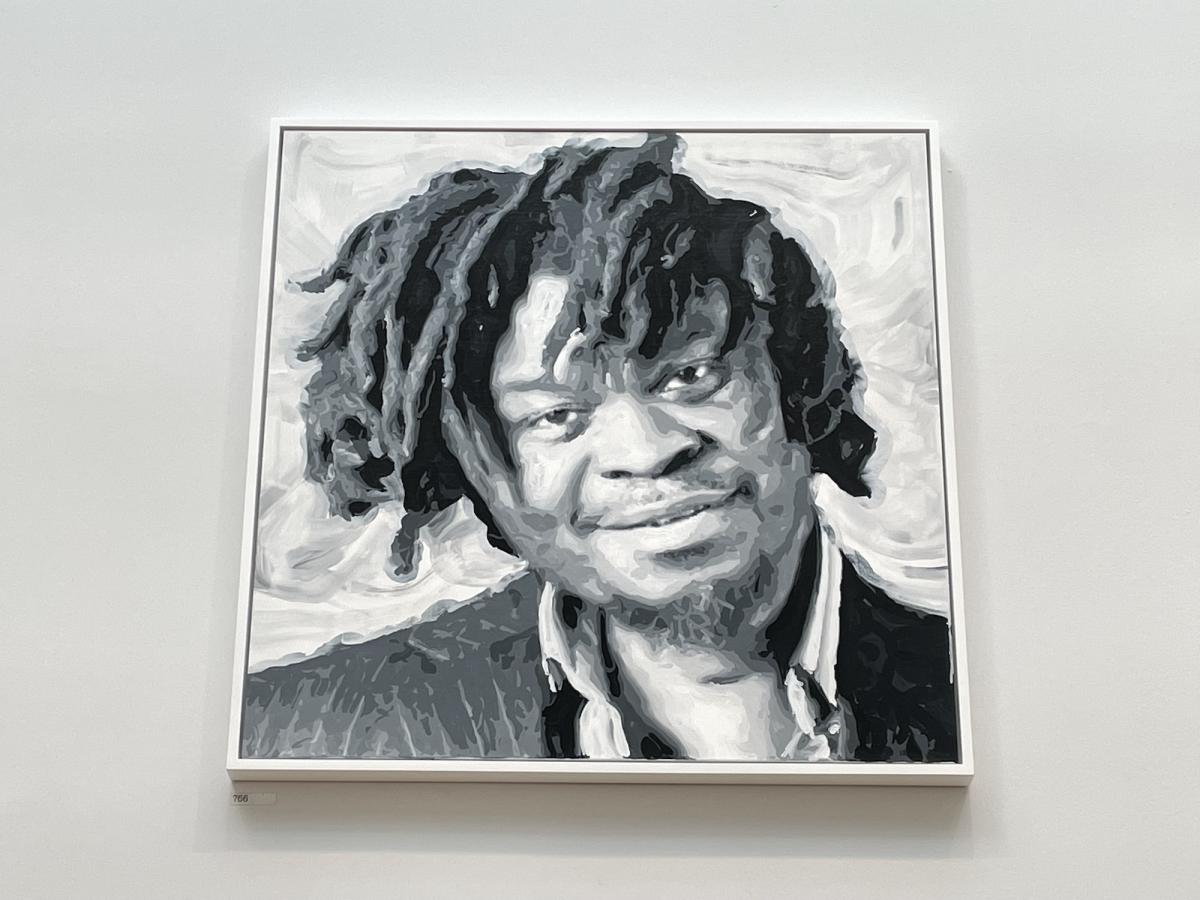 Robot painting by ​Rob and Nick Carter, photo by Wayne Chisnall

---
Robot art
Husband-and-wife team Rob and Nick Carter are responsible for getting a painting made by a robot included in this year's show for the first time. The acrylic painting took over 46 hours to be produced and was the result of three years of research with software programmers and visual effects specialists.
---
Sound
Another 'first' for this year's exhibition is the introduction of sound works. Visitors can scan a QR code in the catalogue or visit Smartify to access the seven works by Larry Achiampong, Peter Adjaye, Linton Kwesi Johnson, Nyege Nyege, Ceyda Oskay, Pelin Pelin and the Black Obsidian Sound System collective. The works are a mix of music, spoken word and soundscapes. Oskay's work is particularly captivating. Titled Sleepdust: Uber drivers singing lullabies, the piece features various drivers singing lullabies in their native tongues, mixed in with conversations between them and the artist as they drive through the streets.
---
Installation photo by Wayne Chisnall

---
Birds
Make sure you look up in room IV, curated by Bob and Roberta Smith. It is filled with numerous paintings of birds, including hawks, parakeets, chickens, puffins and robins. The majority of these have been intentionally hung on the highest rows, as if flying around the top of the room. Anyone who has visited the British seaside will immediately smirk at Melinda Rawlings' seagull portrait, knowingly titled Look away and I can get your chips.
---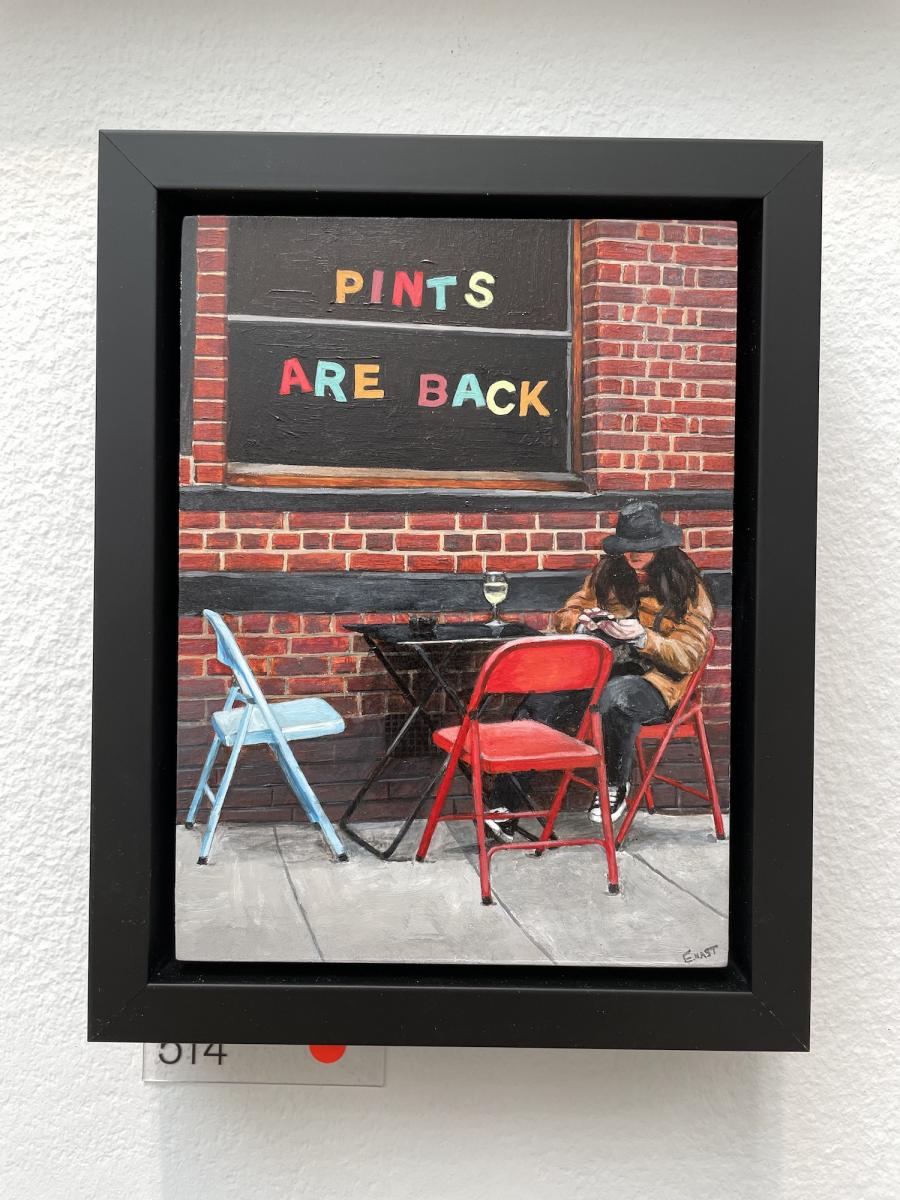 Elizabeth Nast's Pints are Back. Photo by Wayne Chisnall

---
Covid-19
Unsurprisingly, the pandemic had a strong influence on many of the works produced for this year's show. Artists reflected on serious issues, including Jennifer Vorhaus who created wire lungs titled I can't breathe: Covid: NHS, while more light-hearted themes such as the reopening of pubs are celebrated in Elizabeth Nast's Pints are Back. There are also not one but two portraits of the late Captain Tom Moore – a pencil portrait by Charlotte Walton and a bronze and slate sculpture by Richard Mossman.
---
Installation shot including sculpture by Mike Ballard. Photo by Wayne Chisnall

---
From the street to the gallery…
Art from, and inspired by, the streets makes its way into many of the exhibition rooms. Remi Rough, a respected graffiti artist since the 1980s, has two paintings in the show. His largest – The Most Fragile of Defaults – is a bold abstract work with sweeping lines, reminiscent of the gestural mark-making found in the rapid application of spray paint. Mike Ballard, who also has a piece on show as part of Sculpture in the City, returns for a second year with a large work made from site hoardings covered in paint and graffiti. Paul Tecklenberg has also sourced his materials from the street, using the now ubiquitous discarded metal nitrous oxide (laughing gas) canisters to create Jacob's Ladder.
---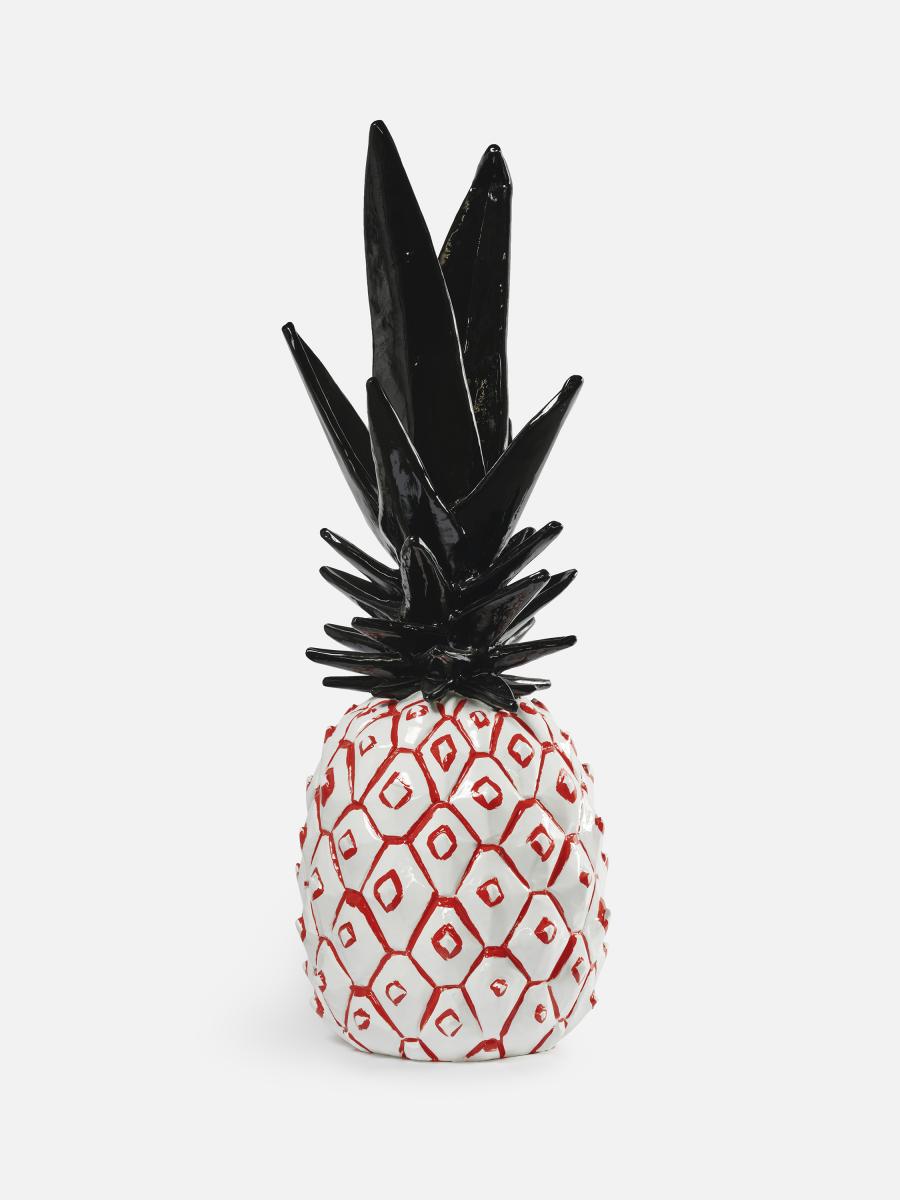 Rose Wylie, Pineapple. Courtesy the artist

---
…with a sprinkle of big names
If you think the Summer Exhibition is all about relatively unknown or young up-and-coming artists fear not. There is still a healthy mix of works by more established artists scattered through the numerous rooms. Recognisable names this year include Ai Weiwei, El Anatsui, Michael Armitage, Njideka Akunyili Crosby, Tracey Emin, William Kentridge, Anselm Kiefer, Mike Nelson, Grayson Perry, Faith Ringgold, Rose Wylie and, of course, Yinka Shonibare.
---
SEE

The Royal Academy Summer Exhibition
Until 2 January 2022
About the Author
Holly Howe
Holly Howe is a freelance journalist
Become an instant expert!
Find out more about the arts by becoming a Supporter of The Arts Society.
For just £20 a year you will receive invitations to exclusive member events and courses, special offers and concessions, our regular newsletter and our beautiful arts magazine, full of news, views, events and artist profiles.
FIND YOUR NEAREST SOCIETY