Call for Applications: 2018 Grants
Call for Applications: 2018 Grants
13 Sep 2018 - 13:51 BY The Arts Society
Grants are an important aspect of our work and have real impact locally as well as regionally and nationally. Over the last few decades, we have awarded millions of pounds to the arts and heritage – an unparalleled legacy that has transformed neighbourhoods, communities, visitor attractions and people's lives across the length and breadth of the nation and abroad.

All grants from The Arts Society are intended to give access to the arts to those that wouldn't normally have access to them. We believe in Arts for All and will use our grants to make a positive contribution to people's lives through the arts.

This year, our Members have voted for three key areas of giving that meet specific needs in the arts and heritage sectors:
Young Arts

Young Arts programmes support a wide range of activities to introduce young people to and engage them in artistic experience and practice. They include: artists in residence; art lectures for students; funding visits to art galleries and museums; art exhibitions for young artists; equipment purchases; practical workshops; local Arts Week events; bursaries for individual students; and sponsorship for craft apprentices.
Skills Development

This area is about projects and programmes that further the development and training of skills in the arts, crafts and heritage. There are no age limits to this as we believe that people of all ages benefit from acquiring and honing their creative and heritage skills.
Regional Museums, Galleries & Arts Organisations

The work of regional and local museums and galleries is important in connecting people with their local heritage and arts; yet these institutions often struggle to raise funds for projects and internships during times of budget cuts. Our grants may support special projects, displays, internship or part-time posts, training and conservation activities. We will also consider applications involving regional and local theatres and performing arts spaces and groups.
---
Success Story: Guildhall Art Gallery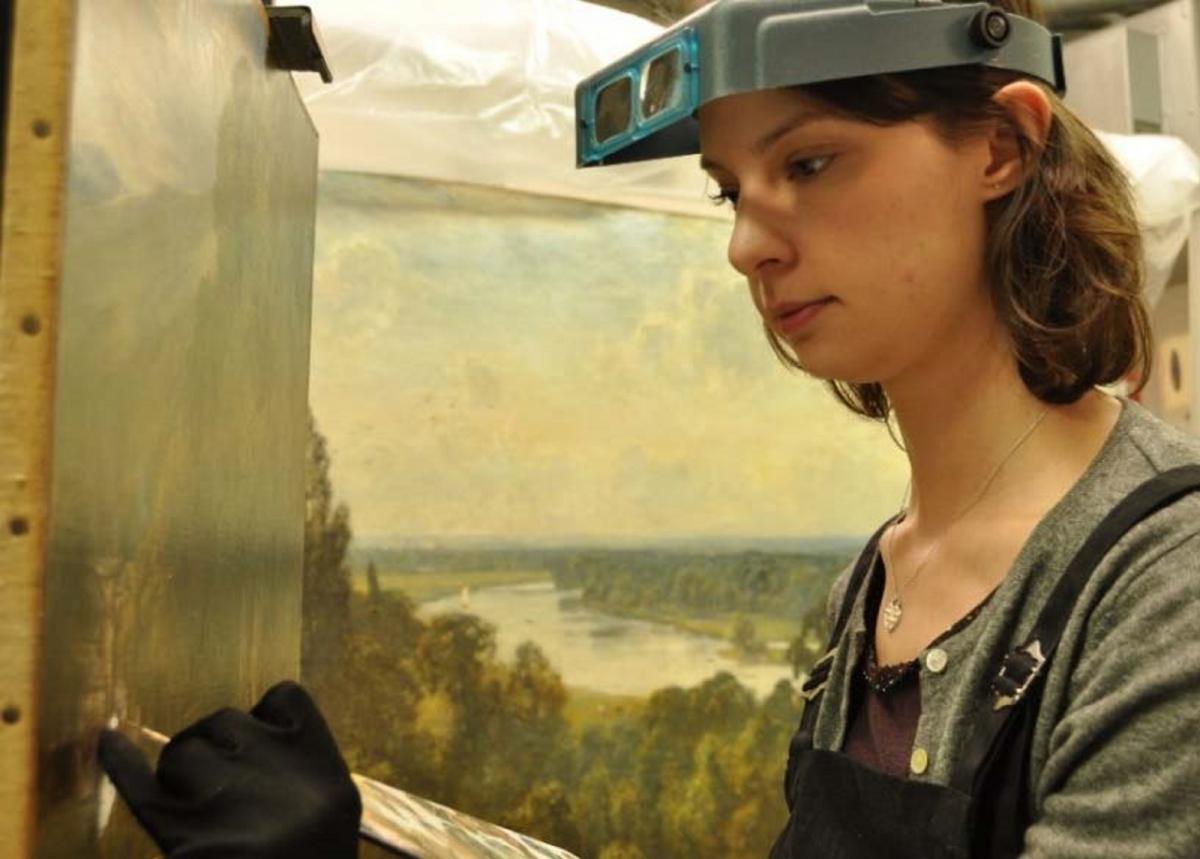 With the help of an Arts Society Grant the Guildhall Art Gallery were able to help support intern Michaela Straub to undertake a six month placement and repair a painting that had not been seen by the public in over 40 years.
Image courtesy Guildhall Art Gallery
---
Registered UK charities (with a turnover of £3M or less) and Member Societies of The Arts Society are eligible. Applications will close 30th September 2018 at 23:59 GMT. For further details and to apply please see: theartssociety.org/grants
Become an instant expert!
Find out more about the arts by becoming a Supporter of The Arts Society.
For just £10 a year you will receive invitations to exclusive member events and courses, special offers and concessions, our regular newsletter and our beautiful quarterly arts magazine, full of news, views, events and artist profiles.
FIND YOUR NEAREST SOCIETY