Bite-sized Art: Helen Frankenthaler's Madame Butterfly
Bite-sized Art: Helen Frankenthaler's Madame Butterfly
Curator Jane Findlay examines a masterful work by abstract expressionist Helen Frankenthaler
---
Helen Frankenthaler (1928–2011) trained at Bennington College, Vermont, USA in the early 1950s; 10 years later she was a leading abstract expressionist. An intuitive painter, she was in search of something beautiful, rather than predetermined ideas. She chose the exacting and technical medium of woodcut printmaking to pursue this to incredible creative heights. Frankenthaler defied the limitations of woodcuts, finding new trailblazing dimensions through experimentation. What resulted is an incomparable body of work. Madame Butterfly was her masterpiece.
---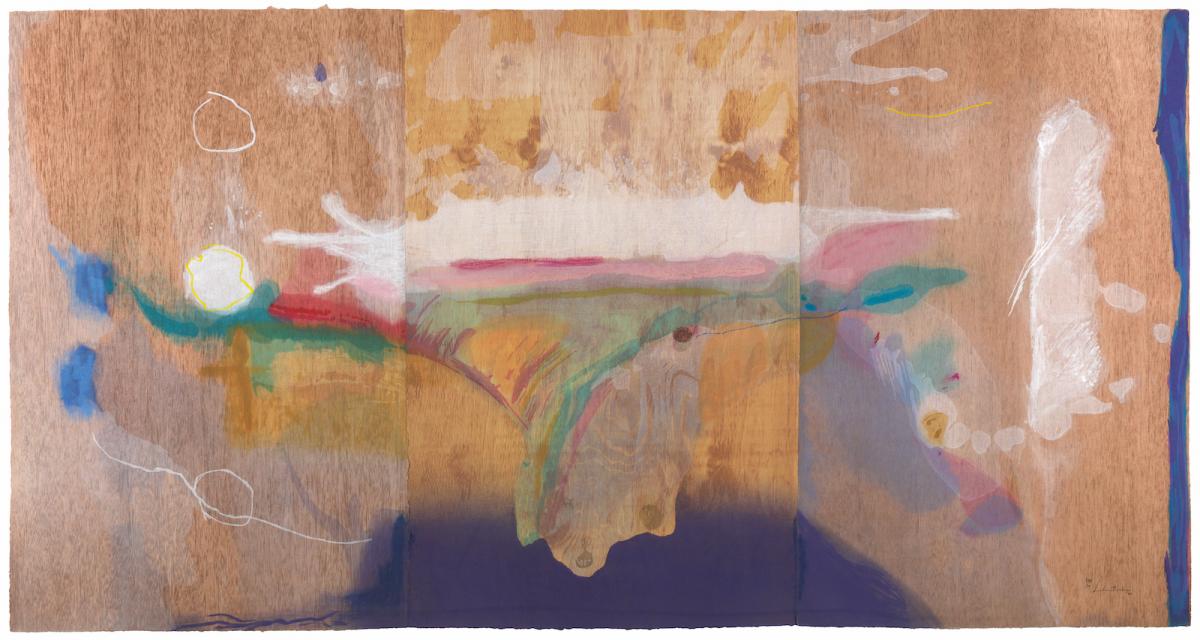 Helen Frankenthaler, Madame Butterfly, 2000. © 2020 Helen Frankenthaler Foundation, Inc. / DACS / Tyler Graphic Ltd., Mount Kisco, NY

1. TRIPTYCH COMPOSITION Madame Butterfly was made in 2000. It was inspired by a Japanese screen bought by Frankenthaler in Kyoto; this starting point remains in the triptych composition. Frankenthaler was interested in Japanese art and her works often fuse sensibilities of East and West.
2. COLOURS WITH NO BOUNDARIES Frankenthaler approached colour expansively and Madame Butterfly includes 102 different tones. From the central rainbow hues to the white and purply blues that balance each other horizontally, she pushed the boundaries of colour.
3. ALL IN A NAME?
The artist typically named works after she had completed them. Her titles are often ambiguous but rooted in the real world. Madame Butterfly evokes Puccini's tragic opera but leaves space for the viewer to come to their own meaning.
4. ON THE SURFACE Frankenthaler was fascinated by surface. The 46 woodblocks and the three sheets of handmade paper that make up this print play a texturing and tonal role, ensuring that the ground for the print is not a neutral space but integral to the work.
5. DYNAMIC RESULTS Frankenthaler wanted her works to feel spontaneous and alive. The spilled and poured colours and forms that appear to almost float in space hide the complex technical multistep process it took to create this work over two years.
6. COLLABORATION
This print was created working with master printmaker Kenneth Tyler, woodblock carver and printer Yasuyuki Shibata and papermaker Tom Strianese. Frankenthaler was involved in the process, while enabling others to bring their expertise to achieve her vision.
---
SEE
Helen Frankenthaler: Radical Beauty, the first major UK exhibition of the artist's woodcuts. 15 September 2021– 17 April 2022, Dulwich Picture Gallery, London dulwichpicturegallery.org.uk
---
About the Author
Jane Findlay
Jane Findlay is Head of Programme & Engagement at Dulwich Picture Gallery, and curator of Radical Beauty
Become an instant expert!
Find out more about the arts by becoming a Supporter of The Arts Society.
For just £20 a year you will receive invitations to exclusive member events and courses, special offers and concessions, our regular newsletter and our beautiful arts magazine, full of news, views, events and artist profiles.
FIND YOUR NEAREST SOCIETY