The best in craft: four artist-makers to see at Collect
The best in craft: four artist-makers to see at Collect
5 Feb 2019 - 12:55 BY The Arts Society
It's soon time for Collect – one of the UK's most hotly anticipated modern craft and design fairs. Forty galleries will be selling selected work by more than 400 artists. Our magazine editor-in-chief, Sue Herdman, chooses four artist-makers to look out for.
---
Umberto Dattola – wood artist

Courtesy ESH Gallery
Umberto Dattola's work will be displayed by ESH Gallery, which works with artists who favour traditional techniques, while crossing the boundaries between art and design. Dattola works in wood and, he says, 'loves nuances'. His pieces are a beguiling mash between the practical and pure art. They are intriguing and organic. His chairs soar above our heads on smooth, spindly legs – more like alien beings than resting places. This cabinet, called Invisible Cities, is composed of small, exquisitely crafted houses, given a touch of luxury by hand-gilded gold leaf. The structure is supported by branches, foraged from the forest floor close to the artist's home on the Italian Franciacorta hills, and then worked on to create the final polished look.
umbertodattola.it / eshgallery.com
---
Takuya Kamiyama – silversmith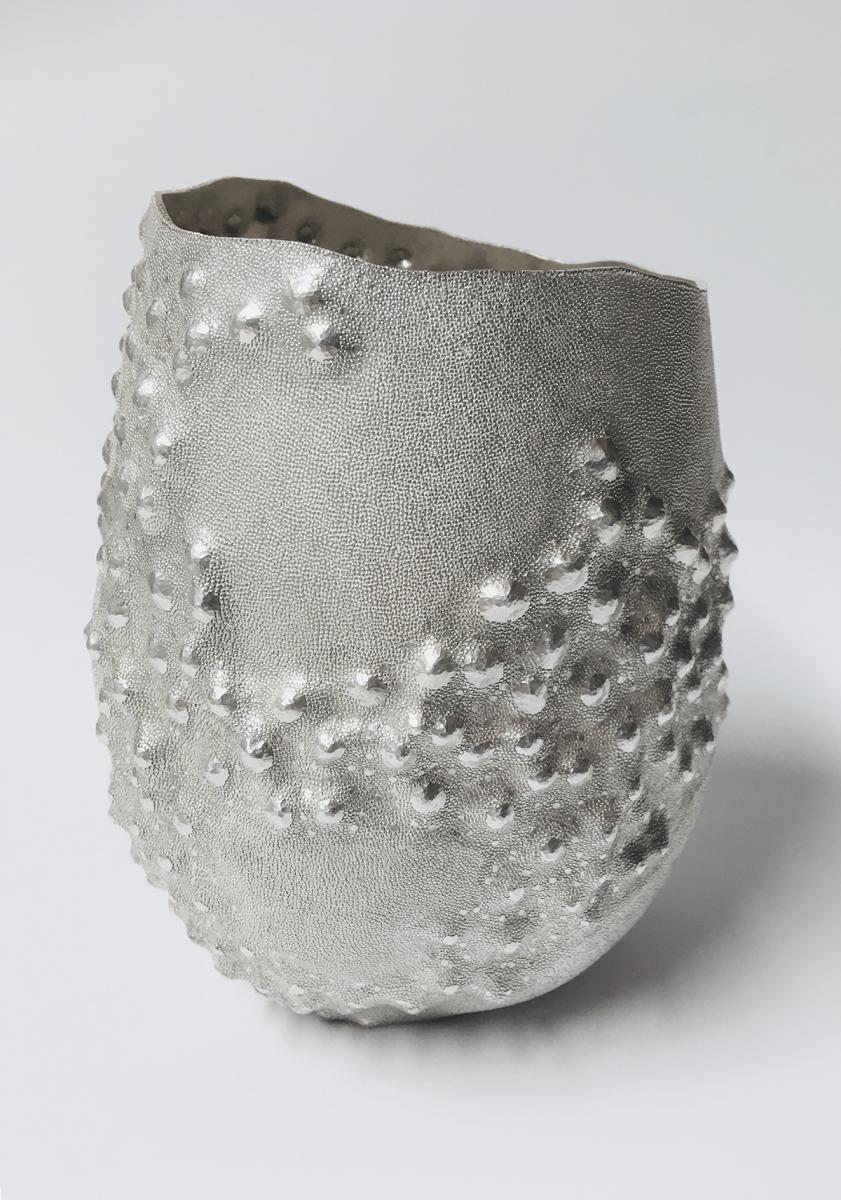 Courtesy Bishopsland Educational Trust
I'm always alert to the work that comes from the artist-makers at Bishopsland Educational Trust, which does so much to support newly established, self-employed silversmiths as they develop their skills. The handcrafted silver to be seen on their stand this year comes from the hands of major recognised figures, such as Malcolm Appleby and Ndidi Ekubia, and exciting newcomers, such as Japanese-born Takuya Kamiyama. This is his fine silver Sea Creature Vase, with its delicately hammered surface interrupted by knobbly, light-catching obtrusions. The craftsmanship sings out, making Kamiyama definitely one to watch.
takuyakamiyama.com / bishopsland.org.uk
---
Neil Wilkin – master glassmaker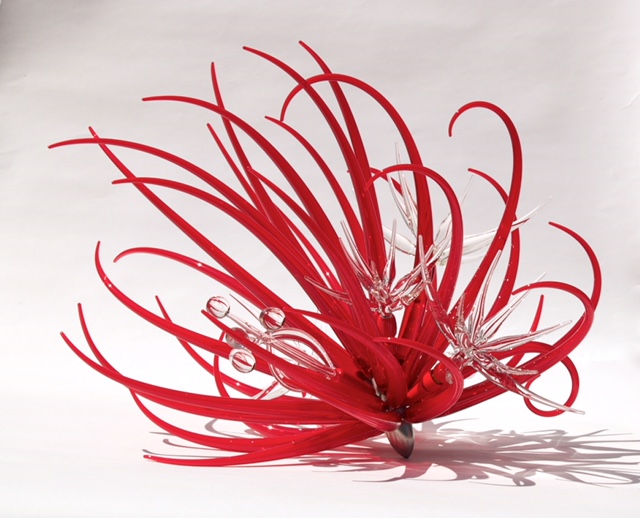 Courtesy Ruthin Craft Centre
Catching the light and the eye, next up is the sculptural work of master glassmaker and artist Neil Wilkin, represented at Collect this year by Ruthin Craft Centre. From his small furnace in West Wales, Wilkin creates pieces that shimmer with colour. Seen here is his Red Flower Future Seen, in glass and stainless steel – its fluttering form referencing the fact that nature is a key influencer in Wilkin's art. Alongside his work, Ruthin Craft Centre will be showing pieces by other stellar makers of international note, working in diverse mediums. These include ceramic artists Adam Buick and Jin Eui Kim, and metalwork artist Rauni Higson.
neilwilkin.com / ruthincraftcentre.org.uk
---
And in the Collect Open 2019 selected makers…Charlotte Pack – ceramic artist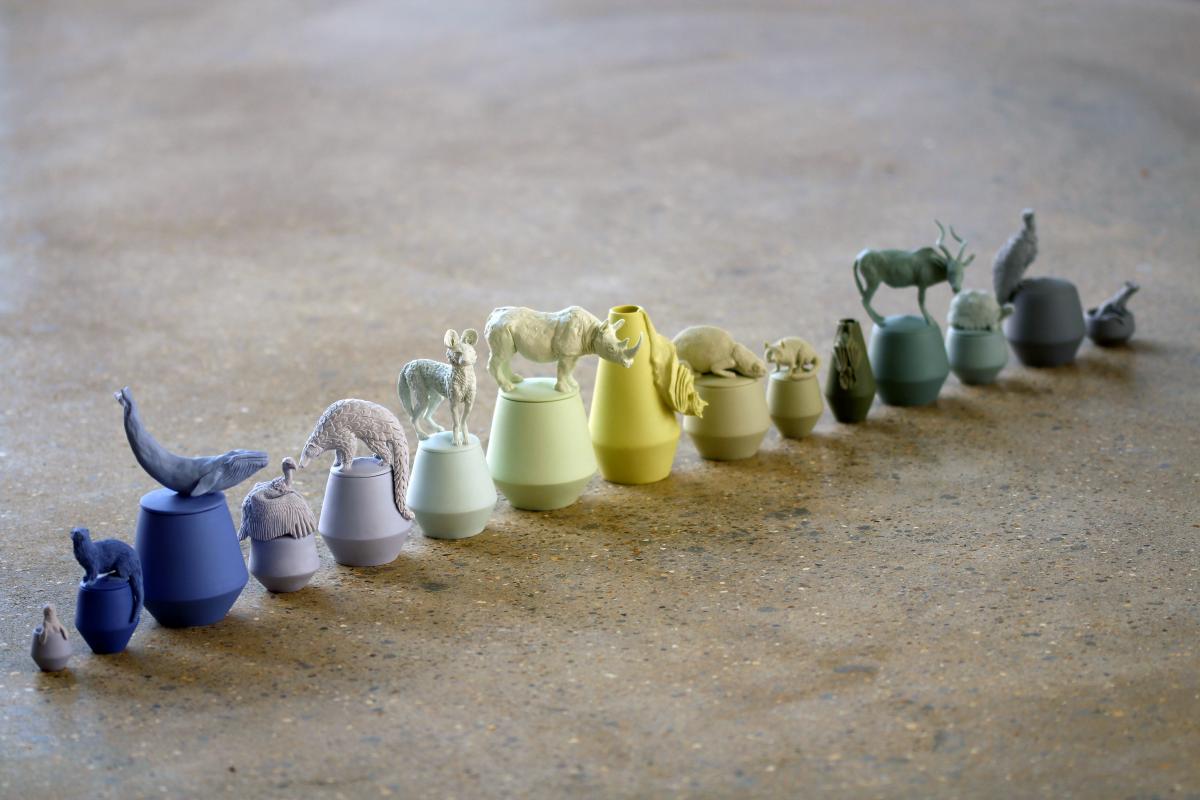 Courtesy, artist Charlotte Pack
I first saw Pack's work at the 2016 Ceramic Art London, where she was exhibiting for the first time. Still a fresh name in the arts scene, her reputation continues to rise, with attention drawn to her finely crafted, extraordinarily accurate, paper-clay animal pieces. This is art with a message. Many of Pack's pieces depict endangered mammals that she has observed in the wild – species from the IUCN Red List. Her skill in replicating the scales of a pangolin, the hooded gaze of a vulture or the alert poise of a cheetah is exacting. Constantly evolving her work, it will be fascinating to see where this artist goes next.
charlottemarypack.com / ceramicartlondon.com
---
SEE

Collect at London's Saatchi Gallery, 28 February–3 March; collect2019.org.uk
SIGN UP

For our monthly free newsletter, full of more stories and news on latest events and exhibitions at theartssociety.org/signup
Become an instant expert!
Find out more about the arts by becoming a Supporter of The Arts Society.
For just £10 a year you will receive invitations to exclusive member events and courses, special offers and concessions, our regular newsletter and our beautiful quarterly arts magazine, full of news, views, events and artist profiles.
FIND YOUR NEAREST SOCIETY