Become an Instant Expert on Fabergé Eggs
Become an Instant Expert on Fabergé Eggs
Our expert, Arts Society Lecturer Toby Faber, explores the stories behind the most dazzling Easter gifts ever given – the Imperial eggs of Carl Fabergé, cadeaux for emperors' wives
---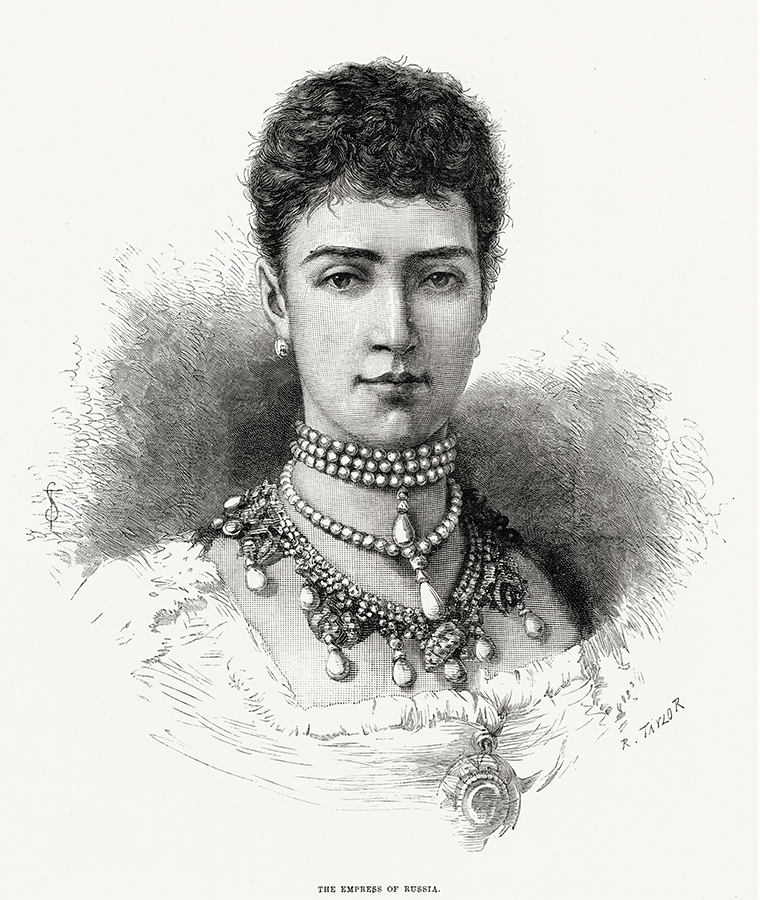 Maria Feodorovna, Princess Dagmar of Denmark and Empress consort of Russia
---
'It is an unbelievably beautiful and superb piece of work. Fabergé is the greatest genius of our time' – Empress Maria Feodorovna

---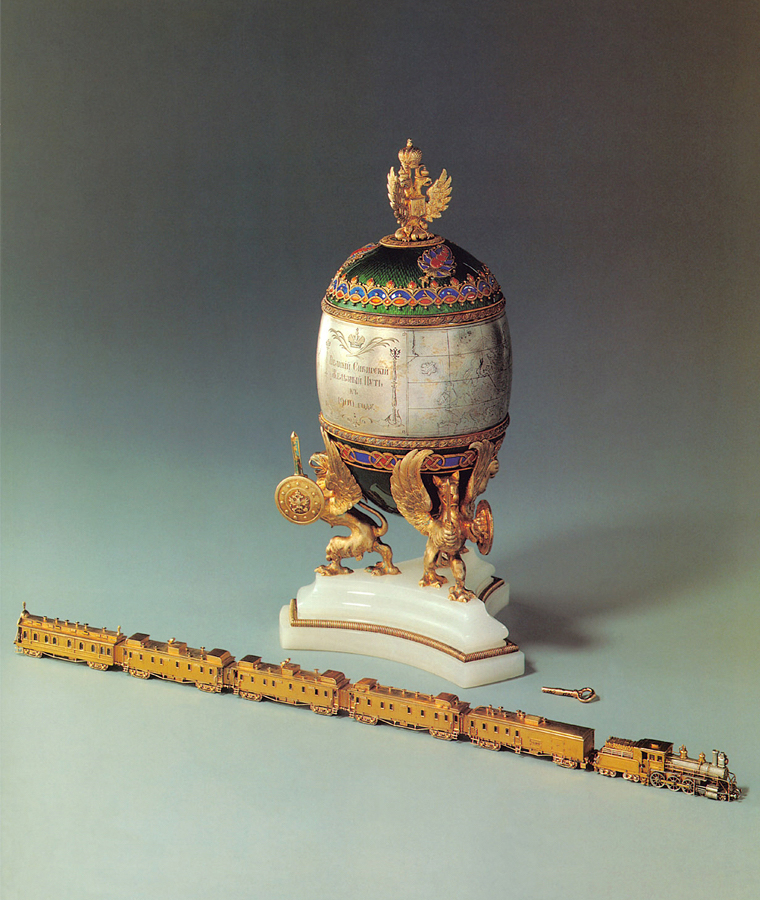 ---
1. FIFTY FABERGÉ IMPERIAL EASTER EGGS WERE MADE
In 1872 Carl Fabergé took over a small jewellery business in St Petersburg from his father, Gustav. By the time he was forced to close its doors in 1918, he had overseen the production of hundreds of thousands of objects, ranging from necklaces to carved hardstone animals, cigarette cases, umbrella handles, fans and picture frames. At its height, his firm had employed – either directly or through subcontractors – over 1,000 craftsmen, and had branches in Moscow, London, Odessa and Kiev.
Yet there is one reason why we have all heard the name Fabergé, and that is the Easter eggs that he produced for Russia's last two tsars to give to their tsarinas.
The sequence began in 1885 with Alexander III's present to his wife, Maria Feodorovna, of a white enamelled egg. It opened to reveal a golden yolk. Within that was a hen sitting on a nest of golden straw, and inside that was a ruby pendant and a diamond miniature of the Imperial Crown. Both Alexander and Maria clearly liked it; another egg was commissioned for the following year, and so on until Alexander's death in 1894.
The last tsar, Nicholas II, continued the practice, giving one each year not just to his mother, Maria, but also to his wife, Alexandra Feodorovna. Apart from a break in 1904–5, when Russia was going through its first revolution, the tradition continued until the last eggs were presented in 1916. Two were planned for 1917, but Nicholas abdicated before they could be completed. So, in total, 50 eggs were made: 30 for Maria and 20 for Alexandra.
---
2. THE EGGS ARE SUPREME EXAMPLES OF THE JEWELLER'S ART
Many people seeing Fabergé's eggs are apt to react with 'now I know why they had a revolution'. They are the sort of luxury objects that only emerge in times of great inequality, when it is possible to commission a piece requiring thousands of hours of skilled labour: the vulgar playthings of a decadent court.
Their quality, however, is undeniable.
Carl Fabergé took a close interest in everything that bore his name and the eggs were the personal responsibility of his most experienced workmasters. The firm's size and connections meant it could employ the best: the court miniaturist, the craftsmen responsible for the velvety smoothness of Fabergé's enamel, the smiths who could alloy gold into eight different colours. As another famous customer, Queen Mary, once put it: 'There is one thing about all Fabergé pieces, they are so satisfying.'
It is also worth remembering how small the eggs are. Most are only three or four inches high: much more jewel-like than they may appear in photographs.
---
---
3. THEY DISPLAY AMAZING CREATIVITY
The first 1885 egg was clearly based on an earlier egg owned by the Danish royal family, and had probably been commissioned with detailed instructions. As the tradition was established, however, Fabergé got increasing autonomy when it came to designs, subject to two rules: that each year's egg should contain a 'surprise' and that every egg should be different.
The result is a sequence of breathtaking variety.
Alexandra's eggs often memorialise the great events of her husband's reign: the Coronation Egg of 1897 with its miniature golden coach; the clockwork model train inside the 1900 Trans-Siberian Railway Egg; or the egg from 1913, commemorating 300 years of Romanov rule.
Others are more domestic. The 1898 Lilies of the Valley Egg is a beautiful piece of Art Nouveau, where pearls imitate flowers; turn one and up fan miniatures of Nicholas and the couple's two oldest children, Olga and Tatiana, then just babies.
Several of Maria's eggs commemorate her husband, while the 1898 Pelican Eggunfolds to reveal a series of miniatures that capture her role as 'mother of the nation'. Others are just great fun: the 1903 Swan Egg contains the bird from which it gets its name, swimming on an aquamarine pool. A flap opens in the top of the 1910 Bay Tree Egg for a bird to emerge, singing a song. Maria's 1913 Winter Eggcan only be described as a masterpiece; a basket of spring anemones sits within the fog of frosted rock crystal: open the egg and spring has sprung.
Only in World War I did the empresses receive eggs that could be said to be companion pieces. The two from 1915 both have a Red Cross theme, while those from the following year – the last – have a more martial tone. Alexandra's Steel Military Egg, resting on four artillery shells, is a piece of kitsch by comparison with its predecessors. It is a sad way for 30 years of creativity to end.
---
4. THE STORY OF THE EGGS AFTER THE REVOLUTION MIRRORS THE HISTORY OF RUSSIA'S RELATIONSHIP WITH THE WEST
The eggs disappeared in the chaos of the revolution, but about 40 re-emerged early in the 1920s in the storerooms of the Kremlin.
They included all the eggs given to Alexandra, reflecting the way her possessions had been secured in the immediate aftermath of Nicholas's abdication. Maria, on the other hand, had never been arrested. She eventually escaped into exile, taking the last egg she was given with her: the 1916 Cross of St George Egg.
Stalin saw little value in these links to the old regime. Between 1925 and 1933 all but 10 of the Kremlin's eggs were sold for foreign exchange, making their way to the West through a variety of middlemen, most notoriously the future oil tycoon Armand Hammer.
By the 1970s the eggs were once again seen as collectibles. The magazine owner Malcolm Forbes drove prices ever higher as he fancied himself in an 'Egg Race' with the Kremlin. He died in 1990 thinking that he had won that competition with a round dozen. Then perestroika opened the Kremlin archives, throwing some of his acquisitions into doubt: only nine of them were Imperial Easter eggs.
The Forbes family had the last laugh, however, when Malcolm Forbes's entire collection was bought by a Russian oligarch for a rumoured $120m.
---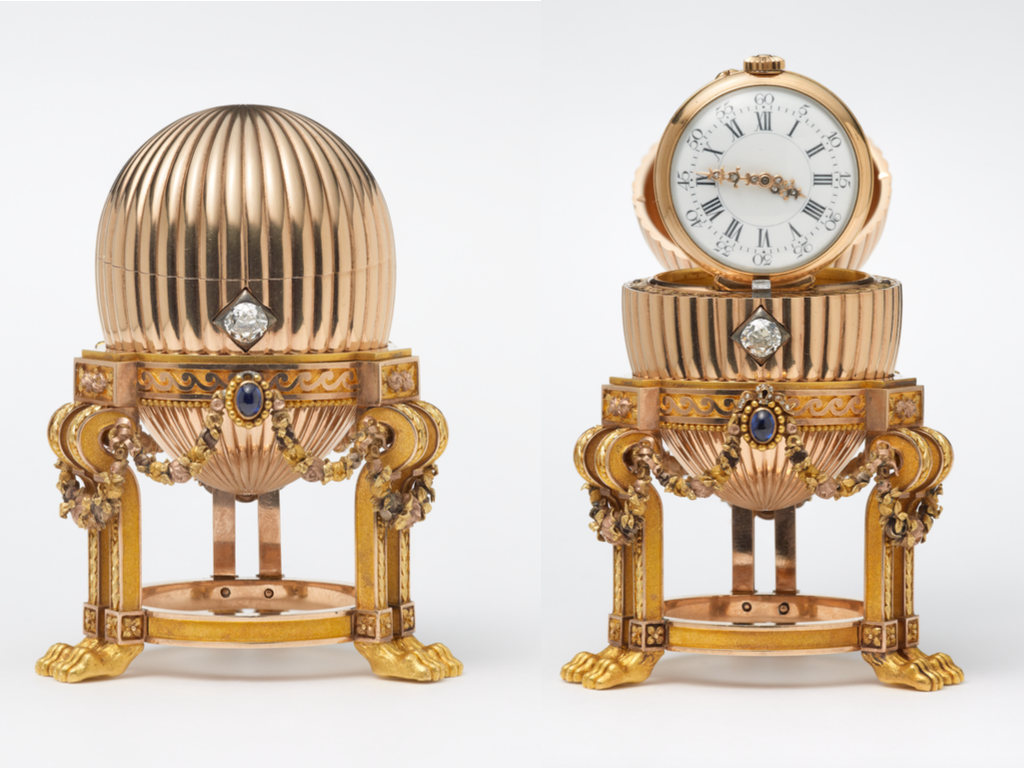 ---
5. SEVEN EGGS ARE MISSING, BUT SOME MAY YET BE FOUND
The Kremlin archives revealed that eight of Maria's eggs were missing. Even more tantalisingly, we could compare invoice and inventory descriptions with articles described in Western sale catalogues to show that three of those missing eggs had almost certainly been sold in the West, to purchasers entirely unaware of what they had bought.
The speculation that resulted was gloriously confirmed in 2012 when an anonymous American realised that the egg-shaped clock he had bought at a flea market for the value of the gold and diamonds it contained (about $13,000) was in fact the egg presented to Maria Feodorovna in 1887.
He is rumoured to have sold it for $30m.
That leaves two to find, and the good news for British readers is that one of them is almost certainly here in the UK. Combining its invoice with a separate inventory description suggests that Maria's Easter present in 1889 was a 'Nécessaire egg' containing 13 articles for a lady's toilette.
In 1949 the great London Fabergé dealer Wartski exhibited just such an egg. Shortly afterwards they sold it – as their account books meticulously record – to 'a stranger'.
---
TOBY'S TOP TIPS

Watch out for 'Fauxbergé'. Imperial Easter eggs never appeared for sale in the shop, so they should not have an inventory number or be stamped with the Fabergé mark. Carved figures are probably the easiest to forge, and therefore the hardest to authenticate.

The Queen has the largest collection of Fabergé in the world. Its core is the menagerie of hardstone animals commissioned by Edward VII as a Christmas present for Alexandra, but it includes three Imperial Easter eggs bought by Queen Mary and George V. Some are almost always on display in The Queen's Gallery, Buckingham Palace.

The collection built by Malcolm Forbes can now be seen in the Fabergé Museum in St Petersburg, rather better displayed than the 10 still in the Kremlin Museum Armoury Chamber. Otherwise, the east coast of the USA is the best place to see Imperial Easter eggs. The Hillwood Museumin Washington and the Walters Art Museum in Baltimore each have two; The Metropolitan Museum in New York has been lent three and the Virginia Museum of Fine Arts in Richmond has five.
---
OUR EXPERT'S STORY

Toby Faber is the author of Fabergé's Eggs: One Man's Masterpieces and the End of an Empire, Stradivarius: Five Violins, One Cello and a Genius, and Faber & Faber: The Untold Story. He lectures on all these subjects and more, including TS Eliot andArt and Indians, Buffalo and Storms: The American West in 19th-Century Art.

---

IF YOU ENJOYED THIS INSTANT EXPERT FEATURE...

Stay in touch with The Arts Society! Head over to The Arts Society Connected to join discussions, read blog posts and watch Lectures at Home – a series of films by Arts Society Accredited Lecturers.


Show me another Instant Expert story

---

Images (top to bottom): Maria Feodorovna © Mary Evans Picture Library; Fabergé's Trans-Siberian Railway Egg © Bridgeman Images; Winter Egg of 1913 © Wartski; Fabergé's opening egg images © Wartski

---
About the Author
Become an instant expert!
Find out more about the arts by becoming a Supporter of The Arts Society.
For just £20 a year you will receive invitations to exclusive member events and courses, special offers and concessions, our regular newsletter and our beautiful arts magazine, full of news, views, events and artist profiles.
FIND YOUR NEAREST SOCIETY