The artists exploring environments in every form
The artists exploring environments in every form
30 Nov 2019 - 15:56 BY The Arts Society
National charity Outside In provides a platform for artists who face barriers to the art world due to health, disability, social circumstance or isolation. To celebrate the huge amount of talent it has fostered, a major new exhibition was recently launched at Piano Nobile gallery in London, following an open call in which applicants were asked to consider the notion of 'environments' in all its forms. Here are some of our favourite pieces.
---
Jackie Bennett, Pells Fog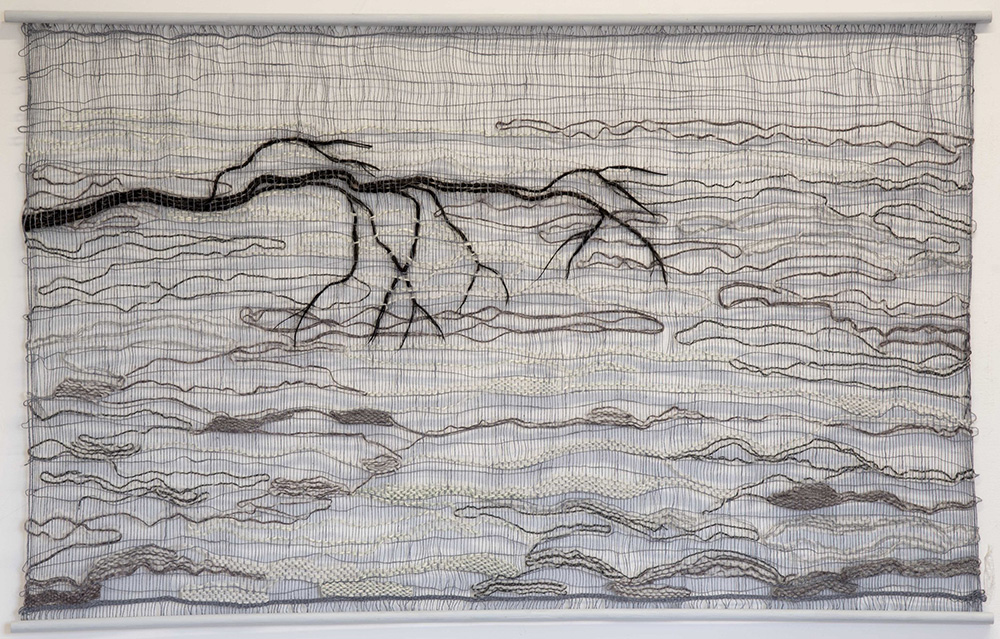 ---
This intricate weaving captures the ephemeral nature of mist rising from a pond in a wonderful array of textures. The artist recalls the memory that inspires the piece: 'The mist was rising from the water and was illuminated by a street light, swirling about a birch branch. The almost magical sight on a cold, damp night allayed my fears of walking alone.' Bennett took part in the Outside In programme 'Step Up: Talking about art', which was supported by an Arts Society grant.
---
Elinor Rowlands, Mother Earth kneeling at the altar of a burnt tree, cradling her baby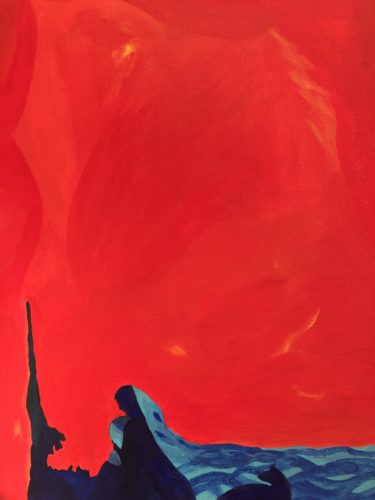 ---
'This was painted during a sensory overload where I was feeling like this planet or society wasn't made for me,' says Rowlands. The abstracted composition speaks to the artist's sense of being overwhelmed by the weight of the world, leading her to paint an ocean of flames. She also participated in the 'Step Up' programme, which helps artists develop the tools they need to speak about their work.
---
Alan Payler, The Garden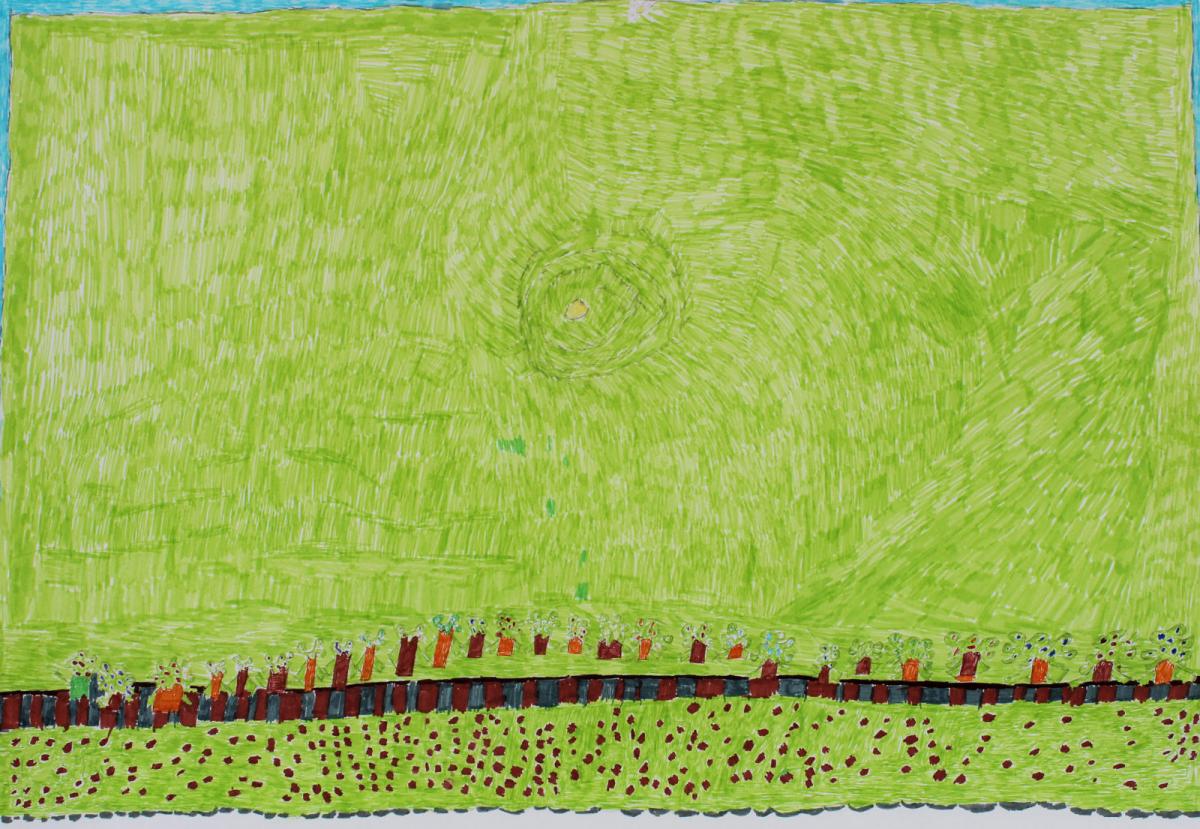 ---
Using nothing but felt pen, Payler creates a meditative scene that is immediately recognisable as a garden. The artist often creates compositions that contain both intricate detail and swathes of colour, and the judges (including Grayson Perry and exhibition curator Cornelia Marland) found it so compelling that he was awarded the show's first prize. Payler attends the Community Art Project in Darlington – a project for adults with learning disabilities.
---
Pinkie Maclure, Self-Portrait Dreaming of Portavadie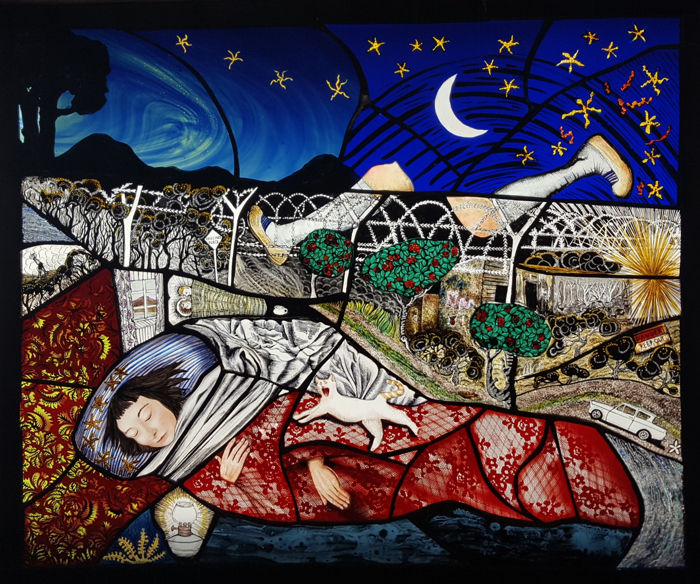 ---
The splintered nature of this stained-glass panel reveals a deeply personal story from the artist's childhood, based in the remote idyll of Portavadie in Scotland. The artist spent summers there with her grandfather, but in the 1970s the surrounding land was bought by an oil company, which subsequently carved it up before leaving it derelict. Maclure's panel is peppered with images that recall both happy times and the horrible fate brought about by commercial interest.
---
Boon Yik Chung, The Modern Day Ophelia (After Sir John Everett Millais)
---
At first glance, this painting seems to show a view of a regular London street, but closer inspection reveals an array of out-of-the-ordinary scenes, including a horse against a cloudy sky and some form of ad hoc burial, which recalls Millais's famed depiction of Ophelia. The artist refers to his work as a 'love letter' to the city, but also pokes fun at the trials and tribulations of contemporary life.
---
SEE

Environments, presented by Outside In, at Piano Nobile
Until 1 January 2020
Become an instant expert!
Find out more about the arts by becoming a Supporter of The Arts Society.
For just £10 a year you will receive invitations to exclusive member events and courses, special offers and concessions, our regular newsletter and our beautiful arts magazine, full of news, views, events and artist profiles.
FIND YOUR NEAREST SOCIETY