The Art That Made Me: Rebecca Appleby
The Art That Made Me: Rebecca Appleby
3 Jul 2019 - 09:19 BY The Arts Society
Artist Rebecca Appleby works predominantly in clay, and her public sculpture for Leeds project A City Less Grey is unveiled this month. Here she reveals the five art forms that, so far, have influenced her most.
---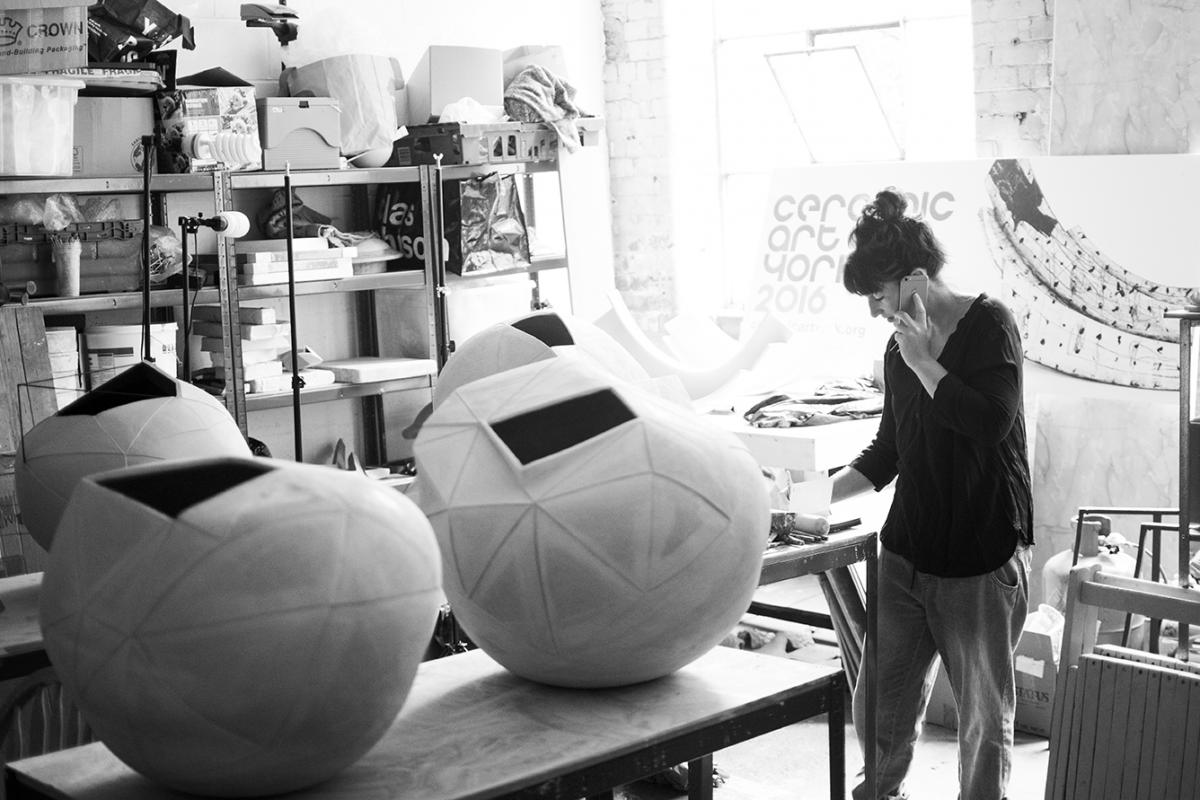 © Rebecca Appleby
---
Auguste Rodin's sculpture

I was first introduced to Rodin as a child, through an image of his bronze figure of Pierre de Wissant, one of the burghers of Calais. I was profoundly moved by its expression: the head and hands emanating such pain, agony and anguish, the body twisting. Rodin's touch is unlike any other. I enjoy the interpretive nature of his sculptures; the confident, yet loose modelling. And I am drawn to his sketches: the linear qualities lifting the figure off the page with such lightness of touch.
The work of Cy Twombly

I am particularly drawn to Twombly's paintings and sculpture: the raw energy, use of colour, and magnificent mark-making in his 2D and 3D sculpture. I am always surprised at the way that his sculptures appear to have a muted tonal palette and I enjoy the restrained, subtle qualities of the surfaces. All of Twombly's work gives me great joy. I believe that he is one of modern art's greatest masters.
Richard Deacon's forms

Anthony Caro, Richard Serra and Tony Cragg are a few of my favourite sculptors, but Richard Deacon's work excites me most. His forms are constructed from everyday materials, such as laminated plywood, and he calls himself a 'fabricator' rather than a 'sculptor'. I enjoy the way he appears to celebrate the process of making, where joints are left exposed and surfaces are raw and untreated. His early pieces are typically made up of sleek curved forms, with later works sometimes more formal and enclosed.
---
Marks of Industry, one of Rebecca's vibrant ceramics pieces. Credit: David Fulford
---
Abstract Expressionism

The Abstract Expressionist Movement, characterised by gestural brushstrokes or mark-making and the impression of spontaneity, has been a big influence on me. I love the energy, expression and movement that work from this genre embodies. I try to capture a similar quality of mark-making in the surfaces of my ceramic sculptures and my paintings. Among the artists associated with the movement, I would single out Robert Rauschenberg, Franz Kline, Robert Motherwell and Antoni Tàpies.
Brutalism

I respond to the functional, reinforced concrete and steel modular elements and utilitarian feel of Brutalism architecture. Imposing and geometric, Brutalist buildings have a graphic quality that is part of what makes them appealing. The word 'brutalist' doesn't come from the architecture's fortress-like stature, but from the raw concrete it's often made from – béton brut. I would love to work with that material in the future.
---
SEE

Rebecca's work at Doddington Hall, Lincoln; 26 July–8 September; sculpturedoddingtonhall.com

Her public sculpture for East Street Arts' A City Less Grey is at Kirkstall, Leeds; rebeccaappleby.co.uk; eaststreetarts.org.uk
Become an instant expert!
Find out more about the arts by becoming a Supporter of The Arts Society.
For just £10 a year you will receive invitations to exclusive member events and courses, special offers and concessions, our regular newsletter and our beautiful arts magazine, full of news, views, events and artist profiles.
FIND YOUR NEAREST SOCIETY