Anthony Whishaw: The rebirth of a British master at 90
Anthony Whishaw: The rebirth of a British master at 90
30 May 2020 - 11:57 BY Jonathan Casciani
As Royal Academician Anthony Whishaw celebrates his 90th birthday, Jonathan Casciani takes us on a journey through two books on the artist, which demonstrate that when exhibitions are closed, reading is still one of the best ways of appreciating great art.
---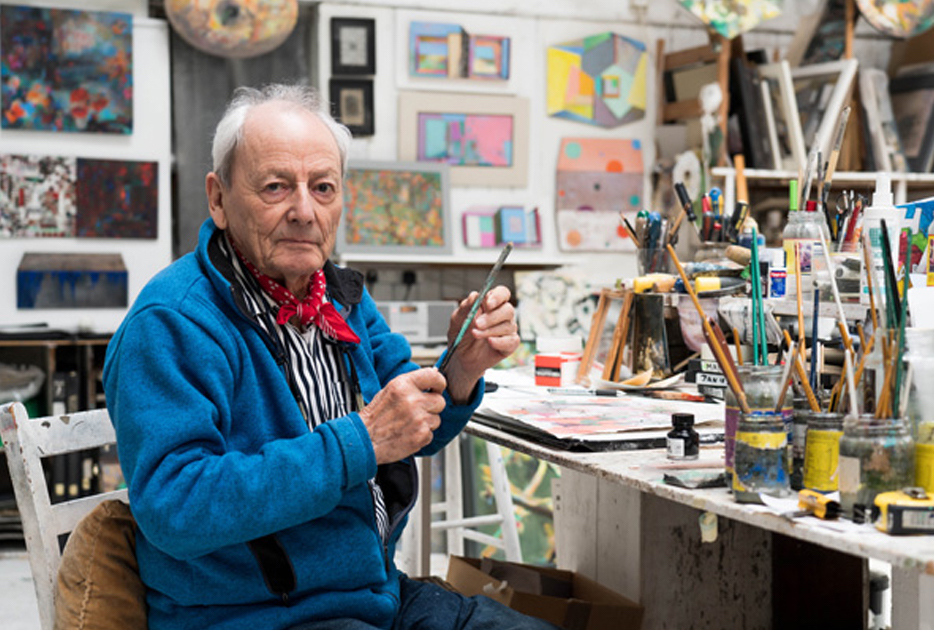 ---
This month Anthony Whishaw celebrates his 90th birthday in his Chelsea home, where he has lived and worked since 1956. Born in Paddington, London in 1930, he spent the first nine years of his life living in Brazil, where his father worked for the British government. With the onset of World War II the family returned to the UK in 1939 and settled in Kent, where he was given a scholarship to attend Tonbridge School.
Whishaw, like a typical teenage boy, was passionate about sport. However, an accident playing rugby led him to focus on the quieter activity of drawing. This was when the artist's talent for observation and capturing a moment with the drawn line was born.
---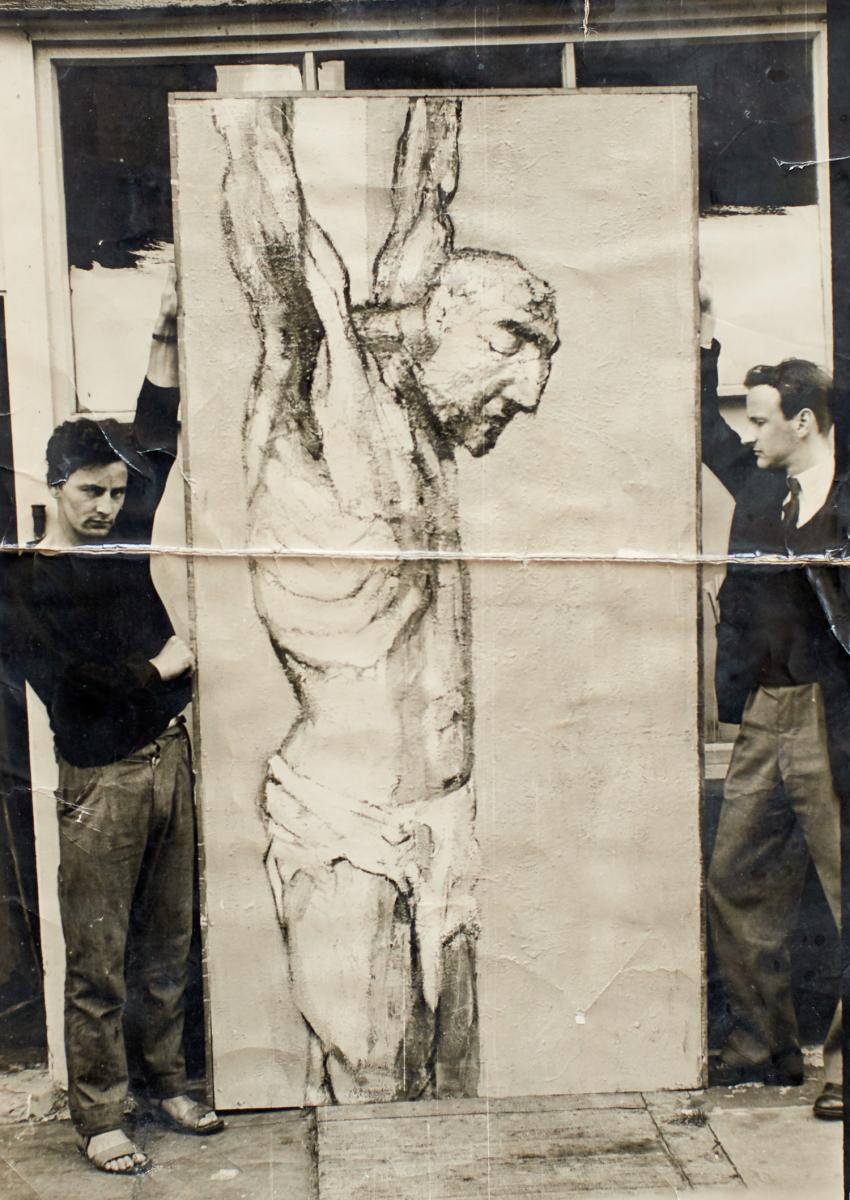 Anthony Whishaw (left) with his painting The Crucifixion, 1956, during his time at the Royal College of Art
---
Whishaw went on to study at the prestigious Chelsea School of Art from 1948 to 1952, and then the Royal College of Art until 1955. During this period, he was awarded a scholarship to spend time travelling in Spain. In a time when global travel was a rare privilege, being surrounded by a different culture would have been an extraordinary adventure. For Whishaw, it was an opportunity to observe Spanish life, the landscape and the drama of public spectacles, like the brutal tradition of bullfighting. The experience had a profound effect on the young artist and has continued to influence many of his artworks over his 70-year career.
---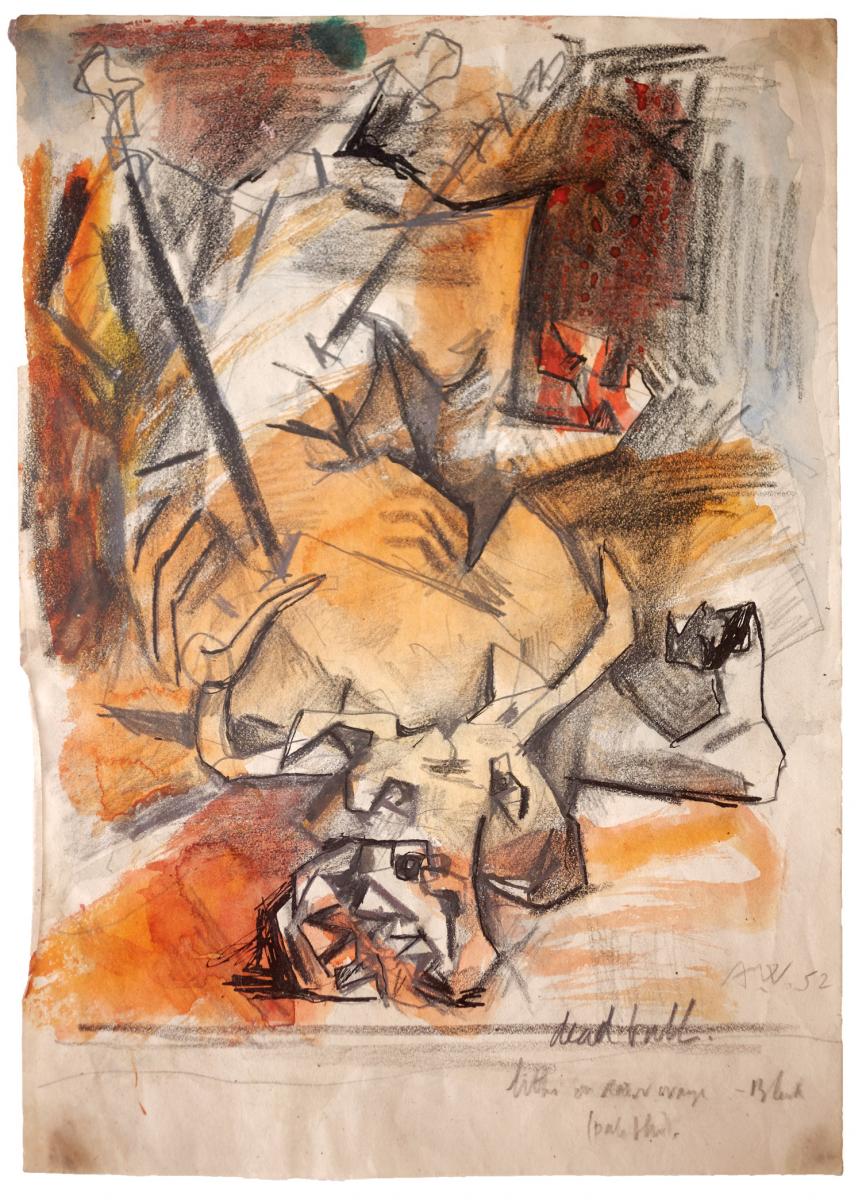 Dead Bull, 1952
---
The early painting Laughing Couple, 1956, is a powerful observation on everyday life in Spain and is one of the best early examples of the artist's ability to handle paint and capture human emotion and energy. In this work Whishaw demonstrates an early virtuosity that is comparable to the great figurative painters of his generation, such as Lucian Freud and Frank Auerbach.
---
Laughing Couple, 1956
---
While his paintings have been the subject of major exhibitions, Whishaw's works on paper have rarely been seen. His early sketchbooks from this period were recently discovered by author Richard Davey and are featured throughout his new book Anthony Whishaw RA: Works on Paper.
---
'On one level the sketchbooks demonstrate a virtuosity and rare talent as a draftsman and a master of mark making; on another level these sketchbooks are like a blueprint for future works, although they are not proprietary drawings. It's almost like the ideas were already embedded in his subconscious just waiting to come out' – Richard Davey

---
In Works on Paper Davey explores Whishaw's work through a lens of mark making that demonstrates the artist's immense sensitivity to the drawn line. Observing life; people at work, people dancing, a figure crouching are sometimes expressed through precise mark making and at other times through loose tangles of lines. The slightest flick of the wrist and frenetic energy of a squash player in action are frozen in time by the briefest of marks that dance across the artist's sketchbook.
---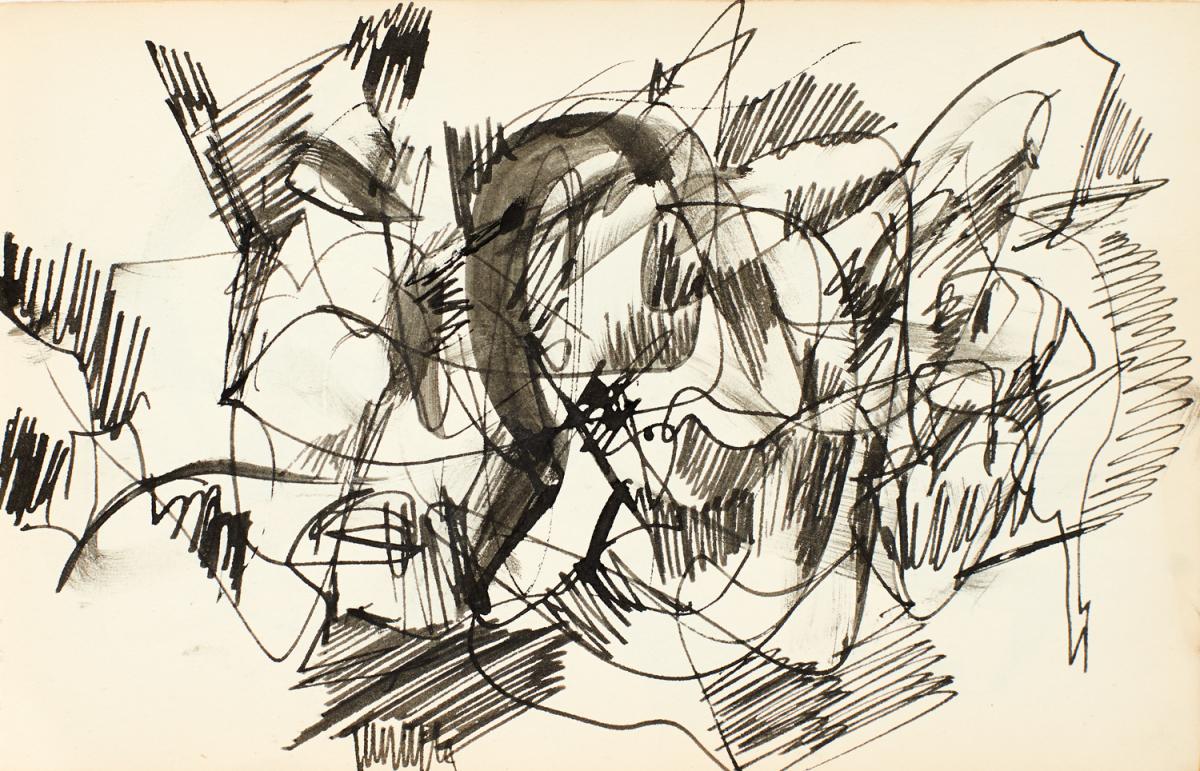 ---
Whishaw is an artist that shifts effortlessly between figuration and abstraction. His early abstract drawings are the introduction of a visual language that we later see in his paintings Grey Dance, 1963–64 and Yellow Dazzle, 1967, featured in Davey's book Anthony Whishaw.
---
Yellow Dazzle Figure Interior, 1967
---
Several years later the artist pushes this to the extreme with Landscape Fragments, 1974–75 and Corral, 1983–84. These works on paper retain the spontaneity of drawings but conceptually challenge us on the very nature of what a landscape is.
Many artists of Whishaw's generation are known for a particular style and exploring the same ideas for many years. However, he has always moved forward and experimented. This makes his work almost impossible to categorise, and it is also what makes him a great artist. Whishaw proclaimed on the 1960 BBC television arts programme Monitor that 'it's dreadfully important to go on experimenting always'.
---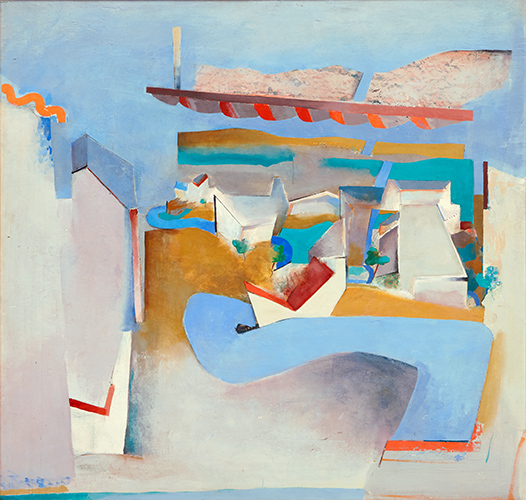 Blue Road Northwards II, 1967
---
Davey's first book, Anthony Whishaw, explores the artist's major works on canvas; the second, Works on Paper, takes us on a journey of the artist's immense sensitivity to mark making. While much of the art world has rushed to create online exhibitions during the lockdown, Richard Davey's two books demonstrate how reading is still one of the best ways to learn about great art.
---
Jonathan Casciani is Director at Beam Editions
---
Anthony Whishaw RA: Works on Paper (Beam Editions) is available from:
beameditions.uk/bookshop/anthony-whishaw-works-on-paper
Anthony Whishaw is available from: https://shop.royalacademy.org.uk/anthony-whishaw-hardback
Anthony Whishaw RA: With Spain in Mind at the Royal Academy of Arts will reopen after lockdown. Keep checking the website for more details.
Become an instant expert!
Find out more about the arts by becoming a Supporter of The Arts Society.
For just £10 a year you will receive invitations to exclusive member events and courses, special offers and concessions, our regular newsletter and our beautiful arts magazine, full of news, views, events and artist profiles.
FIND YOUR NEAREST SOCIETY