5 great artworks by powerful female artists
5 great artworks by powerful female artists
Whitechapel Gallery's new show celebrates the women artists who redefined abstract painting in the aftermath of World War II. The show's co-curator, Candy Stobbs, shares the story behind five of the extraordinary works
---
The first of its kind in Europe, the exhibition Action, Gesture, Paint: Women Artists and Global Abstraction 1940 –70 brings together more than 150 paintings by 81 highly significant, but often-overlooked international artists whose work embraced similar ideals of freedom of expression, political action and personal subjectivity.
Although the movement we know as Abstract Expressionism officially began in mid-century USA, artists all over the world were exploring parallel approaches to abstraction through materiality, expressivity and gesture. There was Art Informel andArte Povera (meaning, literally, 'poor art'); calligraphic abstraction and Gutai in East Asia; and experimental, deeply political practices in Central and South America and the Middle East.
Drawing on the earlier avant-garde movements of both Expressionism and Surrealism, the artists in this show redefined creative practice as an immersive arena for action, process and consciousness, in which their paintings were regarded not as images but as events.
Here are five that will be on show…
---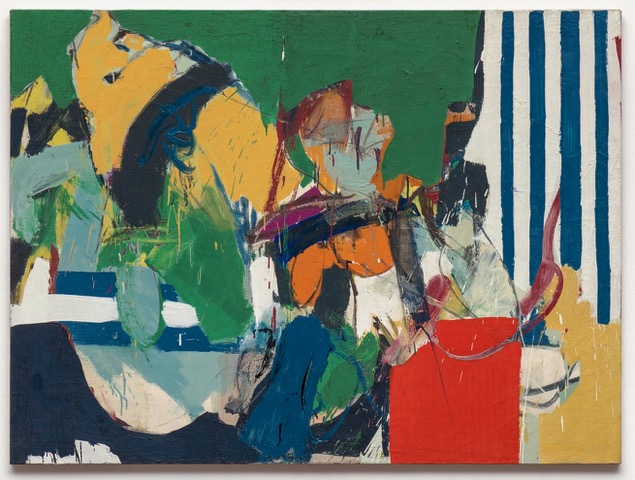 Untitled, 1960s, by Wook-kyung Choi. © Wook-kyung Choi Estate and courtesy of Arte Collectum
---
Wook-kyung Choi (1940–85) moved to the United States in the early 1960s, where she studied and taught until the 1970s, when she returned to Korea. Her work from this period references Korean Art Informel and Abstract Expressionism, especially that of Jackson Pollock, Willem de Kooning, Robert Motherwell and Grace Hartigan.
In this work, called Untitled (1960s), she combines linear, controlled forms with more expressive brushstrokes, which appear rapidly applied to create bold, impactful compositions of colour and line. 'My paintings are collaged bits of time from my past and present experiences,' the artist said. 'Each work has its own life as the forms grow and I convey my feelings into a visual language.'
---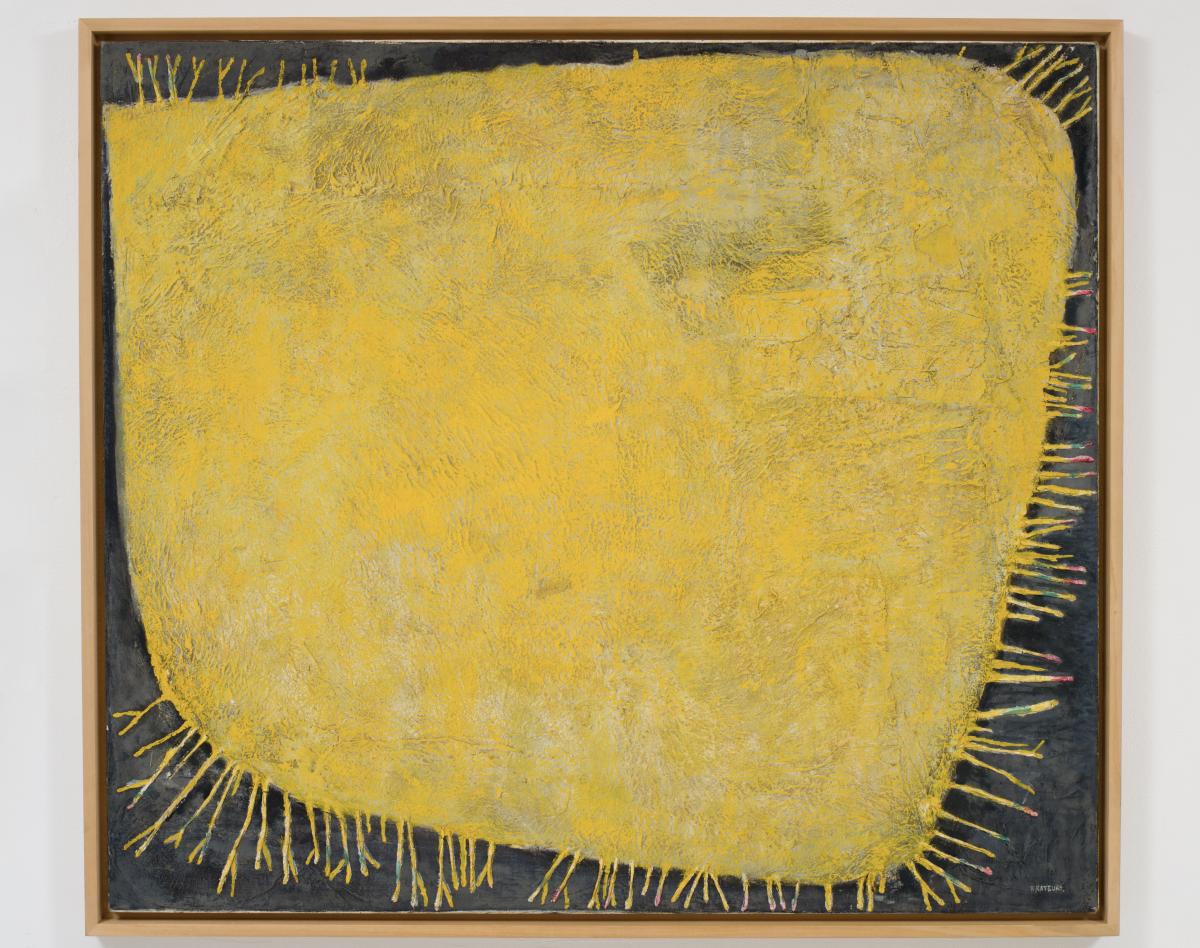 Work, 1958-62, by Yuki Katsura. Image: Courtesy Alice and Tom Tisch, New York © Estate of Yuki Katsura
---
Yuki Katsura (1913–91) made abstract paintings during 1958–61, while living in New York where she had travelled from her native Japan, and where she encountered Abstract Expressionism for the first time.
She was interested in irregular forms and contrasting areas of colours and texture. You can see this in Work (1958-62). She achieved the effect through the collaged application of wet and wrinkled washi paper onto the surface of painted canvas, followed by an additional layer of paint.
Combining material and process and influenced by traditional Japanese practices and Western avant-garde painting, Katsura's move into abstraction expressed a sense of freedom and experimentation from the confines of art making expected of women artists in Japan.
---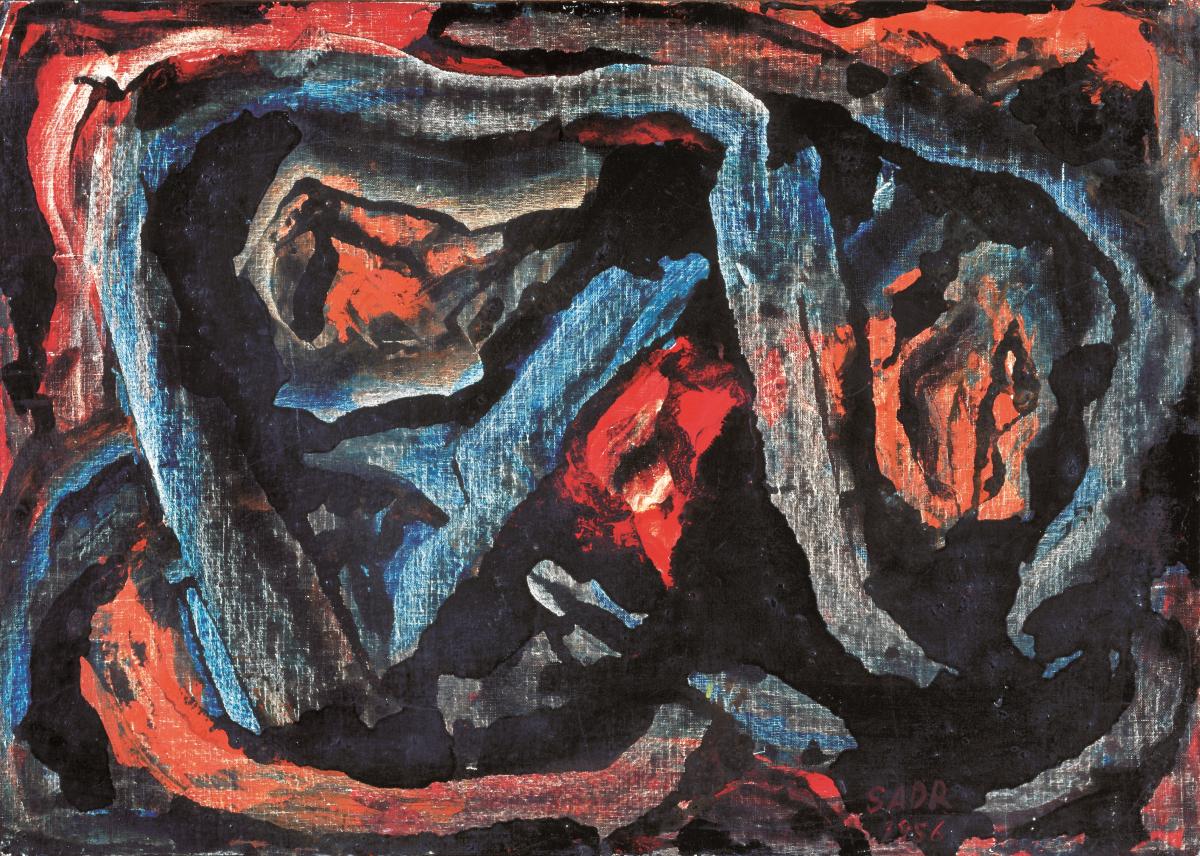 Untitled, 1956, by Behjat Sadr. Image: Courtesy of Behjat Sadr Estate © ADAGP, Paris and DACS, London 2022
---
Behjat Sadr (1924–2009) was born and studied in Iran before travelling to Rome on a scholarship, where she encountered both Art Informel and Abstract Expressionism in the late 1950s.
She began to develop a personal abstract universe of curvilinear flowing forms drawing on nature. In Untitled (1956), the board surface is covered in wide expressive brushstrokes in an all-over composition of a cave-like interior, all done as she entered what she called an 'unconscious trance'.
Even before seeing Jackson Pollock's paintings, Sadr had abandoned both the academy easel and paint tubes and obtained large containers of commercial paint, spreading her canvases on the floor and using palette knives and scrapers to apply paint. Working on the floor opened up new gestural opportunities for experimentation, and the artist described how 'the relation between my body movements and the forms they produced fascinated me'.
---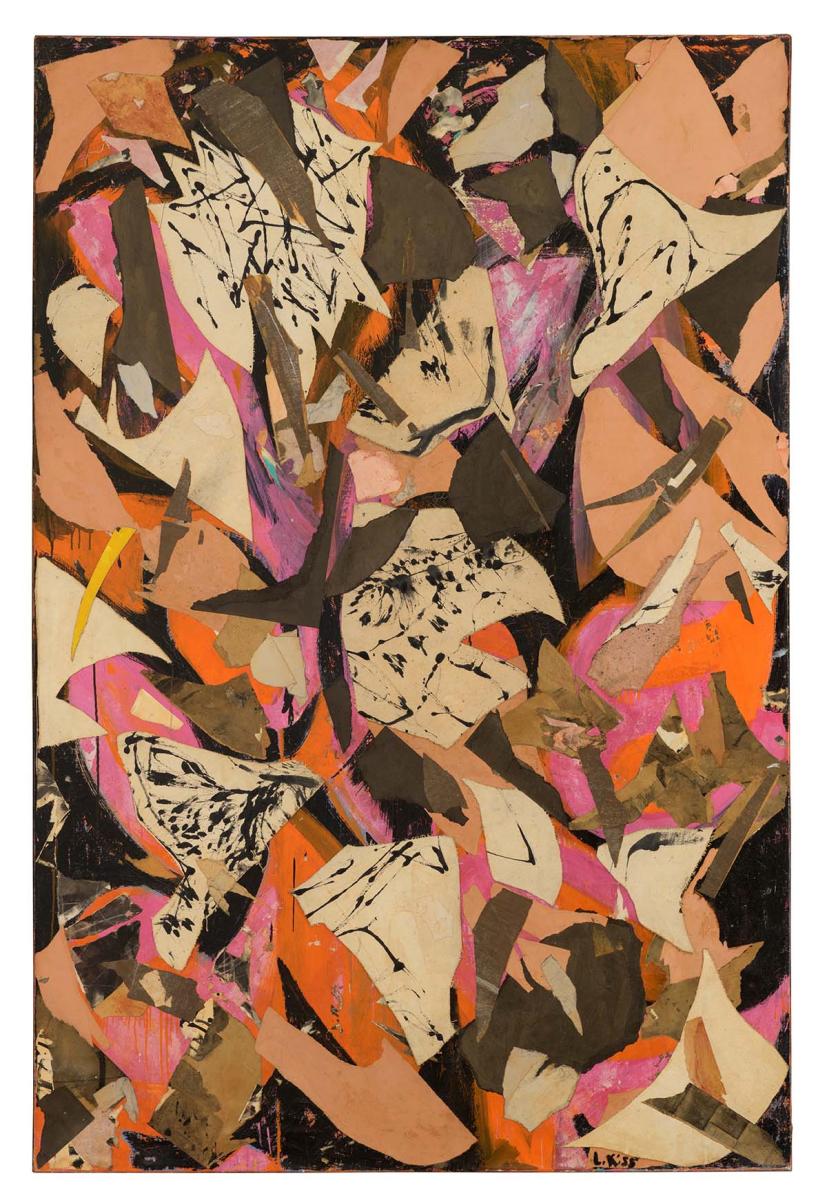 Bald Eagle, 1955, by Lee Krasner. Image: Courtesy of ASOM Collection © 2022 Pollock-Krasner Foundation/Artists Rights Society (ARS), New York
---
One of the defining figures of the group of mainly male Abstract Expressionist artists in New York in the 1940s and 1950s, Lee Krasner (1908–84) studied with the artist Hans Hofmann – the artist who once famously declared of one of her canvases: 'This is so good. You would not know it was done by a woman.'
Krasner married Jackson Pollock in 1945, leaving New York for the small community of artists in Spring, Long Island. Experiencing a period of self-doubt in the early 1950s she tore up some drawings, leaving them on her studio floor. She noticed something in these scraps, however, and began what became known as her 'collage paintings'. These were made up of torn strips of her own drawings, paintings, newspapers, burlap and cut-up discarded fragments of drawings by Pollock, all layered onto the surface of the canvas.
Bald Eagle (1955), which was included in Krasner's solo show at the Whitechapel Gallery in 1965, combines fragments of Pollock's and her own discarded works in what has been described as a jagged, possibly ritualistic interplay of destruction and creation.
---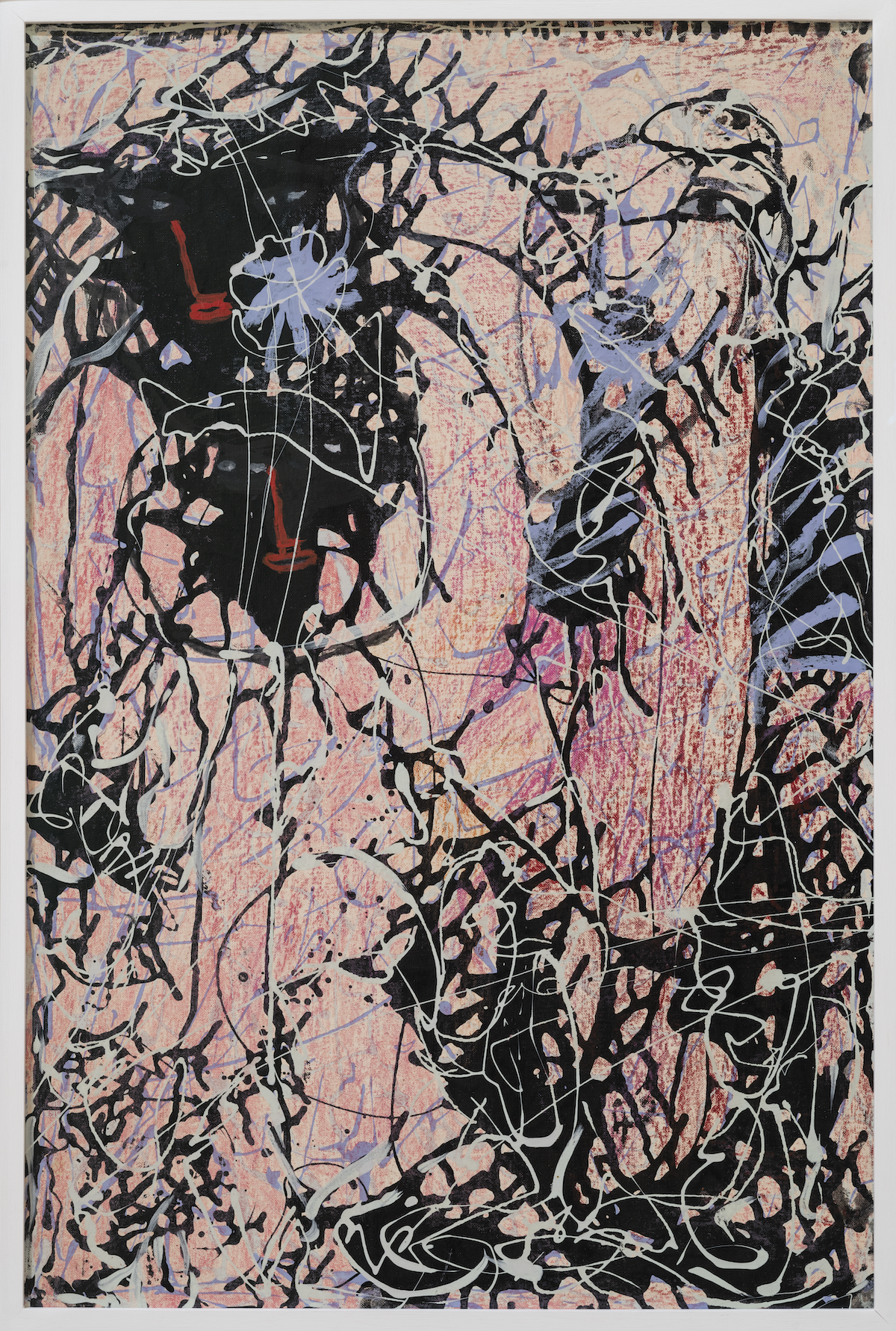 Untitled, c.1948, by Janet Sobel. Image: Courtesy The Levett Collection
---
Janet Sobel (1893–1968) and her family emigrated from Ukraine to the United States in 1908. Untrained, she discovered painting in the late 1930s through her son, who was studying art in New York. Described as 'the Grandmother of Drip Painting' she developed a unique style to express unconscious impulses and ideas by dripping paint directly onto the canvas, tipping it gently and blowing the lacquer or enamel paints she often used across the surface.
Untitled (1948) is covered with a densely filled tracery of mark making that resembles a cosmic galaxy in an all-over composition, using a painterly technique that became associated with Jackson Pollock. Sobel's paintings were seen by both Pollock and the critic Clement Greenberg, who only acknowledged her influence much later. After Sobel left New York, she fell into obscurity, but her contribution to all-over painting and drip painting is now being recognised
---
Action, Gesture, Paint: Women Artists and Global Abstraction 1940-70 runs from 9 February–7 May; whitechapelgallery.org
About the Author
Candy Stobbs
Senior assistant curator at the Whitechapel Gallery and has organised a range of solo and group exhibitions, including A Century of the Artist's Studio 1920–2020 (2022) and William Kentridge: Thick Time (2016)
Become an instant expert!
Find out more about the arts by becoming a Supporter of The Arts Society.
For just £20 a year you will receive invitations to exclusive member events and courses, special offers and concessions, our regular newsletter and our beautiful arts magazine, full of news, views, events and artist profiles.
FIND YOUR NEAREST SOCIETY