5 great artworks about escapes to the seaside
5 great artworks about escapes to the seaside
Look out your towels, sun cream and umbrellas: August is the height of the great British summer. Get in the spirit with these five works of art with a seaside theme
---
Nothing quite beats a day at the beach, when there's the chance of a dip in the sea, ice creams and blue skies without too many clouds on the horizon.
Seaside adventures have been part of our British calendar for centuries, revitalised in many ways by lockdown restrictions, which prevented sunbathers and beachgoers from reaching more tropical sands.
Here, we stick on our sunnies and prepare to be dazzled by the wonder of five artists who took inspiration from their days by the waves.
---
True blue
Summer Evening on Skagen Sønderstrand by Peder Severin Krøyer (1851–1909). Image: Skagens Kunstmuseer/Art Museums of Skagen/Gift, 1978 from Axel Springer, Berlin, received 1986
---
Today's Instagrammers may crave Golden Hour – that short time of day directly preceding sunset or succeeding sunrise – but it was 'blue hour' that worked so beautifully for Danish painter Krøyer in this 1893 masterpiece.
This is the moment when the last sunshine of the day has been enveloped in mist, creating an all-encompassing soft blue light that merges with the sea.
Norwegian-born but raised from early childhood in Copenhagen, Krøyer based this painting on a photograph taken of his wife, Marie Krøyer, and her friend, Anna Ancher, both esteemed artists in their own right. All were part of a community known as the Skagen Painters, who initially reunited each summer in the east coast village of Skagen to create work together. Krøyer settled in Skagen permanently in 1889.
This painting had an interesting life following the death of its creator. When put up for sale in 1978 there was evidence that it had spent time hanging in an Austrian mountain cabin. In private ownership for years, by the later 20th century it was in the hands of German publisher Axel Springer. His wife would later donate it to the Danish people in recognition of the 1943 rescue of Danish Jews from the Nazis. It is now in the collection of Skagen Museum.
---
Summer breeze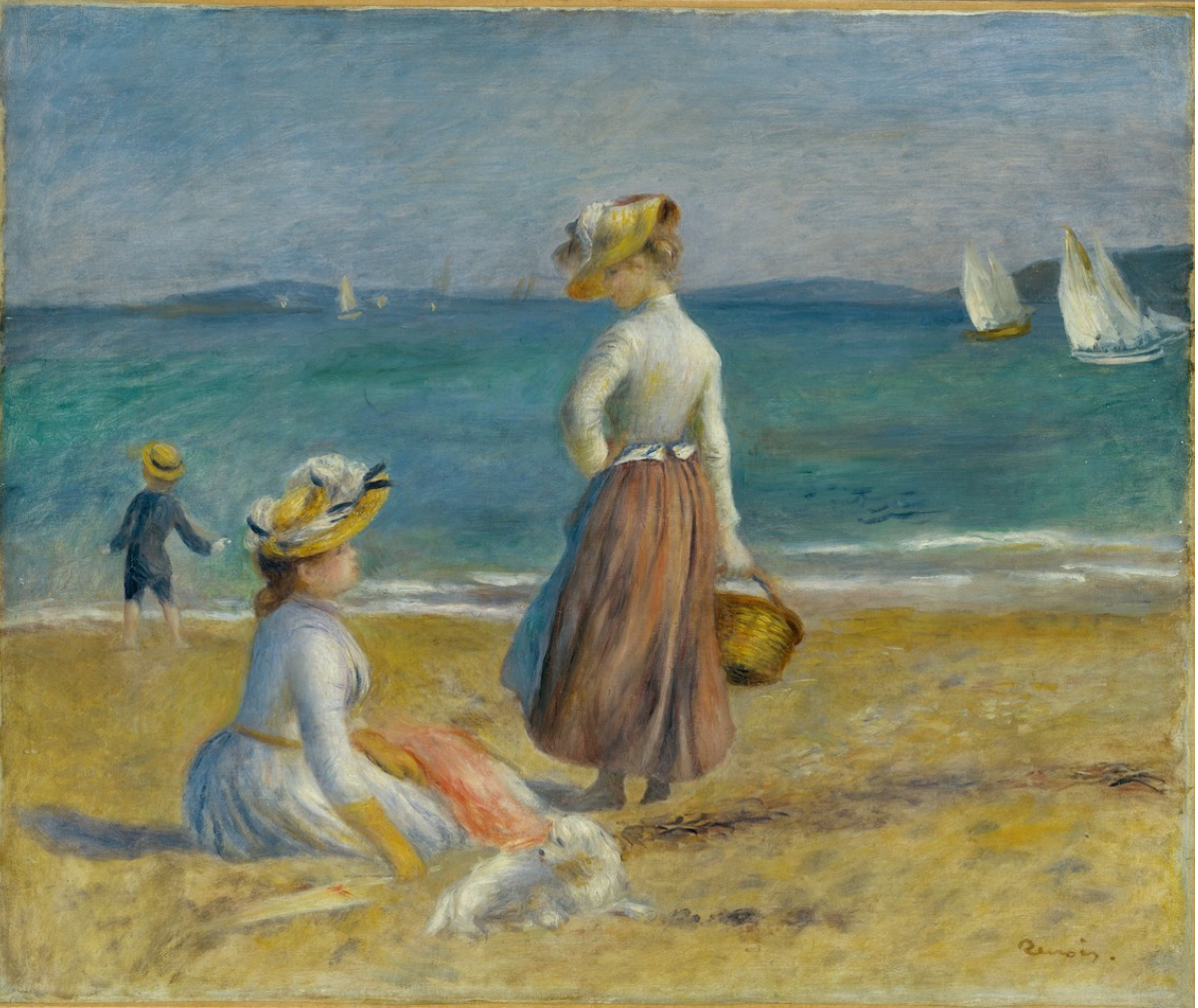 Figures on the Beach by Auguste Renoir (1841–1919). Image: The Met/Robert Lehman Collection, 1975
---
A leading light of the Impressionism Movement, Auguste Renoir's 1890 painting of two women at the beach is a sun-kissed, breezy, joy-imbued celebration of the freedom offered by a day at the coast. We can almost feel the sand between our toes. The fun details of a nonplussed dog and a boy entertaining himself add colour to a well-textured snapshot of a summer holiday.
The painting, now held in The Met's collection, was likely painted on the Cote D'Azur when Renoir was leaning into the ideas of free spirit and individuality, pushing against the spread of technology in his changing world.
It's a work with no suggestion of anything but happiness and pleasure in this vivid seaside moment.
---
Mystery and sea mists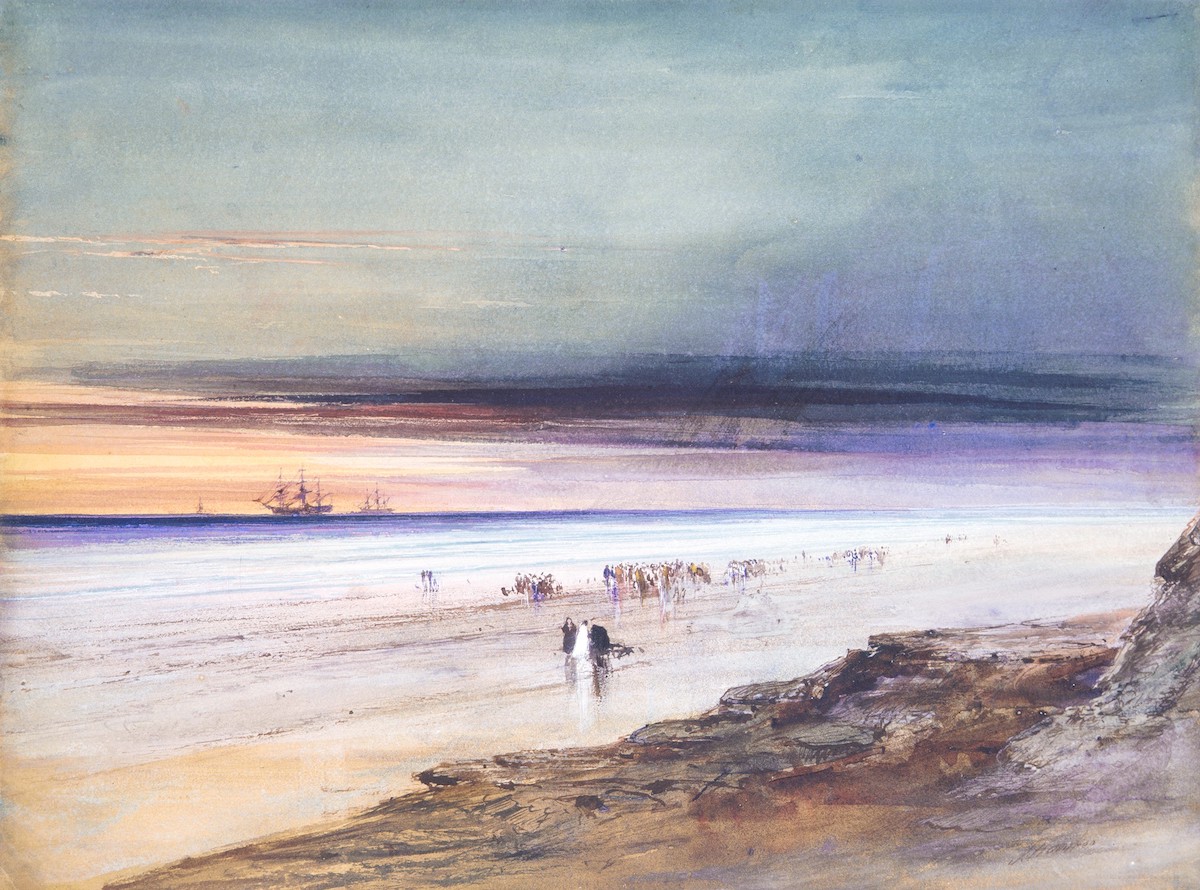 Beach Scene by James Hamilton (1819–78), painted around 1865. Image: The Met/Rogers Fund 1966
---
No stranger to the sea, artist James Hamilton was born in Belfast before moving to Philadelphia to work as an art teacher. His life took him back and forth across the Atlantic, returning to the UK in 1854 to study Turner and other great landscape painters. By the time he came back to the United States, he was ready for a two-decade career creating his own scenes.
He has since been acknowledged as one of several artists worthy of the title 'American Turner'. No one is sure of the exact location of this scene, but it is thought to be the Jersey shore at Atlantic City. It's a dreamy demonstration of Hamilton's technical prowess and masterful use of colour. We're curious as to who the figure in white must have been in the foreground – and what the scene represents – but the story is as hazy as the sea mist seen rolling in to the right of the canvas.
---
Window on the waves
Seaside (July: Specimen of a Portrait) by James Tissot (1836–1902), 1878. Image: The Cleveland Museum of Art/Bequest of Noah L Butkin
---
Admittedly, we're a month late with this painting – one of a series in which each work represents a different month of the year.
But surely it's not such a stretch to associate this image with the August holidays?
As seen in the previous paintings, the sitter is relaxed by the coast, dressed in gorgeous summer garb, her dress a white muslin-like material, decorated with sunny-yellow bows. It's thought that the model is Kathleen Newton, who had an affair with Tissot from 1876 until her death in 1882.
The relatively dark, shadowy colours of the interior speak more to a typical British summer but bring dramatic contrast to the sizzlingly light beach scene outside.
Tissot's style varied depending on what he was working on. He also had a career as a popular political cartoonist nicknamed Coïdé in Vanity Fair, running alongside his more serious art, such as here, that touched on Impressionism, realism and academic styles.
---
Buckets sans spades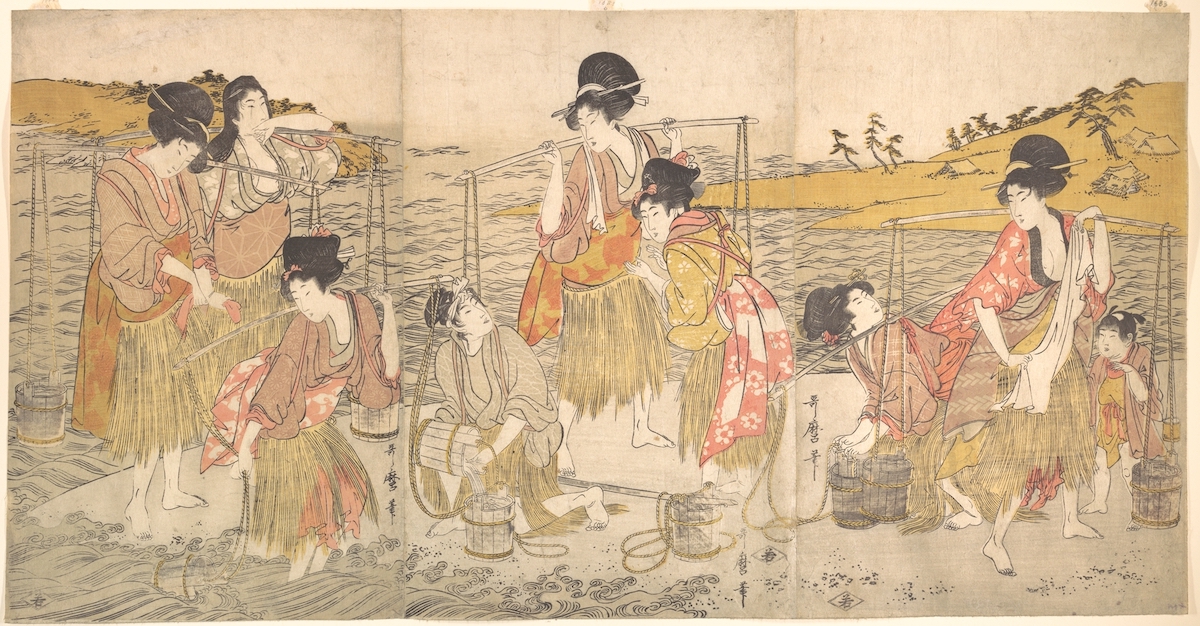 The Dance of the Beach Maidens by Kitagawa Utamaro (c.1754–1806). Image: The Met/H O Havemeyer Collection, Bequest of Mrs H O Havemeyer, 1929
---
Inspired by a play that was itself based on a much older story, this triptych of woodblock prints shows nine figures engaging in some sort of ritual with buckets of seawater. The original source material is barely recognisable here in Utamaro's rendition – the first story tells of two sisters, later to become goddesses, who ladle seawater into their carts at a key point in the narrative.
Best known as Matsukaze, or Wind in the Pines, the story has been told and represented countless times in Japanese culture. A version of the play was written by actor, playwright and musician Kan'ami (1333–84) with revisions by another actor and playwright, Zeami Motokiyo (1363–1443), and an opera adaptation has since been made, as have kabuki dramas.
While involving much more toil than some of our other coastal scenes, this work by Utamaro proves the universality of artists' interests in the land meeting the sea. We love the evocation of the ripple of waves in this beach scene, the trees leaning against the summer winds, and even fancy we can almost hear the chatter of these women, as they ladle bucket after bucket of briny water.
About the Author
Ciaran Sneddon
writes for The Arts Society
Become an instant expert!
Find out more about the arts by becoming a Supporter of The Arts Society.
For just £20 a year you will receive invitations to exclusive member events and courses, special offers and concessions, our regular newsletter and our beautiful arts magazine, full of news, views, events and artist profiles.
FIND YOUR NEAREST SOCIETY