12 facts about Pieter de Hooch, master of light and serene domestic scenes
12 facts about Pieter de Hooch, master of light and serene domestic scenes
Slip through the door of Museum Prinsenhof Delft's new show Pieter de Hooch in Delft: from the shadow of Vermeer. Nearly 400 years after he painted them, this is the first-ever exhibition of de Hooch's works in the Netherlands.We've gathered 12 key facts about the artist and his sublime approach to painting.
---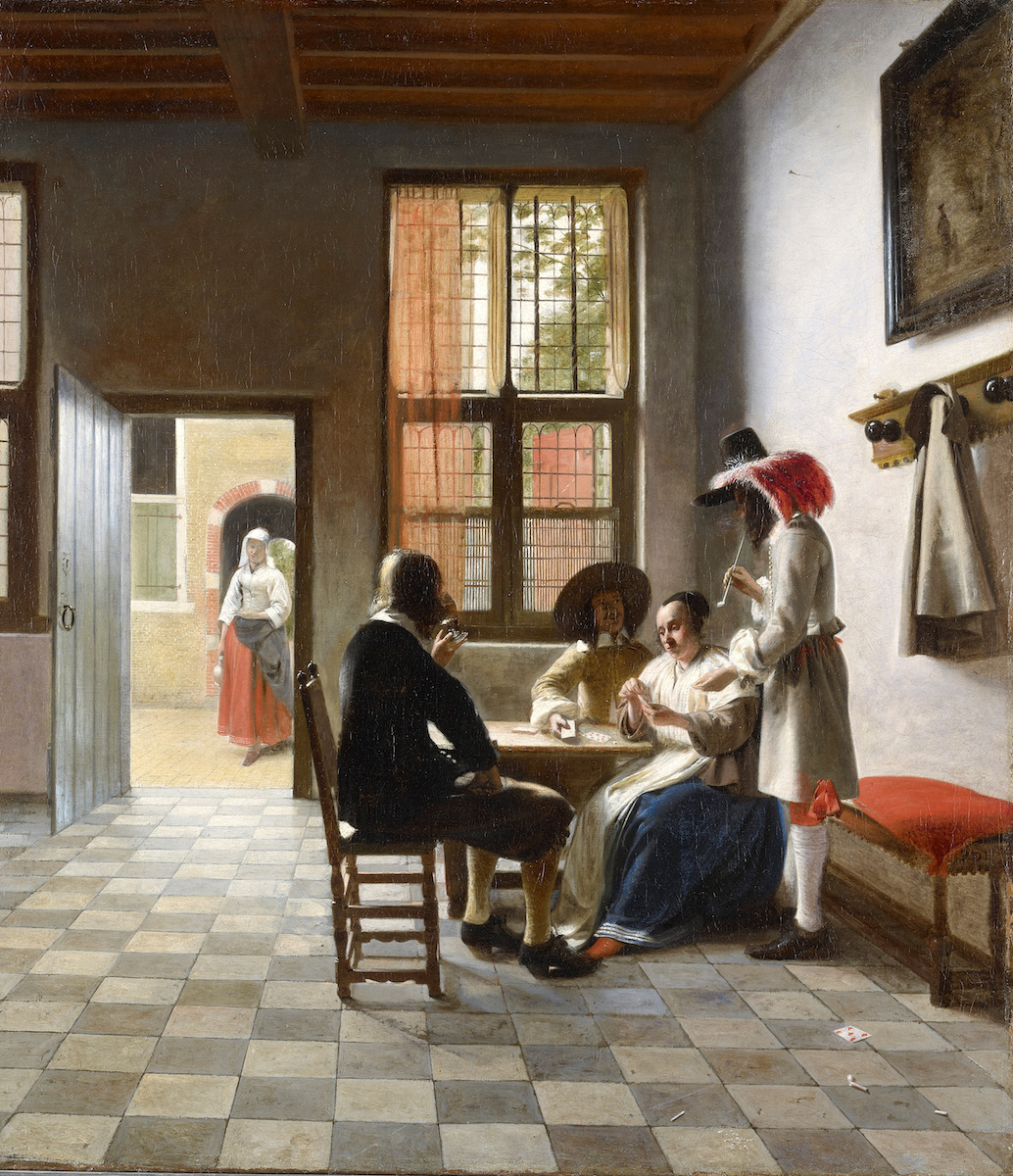 Cardplayers in a Sunlit Room, The Royal Collection / HM Queen Elizabeth II 2019
---
1. Pieter de Hooch does not reveal himself easily
His contemporary, Vermeer, was called 'the Sphinx of Delft' because so little was known about him. The same can be said of de Hooch. There has been little research on him until now, and only a handful of documents directly connected to him are known to exist. We're not even sure what he looked like, as the one 'self-portrait' in existence has long had its attribution in dispute. What we do know is that his most important years as an artist followed his move to Delft in around 1650, and those key years were 1652 to 1660.
---
Self-portrait?, ca. 1648-1649. Rijksmuseum Amsterdam
---
2. De Hooch was the painter of daily life
He's known for his secret courtyards and domestic interiors, with figures engaged in household chores – a woman laying her laundry out to bleach in the sunlight; a mother checking her child's hair for lice. But that's not how de Hooch started out. He was a painter of 'kortegaerdjes' – scenes of soldiers and inns, created in a palette of soft tones. But the contemporary art market was hotly competitive, and this genre was already considered old-fashioned when he was doing them.
---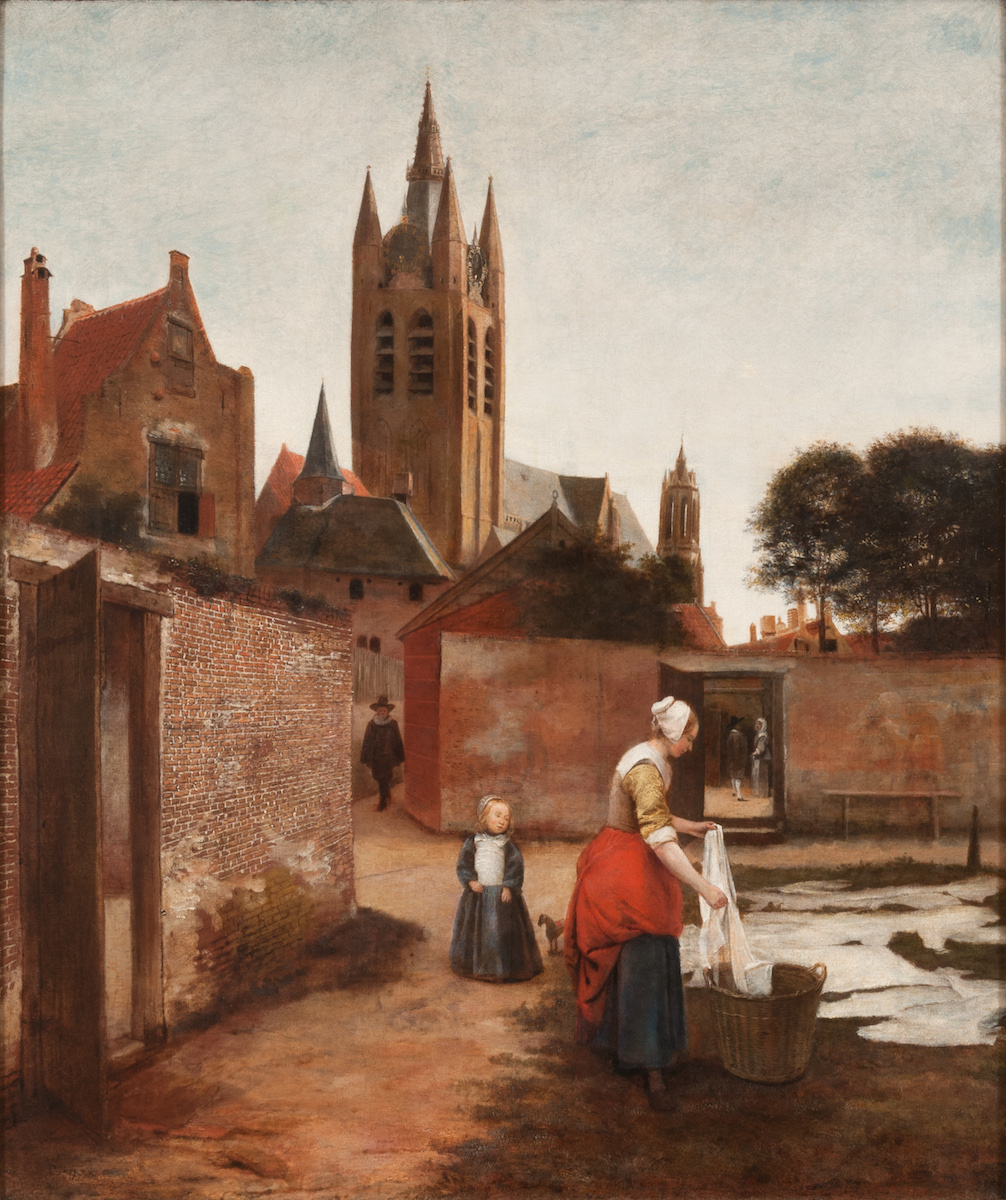 A Woman and Child in a Bleaching Ground, ca. 1657-1659. Rothschild Collection (Waddesdon) photo: Mike Fear
---
3. He reinvented himself as an artist
From around 1657, de Hooch changed his approach and began to paint the scenes that were closest to him – yet often unseen: the rarely glimpsed courtyards that lay behind Delft's houses, and the hushed rooms within those dwellings, always with a tantalising view through or from such spaces, leading the viewers to what lay beyond. It was a sound move. He soon found support for this new way of painting.
4. The artist was a master of perspective
Researchers have been getting under the skin of de Hooch's work. We know that on his canvasses a space will open into another, and another. And we know that, with canny use of colour, shadow and light, and lines created with tiled floors and ceiling beams, he guides the eye. But how did he achieve this? A new discovery is that, whereas many artists use one tiny pinhole with a string attached to it to create lines on canvas to follow, de Hooch was taking matters a step further to achieve a perfect perspective. He used two. But then, from 1658 onwards, no second pinholes are found in his works, suggesting that by then the artist had mastered central perspective.
---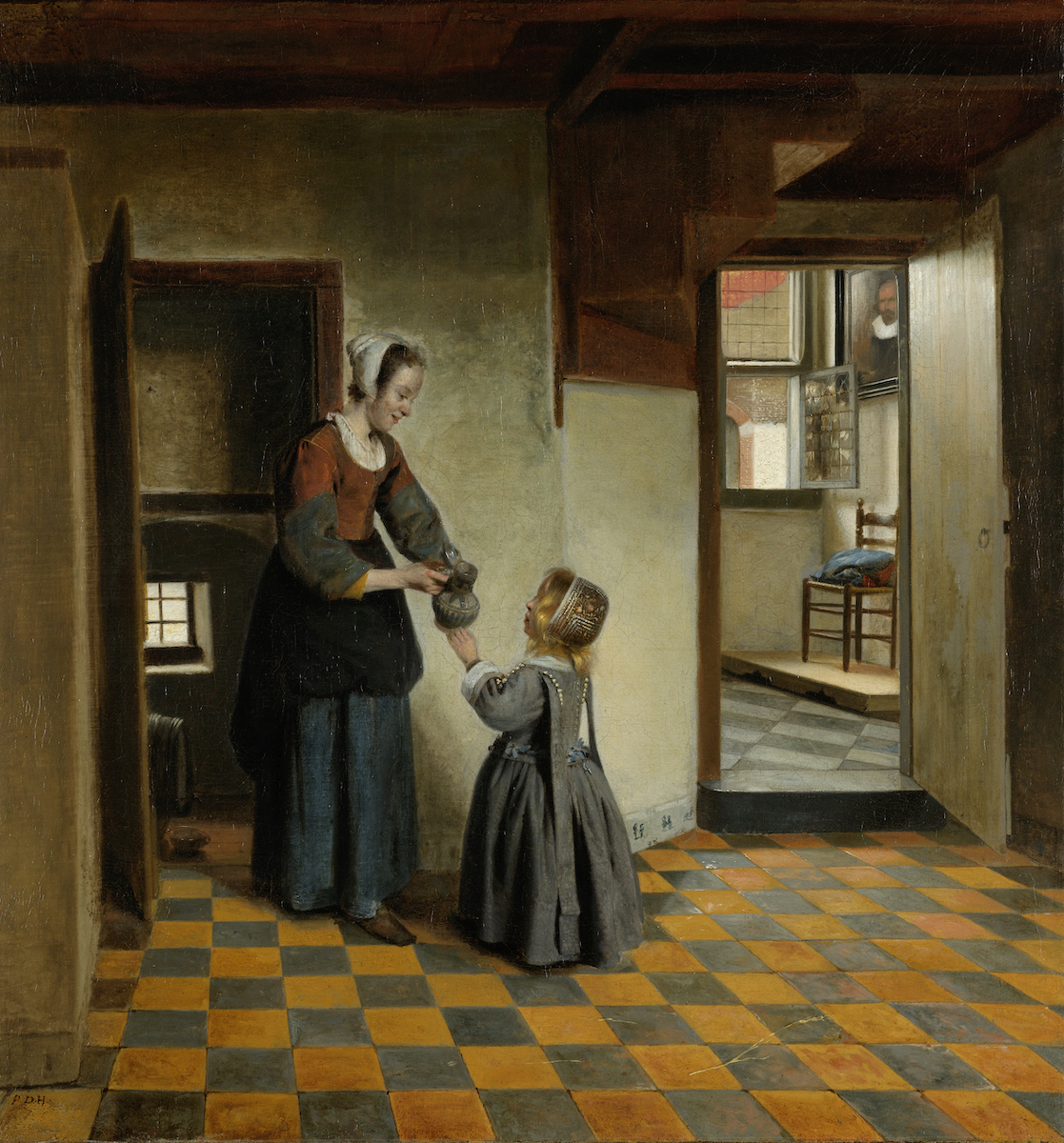 Woman with a Child in a Pantry, c. 1656-1600. Amsterdam, Rijksmuseum
---
5. De Hooch was a fast worker
His contemporary, Vermeer, produced around two paintings a year – and his entire oeuvre is thought to be some 35 works. Pieter de Hooch created over 100 – that we know of. And new X-radiograph research shows that he often changed his mind and rejigged his paintings, as rays reveal ghostly, emerging figures from under the finished work.
6. He paints brick walls brilliantly
No wonder, as de Hooch was the son of a master bricklayer. The artist was particularly good at depicting a wall that was slightly crumbling. Leaving a ground layer exposed to feature as mortar, he 'builds' his house on canvas, one brick at a time, each just centimetres large, using the tiniest brush strokes of red paint.
---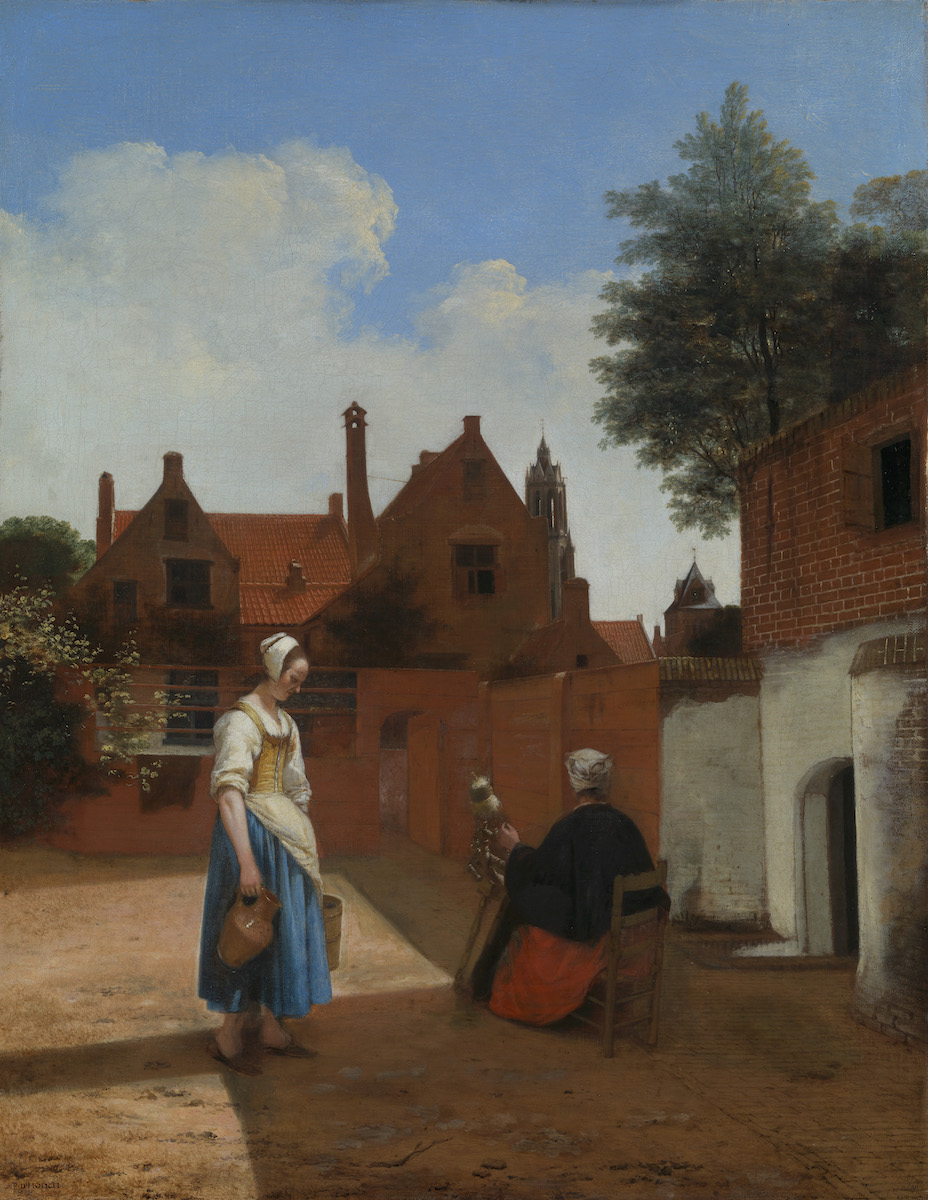 The Courtyard in a House in Delft / pic credit The National Gallery, London
---
7. He was a master of detail
Look out for the smaller 'moments' in de Hooch's paintings: the little details such as the discarded oyster shells in a garden, and an exquisite Dutch tulip being held by a child. He isn't thought of as a botanical artist, but de Hooch's handling of flora and fauna in certain scenes is masterful.
8. He was a wizard with light
Whether its shafts of light falling on a floor, the shimmer on a brass chandelier or the glitter of water droplets on a tiled floor, De Hooch uses light in such a way that the viewer's eye is constantly drawn to it, following where it is coming from and where it goes. Seek out paintings such as The Bedroom, c. 1660–1662, where the light shining through a child's downy hair is so brilliantly executed; or Two Women Beside a Linen Chest, with a Child, where the gleam of a pearl earring demands attention; or A Woman Weighing Gold and Silver Coins, where even the otherwise ordinary bulbous tacks on a chair take on a luxurious shimmer.
---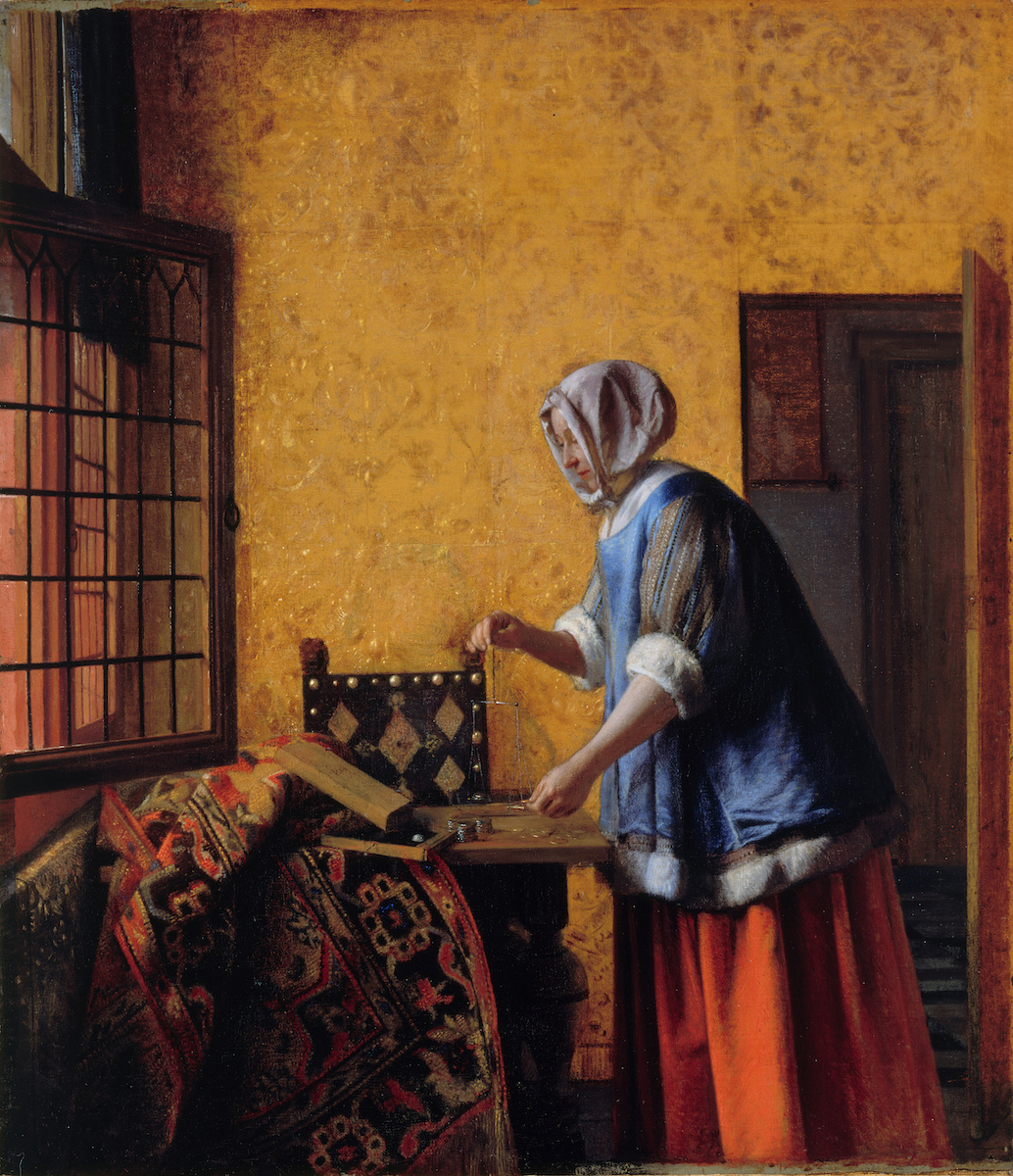 Woman Weighing Gold and Silver Coins, ca. 1664. SMB, Gemäldegalerie, Property of Kaiser Friedrich Museumsvereins, photo: Jörg P. Anders
---
9. Painting a young woman with a child was a favourite motif…
… as it was with other 17th-century artists. In the years after 1655, a young woman with a high forehead appears in several of the artist's paintings. It is thought that it might be de Hooch's wife, Jannetje, seen with their son Pieter, who was born in 1655. There is a real tenderness in such works, while his paintings of higher-ranking families, painted more when he moved to Amsterdam – as in his Portrait of a Family Playing Music (1663) – appear more about status, than familial love.
10. The artist loved ultramarine
His choice of palette was close to those of other 17th-century Dutch painters, but what is striking is that de Hooch clearly favoured the dazzling – and costly – pigment ultramarine, which was made from the semi-precious stone lapis lazuli. Blue pops out from his canvasses, whether it is the apron of a maidservant in A Dutch Courtyard or the tiny decorations seen on the Delft Blue tiles at the bottom of the stairs of, again, the beautiful Two Women Beside a Linen Chest, with a Child of 1663.
---
A Dutch Courtyard, ca. 1658-1660. Courtesy National Gallery of Art, Washington, Andrew W. Mellon Collection, 1937.1.56
---
11. De Hooch was once more famous than Vermeer
But from around the late 19th century, Vermeer's star began to blaze brighter. This was largely due to the eulogising writings published on him by the French art critic and collector Étienne Joseph Théophile Thoré (1807–1869).
12. We don't know when he died
Some art books, to date, have stated that he died in an asylum. New research now reveals that it was his son, Pieter de Hooch, also an artist and one of his pupils, who was admitted to an asylum and later died there. His document of admission to Dolhuis (bedlam) in Amsterdam is the last known written record of Pieter de Hooch senior, dating 1679. No one knows for sure what happened to him, his wife and daughter, Anna, after that time.
---
Sue Herdman is Editor-in-Chief of The Arts Society Magazine
---
SEE

Pieter de Hooch in Delft: from the shadow of Vermeer
At the Museum Prinsenhof Delft until 16 February 2020; for more information on the exhibition and a guided Pieter de Hooch walk through Delft see pieterdehoochindelft.com
Don't miss…

If staying in Delft, take the chance to view – and enter – international artist Erwin Wurm's monumental Narrow House. The 16-metre 'sculpture' represents the artist's very particular view of his parental home, placed in the unlikely setting of Delft's beautiful Old Church. Until 16 February; oudeennieuwekerkdelft.nl/en
Nicolaes Maes: Rembrandt's Versatile Pupil. The first international exhibition on this artist, bringing together outstanding works from one of Rembrandt's most talented students. At the Mauritshuis, The Hague, where Girl with a Pearl Earring is part of the collection. Until 19 January; mauritshuis.nl
Rembrandt - Velázquez: Dutch & Spanish Masters. A soaring show of some 60 outstanding paintings by Dutch and Spanish artists of the 17th century, including works by Rembrandt, Velázquez, Murillo, Hals and Vermeer. Catch the chance to see Operation Night Watch – the conservation in action of Rembrandt's The Night Watch within a giant glass cage.Until 19 January 2020; Rijksmuseum, Amsterdam; rijksmuseum.nl
About the Author
Become an instant expert!
Find out more about the arts by becoming a Supporter of The Arts Society.
For just £20 a year you will receive invitations to exclusive member events and courses, special offers and concessions, our regular newsletter and our beautiful arts magazine, full of news, views, events and artist profiles.
FIND YOUR NEAREST SOCIETY