10 fascinating facts about the potter Lucie Rie
10 fascinating facts about the potter Lucie Rie
The work of pioneer potter Lucie Rie is being celebrated in exhibitions and a new book. Here, its author, Isabella Smith, reveals 10 key notes on Rie's life and work
---
Lucie Rie throwing at the wheel, early 1960s, photographed by Jane Coper. Image: © Jane Coper/Estate of the artist
---
1. Lucie Rie was born in Vienna to Jewish parents in 1902. She has been dubbed 'the doyenne of British studio pottery' and, as writer and artist Edmund de Waal puts it, gave the UK's ceramics scene 'a much-needed confidence in decorative art and a touch of metropolitan chic'.
2. In 1938, Rie fled Nazi Austria for England. She moved into a house near Hyde Park that became her home and workshop until her death in 1995. Today, a corner of this studio is exhibited in the V&A's ceramics galleries.
3. Rie's modernist pottery of the 1920s and 30s – deceptively simple vessels in neutral hues – was acclaimed on the continent but met with incomprehension by the British studio pottery establishment. This was then dominated by the Anglo-Japanese aesthetic and heavy, rustic style popularised by Bernard Leach. He described Rie's work as 'too thickly glazed, thinly potted […] with no humanity'. Nevertheless, the two became close friends.
4. As a refugee in London, Rie survived the war by making ceramic buttons, jewellery and umbrella handles. These accessories were spared from rationing restrictions; the government deemed adornment necessary for public morale. Button-making cultivated her technical mastery: she could create a glaze recipe to replicate the colour and finish of a fabric within days. Her 'Button Factory' employed Jewish refugees – including Hans Coper, who referred to her teaching style as 'an iron hand in a velvet glove'. Coper became Rie's friend and creative collaborator, and, later, a revered ceramic artist in his own right.
---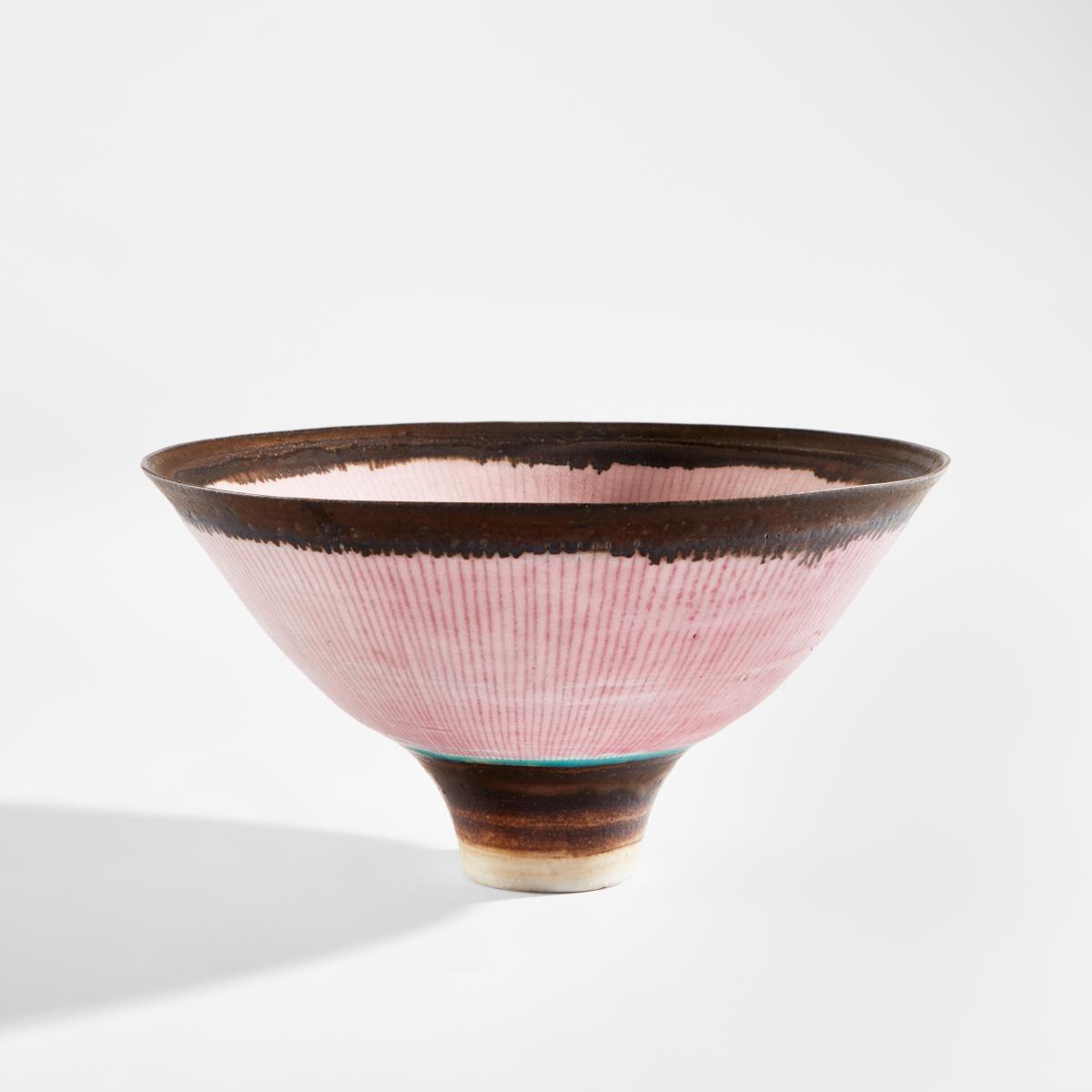 Rie's porcelain footed bowl with pink inlaid radiating lines, turquoise and manganese bands, c.1978. Image: © Phillips Auctioneers Limited
---
5. Rie's elegant tableware and vases found public favour in the post-war period; at first monochrome, these pieces later spanned a rainbow of jewel-like hues. Throughout her career, she innovated within the confines of the vessel form. Key innovations include mixing coloured clays before throwing to create upward spiralling patterns, and concocting glazes with dramatically pitted, flowing or volcanic textures.
6. Rie refused to intellectualise her work and resisted the title of 'artist', insisting on herself as a potter, saying: 'I make pots. It is my job.' The sole concession came in her Credo of 1950 in which she said: 'Art theories have no meaning for me; beauty has. This is all my philosophy.'
7. She was amused by the wet, messy throwing techniques used by British potters. Rie's tutor in Vienna had taught her to throw cleanly, without splashing. She was always clad in spotless white or grey garments, which were famously immaculate.
8. In 1982 the naturalist, broadcaster and ceramics aficionado David Attenborough visited Rie's studio to film for the BBC. The film's most memorable moment sees the octogenarian potter becoming stuck, feet in the air, while emptying her top-loading kiln, before Attenborough pulls her out by the legs. 'Dignity could hardly have survived such an episode,' he later remembered.
9. When fashion designer Issey Miyake met Rie in the 1980s, he was so enchanted by her pottery that his Autumn/Winter 1989 collection featured Rie-inspired garments adorned with her wartime buttons. Today, fashion designer Jonathan Anderson cites Rie as an inspiration for his work as creative director of LOEWE.
10. Rie's work is hotly sought after, reaching record-breaking prices. The highest yet is $340,000, for a bowl sold in 2021. Her collectors have included Attenborough, writer and cook Nigel Slater and the minimalist artist Dan Flavin – who in 1990 made a series of neon sculptures named Untitled (to Lucie Rie, master potter).
---
See
The touring exhibition of Rie's work, Lucie Rie: The Adventure of Pottery
MIMA, Middlesbrough, until 12 February 2023; mima.art
Kettle's Yard, Cambridge, 4 March–25 June 2023; kettlesyard.co.uk
The Holburne Museum, Bath, July 2023–January 2024; holburne.org
Read
Isabella Smith's book, Lucie Rie, is published by Eiderdown Books
---
About the Author
Become an instant expert!
Find out more about the arts by becoming a Supporter of The Arts Society.
For just £20 a year you will receive invitations to exclusive member events and courses, special offers and concessions, our regular newsletter and our beautiful arts magazine, full of news, views, events and artist profiles.
FIND YOUR NEAREST SOCIETY