10 Amazing Facts About Land Art
10 Amazing Facts About Land Art
Land art, with its use of natural materials and sites, connects us to landscape. Ben Tufnell reveals the key things to know about the medium
---
Bail Hill Arch, Cairnhead, part of Andy Goldsworthy's Striding Arches, Dumfries and Galloway. Photo: Alamy

---
1. Historically, the term 'land art' is understood to refer to a group of artists who first came to prominence in the late 1960s–70s, among them Walter De Maria, Nancy Holt and Robert Smithson in America, and Richard Long, David Nash, Andy Goldsworthy and more in Europe. Since then, land art has become an international phenomenon, with artists in Latin America, Eastern Europe, Scandinavia, Africa and Asia making work in and about land and the environment.
2. Land art foregrounds the experience of landscape and nature. It is not simply a picture of, or a sculpture placed in, the landscape; the site is often an active component of the work. Given that it can take place away from the gallery, documentation is a key aspect of the work and how we access it. Sometimes, it is the work.
3. In the UK and Europe, where the landscape has been managed for centuries, land art tended to be modest and ephemeral. In 1967 Long made A Line Made By Walking. He repeatedly walked a line across a meadow until the flattened grass recorded the visible trace of his presence; he then photographed the result.
---
'Many works of land art exist only as photographs or texts'

---
4. In America, the first land artists used the vast empty spaces of the western deserts to create huge earthwork sculptures. Perhaps most famous is Smithson's Spiral Jetty (1970), a curling promontory that projects 1,500 feet into the Great Salt Lake in Utah.
5. Many land art works engage with 'deep time'. Holt's Sun Tunnels (1973–76) align with the rising and setting sun at the solstices. Katie Paterson's Future Library (2014– 2114) is a forest in Norway. Every year a writer contributes a text that no one can read until 2114, when the trees will be used to make paper to print them.
6. The largest works of land art might be De Maria's Lightning Field (1977), which covers an area measuring a mile by a kilometre, and Michael Heizer's ongoing City (1972–), over a mile long and a quarter of a mile across. But even these are dwarfed by James Turrell's Roden Crater project. In 1977 the artist acquired a dormant cinder cone in the Arizona desert and for the past 40 years has been shaping the crater and excavating passages and viewing chambers within it.
---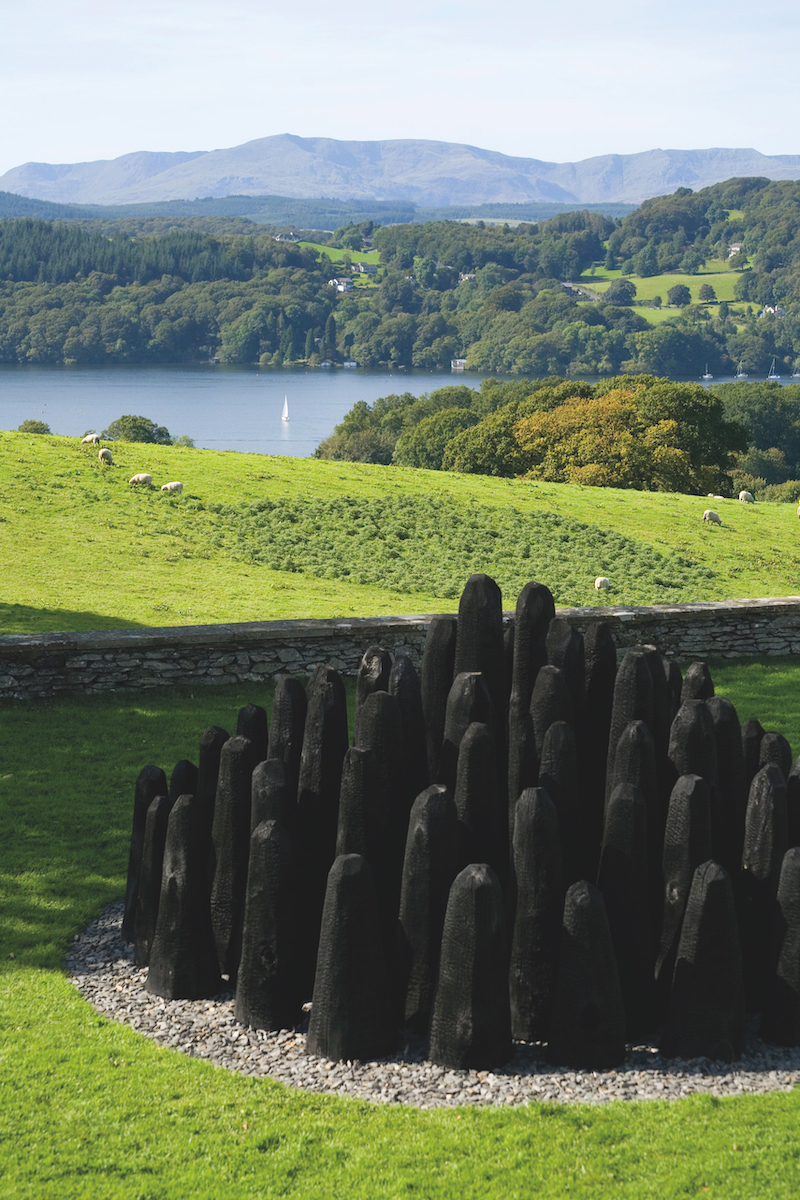 Black Dome by David Nash, photographed at Blackwell – The Arts & Crafts House, Windermere. Photo: Alamy

---
7. Many works of land art exist only as photographs or texts. Perhaps the smallest and most intimate are handheld works by Roger Ackling, created by focusing sunlight through a magnifying glass to burn lines onto pieces of driftwood. Made in the landscape, these works encode found objects with a profound sense of time and place.
8. While works in American deserts might be considered remote, in 1989 Goldsworthy made a group of ice sculptures at the North Pole; four vertical rings marking the pole's position. Anyone looking through the circular structures would always be facing south.
9. Environmental concerns are important for land art. In 1977 Nash planted a circle of ash trees in Snowdonia, and over the next 50 years husbanded them to create Ash Dome as a symbol of faith in the future. In 2018 Olafur Eliasson deposited 12 huge blocks of ice from Greenland alongside the Thames outside Tate Modern. Ice Watch offered a first-hand encounter with 'icebergs', but the melting ice also highlighted the ongoing climate crisis.
10. Land art urges us to examine our relationship with the landscape and with nature. For this reason alone, in what may well prove to be the late Anthropocene, against a backdrop of climate crisis, land art is of vital importance.
---
SEE

Ben Tufnell's In Land: Writings Around Land Art and Its Legacies, published by Zero Books; see his HENI film on the subject at henitalks.com/talks/landart
---
About the Author
Ben Tufnell
Ben Tufnell is a writer and curator based in London. Previously a curator at Tate, he is a founding director of Parafin, an independent gallery.
Become an instant expert!
Find out more about the arts by becoming a Supporter of The Arts Society.
For just £20 a year you will receive invitations to exclusive member events and courses, special offers and concessions, our regular newsletter and our beautiful arts magazine, full of news, views, events and artist profiles.
FIND YOUR NEAREST SOCIETY