10 Amazing Facts About Grinling Gibbons
10 Amazing Facts About Grinling Gibbons
In the tercentenary year of the death of master carver Grinling Gibbons, Arts Society Lecturer Paul Rabbitts looks at the man and his art
---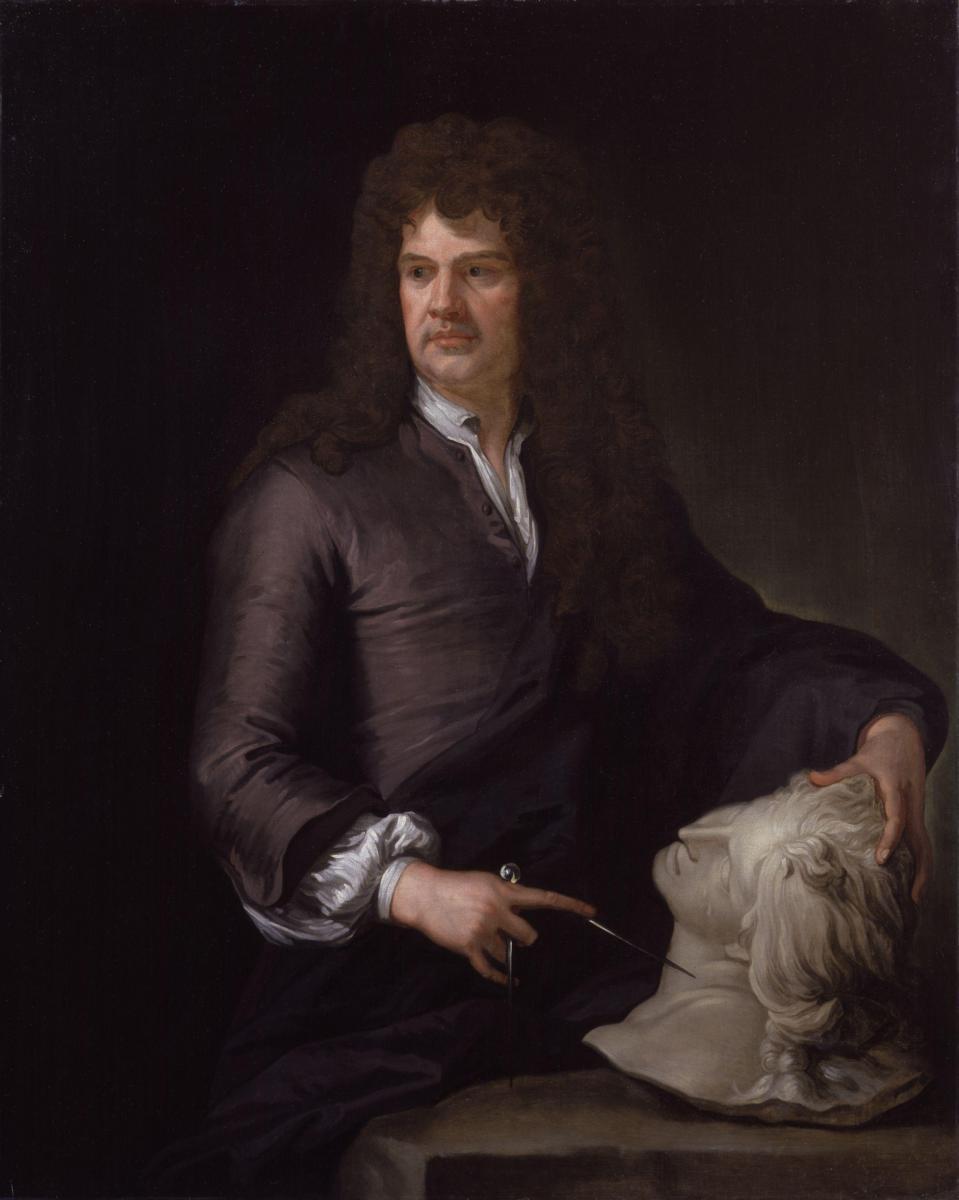 Grinling Gibbons, c.1690 by Godfrey Kneller

---
1. Gibbons was born in Rotterdam to British parents in 1648. He has been dubbed the 'British Bernini' – sharing with the Italian an ability to breathe life into still material – and the 'Michelangelo of wood'. Horace Walpole called him 'an original genius'.

2. In 1667 Gibbons moved to England, later settling in Deptford, where he 'follow'd ship carving'. It was here in 1671 he was discovered, by chance, by diarist John Evelyn, who had powerful connections.
3. With such patronage – and dazzling skill – Gibbons realised his first royal commission, for works at Windsor Castle as part of its beautifying by Charles II. Gibbons practised his trompe l'oeil technique here, in which a strikingly realistic bird was carved on top of a complacent rabbit, with a garland trailed across the bird.
---
The master carver's design for a Hampton Court fireplace, 1689–94. © Sir John Soane's Museum, London

---
4. Gibbons introduced the use of limewood to England. Its grain structure made it suitable for curviform leaf, fruit and flower shapes. Limewood has an arresting, pale appearance – the paleness bringing a sharp visual contrast between decoration and background, spotlighting the carving.

5. He worked with architect Hugh May at Windsor Castle but was ignored by Christopher Wren for years, despite Wren saying that he 'faithfully promised to employ him for the future'.
6. Gibbons's Ludgate Hill workshop was a leading London site for the commissioning of pieces in wood and stone. Such was the success, Gibbons took on as many as 50 apprentices; this can make it difficult to establish what work was his and what was theirs.
7. Gibbons spoke poor English and was not fully literate, but this did not hinder him. By 1678 he had a fine house in Covent Garden, which he would keep for the rest of his life. His wife, Elizabeth, bore at least 12 children.
---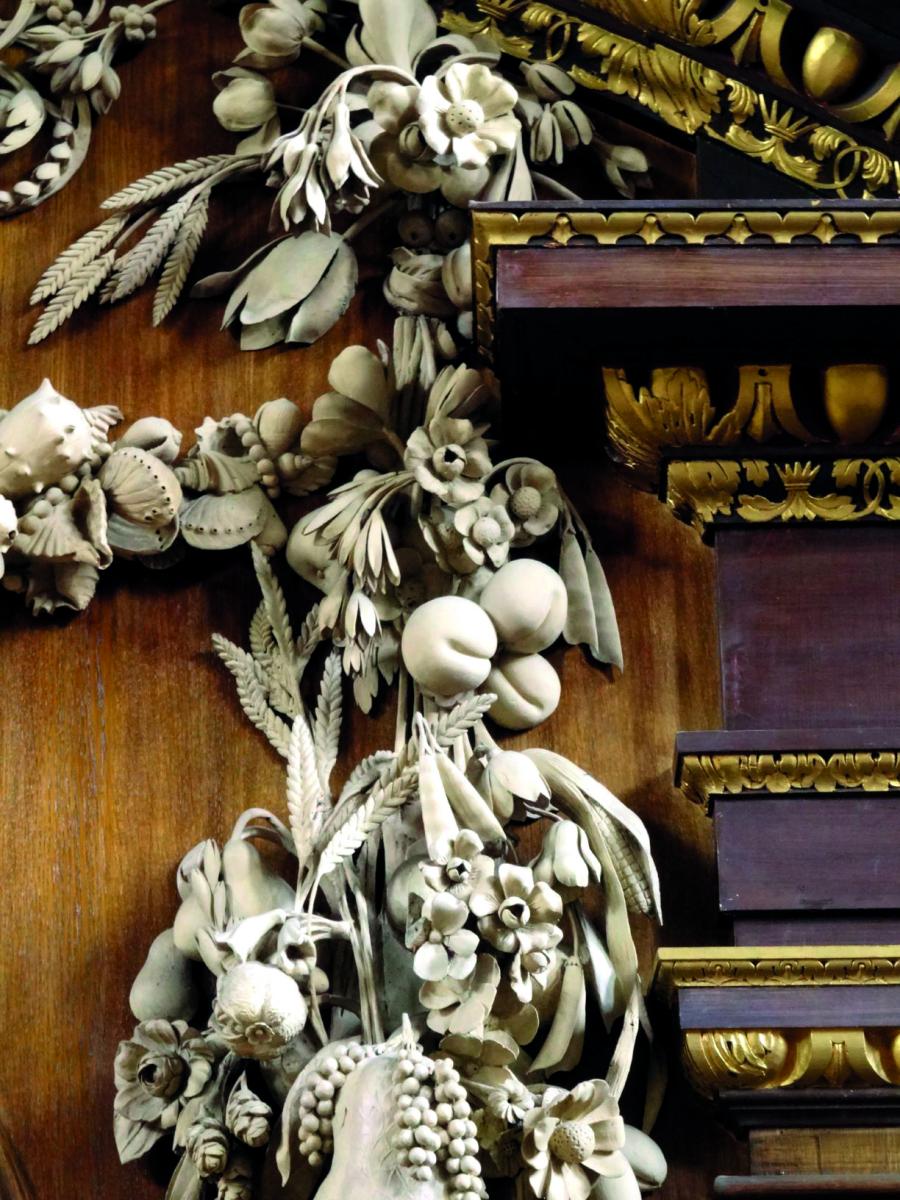 All in the detail: Gibbons's work at St James's Church, Piccadilly. Courtesy Grinling Gibbons Society

---
8. Wren and Gibbons eventually worked together at Whitehall and St Paul's Cathedral, and on churches Wren rebuilt after the Great Fire of London. Gibbons ordered the wood by size, based on drawings from Wren and associates, then sketched designs directly onto the wood, allowing enough depth for the deep cutting and sinuous shaping that was his signature style.
9. Gibbons's work at Petworth House is among his finest. He produced 'the most superb monument of his skill', described as 'gloriously flounced all round with whole length pictures, with much the finest carving of Gibbons that ever ... eyes beheld. There are birds absolutely feathered: and two antique vases with bas relieves, as perfect and beautiful as if they were carved by a Grecian master'.
10. In the 15 years before his death on 3 August 1721, Gibbons focused more on stone sculpture, in which he didn't actually excel. What he is remembered for is the way he raised decorative carving to prominence – inspiring his contemporaries and far later artists, including Alexander McQueen.
---
SEE

Grinling Gibbons 300: carving a place in history, a year-long festival from August; grinling-gibbons.org
About the Author
Paul Rabbitts
Paul Rabbitts is an Arts Society Lecturer, a Fellow of the Royal Society of Arts, a Fellow of the Landscape Institute and a qualified landscape architect and head of parks, heritage and culture for Watford Borough Council, who has worked in parks for over 30 years.
Become an instant expert!
Find out more about the arts by becoming a Supporter of The Arts Society.
For just £20 a year you will receive invitations to exclusive member events and courses, special offers and concessions, our regular newsletter and our beautiful arts magazine, full of news, views, events and artist profiles.
FIND YOUR NEAREST SOCIETY