Wessex Area is part of The Arts Society and comprises 20 Societies covering Wiltshire, Dorset and parts of Somerset. Below is the map showing the location of our societies.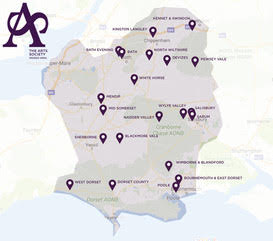 The Societies each have their own programme of Lectures by The Arts Society Accredited Lecturers, study days, visits, and volunteering opportunities. If you would like to contact a society with a view to becoming a member, just click on a name listed on the right to go to their website.
The Area Team exists to support its local Societies, run educational events such as our superb Study Courses and co-ordination of Arts Volunteering projects across the whole region.
WESSEX CONNECTED: A retrospective of the best Wessex Area talks. These 20 minute online talks will take place at 4pm every 2nd Tuesday of each month. These online talks are open to all members of The Arts Society and non-members. Click here book your ticket
October 11th: "You don't have to be an art expert (or rich) to be an art collector" with Georgina Bexon
November 8th: "The Shanghai Museum - Humble origins to World Class status" with David Rosier
December 13th: "A thousand years of history: medieval cathedrals as 'time machines'" with Jon Cannon
The Wonders of Spain study course: The Architecture and History in a five day study course begins on 18th October, 15th November, 17th January 2023, 14th February and 14th March. The course will be available as a hybrid lecture - online and in Cerne Abbas Village Hall on the day. Do download the synopsis of the series which is in the attachments on the right.
Starting on 27th October to 22nd March 2023, the six day study course: The Victorians: an era of extraordinary innovation and cultural development has sold out.
The Area also encourages and promotes Heritage Volunteering projects, Arts Volunteering activities and Trails of Discovery projects. Members of these volunteering activities enjoy working together as a team, exploring new interests and learning new skills. Click here to see what Volunteering is all about.
All Wessex societies welcome new members so please do click on a society near you (the list of Wessex societies is on the right) to see all about that society. Each society holds monthly Lectures as well as Visits to special places and Study Days for a more indepth look at a topic. Some societies also do Tours abroad which are focussed on the Arts at that location. Guests are always most welcome to attend society events.
Do join us - the Arts Society is all about people enjoying the Arts - do browse our website, and we hope you will enjoy what the Arts Society has to offer.
Wessex Area Chairman
News
Huge congratulations to the Wessex Area winners of the 2022 Marsh Awards: