Enriching Lives Through Enjoyment of the Arts
Wessex Area is part of The Arts Society and comprises 20 Societies covering Wiltshire, Dorset and parts of Somerset. Below is the map showing the location of our societies.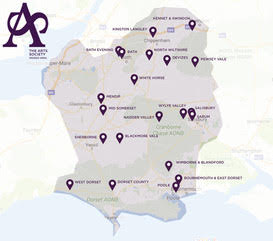 The Societies each have their own programme of Lectures by The Arts Society Accredited Lecturers, study days, visits, and volunteering opportunities. If you would like to contact a society with a view to becoming a member, just click on a name listed on the right to go to their website.
The Area Team supports our 20 local Societies; we run educational events such as our superb Study Courses and our Area Arts Volunteering representative co-ordinates Arts Volunteering projects across Wessex Area.
On 25th and 27th September we will be holding 'DISCOVER VERMEER' online study course - 25th and 27th September from 10:30 to 1pm - two superb lectures a day. For more information, go to www.tickettailor.com/events/theartssocietywessexarea.
In 2023/2024, our 5 day study course will be ITALY: Music, Art, Architecture. Day 1 on 17th October will cover Medieval Art and Artists with Brendan Cassidy, an Arts Society accredited lecturer. Day 2 on 14th November, Caroline Knight takes us to Palladio 16c Villas, Palaces and Churches in Veneto. Day 3, The Glory of Rome with Paul Roberts, on Day 4 on 13th February, Peter Medhurst will take us musically on the Grand Tour, and Day 5, Ross King will discuss three artists of the Renaissance.
Wonderful images and fascinating facts will make this a very special Study Course - both 'live streamed' using zoom and in the delightful village hall at Cerne Abbas.
The Area also encourages and promotes Heritage Volunteering projects, Arts Volunteering activities and Trails of Discovery projects. Members of these volunteering activities enjoy working together as a team, exploring new interests and learning new skills. Click here to see what Volunteering is all about.
All Wessex societies welcome new members so please do click on a society near you (the list of Wessex societies is on the right) to see all about that society. Each society holds monthly Lectures as well as Visits to special places and Study Days for a more indepth look at a topic. Some societies also do Tours abroad which are focussed on the Arts at that location. Guests are always most welcome to attend society events.
Do join us - the Arts Society is all about people enjoying the Arts - do browse our website and visit the societies by clicking the links on the right, and we hope you will enjoy what the Arts Society has to offer.
Anne, Wessex Area Chairman
News
Huge congratulations to the Wessex Area winners of the 2022 Marsh Awards: