This talk will be held by Zoom but we will also screen it in the Cirencester Baptist Church hall. Visitors are welcome to attend the talk in the hall, or purchase a ticket to watch over Zoom.
Sarah Cove ACR founded the Constable Research Project in conjunction with the V&A Museum in 1986 to study John Constable RA's materials and techniques from the technical and scientific point of view. Since then she has examined over 250 works from collections worldwide, from tiny oil sketches on fragments of canvas, paper supports and boards to the 'six-footers'. She has developed a technical chronology that assists with the dating of his known works, relatively few of which were signed and dated by the artist and is also useful for the attribution (or not) of newly discovered pictures.
https://www.theartssocietycorinium.org/
How to book this event:
In December a link will be provided on our website for the purchase of tickets (£8).
THE ARTS SOCIETY ACCREDITED LECTURER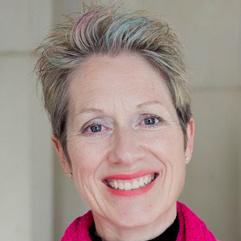 Ms Sarah Cove
Sarah Cove is an accredited paintings conservator-restorer, technical art historian and lecturer with more than 35 years' experience working on paintings for the heritage and private sectors. She is based in London and Falmouth and is a specialist in British portraits, 19th-20th century British landscapes and oil sketches on paper and board. In 1986 she founded the Constable Research Project and she is now the leading authority on Constable's materials and techniques. She has appeared in several TV programmes for the BBC notably Constable in Love with Andrew Graham-Dixon and twice on Fake or Fortune? where she was instrumental in the discovery of 3 'lost' Constables. Other research interests include Tudor and Jacobean Portraiture, the 19th century Newlyn and St Ives schools and early-to-mid 20th century British painting generally. She has been a lecturer for The Arts Society since 2003 and is an experienced international speaker having lectured independently at major public and gallery venues across the UK, USA, Australia and New Zealand. Her presentations are lively and enthusiastic as she speaks without notes with an inimitable passion that comes from presenting her own work and research with wonderful images.