Step into the light with Rana Begum
Step into the light with Rana Begum
The artist tells Freire Barnes about the influence of her childhood in Bangladesh and why producing art for the public realm is so exciting
---
Portrait of the artist by Angus Mill

---
Rana Begum's new public sculpture, No.1104 Catching Colour (2022), can be experienced 24 hours a day, come rain or shine. Situated in Botanic Square on London City Island, it's the latest addition to The Line, a public art walk in east London. Catching Colour not only responds to its close proximity to the River Lea and creates a dialogue with the surrounding apartment blocks, it also transforms and alters depending on changing weather, seasons and, most importantly, light.
Born in Sylhet, Bangladesh, Begum moved to the UK when she was eight. 'I was thinking about creating something that was inspired by my experience as a child growing up in Bangladesh,' Begum explains. Her latest public sculpture feels like a natural development from her woven basket installation, No.473 Baskets (2014), which used locally sourced baskets from Dhaka, where it was shown at the city's biannual Art Summit.
---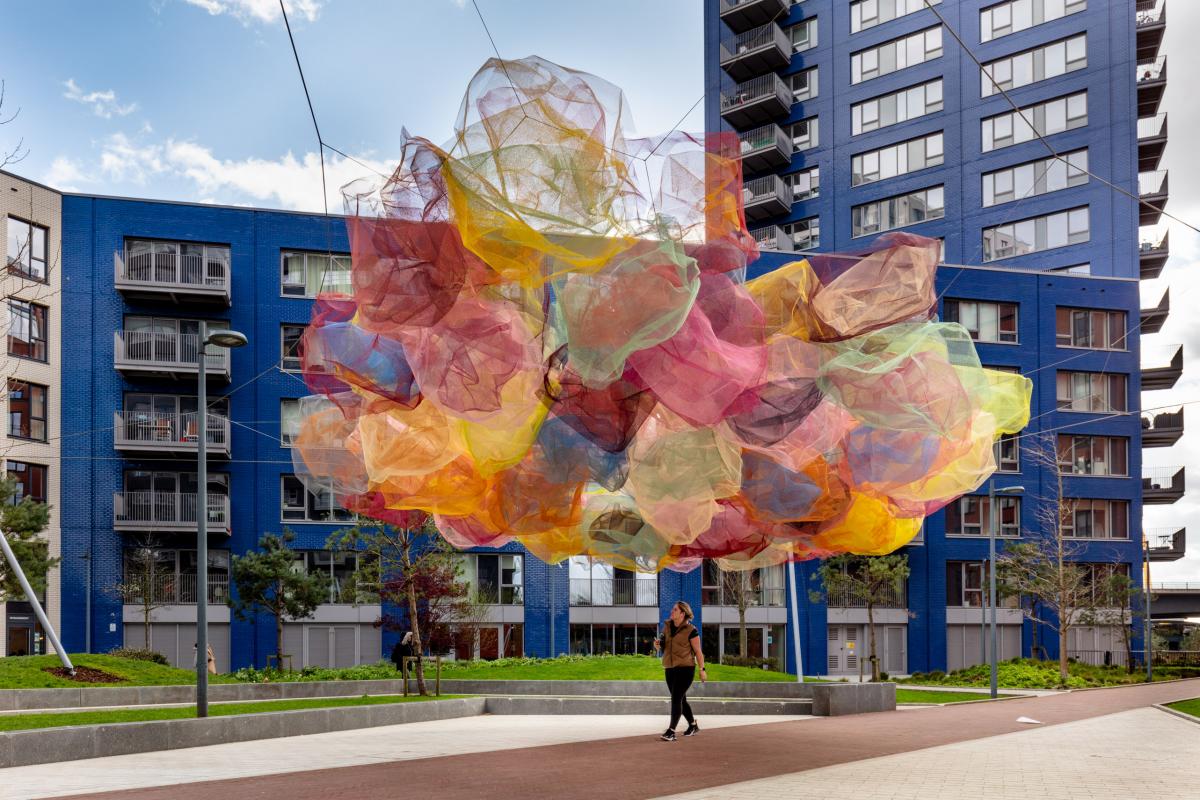 Rana Begum, Catching Colour, 2022. London City Island. Photo by Angus Mills. Image courtesy The Line

---
Begum's practice predominantly incorporates industrial materials such as powder-coated galvanised steel, bike reflectors, bricks, tiles and glass, even metal legs of tables. 'I've always been attracted to industrial, architectural materials,' she explains. Neon drinking straws become geometric forms protruding from a wall, or terracotta tiles are elevated through vibrant paint and embedded in the ground, creating an unlikely forest floor bed.
---
'I'VE ALWAYS BEEN ATTRACTED TO INDUSTRIAL, ARCHITECTURAL MATERIALS'

---
She pushes the parameters of her materials so that they embody more than their functional purpose. 'There is an aesthetic that is not necessarily considered when a function of the material is in the foreground,' she adds. 'I'm drawn to this hard-edge industrial aesthetic. The materials have the ability to both become quite ephemeral and light as well as be the opposite of what it originally looked like.'
---
Rana Begum, Catching Colour, 2022. London City Island. Photo by Angus Mills. Image courtesy The Line

---
Here, Catching Colour uses another industrial material: sheets of galvanised metal mesh. The hard, sharp steel sheets have been transformed into undulating forms that float mid-air above your head, recalling traditional Bangladesh fishing nets strewn into the water. 'I initially proposed using fishing nets but structurally we had lots of challenges,' she tells me.
Creating work for the public realm can have many challenges, which Begum embraces. There were times she contemplated giving up due to City Island's exposed location, which creates a wind tunnel in the square, but she persisted. 'I like those challenges as I feel it really opens up possibilities and pushes the work, the studio and the practice. It pushes the way I have conversations with my team and the way forms come together. It even affects the way we use colour.'
---
Rana Begum, No. 1054 Arpeggio, Commissioned for Creative Folkestone Triennial 2021 in partnership with Folkestone, Hythe District Council. Photo by Thierry Bal

---
The other advantages of working outside is how the general public get to engage with her work, especially people who might not usually visit art galleries, or encounter art. 'I love doing public art because you get an audience you wouldn't normally have. People were intrigued [at City Island], asking "What is it?" and "Why is it here?". It's really nice to hear their thoughts as they're looking at it daily. How they experience the work, respond to it, noticing the changes, how it shifts.'
---
'Being in a public space, you're incredibly lucky as you can have natural light constantly shifting and changing. That was really exciting for me'

---
Like much of Begum's work, Catching Colour creates a physical and sensory experience. But probably the most crucial aspect of her latest sculpture is that it was produced during the pandemic, so it speaks of and for a period of time none of us were expecting. 'For me Catching Colour is about the experience we've had during Covid, this need to be out in the open space,' the artist explains. 'I think it's only when you are having to stay indoors, and you feel like you're being suffocated, that there is an element of wanting to be outdoors and wanting to feel lighter [...] being in a public space, you're incredibly lucky as you can have natural light constantly shifting and changing. That was really exciting for me.'
---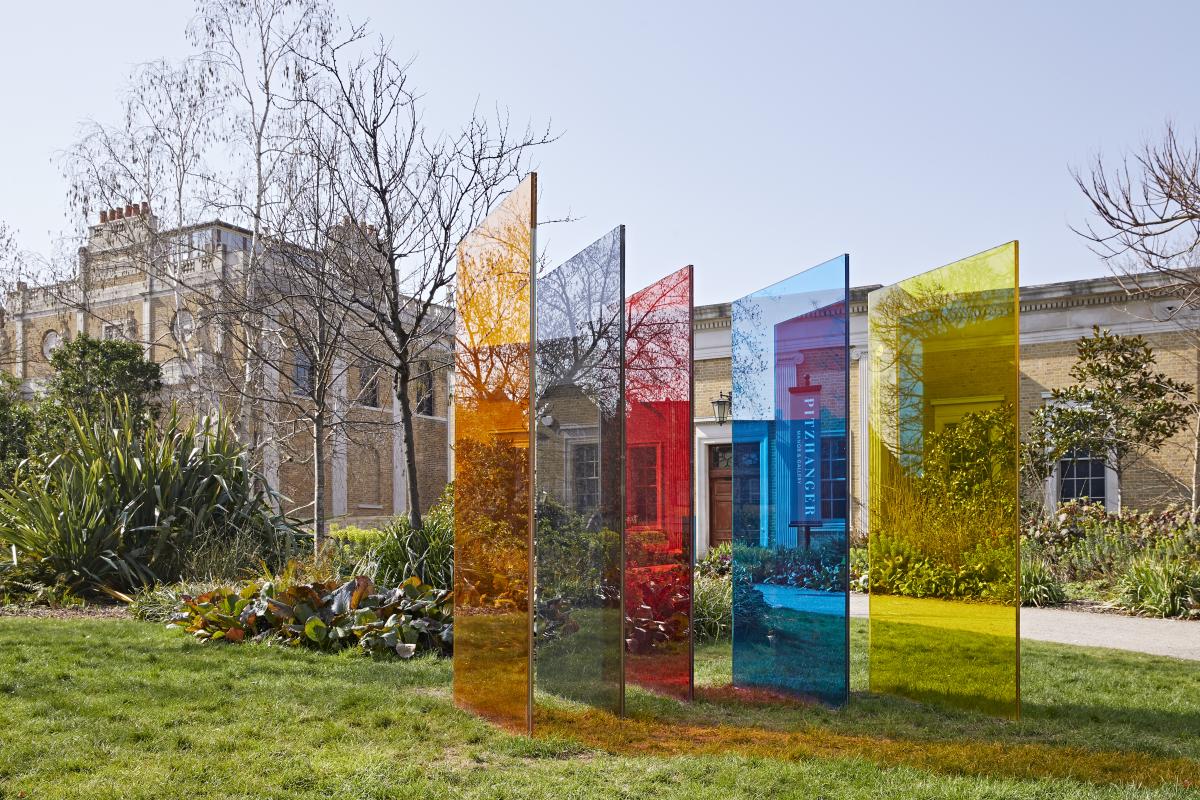 Installation view of Dappled Light, photo Andy Stagg

---
This isn't Begum's first foray into site-specific work for the urban environment. Previous commissions include designing the facade of Marcol House in London and sculptural reliefs for the Surbiton Health Centre in Kingston-Upon-Thames. For the 2021 Folkestone Triennial she revamped a kilometre of beach huts with her distinctively geometric design. Right now, she is also exhibiting at the home of Sir John Soane, Britain's foremost visionary Neoclassical architect. Pitzhanger Manor in Ealing, west London, exemplifies Soane's skill of using natural light, providing the ideal backdrop for the works in Dappled Light, which are exhibited in the gallery and throughout the house.
---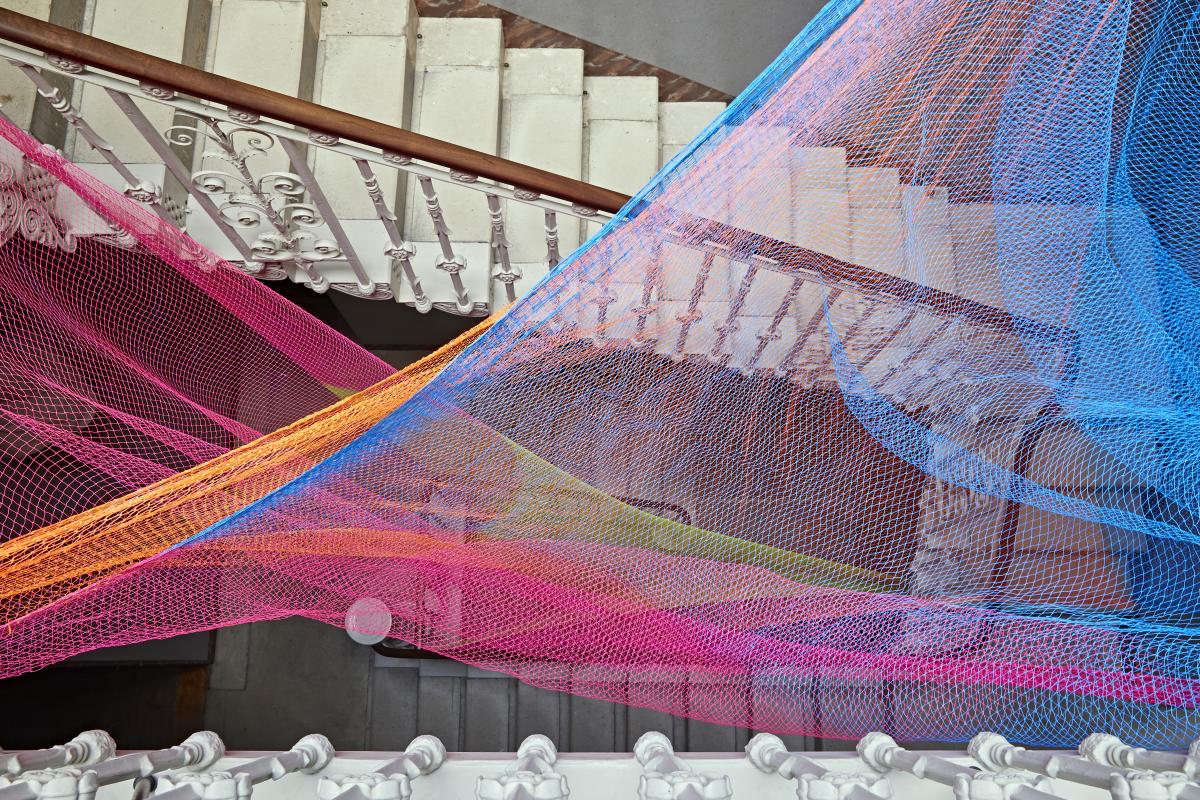 Installation view of Dappled Light, photo Andy Stagg
---
A net installation cascades down through the Georgian stairwell, creating a sinuous marriage of form and light, feeling less of an intervention and more as if it were always intended. In the conservatory, a mini scape of colourful towers made from bicycle reflectors interacts wonderfully with Soane's use of coloured stained glass. And in the Monk's Dining Room, Begum has placed her new video work, which was created during London's lockdown. No.1080 Forest(2021) is a 37-minute time-lapse video constructed from photographs the artist took hourly of Abney Park Cemetery, which her studio and home back on to.
'When I moved into this building, I loved capturing that change of light throughout the day,' she says. 'It's really connected to where I grew up in Bangladesh, in the countryside surrounded by lots of trees and vividly green rice fields. I started taking stills. They only represent a moment in the day but I was really enjoying seeing the depth that the cemetery had with the change of light. I am constantly looking for this kind of calmness.'
---
SEE

Rana Begum: Dappled Light is at Pitzhanger Manor and Gallery until 22 September 2022; pitzhanger.org.uk
No.1104 Catching Colour (2022) is at Botanic Square, London City Island, part of The Line; the-line.org
Rana Begum: Reflection on Colour and Form is at Cristea Roberts Gallery until 30 July 2022; cristearoberts.com
About the Author
Freire Barnes
Freire Barnes is a freelance writer
Become an instant expert!
Find out more about the arts by becoming a Supporter of The Arts Society.
For just £20 a year you will receive invitations to exclusive member events and courses, special offers and concessions, our regular newsletter and our beautiful arts magazine, full of news, views, events and artist profiles.
FIND YOUR NEAREST SOCIETY