Six incredible objects from the new galleries at the National Museum of Scotland
Six incredible objects from the new galleries at the National Museum of Scotland
13 Feb 2019 - 11:04 BY The Arts Society
Discover the highlights from the new Ancient Egypt Rediscovered, Exploring East Asia and Art of Ceramics galleries, which mark the culmination of an astounding 15-year transformation at the museum.
---
Haraga gold catfish pendant
Gold pendant in the form of a fish. © National Museums Scotland
This beautifully crafted gold catfish pendant is part of a group of jewellery excavated from an intact tomb at Haraga. This incredible collection of gold and semi-precious stone jewellery is from the Late Middle Kingdom (12th Dynasty, c1862 –1750 BC) and has not been displayed as a group for generations.
---
19th-century Manchu bridal outfit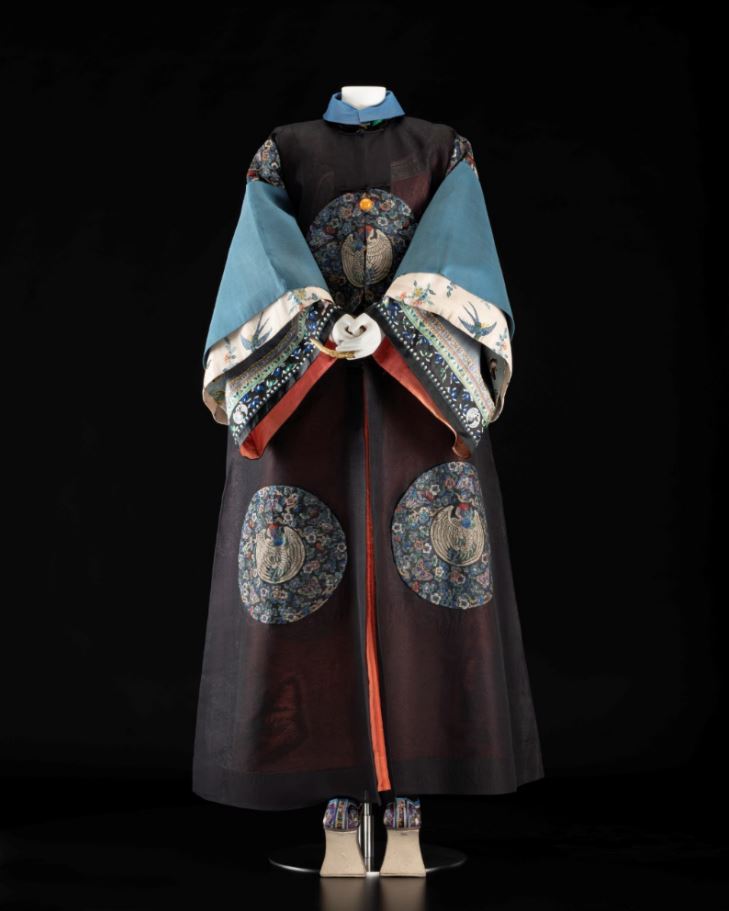 19th century manchu bridal costume on loan from Her Majesty The Queen
This outfit would have been made for an elite Manchu woman, to be worn at her wedding, on significant birthdays and for other important family occasions. The outer coat is decorated with eight medallions, each with a stylised crane, symbolising longevity. Wide sleeves were fashionable in the 19th century, accommodating the lavishly embroidered sleeves of the under-robes. This rare complete outfit is part of a large costume collection that belonged to HRH the Prince of Wales (King Edward VII) and has been on loan to National Museums Scotland since 1886.
---
Coffin, plastered and painted wood, made for two children, from Thebes, Roman period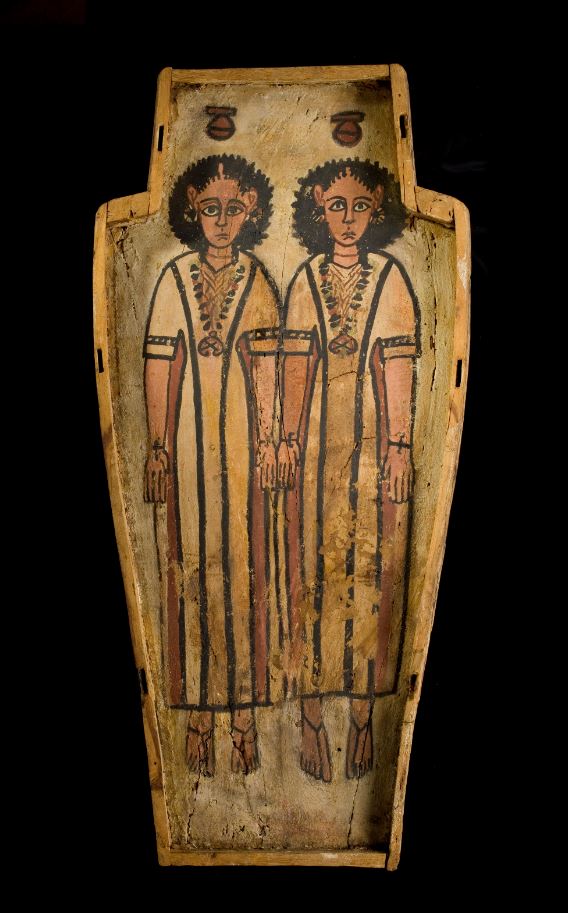 Coffin, plastered and painted wood, made for two children, from Thebes, Roman Period
This unique double coffin is the only example ever found in Egypt. It was discovered in Thebes and dates to 175-200AD. The exterior is painted with images of two young boys, mirrored by two sky-goddesses on the interior. Traditionally, a singular protective image of the goddess Nut would be used, but it appears the commissioner wanted one for each child. The funerary papyri found inside the coffin records that Penhorpabik died aged three years and three months, while Petamun was younger.
---
Mummy portrait in encaustic waxes on a wooden panel, Roman-Egyptian, from Hawara, 110–130 AD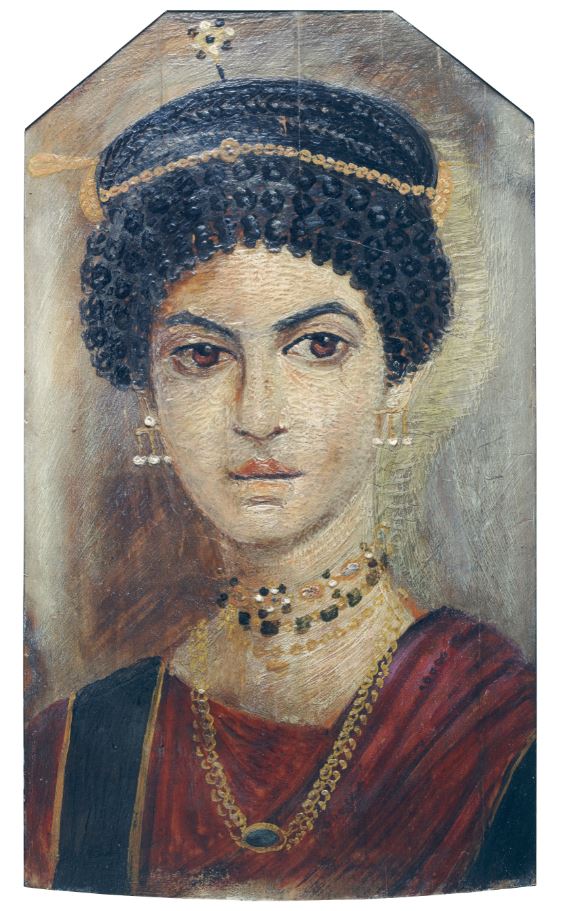 Mummy portrait in encaustic waxes on a wooden panel, Romano-Egyptian, from Hawara
Originally placed over the face of a mummified young woman, this striking portrait is one of the most celebrated examples of Roman-Egyptian painting. Its lifelike realism was achieved through a technique called encaustic, which mixed pigment with beeswax. While the portrait is Roman in style, its owner clearly still adhered to ancient Egyptian funerary beliefs. Dubbed 'Jewellery Girl' by its excavator, renowned archaeologist Flinders Petrie, the woman is shown wearing a rich array of gold jewellery adorned with pearls and emeralds.
---
Chinzai Hachirō Tametomo and Neiwan-jo, by Shunbaisai Hokuei, 1833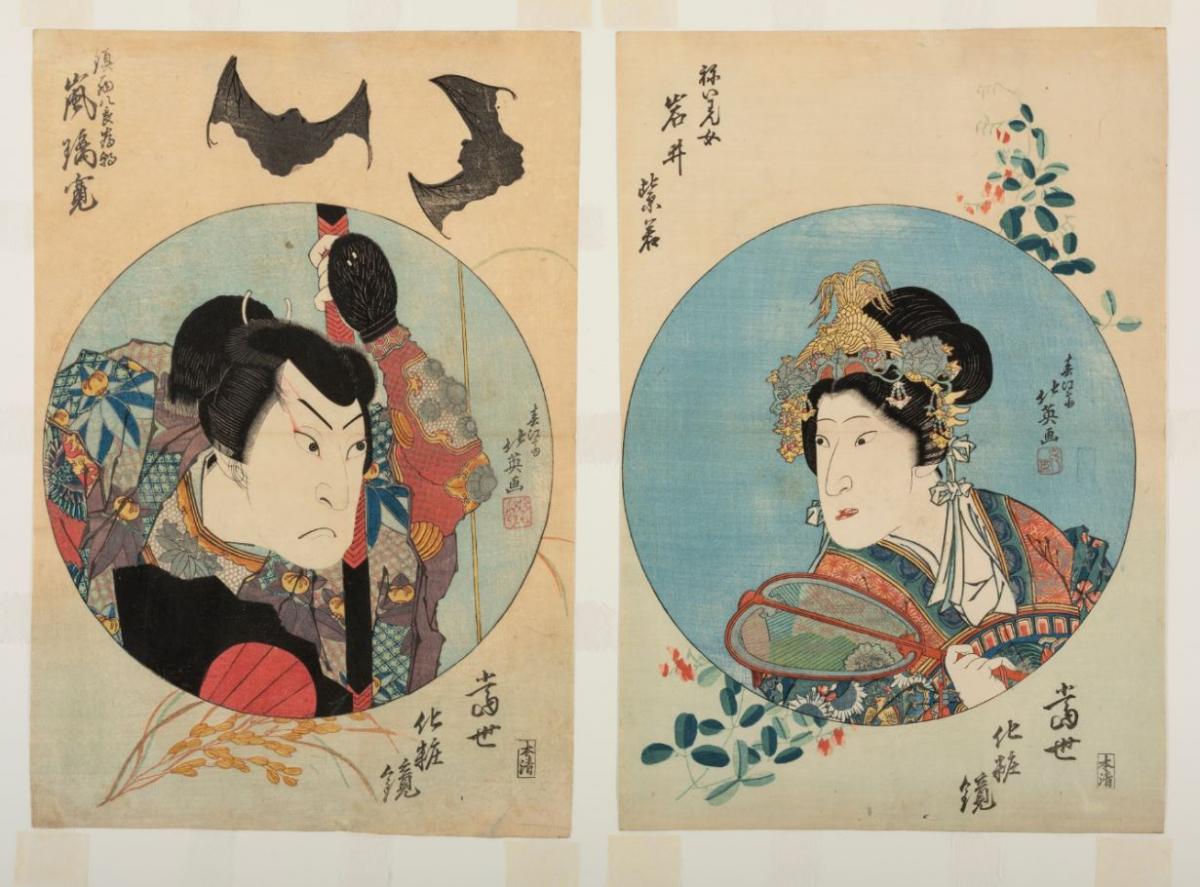 Hokuei 1833
Woodblock prints were extremely popular in the 18th and 19th centuries. Kabuki actors, beautiful women, warriors and landscapes were the most common subjects. Prints were affordable (one sheet cost about the same as a double helping of noodles) and ephemeral, were pinned on walls like posters and new ones were always appearing. In this print by Hokuei, Arashi Rikan II (left) plays a 12th-century warrior and renowned archer. The male actor Iwai Shijaku (right) portrays a beautiful princess from the Ryukyu Islands, south of Japan, dressed in Chinese style. Each character is shown within a circle as if reflected in a mirror, putting the viewer in the position of the actor.
---
Okimono of carved ivory, Daikoku pulling the tail of a cat, to keep it from harming his rats, unsigned, Japan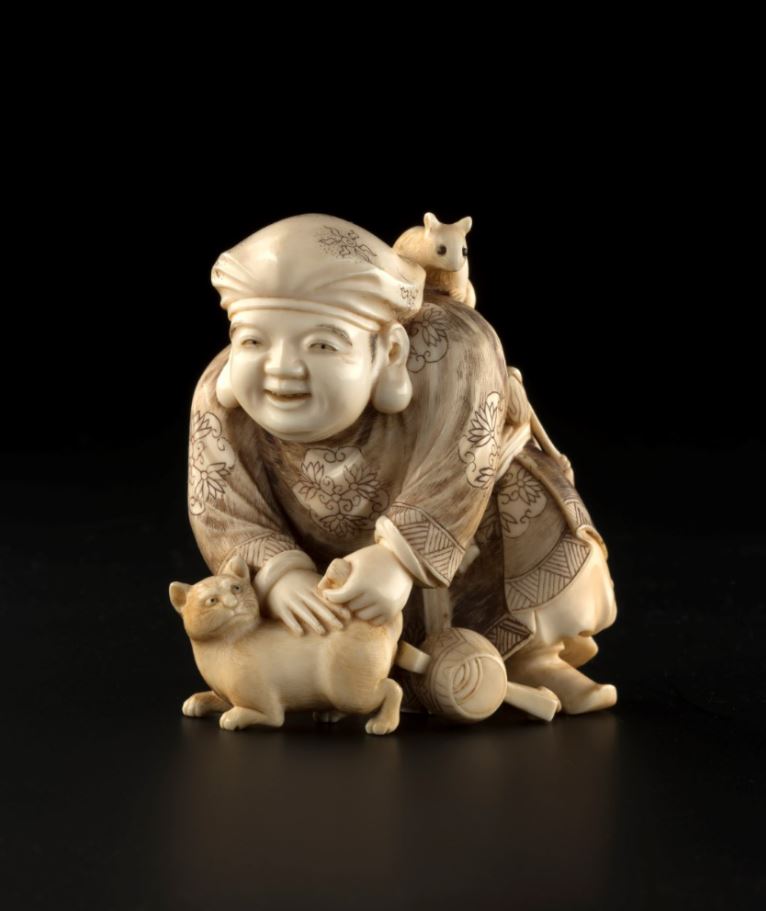 Okimono of carved ivory, Daikoku pulling the tail of a cat, to keep it from harming his rats, unsigned Japan
Okimono, or 'objects designed for display' are elaborate ivory carvings that demonstrate extremely skilled craftsmanship and depict everything from animals and samurai to characters from mythology. This piece features Daikoku, one of the Seven Gods of Luck, known as the god of wealth and guardian of farmers. He is depicted as cheerful and portly, with a grant-wishing mallet, and is often seen accompanied by rats that nibble at his large bags of rice (a symbol of prosperity). In this comical carving he is seen protecting the rats from an attack by pulling on the cat's tail.
---
SEE

The new Ancient Egypt, East Asia and Ceramics galleries at National Museum of Scotland
---
SIGN UP

For our monthly free newsletter, full of more stories and news on latest events and exhibitions at theartssociety.org/signup
Become an instant expert!
Find out more about the arts by becoming a Supporter of The Arts Society.
For just £10 a year you will receive invitations to exclusive member events and courses, special offers and concessions, our regular newsletter and our beautiful quarterly arts magazine, full of news, views, events and artist profiles.
FIND YOUR NEAREST SOCIETY