RBA Rising Stars 2019 Exhibition
RBA Rising Stars 2019 Exhibition
17 Apr 2019 - 11:52 BY The Arts Society
Developed with the Royal Society of British Artists (RBA), the RBA Rising Stars competition encourages aspiring young artists who are identified and entered by The Arts Society's local Societies. The RBA then selects the very best pieces for exhibition in London.
The 21 finalists were chosen for their exceptional artworks which combine the highest levels of skill, expression and draughtsmanship using a variety of mediums, exploring equally varied subjects. This year 36 Societies submitted 247 works so the RBA council had difficult choices to make.
The 21 students selected for the RBA Rising Stars 2019 are:
Genevieve Aspinall, Robert Bowman, Tia Brown, Meg Burridge, Grace Burns, Isabel Collins, Anna Ellerbeck, Holly Gallant, Rachel Howarth, George Hunt, Nadia Jenkins, Francesca Krum, George Lees O'Neil, Amber Li, Livia Robinson, Megan Rodger, Olivia Marshall, Robert Mill, Abigail Morton, Maisy Venn, and Beth Whell.
The first of two exhibitions opens at the Royal Over-Seas League on 26th April.
---
GENEVIEVE ASPINALL



Sphere of Folds
Genevieve Aspinall is currently studying for a BA(Hons) in illustration at the University of Central Lancashire (UCLan). Prior to this she studied at AKS Lytham. was inspired by my project, folds and creases. The piece Sphere of Folds is made from clay and represents the flowing folds in material. She chose to create this piece on a large scale to accentuate the organic shapes and lines.
---
Robert Bowman


Icarus
Robert Bowman created this painting in a two-day workshop using oil paints on canvas. With a focus mainly on the face itself, he used a large amount of linseed oil in the background to create more of a wash with little colour. The face was painted with a slight reference too Lucian Freud, leaving visible brush stokes that follow the contours of the face. Having previously experimented with mixing shades of blue into the skin tones, he used a cold blue as the combining colour for the painting, repeating it in the eyes and jumper. As well as this he incorporated red into the shadows which ended in the face seeming to be slightly bruised, which fit well with the subject matter. The work is a depiction of Icarus having just fallen from the sky after flying to near the sun. The flowers and leaves adorning his head are a representation of an earthly crown. His face is restful, indicating the dwindling between life and death, while his eyes look longingly up into the sky from where he has just fallen.
---
GRACE BURNS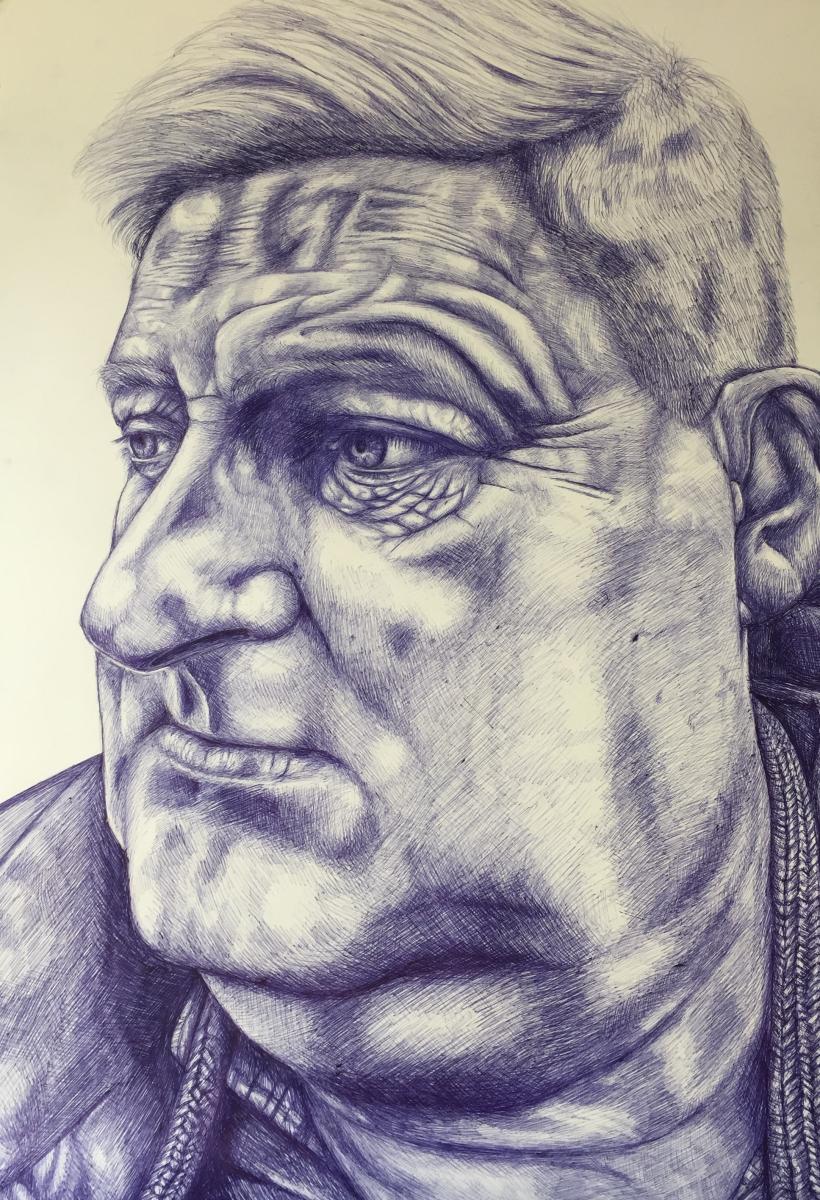 My Dad
Grace Burns has created this portrait which captures her Dad with honesty and true emotion. His eyes seem as though they were contemplating and pondering, captured in a single moment. Shying away from political or social commentary, the artist believes it demonstrates emotion and a sense of humanity. Burns enjoys how portraits make people contemplate the life and character of the person shown, simply through the expression or look on their face. One of three drawings, these show her Dad's ponderous and bold mind. Her dad taught her to view things with a creative and open imagination, about perseverance and the ability to think outside the box. Inspired by the subject, she learned from him the beauty of thought, and how we should not be afraid to think deeply and honestly.
---
Meg Burridge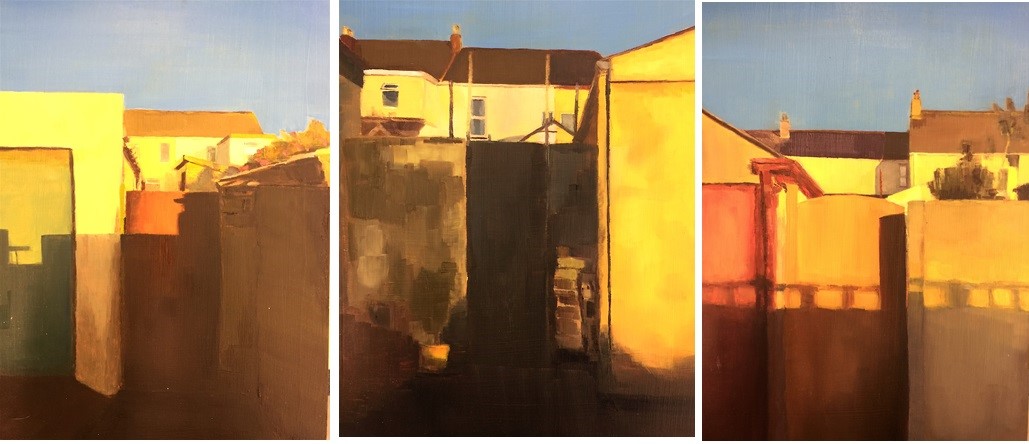 Terrace Sunlight
Coming from one of the poorest parts of the UK, Meg Burridge is interested in showing beauty in the mundane, hoping to cast normally overlooked areas into new light. Working predominantly in oil paint, she has found an appreciation of the natural fluctuations of a painted line, as well as subtle use of colour to create the interplay of light and shadow. Burridge recognises the power of composition and simplicity, to depict her surroundings and everyday experiences. She uses art as a vessel to show her awe at the world which surrounds her and, in this triptych, 'Terrace Sunlight', her intention was to use her skills, colour and light to showcase a run-down, largely overlooked area as something beautiful.


---
Isabelle Collins


Down Low
---
Anna Ellerbeck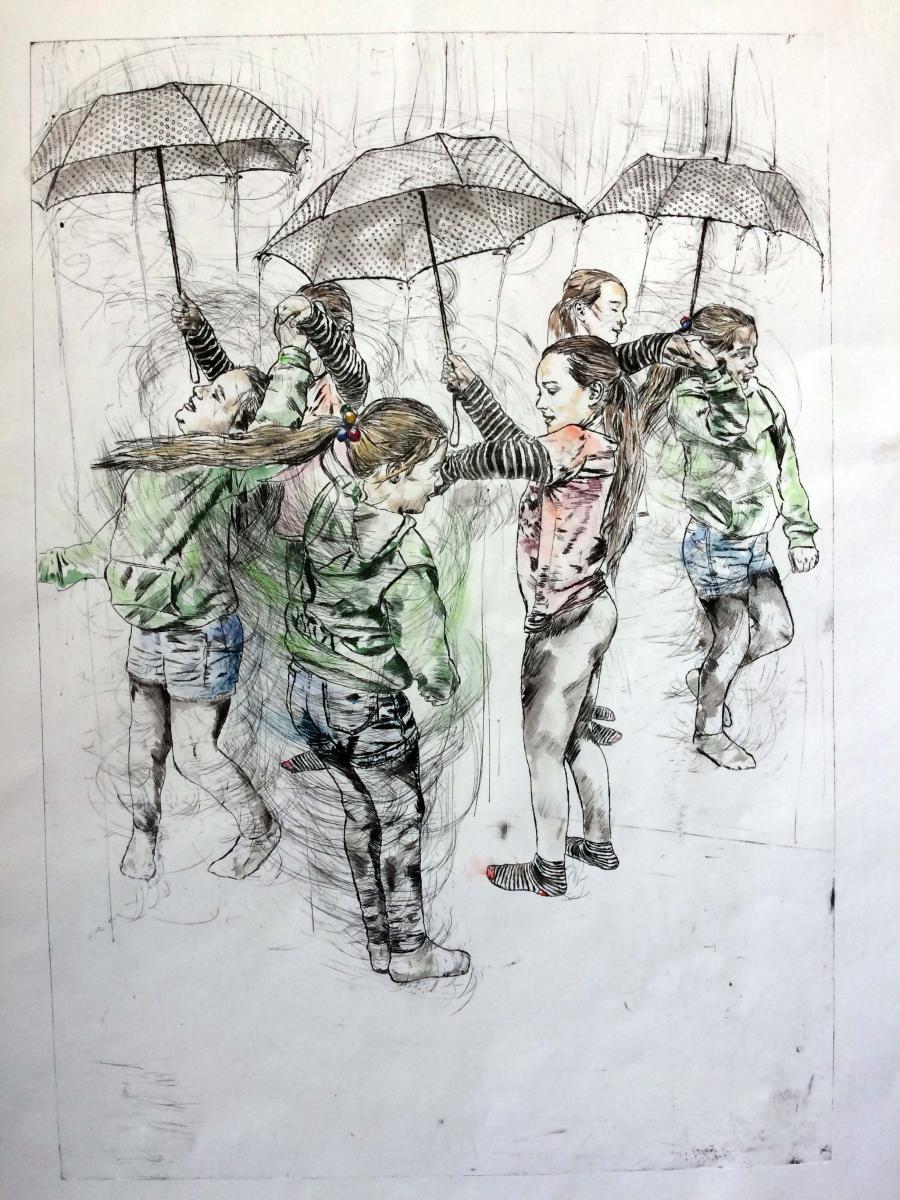 Playground Games
The etching Playground Games was made by Anna Ellerbeck in response to a project theme of 'Layers'. She photographed and drew her cousins playing in the garden. Keen to develop a sense of movement in the piece, she used sandpaper to create the fine swirling lines.
---
Holly Gallant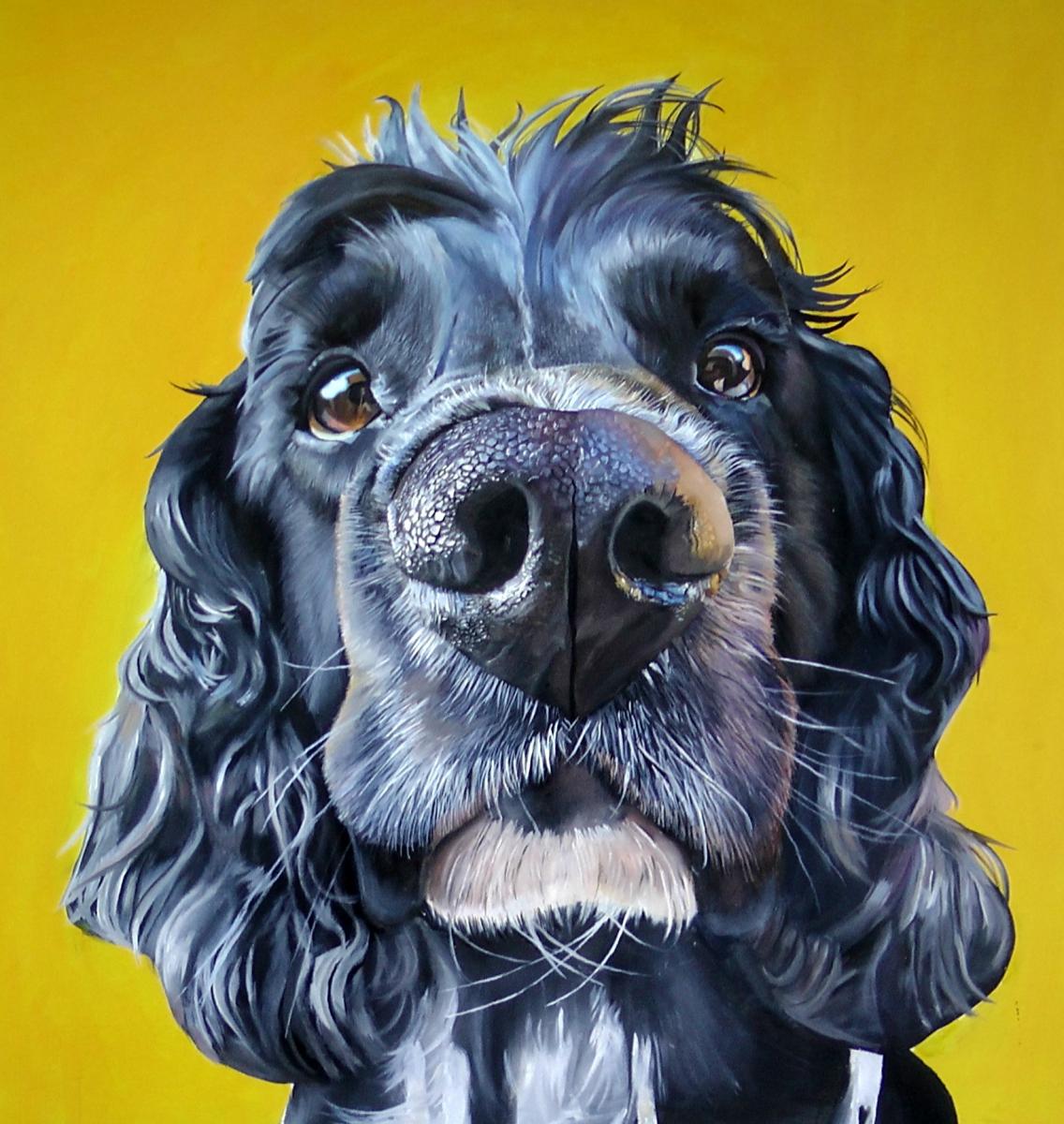 Bobby
Bobby is Holly Gallant's pride and joy, her best friend, loving, faithful and full of energy. Gallant wanted to capture his spirit in her painting and she has placed her heart into this piece of work.
---
Rachel Howarth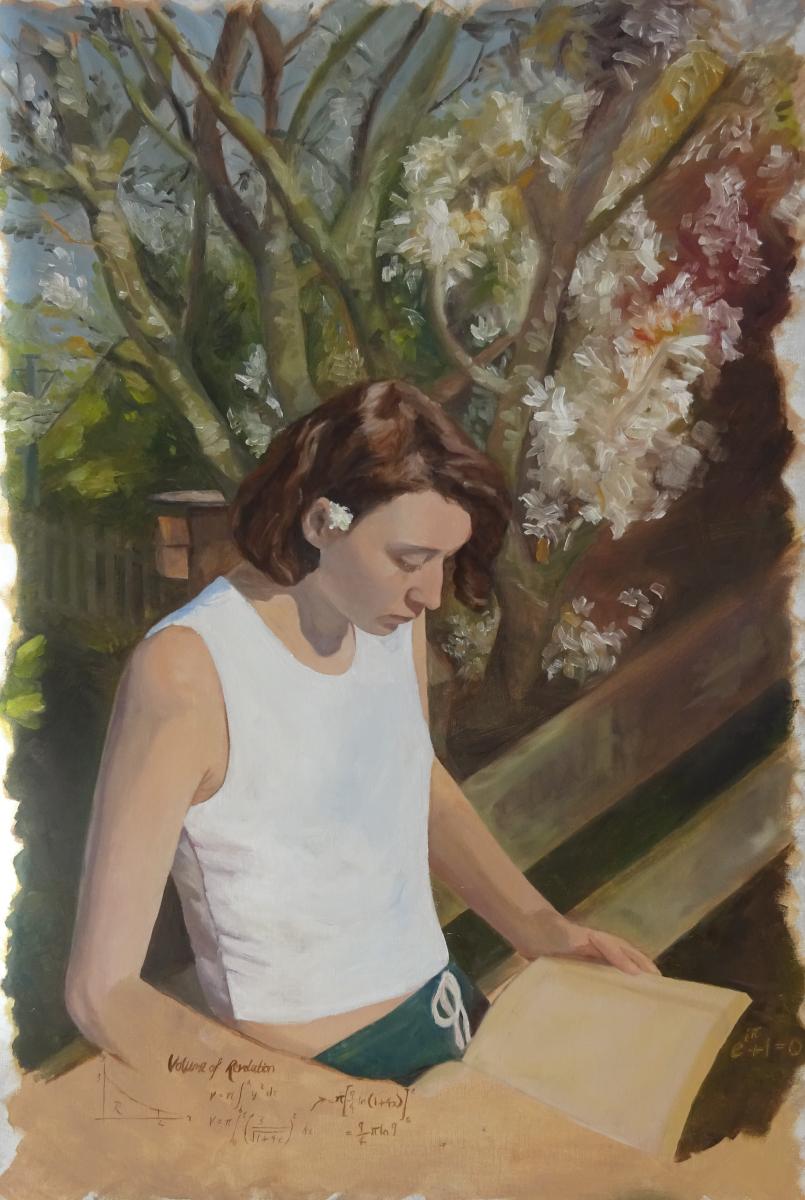 Girl Seated with Book
Rachel Howarth has been interested in art from a young age and was inspired by her Grandad (a watercolourist) to try new techniques and materials to see how they worked. At higher education she formed links between her Maths studies and her art practice under the theme of 'Perspective,' acknowledging that sculptures use geometric perspectives to bring art to life. Through research Howarth learned about mathematical beauty and how it correlates with activity in the emotional part of the brain. Euler's identity (which is included in her final piece) is considered to be the most beautiful equation in maths. She is now at the University of Edinburgh studying Fine Art and History of Art (MA). "I am looking forward to seeing my portrait in the RBA exhibitions at the Royal Over-Seas League and the Mall Galleries, meeting other artists and admiring their work. It is a privilege to have been chosen from so many works submitted and to be displayed in such prestigious galleries."
---
George Hunt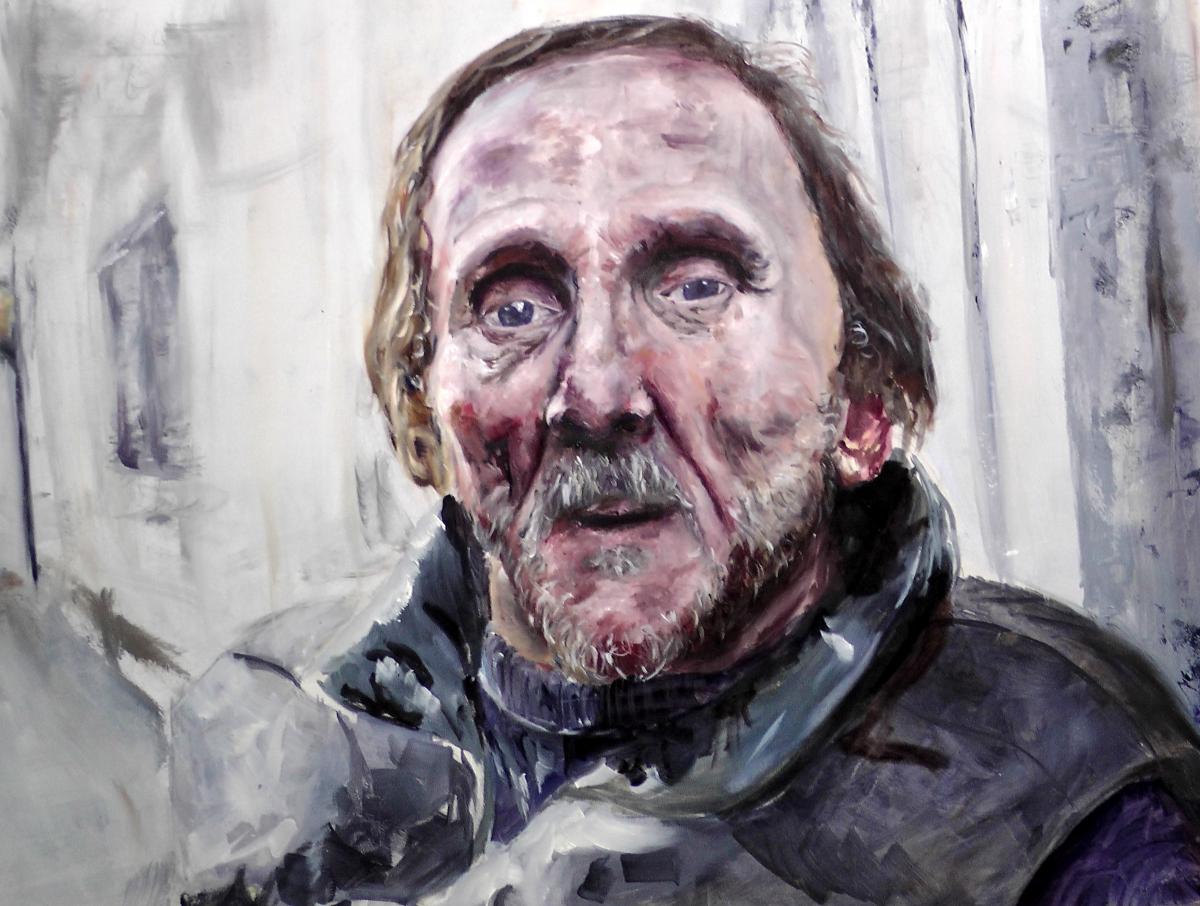 A Gentleman of the road
The Gentleman of the Road was part of a series of portrait paintings George Hunt completed as part of his A Level coursework. This is reaction to the theme "Suffolk", for which he looked at his surroundings and began conversations with people living on the streets. He had found an aspect of Suffolk life that was often overlooked, yet very real. Despite their difficult circumstances, each of the men were friendly and willing to be sketched and photographed by Hunt so their portraits could be painted. The Gentleman in this painting was of particular interest to the artist as he wanted to show something of his warmth of character and to capture the mixture of both strength and vulnerability. His deep stare is quite mesmerising and the painting captures his humanity.
---
Nadia Jenkins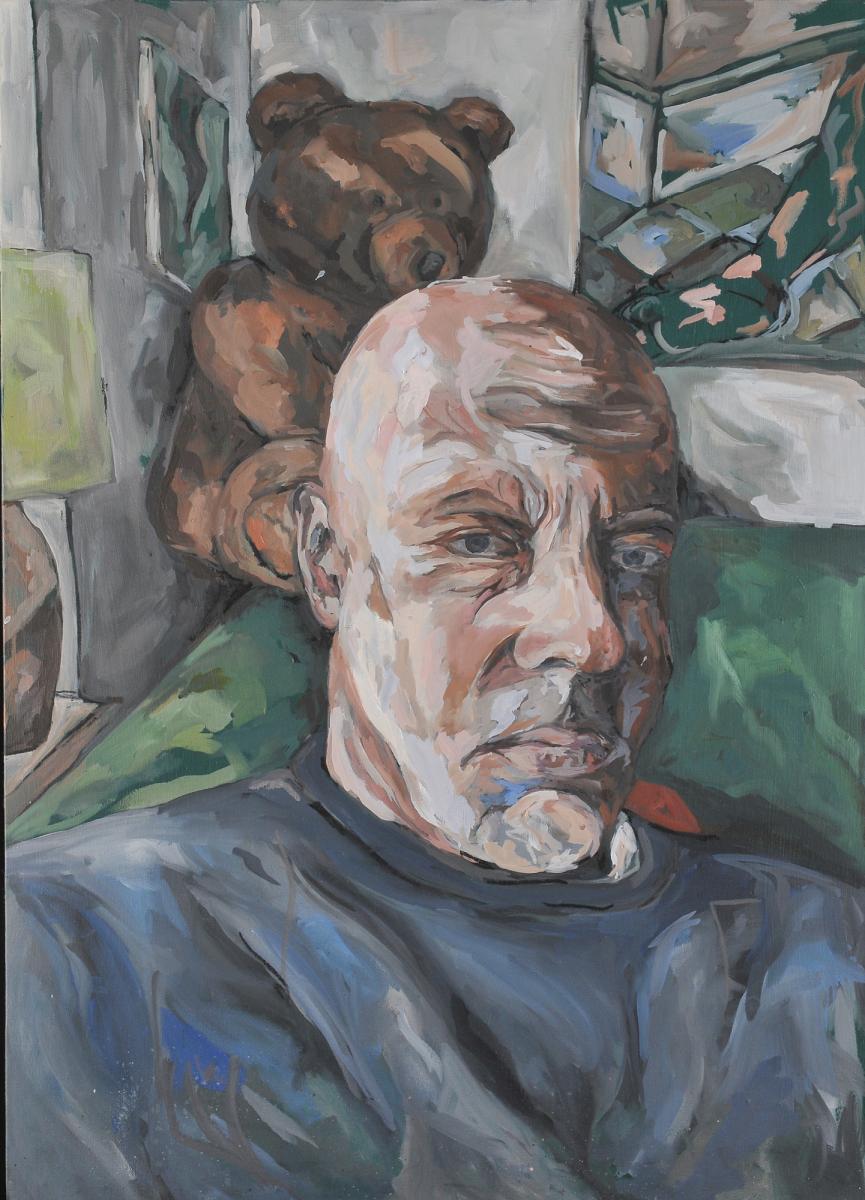 Nigel and Teddy
---
Francesca Krum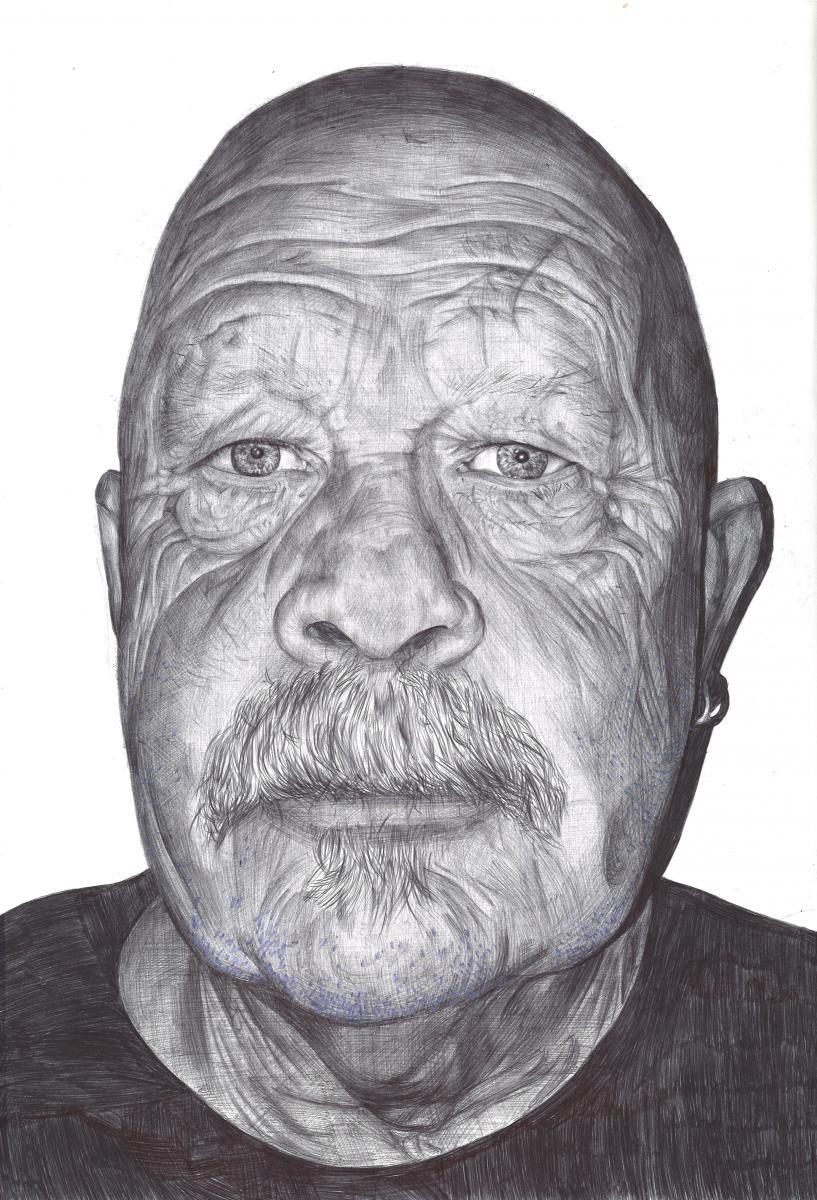 Rob
Using inspiration from her chosen theme of 'Approaches To Time', Francesca Krum created a project exploring the journey of ageing. More specifically the transformation of different faces over a period of time. She was initially interested in this concept as it would allow her to both photograph and draw a diverse range of people, considering the different ways of projecting each character and their personality through her work. For the work 'Rob', Krum found portraiture to be most effective way as it enabled her to capture him close up, resulting in the piece featuring even the small details of his face which would usually go unnoticed.
---
George Lees O'Neil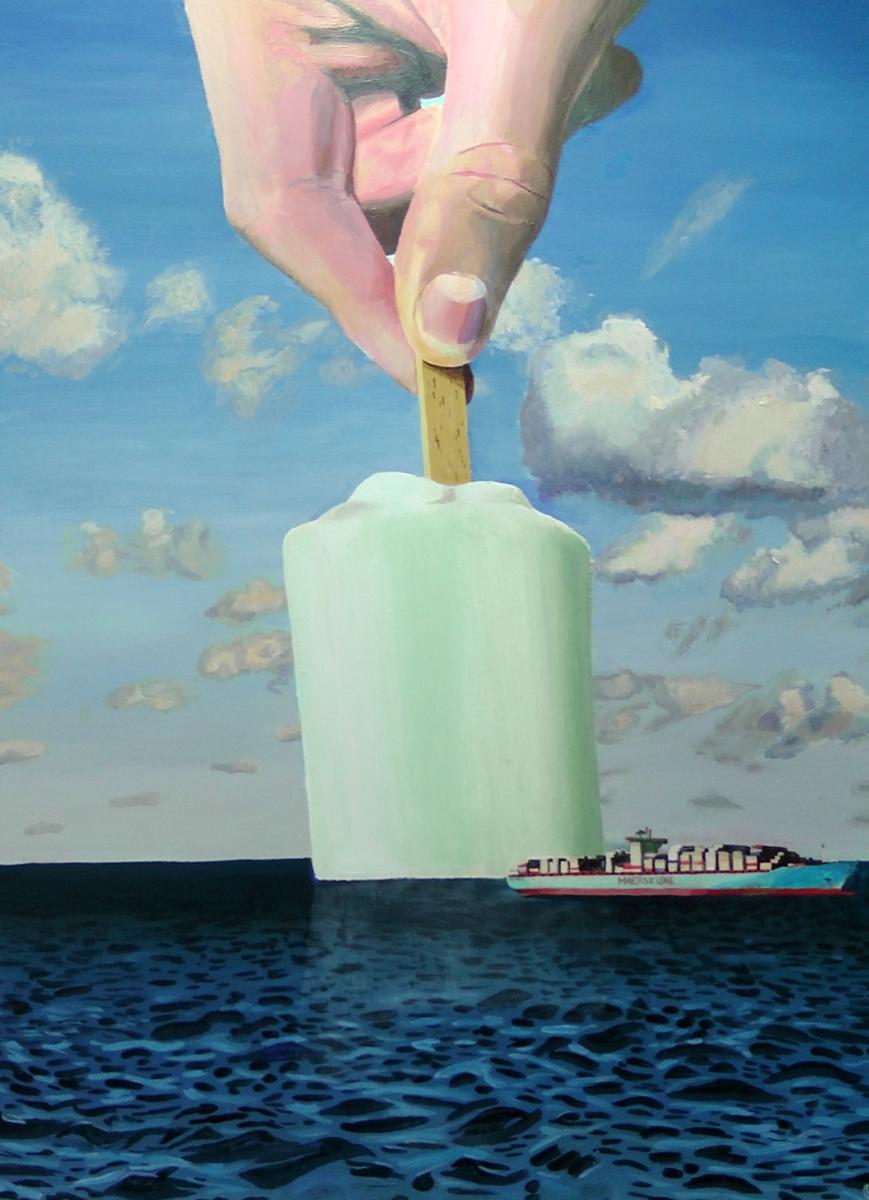 The Ice is Melting
This painting is the final outcome for a project George Lees-O'Neill researched and worked on for 4 months whilst at sixth form college. He wanted to make a bold statement with his work, exploring different ideas and messages. Climate change is a current issue that Lees-O'Neill feels very strongly about, as well as wasteful or excessive consumerism. The giant ice-lolly in the sea is combining aspects of surrealism: putting everyday objects out of context, giving them new meaning. The lolly and hand can also be read as a huge symbol of mass-consumerism, as well as the cargo ship, and how these are having a negative impact on the environment.
---
Amber Li


The River
Amber Li loves to work with colour and texture and experimented with the landscape during her sixth form Art studies at Farlington. The main focus of her work is the use of collage and layering, connecting all of the elements together and seeing how unexpected relationships appear. Li spends time experimenting with ink drawing, mark-making, and printing onto a variety of backgrounds; the outcomes of which are always surprising. She has embarked on a Foundation course at University of the Arts Camberwell, and is now focusing on Theatre Design.
---
TIA LIAN BROWN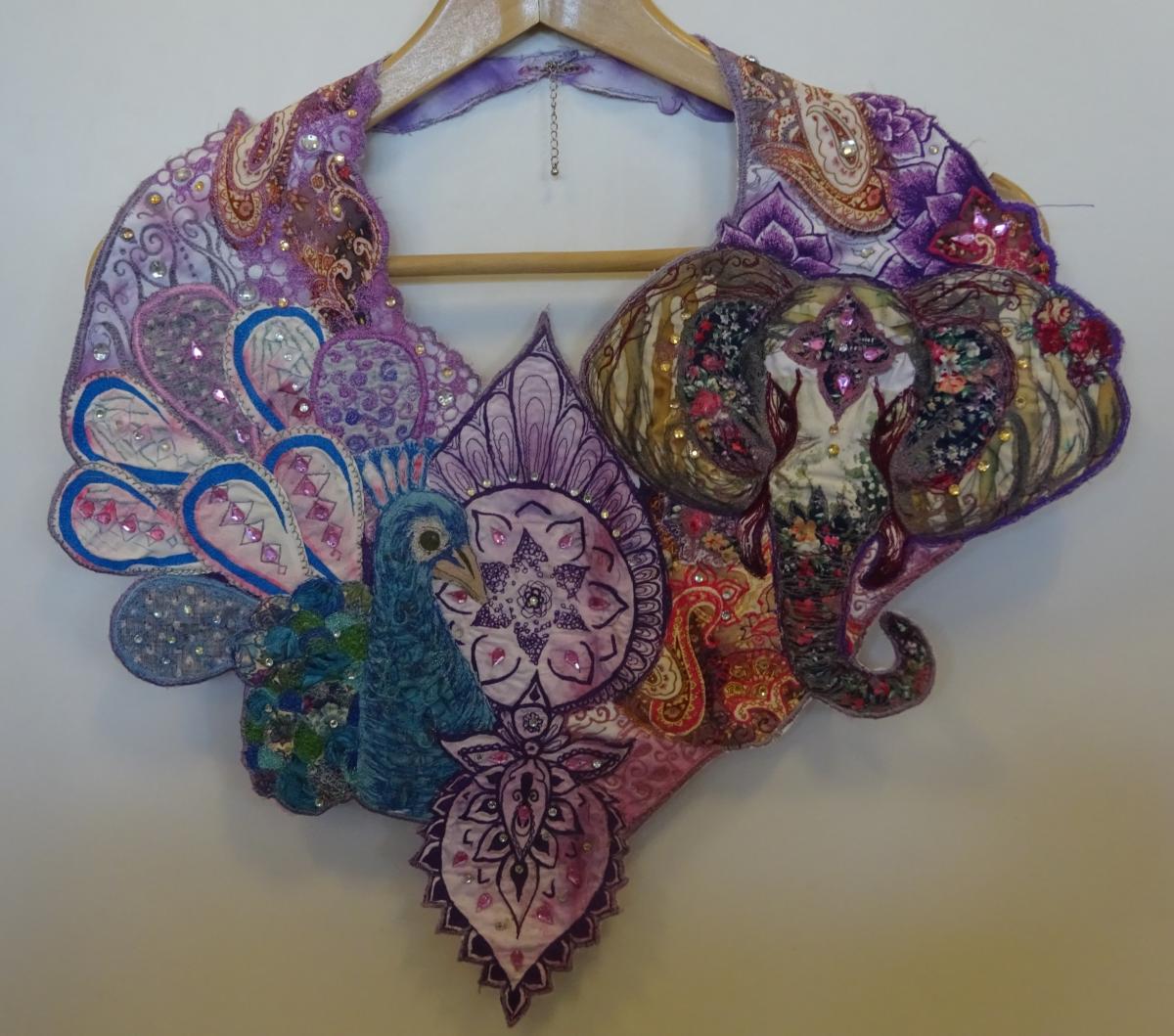 Indian-Inspired Cultural
Tia Lian Brown's inspiration for these wearable art pieces originated from Indian culture and her interest in the diversity of their religious beliefs and practices. The amazing colour and vibrance of the Holi Festival has always been of interest and is reflected in her pieces. Lian Brown used many different traditional techniques and skills such as shibori, marbling and batik, to achieve the colours and patterns she wanted to use as the basis of the work and developed the investigation into cultural uses of pattern and the significance of animals. To incorporate these elements together the artist created stencils of each animal, appliqued beautiful Indian fabrics into the shapes and then used free-machine embroidery in a variety of colours and textures to capture detail and depth in the animals and patterns.
---
Olivia Marshall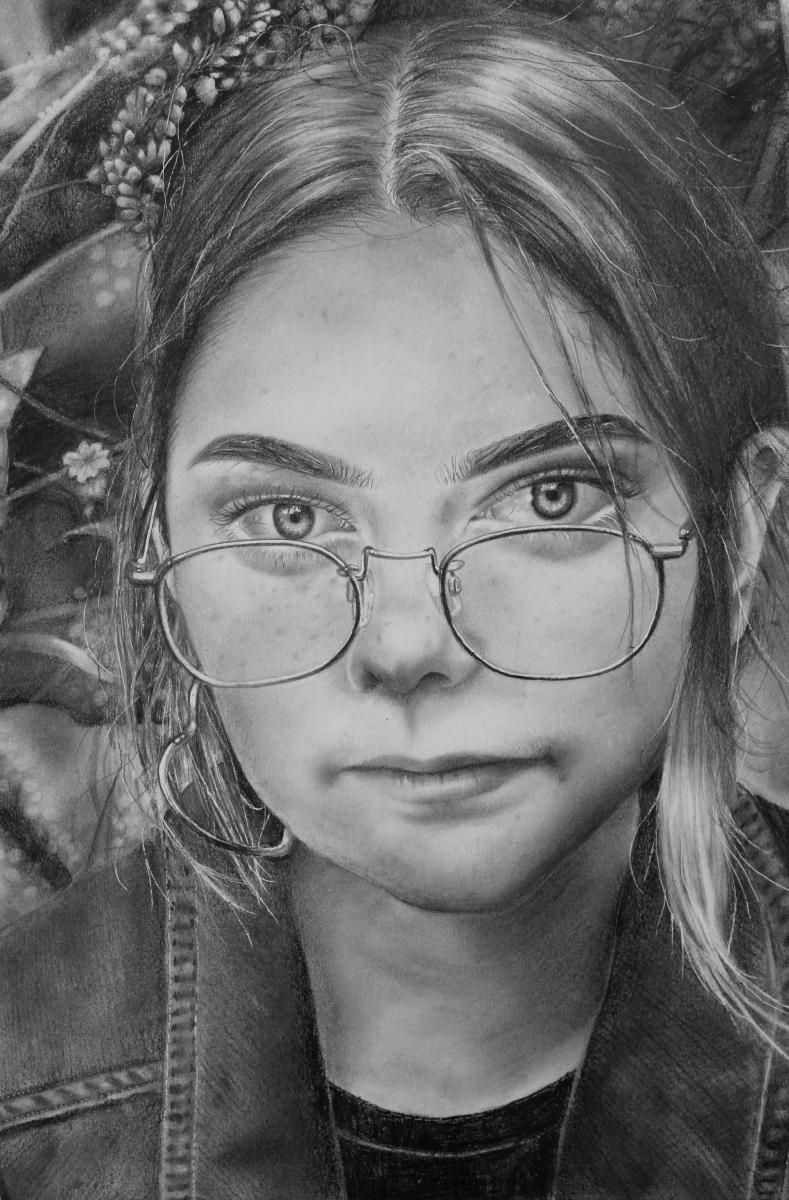 Rosie
---
Robert Mill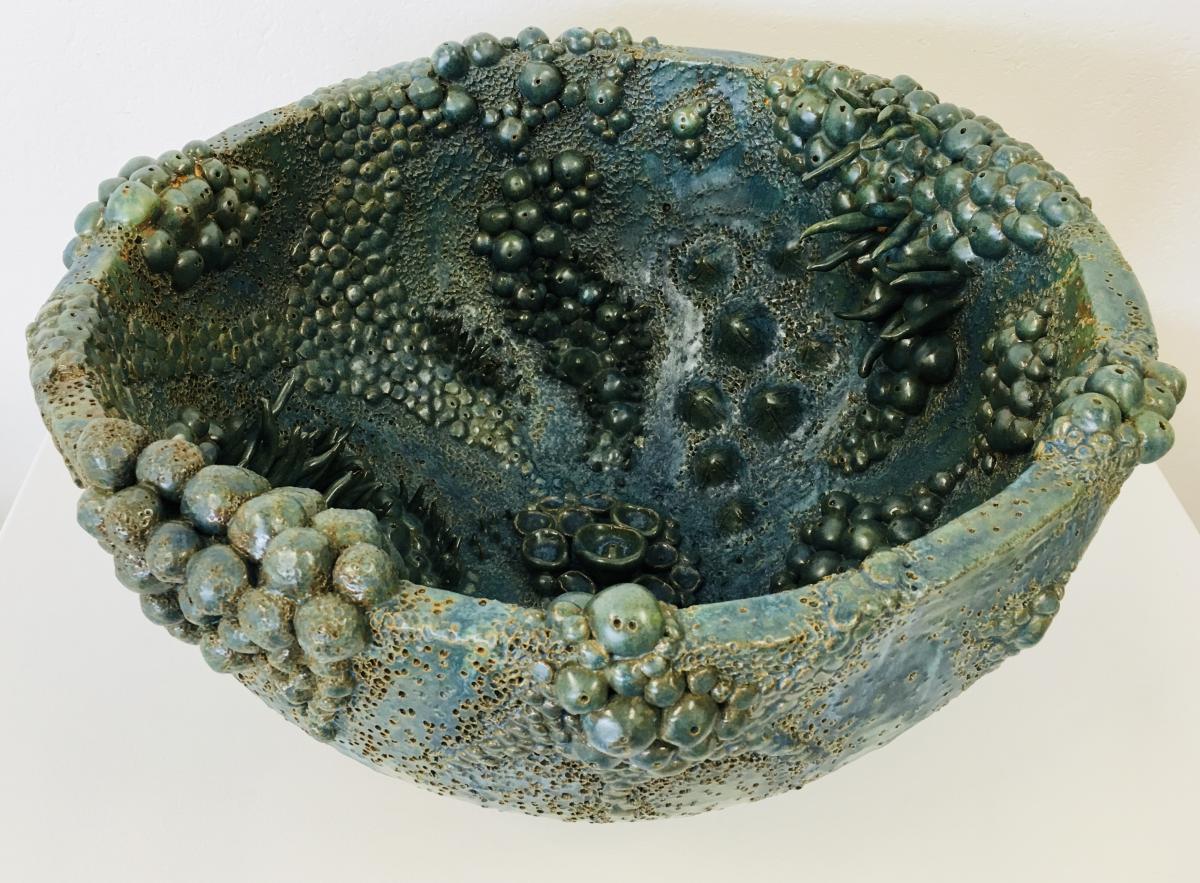 Crustaceans
This is the second year Robert Mill has been selected as a Rising Star. He has always had a passion for art, achieving success at school. He is currently studying Architectural Engineering at the University of Leeds, focusing on the technical design aspect of infrastructure. His experience at AKS high school allowed for experimentation and he has represented his school with his artwork on numerous occasions.
---
Abigail Morton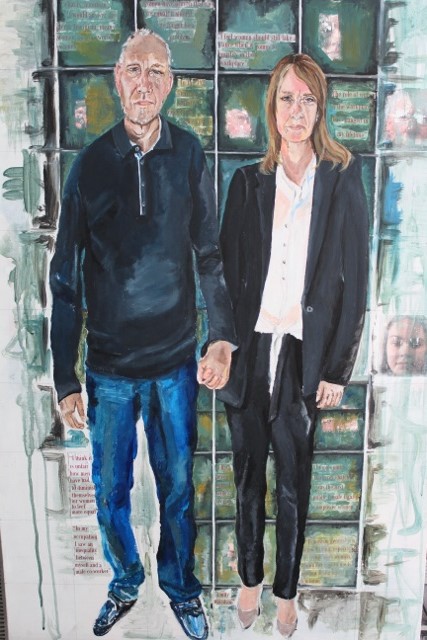 Parents
Abigail Morton created the work 'My Parents' as on a daily basis she sees these opposing sexes demonstrating gender equality. As a young women in modern society, Morton sees the popular feminist movement vocalised through female celebrities and social media, something she believes detracts from the original values a feminist should possess. She believes that modern feminism and the way it is shared has made women forget about the progression towards gender equality due to a broadening the gap between the two sexes. She wanted her piece to celebrate both men and women and how without each other there would be no motivation in society and no continuous development of the planet. Her parents present to her, not only the importance of individual success, but the value of each other's support on the way to personal triumphs. This relationship has influenced her and is a regular reminder to appreciate both genders and our equality.
---
LIVIA ROBINSON


Ram Skull
Themes of sybolism and spirituality reoccur in Livia Robinson's work. The Ram Skull is part of an extremely personal investigation into the objects and practices associated with pagan and Wicca traditions.
---
MEGAN RODGER


Snail
---
Maisy Venn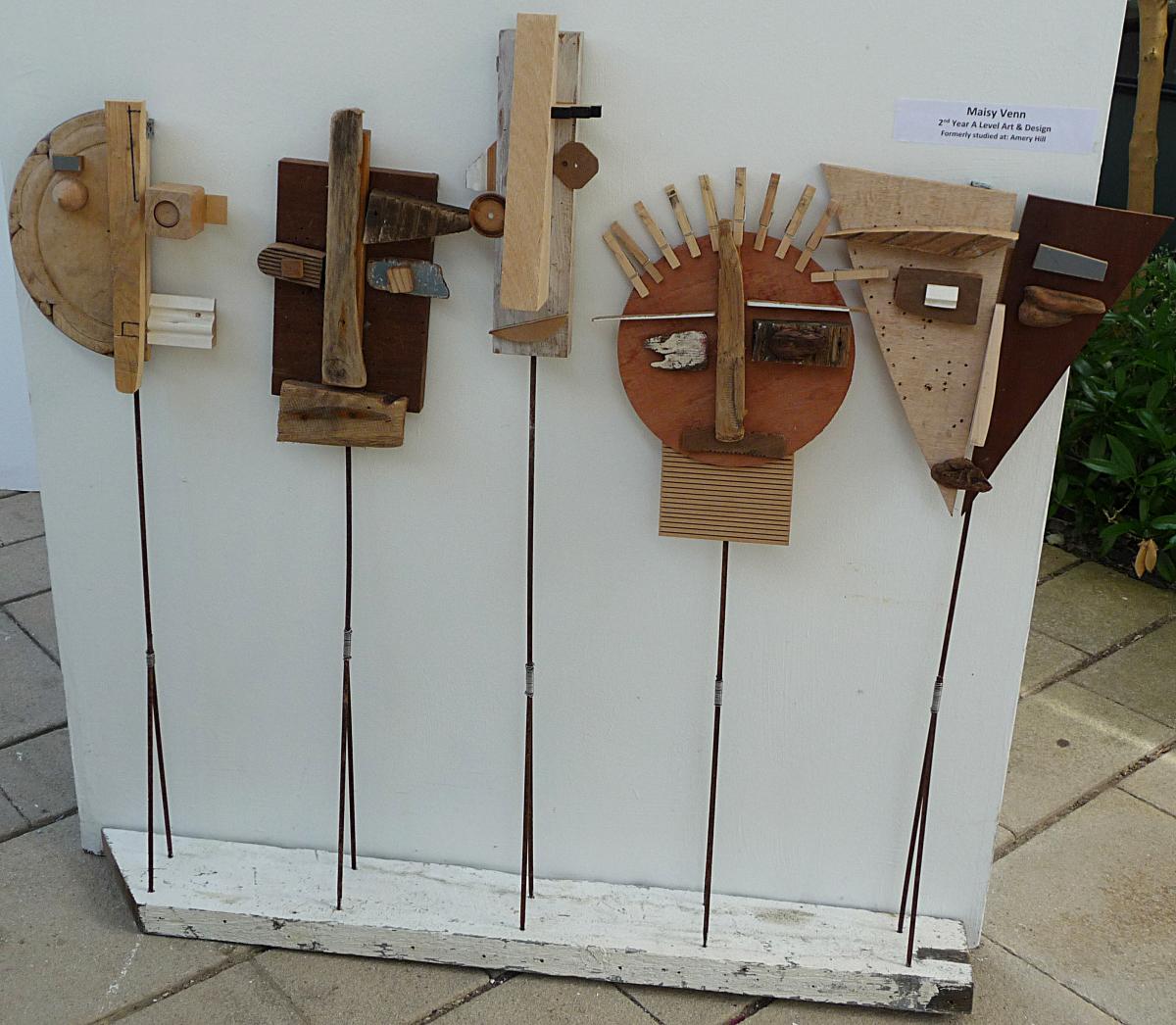 Take Five
---
Beth Whell


Window Light
Bethany Whell's influence is the human figure and the expression of raw humanity and emotion through art. Creating is a way that the artist can channel personal insecurities about body image in a therapeutic way to alleviate depression and anxiety. It motivates Whell to view the human figure portrayed with such passion; this is what she strives to depict in her study. In every finished piece she aspires to capture a conscience that resonates, with every individual that views it.
---
You will be able to view these outstanding artworks at the following exhibitions:
ROYAL OVER-SEAS LEAGUE (ROSL)
Friday, 26 April - Sunday, 19 June 2019
St James, London W1
Please join us for the Private View on Thursday, 25 April 2019 from 6-8pm. To book tickets, visit: rosl.org.uk/risingstars2019 NOW SOLD OUT
MALL GALLERIES
As part of the RBA's annual show
Thursday 4 July - Sunday 14 July 2019
The Mall, St. James's, London SW1Y 5AH
mallgalleries.org.uk
Become an instant expert!
Find out more about the arts by becoming a Supporter of The Arts Society.
For just £10 a year you will receive invitations to exclusive member events and courses, special offers and concessions, our regular newsletter and our beautiful quarterly arts magazine, full of news, views, events and artist profiles.
FIND YOUR NEAREST SOCIETY