Five essential facts about fashion designer Zandra Rhodes
Five essential facts about fashion designer Zandra Rhodes
For 50 years Zandra Rhodes has championed her own aesthetic, combining eye-popping patterns with kaleidoscopic colour and dressing celebrities and theatrical companies alike. As the designer opens a new retrospective at the museum she founded, we reveal some key facts concerning her stellar career and outlook.
---
Zandra Rhodes photo for the poster for the SS 1986 'Spanish Impressions' collection. Photograph by Robyn Beeche
---
Textile design is her first love
Rhodes describes herself as 'a textile designer that had to find a job' and has kept pattern and colour at the centre of everything she creates since opening her fashion house in 1969.
She was inspired by Pop Art and advertising in her early career
Rhodes' earliest Pop-inspired prints allude to her fascination with groundbreaking artists: 'At the start it was David Hockney, and Andy Warhol with his soup cans; they were "happening" when my career was at its most formative,' she says. She was also inspired by beauty advertising, including 'lipstick and nail varnish campaigns'.
---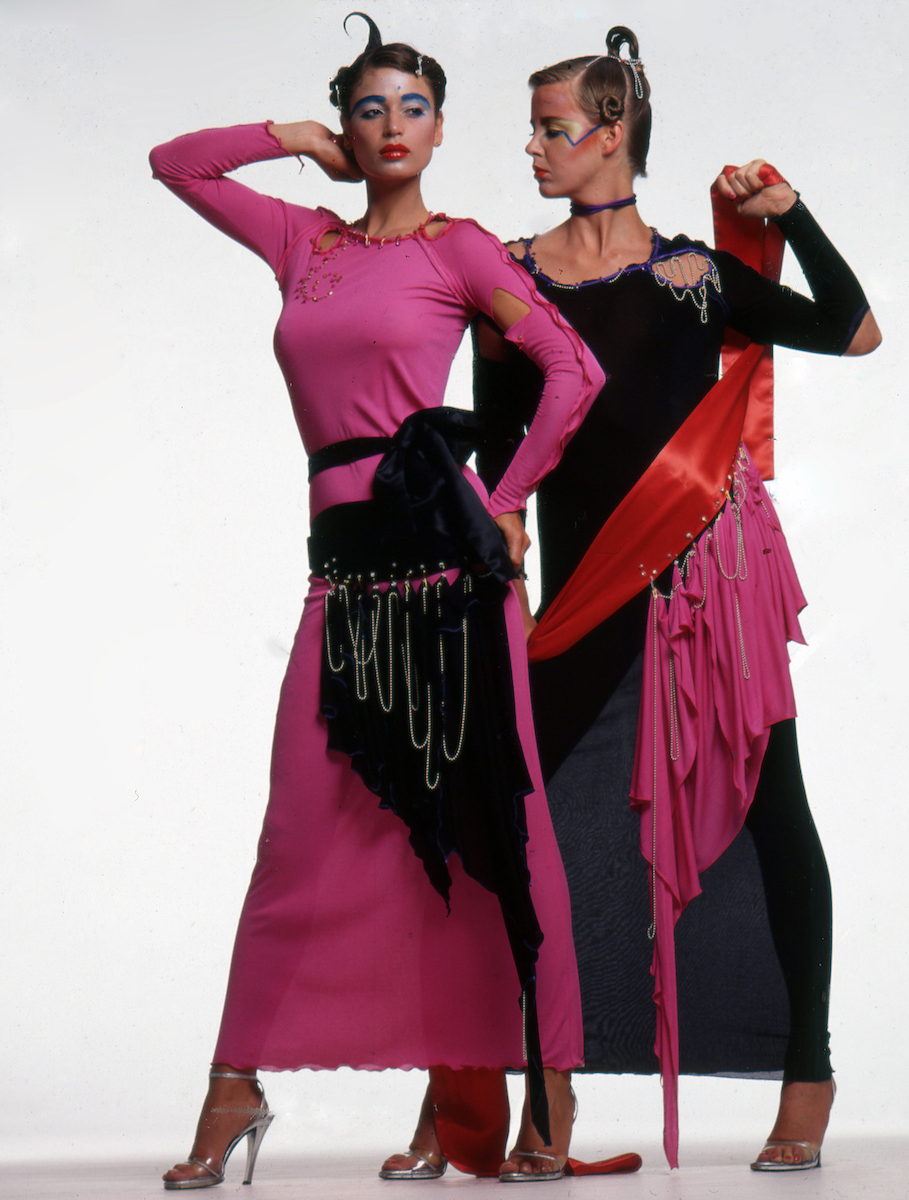 Polly Eltes and Louise de Teliga in punk ensembles, circa 1977. Photograph by Clive Arrowsmith
---
She is dedicated to arts education
In 2009, Rhodes was appointed chancellor at the University for the Creative Arts, witnessing first-hand some of the challenges that face young creatives today. As skills-based classes dwindle, she places emphasis on the importance of drawing, collaboration and a strong work ethic. She proclaims: 'Work as hard as you can and never give up.'
---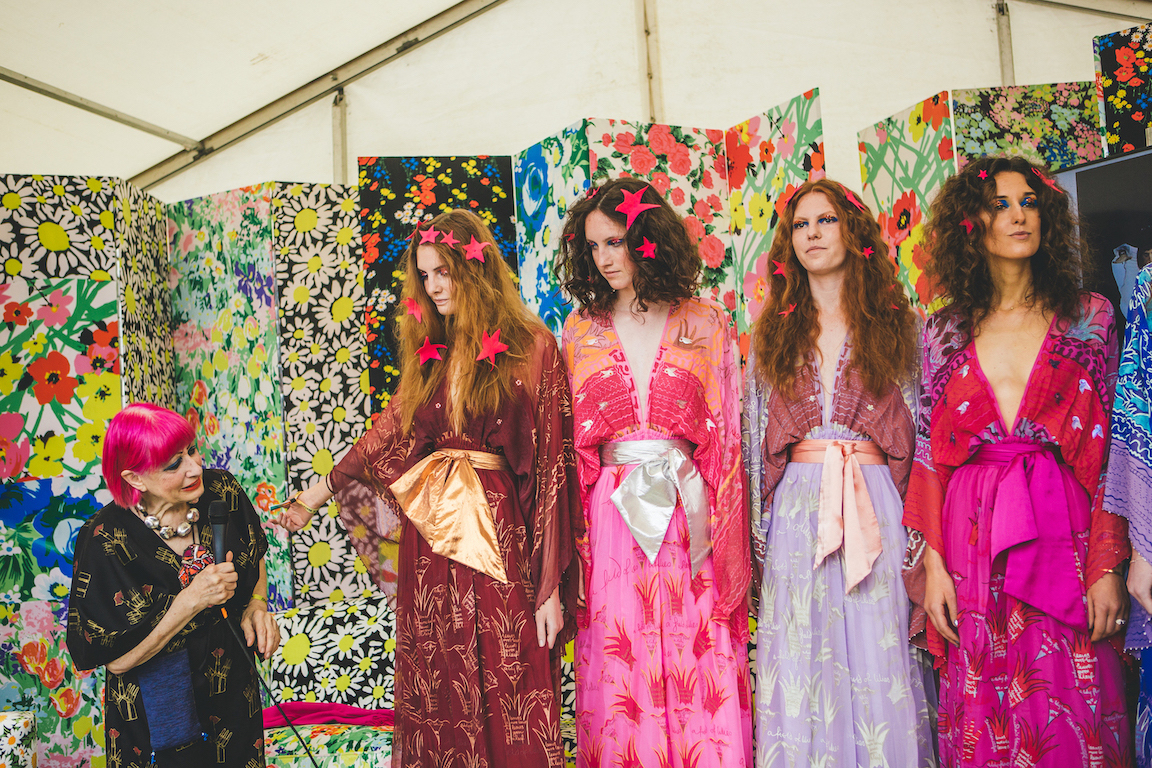 Zandra Rhodes and models at Port Eliot Festival, Cornwall, 29 July 2017. Image Louise Roberts
---
She champions the historical significance of fashion
Rhodes founded the Fashion and Textile Museum on London's Bermondsey Street in 2003 and has long championed the important influence of the craft, beyond a mere 'decorative' label. She explains: 'I think museums have realised that fashion and textiles are an art form. They have also come to recognise that they are one of the big visitor attractions. Look at the Metropolitan Museum of Art in New York: it is the fashion that brings people in.'
A-listers love her clothes
She has designed garments for Freddie Mercury, Princess Diana, Diana Ross and Cher, not to mention her costume design for international productions of The Magic Flute and The Pearl Fishers.
---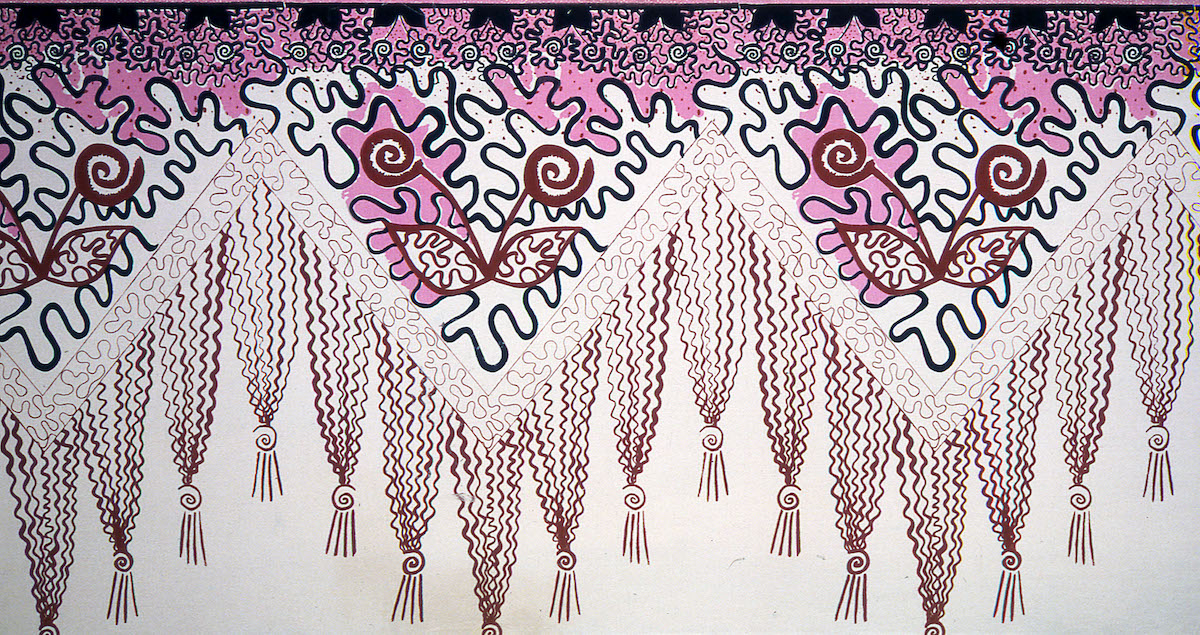 Zandra Rhodes Chevron Shawl Print Circle, 1969
---
SEE

Zandra Rhodes: Fifty Years of Fabulous; Fashion and Textile Museum, London;
27 September–26 January 2020.
---
TAKE PART

The museum is part of Newham College and offers regular fashion workshops and courses in subjects ranging from fashion drawing to couture techniques.
---
SIGN UP

Read our full interview with Zandra Rhodes, in conversation with Arts Society Lecturer Kate Strasdin, in the autumn issue of The Arts Society Magazine.
About the Author
Become an instant expert!
Find out more about the arts by becoming a Supporter of The Arts Society.
For just £20 a year you will receive invitations to exclusive member events and courses, special offers and concessions, our regular newsletter and our beautiful arts magazine, full of news, views, events and artist profiles.
FIND YOUR NEAREST SOCIETY