Curator's Choice: Immerse yourself in objects from Picasso's studio
Curator's Choice: Immerse yourself in objects from Picasso's studio
The studio is always a fascinating space of creativity, offering glimpses not only into an artist's working process, but also the objects, mementos and natural phenomenon that inspires them. More often than not, they remain sanctuaries, with only a privileged few gaining access.
However, there is now an opportunity to experience Pablo Picasso's Cannes studio, at Bastian gallery in London. The immersive installation is a recreation informed by original photographs, and features a 'treasure trove of objects including furniture, sculptures, ceramics, drawings and prints', offering insight into this hugely prolific period in the artist's career. We asked gallery director and exhibition curator Aeneas Bastian to select some of the most exciting pieces on display and tell us their hidden stories.
---
The complete set of 20 Visage plates, 1963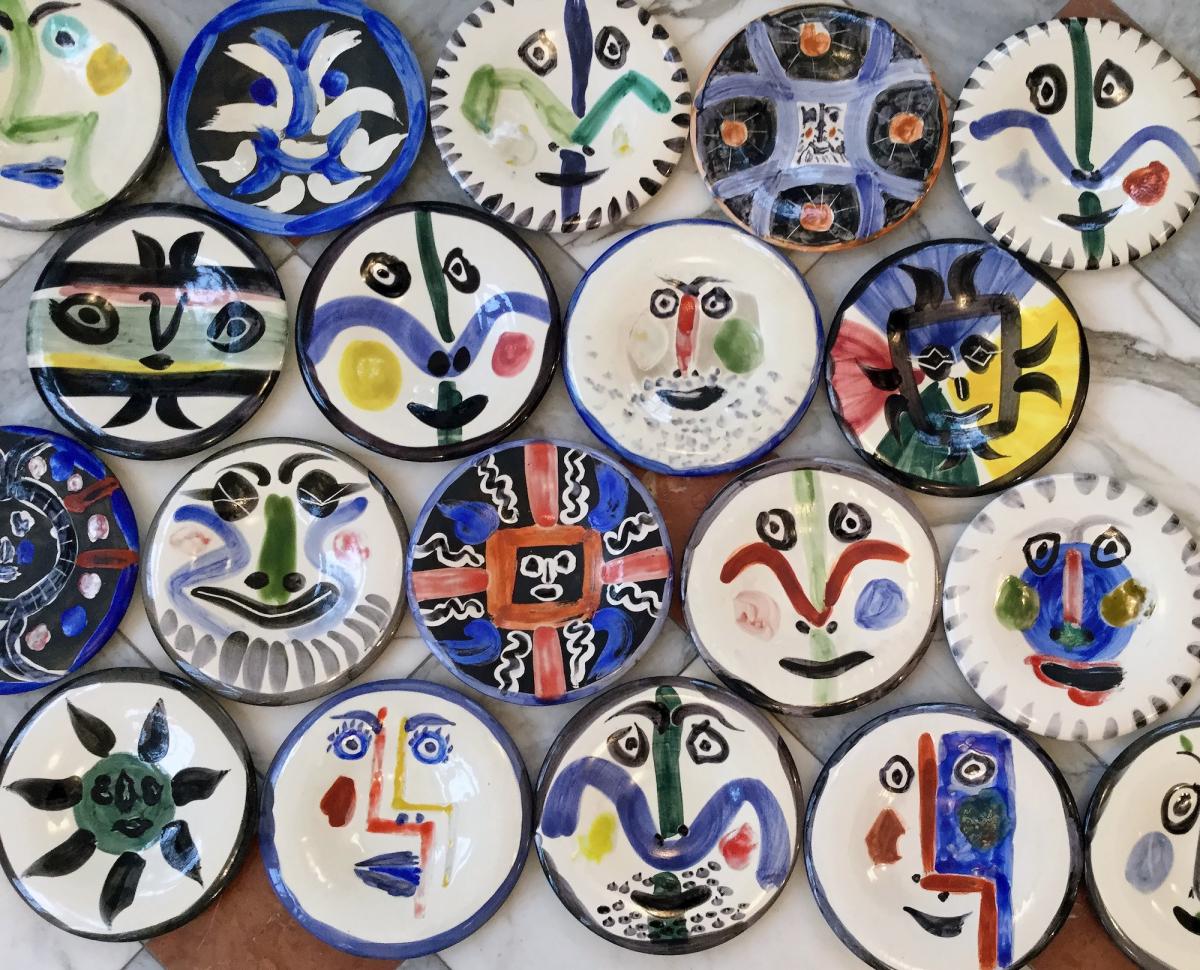 ---
With this rare set of 20 painted ceramic plates – the so-called Faces (Visages) – Picasso celebrates his own rediscovery of a Mediterranean world. Having moved away from Paris, and unable to return to his native Spain due to Franco's authoritarian regime, Picasso lived and worked permanently in the South of France, where he discovered ceramics at the Madoura pottery workshop in Vallauris. The artist's Visages – smiling faces reminding the viewer of primordial solar disks – seem to express a joy of life found in Provence.
---
Le Voyeur, 1933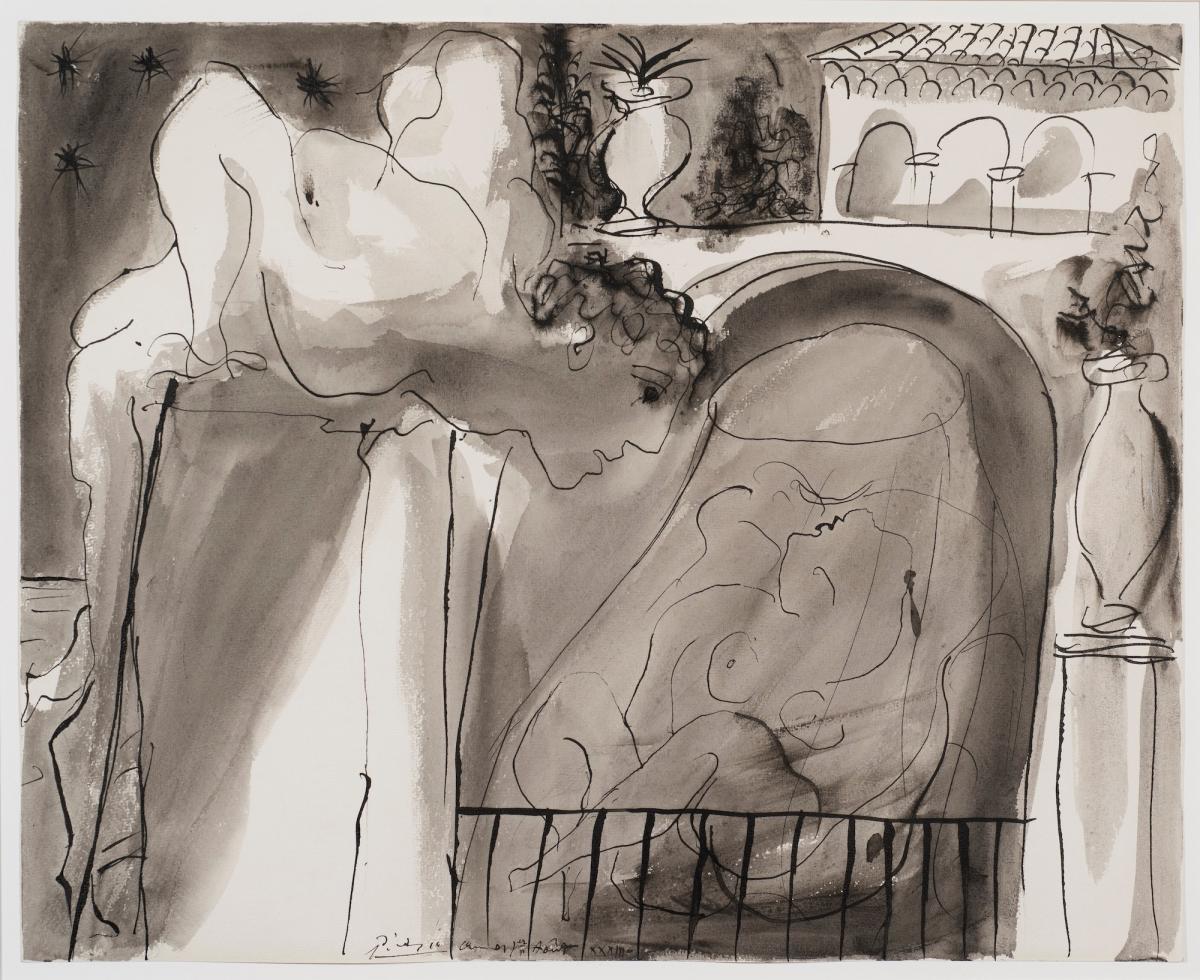 ---
Executed in 1933, this ink drawing is entitled Le Voyeur. It shows a muscular young man bent over, staring at a sleeping woman, in a classicist setting. The woman's profile allows us to identify her as the young Marie-Thérèse Walter, Picasso's muse and lover, hidden from the public eye. The young man's gaze reveals his desire; he embodies both the artist as a creator (looking at his model) and the man as a lover (looking at the naked young woman). Thus, Picasso expresses a double sense of possession, at once artistic and sensual.
---
Wood Owl, 1969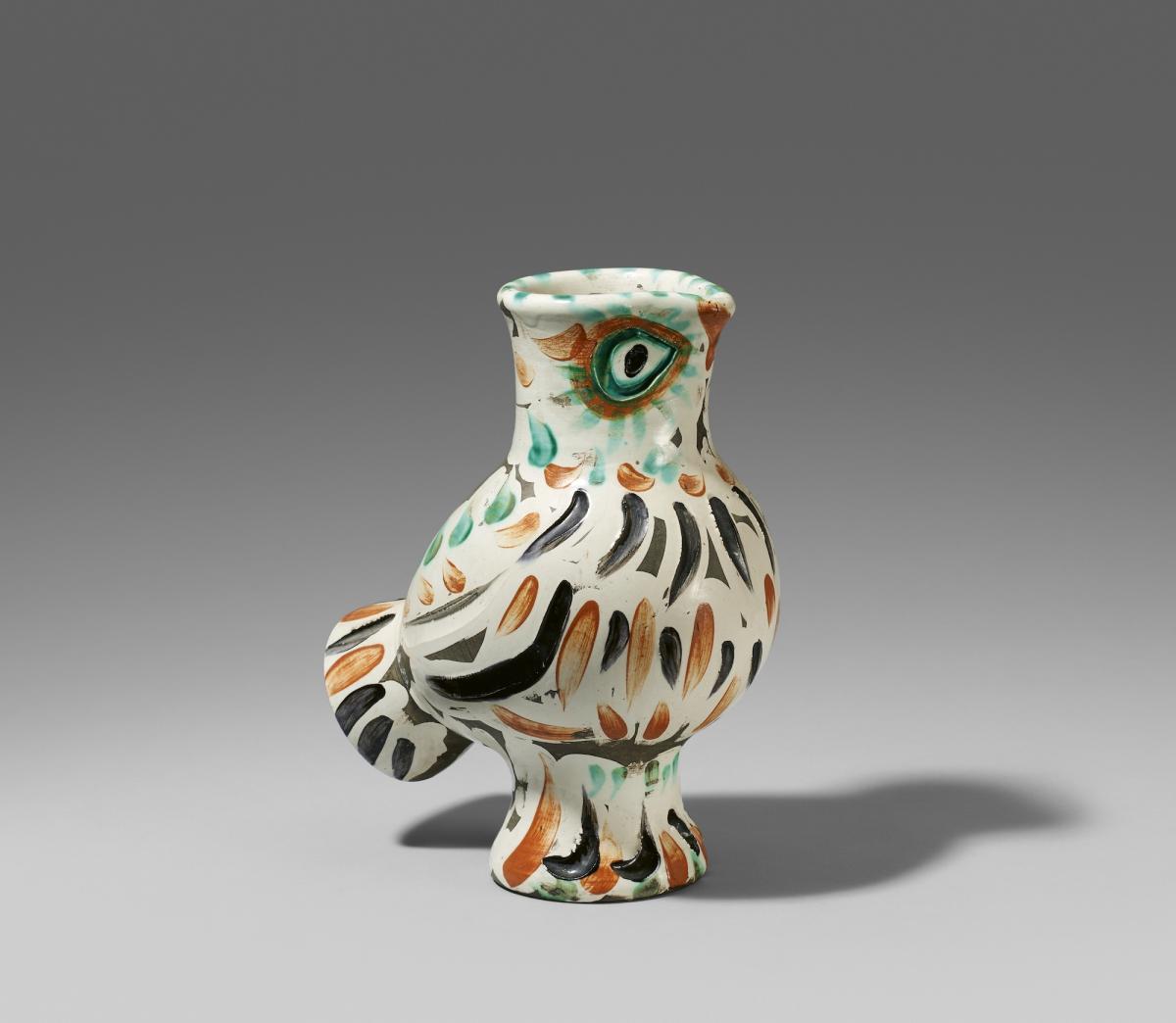 ---
Wood Owl is a late-edition ceramic reflecting Picasso's love of birds. We know that he kept owls at his studio, among many other animals, and portrayed them regularly in a variety of different media. He focuses on the owl's brown plumage and black eyes, alluding to the Greek tradition of owls symbolising wisdom and cleverness. The bird remains mysterious but holds a special place in Picasso's imaginary world populated by real and mythical creatures, gods, heroes, mortals and animals.
---
Exhibition posters including Galerie 65 – Cannes, 1957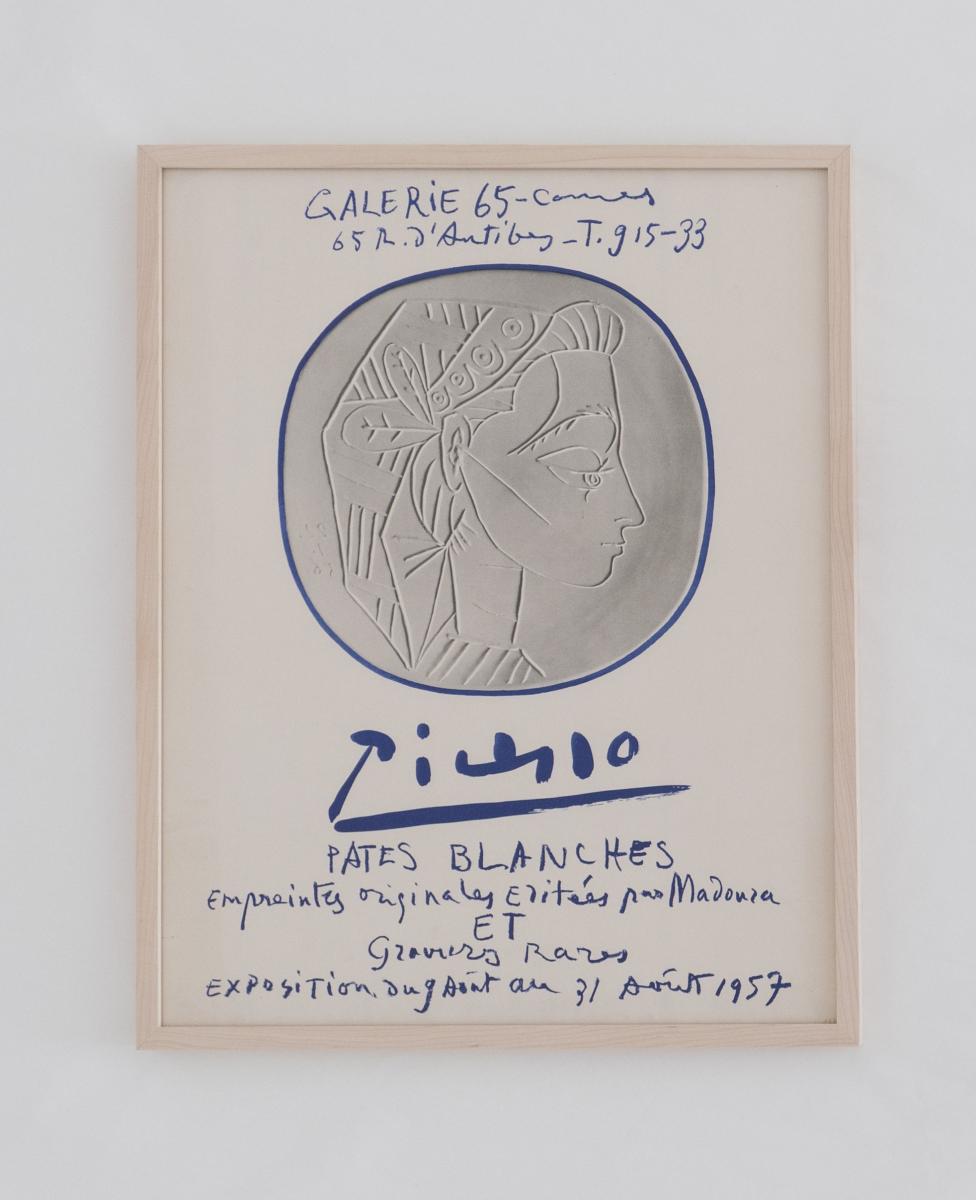 ---
Several exhibition posters promoting Picasso's shows are part of the display. Designed by the artist and used for advertising exhibitions in the predigital age, many of them were printed as colour lithographs. Mostly produced by renowned printers such as Fernand Mourlot, with whom Picasso worked for two decades, they illustrate the history of the artist's numerous exhibitions, almost all of which were accompanied by a poster.
---
Carreau Visage d'homme, front, 1965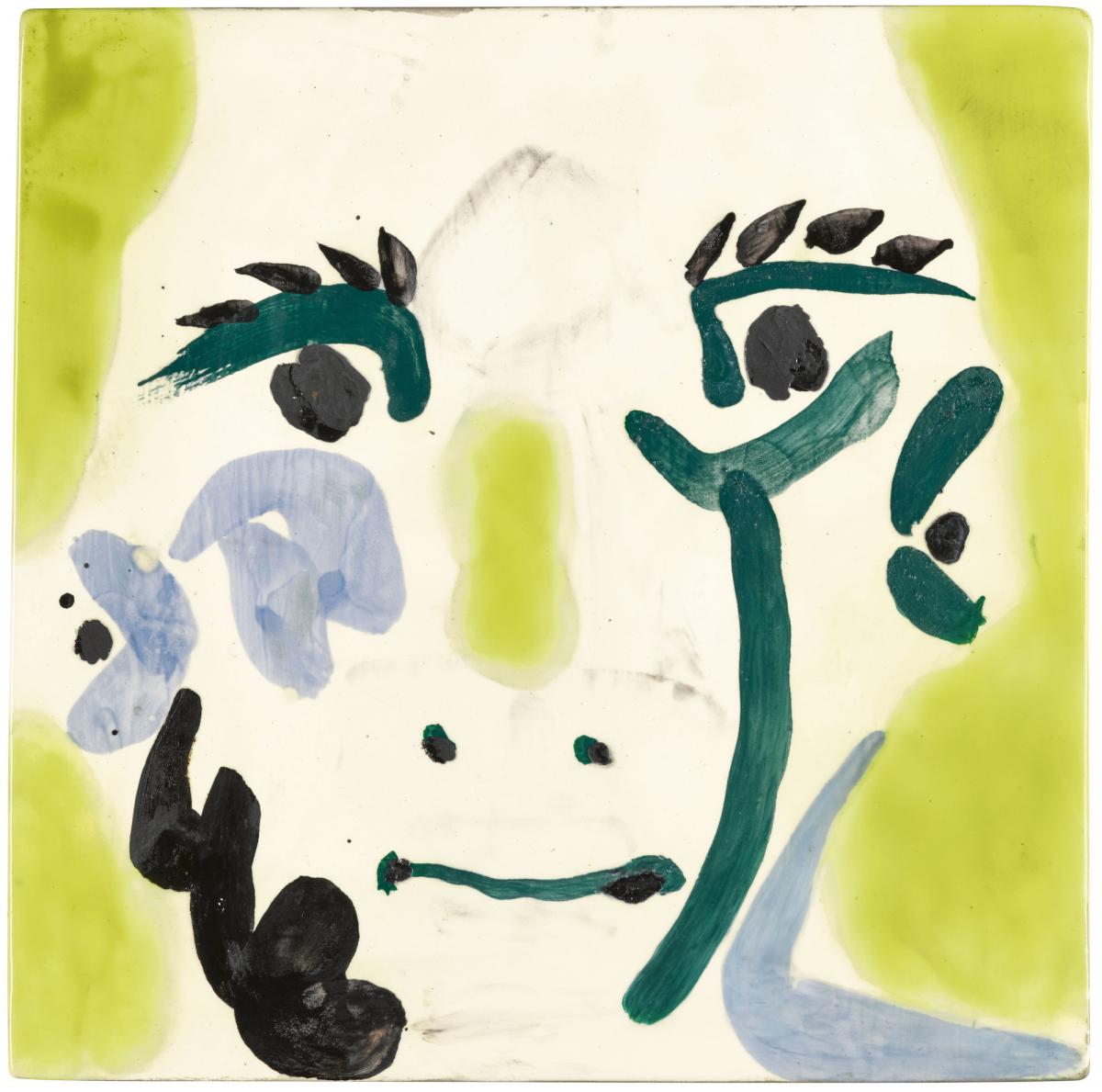 ---
Dated 1965, this Visage ceramic was conceived as a tomette floor tile. Fascinated by the magic of earth and fire he discovered at the Madoura workshop, Picasso rejected traditional hierarchies and gave utilitarian objects the status of artworks. Painted and incised, this hexagonal tile shows a face that evokes theatre masks and children's drawings. Picasso often amazed the Madoura team with his audacity, as he enjoyed making innovate experiments in clay.
---
Atelier Picasso is at Bastian until 31 October
About the Author
Become an instant expert!
Find out more about the arts by becoming a Supporter of The Arts Society.
For just £20 a year you will receive invitations to exclusive member events and courses, special offers and concessions, our regular newsletter and our beautiful arts magazine, full of news, views, events and artist profiles.
FIND YOUR NEAREST SOCIETY