Celebrate Valentine's Day in five fabulous artworks
Celebrate Valentine's Day in five fabulous artworks
12 Feb 2020 - 10:54 BY Holly Black
Valentine's Day has long been an opportunity to celebrate romantic relationships, but there is more than one kind of love. We take a look at the bond between mother and child, LGBTQ desire and even the delightful intimacy of sleep
---
Jenny Saville, Electra, 2012–19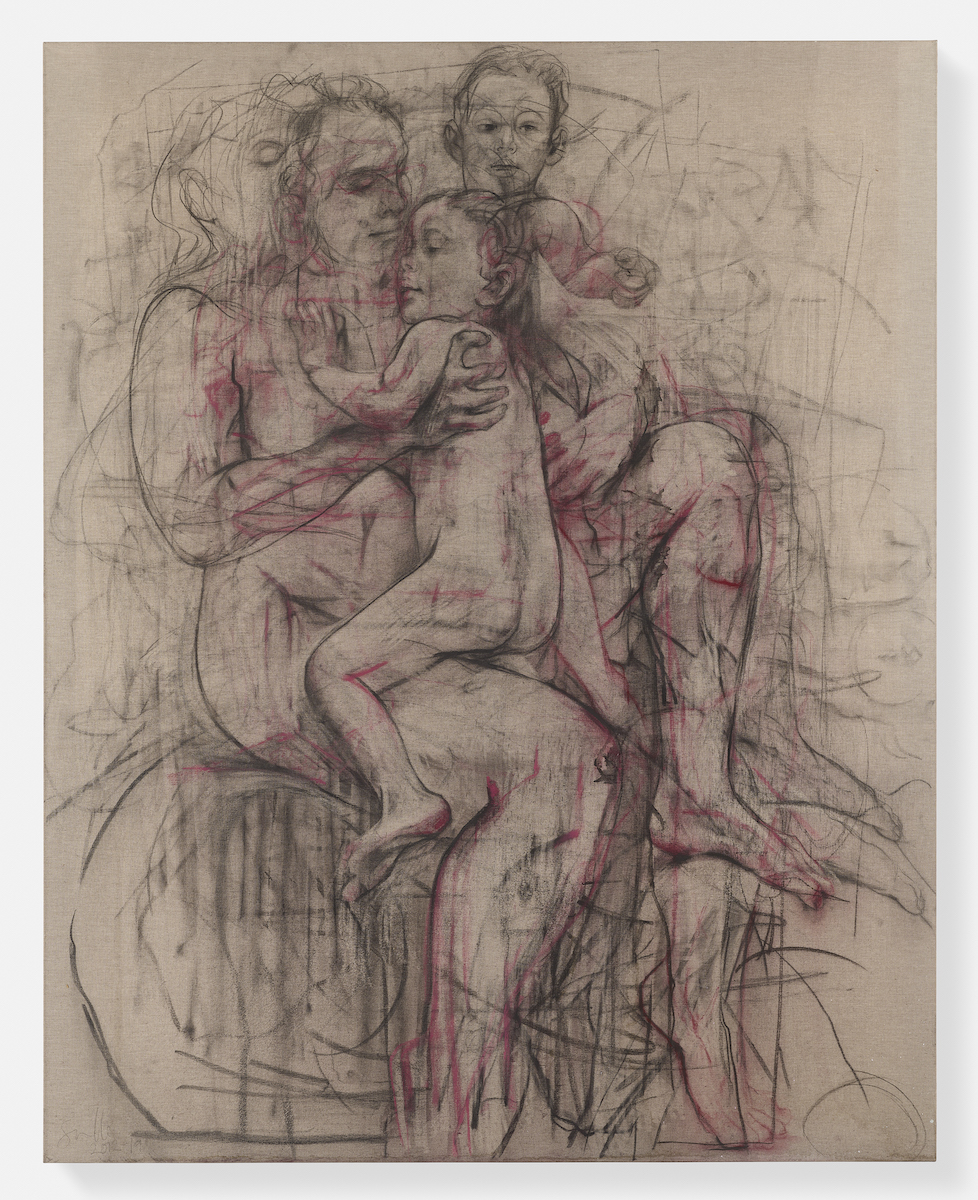 © Jenny Saville. Photo: Prudence Cuming Associates. Courtesy the artist and Gagosian.
---
Jenny Saville captures a moment in motion in this beautiful drawing. The frantically sketched outlines reveal a mother holding her child close, jostling them into position, while revealing the bulge of her own belly. Saville has often spoken of how motherhood has shaped her artistic practice, and while plenty of her works focus on a close rendering of a single human's flesh, here the intimate, physical connection between the pair is of paramount concern.
This work is on display for the first time, as part of Portraying Pregnancy, at The Foundling Museum, London, until 26 April
---
Linder, Untitled, 1977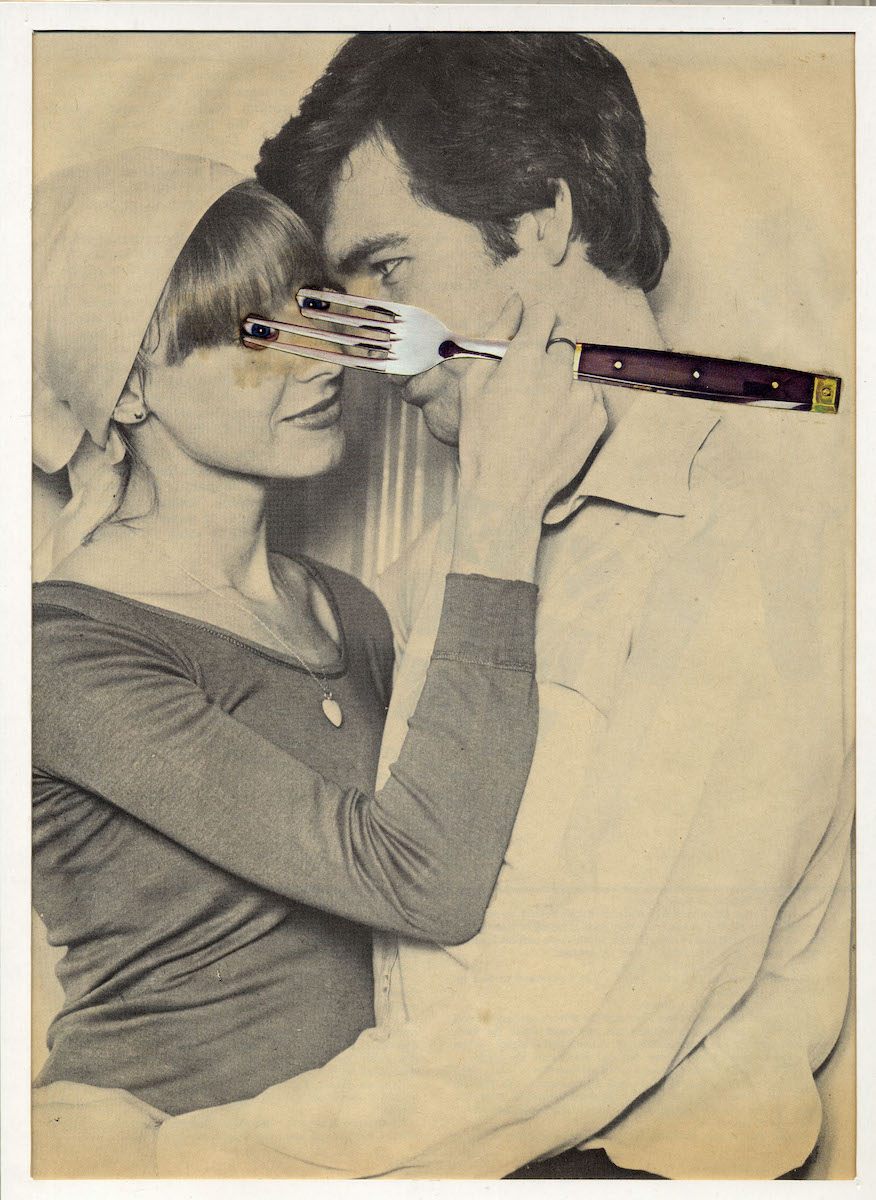 © Linder Sterling. Courtesy the artist; Modern Art, London; Dépendance, Brussels; Andréhn- Schiptjenko, Stockholm, Paris; and Blum & Poe, Los Angeles, New York, Tokyo
---
Punk collage artist Linder is known for her acerbic imagery that cuts up and rehashes women's fashion magazines, pornography and more, to subvert prescribed gender roles. Here, an otherwise loving embrace belies another story altogether, where it seems that this woman would rather poke her own eyes out than be stuck in this situation. The fact that she uses a kitchen fork as her weapon of choice adds another element of domestic frustration.
See this piece as part of Linderism, at Kettle's Yard, Cambridge, until 26 April
---
Kehinde Wiley, Naomi and her Daughters, 2013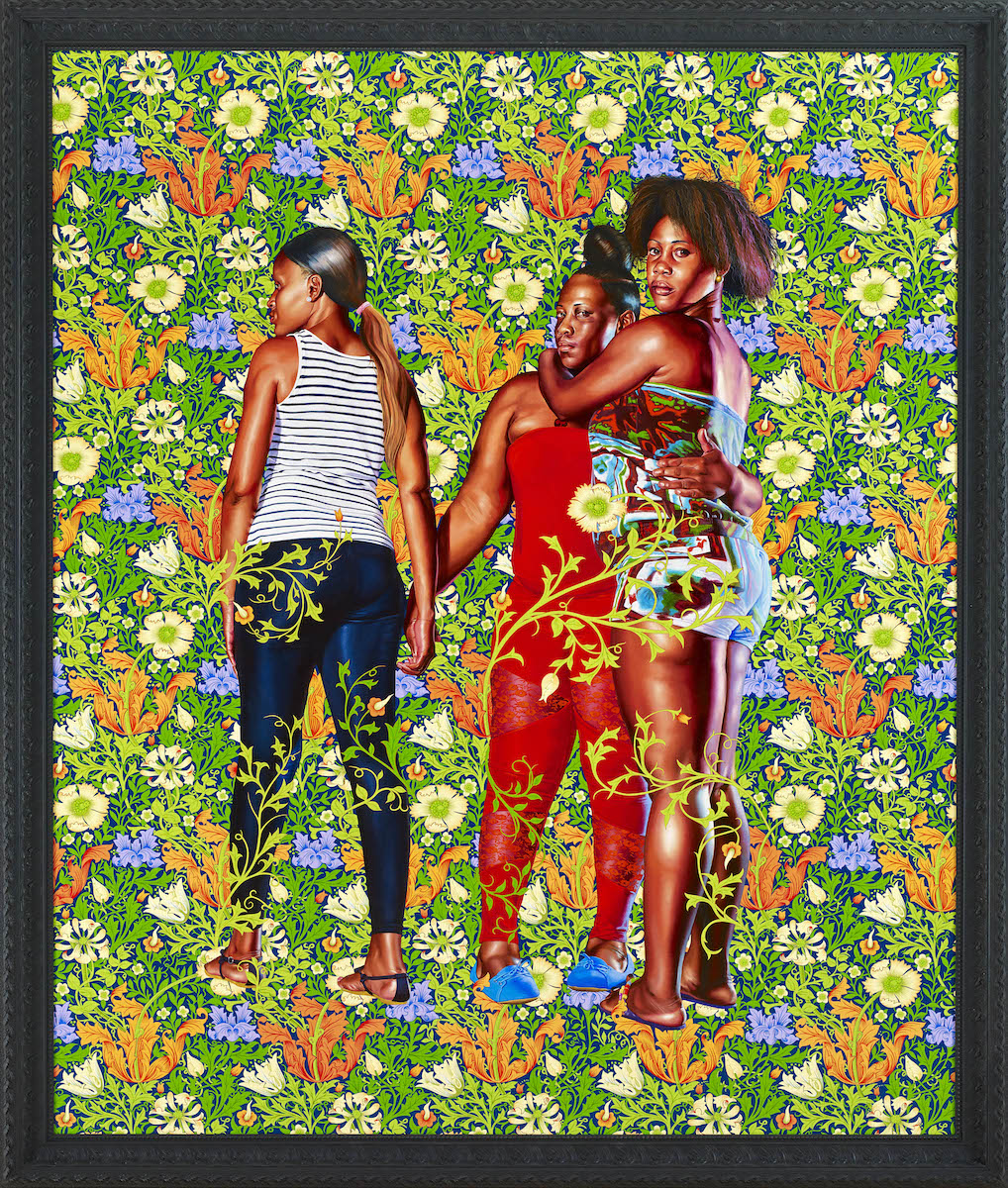 © 2019 Kehinde Wiley. Courtesy of Stephen Friedman Gallery
---
This painting borrows from the biblical theme, in which the loving bonds between Naomi and her daughters-in-law Ruth and Orpah seems unbreakable. In Wiley's contemporary version, the figures are modelled by women he met in Dalston, east London, depicting them as a powerful, autonomous unit. The painting forms part of The Yellow Wallpaper, an exhibition of new portraits by Wiley, which responds to the feminist novella of the same name by Charlotte Perkins Gilman. While the text focuses on the horrors of a hysteria diagnosis and confinement, Wiley alludes to the strength of the sisterhood.
Kehinde Wiley: The Yellow Wallpaper runs at the William Morris Gallery from 22 February–25 May
---
Michael Armitage, Kampala Suburb, 2014
Private Collection, London
---
At first glance, Michael Armitage's painting appears to show nothing more than a loving kiss between two men, but what should be a simple expression of affection is accompanied by background imagery that alludes to execution and violence. Armitage references the very real threats experienced by the LGBTQ community in parts of the African continent, where homosexuality is still criminalised in 32 countries. The Nairobi-born, London-based artist sheds a light on these struggles as well as larger concerns surrounding Kenyan culture and values, while simultaneously alluding to historical painting and antiquity.
This painting is exhibited as part of Radical Figures at the Whitechapel Gallery, London, until 10 May
---
Evelyn De Morgan, Night and Sleep, 1878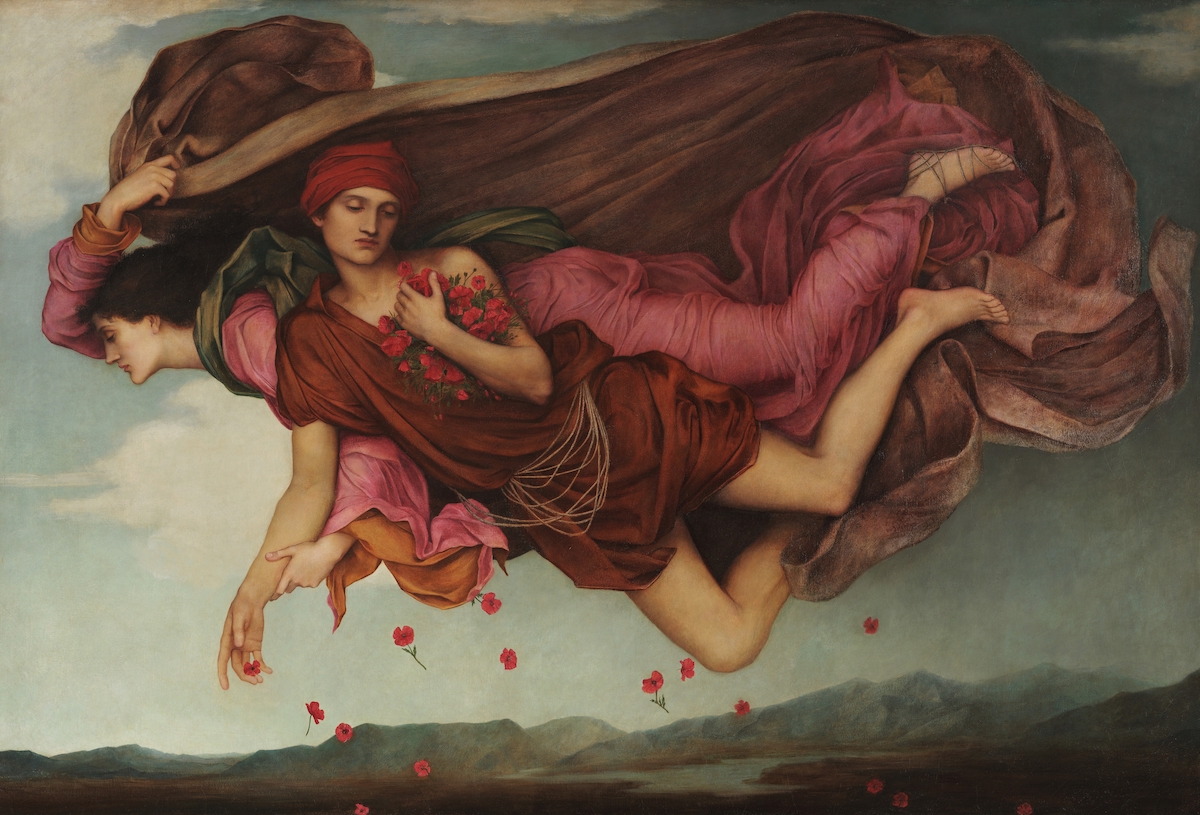 © De Morgan Collection, courtesy of the De Morgan Foundation
---
While this dreamy image of a couple flying through the sky might seem to depict two lovers, it serves as an allegory for the universal pairing of night and sleep. Evelyn De Morgan and her husband William were considered artistic stars who bridged the gap between the Arts and Crafts and Pre-Raphaelite movements with their spiritual and pacifist paintings. This fantastical image features poppies, used to produce laudanum, and the composition may even echo the appearance of Zephyr and Aura in Botticelli's The Birth of Venus. It might not directly reference romance, but it is filled with the alluring pleasure of a restful night.
See this painting at Laing Art Gallery, Newcastle, as part of the exhibition William and Evelyn De Morgan: 'Two of the rarest spirits of the age' from 14 March–20 June
---
Holly Black is The Arts Society's Digital Editor
Become an instant expert!
Find out more about the arts by becoming a Supporter of The Arts Society.
For just £10 a year you will receive invitations to exclusive member events and courses, special offers and concessions, our regular newsletter and our beautiful arts magazine, full of news, views, events and artist profiles.
FIND YOUR NEAREST SOCIETY