The Arts Society Christmas gift guide
The Arts Society Christmas gift guide
30 Nov 2020 - 17:57 BY The Arts Society
With Christmas just around the corner, we ask Arts Society experts for their recommendations on where to buy the best festive gifts.
---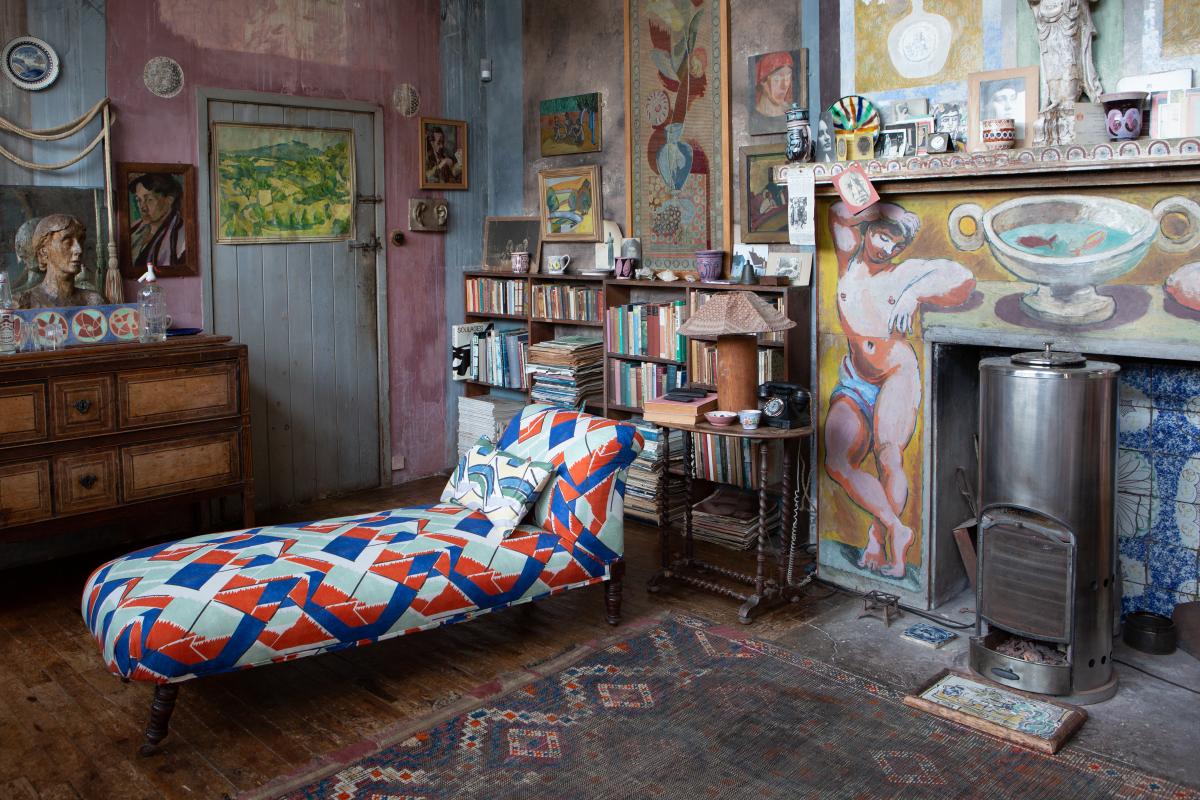 Maud and Pamela Fabrics © Lee Robins for Photography and Lottie Warren for Styling
---
BASK IN FABULOUS BLOOMSBURY FABRICS

'As well as stocking fabrics and designs by Bloomsbury artists such as Vanessa Bell and Duncan Grant, the shop at Charleston commissions exclusive ranges from contemporary artists and designers including Cressida Bell, Molly Mahon and Cambridge Imprint – whose Charleston-inspired stationery makes for stylish stocking fillers.'
– Helen Ritchie, Accredited Lecturer and Curator of Modern Applied Arts at The Fitzwilliam Museum, University of Cambridge
---


---
Immerse yourself in arms and armour

'Books make the best gifts! At the top of my list, it's got to be the brand-new Arms and Armor: Highlights from the Philadelphia Museum of Art. This is one of the great world collections, and it's (almost) never been published! All the photography was done specially for the book and it's utterly gorgeous. Curator Dirk Breiding's text is both scholarly and accessible. A must for anyone interested in the history of European art and culture. And don't forget the Wallace Collection shop, for all sorts of other fun and unusual art- (and armour-) related presents!'
– Tobias Capwell, Accredited Lecturer and Curator of Arms and Armour at the Wallace Collection in London
---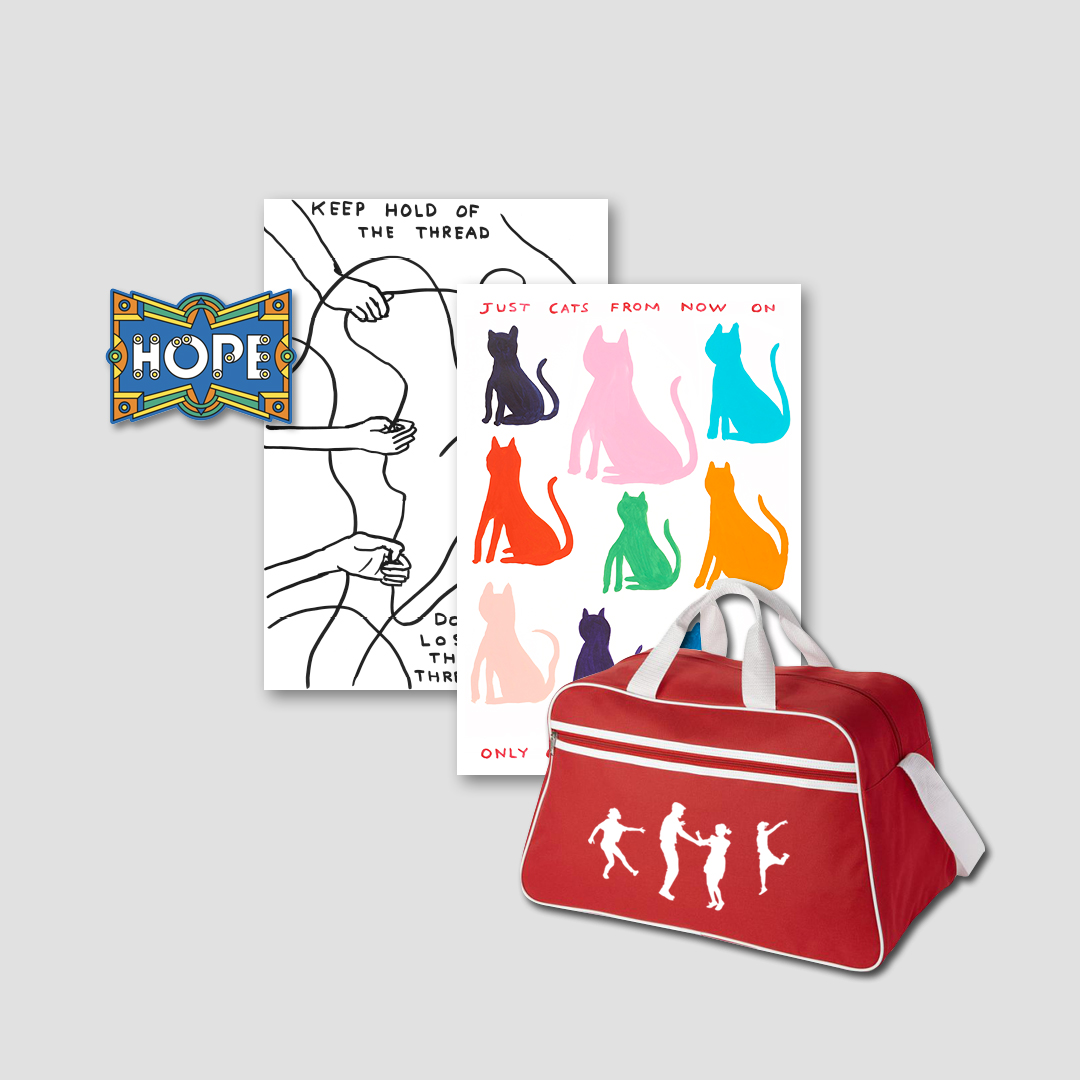 An exciting bundle of three rewards: Melanie Manchot's retro dance bag, David Shrigley's set of two tea towels and Supermundane's Hope patch
---
COME TOGETHER FOR MUSEUMS

'I urge you to support your local galleries and museums when Christmas shopping. Most have shops that offer unique items made by talented locals and usually affordable books on local collections. Many will have supporters or Friends who, for a modest annual subscription, will offer exclusive events and generate funds to keep doors open and continue to tell the stories about where we live. The Art Fund is running a great campaign to raise £1m to support smaller museums and galleries because their "funding models have been shattered by Covid-19". One to remember for those who give rather than send cards at Christmas.'
– Julie Goldsmith, Chair, The Arts Society
---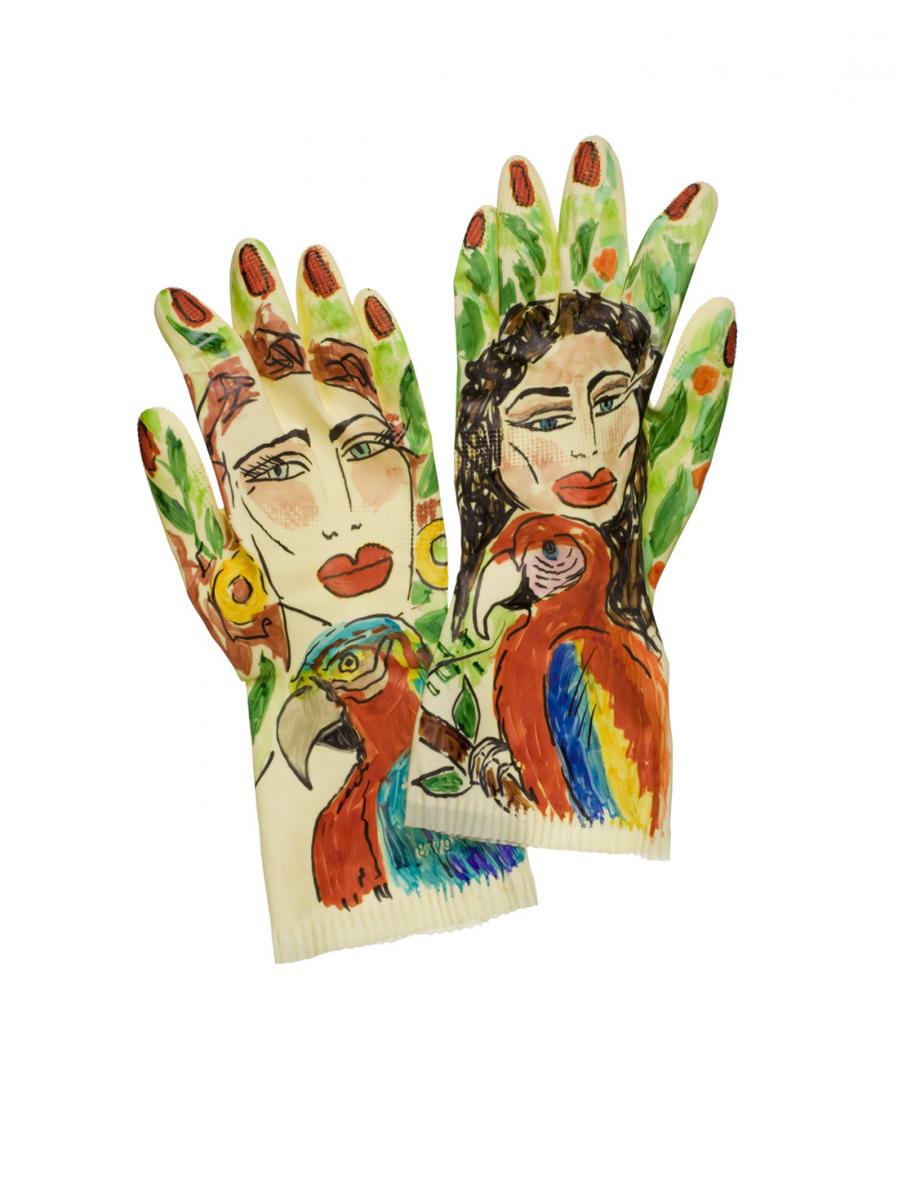 Wilma Johnson, limited edition washing-up gloves, unique in a series, courtesy of the artist and Studio Voltaire, Credit Graham Pearson
---
Indulge in unique artist-made objects

'House of Voltaire features a wonderful array of artist-made gifts, from prints and blankets by Linder and Rose Wylie to more unique products such as customised washing-up gloves and hand-thrown pots. Proceeds go to support the not-for-profit gallery Studio Voltaire. Alternatively, the wonderful Artist Support Pledge allows artists to sell direct to consumers via Instagram. The project was set up by Matthew Burrows in response to the pandemic, as a revenue stream for creatives who had lost their source of income. Participants offer works for sale via the #artistsupportpledge hashtag, with the promise that they cost no more than £200, and the maker will buy work from a fellow artist every time their sales hit £1,000.'
– Holly Black, Digital Editor, The Arts Society
---


Blue Iznik Necklace, £140
---
Dazzle with Delightful Jewellery

'My suggestion (by a country mile) would be to check out the British Museum shop website. There really is a fantastic range of gifts and jewellery available – invariably well made, beautifully designed and realistically priced. Of course, if you really wanted to give something memorable then membership of the British Museum would be the perfect choice.'
– John Benjamin, Accredited Lecturer, jewellery expert, author and broadcaster
---


(left to right) Phil Lyddon, Peter Beard, Ali Tomlin, Chris Keenan
---
Celebrate with Craft

'This has been such a difficult year for so many in the creative and arts world, not least the small specialist galleries (such as contemporaryceramics.uk) and the independent makers of the craft within them. I'm thinking of the furniture, textile, jewellery and ceramics makers; the glass, metal, print and leather workers. During this pandemic they have lost the events – the maker festivals, exhibitions and craft fairs – that normally represent an income-generating lifeline. They've worked hard to boost their online presence this year and their sites are a rich seam for affordable, beautiful gifts. You can find over 700 makers on the Crafts Council site alone.'
– Sue Herdman, Editor, The Arts Society Magazine
---
The Arts Society Magazine Winter 2020
---
SPREAD SOME CHEER WITH A SUPPORTER MEMBERSHIP

'With this year's restrictions on going to exhibitions, the theatre or other arts venues, I've very much enjoyed exploring and discovering the arts in the small, everyday things in life. It is sometimes easy to forget that the world around us is full of art and creativity. This is why I want to share my love of the arts and support some of my favourite arts organisations this Christmas, especially those that promote and inspire the enjoyment of culture in all its forms.
'At just £20 for the year, why not consider a gift of Supporter Membership of The Arts Society? As a Supporter Member your friends and family will be connected with the arts and with each other. They will receive The Arts Society Magazine and have access to exclusive Member offers, our bimonthly Instant Expert email lectures and Lectures at Home films. Their membership will also support our charitable activities; supporting the arts through volunteering and grants. To purchase a gift membership or for more information, please call 020 3206 9337.'
– Florian Schweizer, Chief Executive, The Arts Society
---
Become an instant expert!
Find out more about the arts by becoming a Supporter of The Arts Society.
For just £20 a year you will receive invitations to exclusive member events and courses, special offers and concessions, our regular newsletter and our beautiful arts magazine, full of news, views, events and artist profiles.
FIND YOUR NEAREST SOCIETY