Arts Societies Join Forces for First Live Lecture
Arts Societies Join Forces for First Live Lecture
15 Oct 2020 - 10:53 BY The Arts Society
Three local branches of The Arts Society – Chichester, City of Chichester and Lavant Valley – joined forces to present the first live members' lecture since lockdown thanks to hosts, Chichester Festival Theatre (CFT). The lecture, held on Tuesday 13th October entitled 'Debo Mitford – Housewife and More, 1920 – 2014' was presented by art and architectural historian Simon Seligman.
The Societies' normal pattern of regular lectures, as well as trips and Study Days, has inevitably been curtailed by the Coronavirus pandemic. Whilst Zoom lectures have successfully taken place, with more planned, this was the first 'live' event since the beginning of the pandemic and the first time the three societies have worked together on such a scale for a combined event. The Festival Theatre was generous in its support, planning and hosting it with full safety measures in place, and this was also the first time the societies have visited the CFT as a venue.
The lecture, attended by over 350 members, was extremely enjoyable and well received, Simon Seligman knew his subject very well: having worked for the late Duchess, he has personal memories of this most extraordinary woman. He studied art and architectural history at Warwick and Venice and from 1919 – 2010 he worked at Chatsworth. He has lectured about Chatsworth and the Devonshire collection throughout the UK and on several US tours. Simon paid tribute to the Duchess's astonishing life: the youngest of the Mitford sisters and wife of the 11th Duke of Devonshire, she transformed Chatsworth, became a bestselling author, sell-out speaker and champion of the countryside. Her lasting impact was not just on Chatsworth but on everything she touched and everyone she met.
The Chairmen of the three Societies – Ian Farman (Lavant Valley), Susie Jardine (Chichester), and Betty Smith (City of Chichester) jointly stated, "It was an extremely successful event and a tremendous achievement – such was its significance that we were delighted to have the company of The Arts Society CEO, Florian Schweizer, who was keen to give us his support, along with the Area Chairman, Jillie Moss: both spoke of their admiration for the initiative taken by the Societies in hosting such an event. We are tremendously grateful to the staff of the Festival Theatre who worked so tirelessly to accommodate us."
Lucinda Morrison, spokeswoman for the CFT commented "We were delighted to welcome The Arts Society to the Festival Theatre for this special Lecture. As we prepare to reopen CFT for our brand new Autumn Season, it's wonderful to see people being able to use and enjoy our open, airy auditorium and foyers again. We've introduced numerous Covid-safety measures following Government guidance for theatre attendance, including socially-distanced seating, timed arrivals, contactless temperature checks, enhanced cleaning, hand sanitising stations throughout the building, and the wearing of face coverings. The Arts Society lecture was another successful trial of these measures, and we can't wait to open our doors to everyone."
---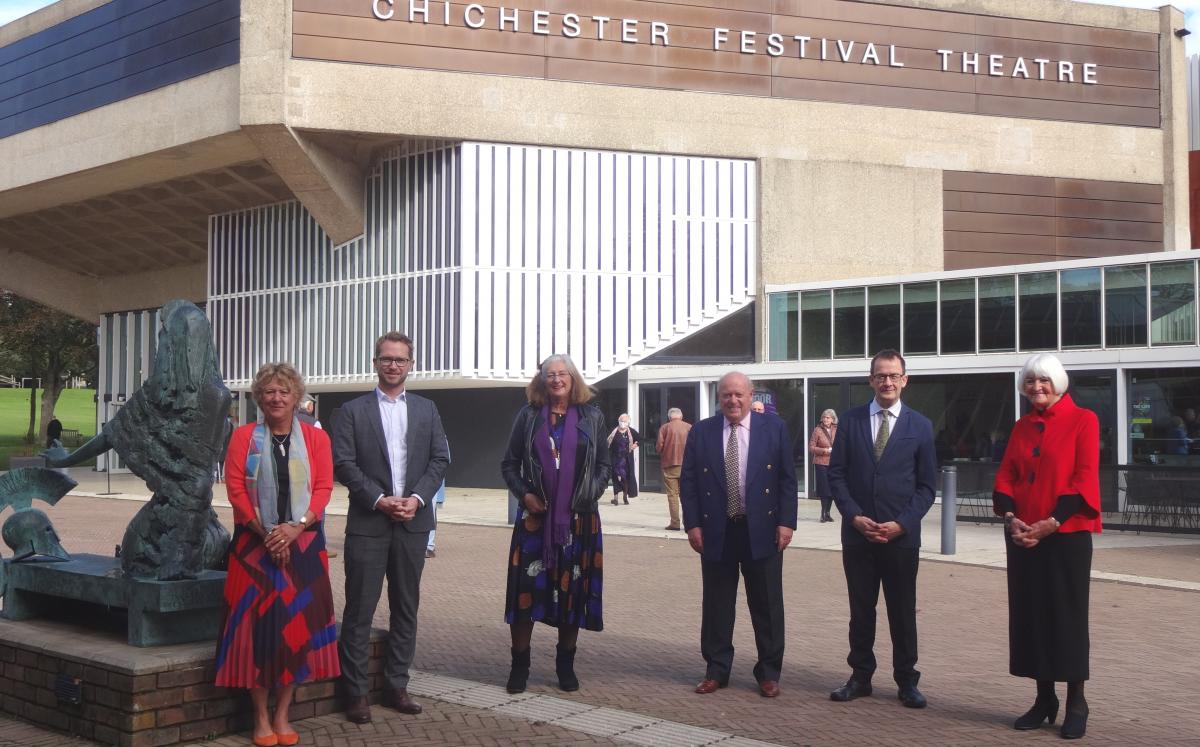 ---
Image (L to R): Jillie Moss, Area Chairman; Florian Schweizer CEO; Susie Jardine, Chichester Chairman; Ian Farman, Lavant Valley Chairman; Simon Seligman; Betty Smith, City of Chichester Chairman.
Become an instant expert!
Find out more about the arts by becoming a Supporter of The Arts Society.
For just £20 a year you will receive invitations to exclusive member events and courses, special offers and concessions, our regular newsletter and our beautiful arts magazine, full of news, views, events and artist profiles.
FIND YOUR NEAREST SOCIETY