7 great reasons to visit Salts Mill
7 great reasons to visit Salts Mill
This former industrial powerhouse at Saltaire in West Yorkshire is now a beautiful hub for arts and culture
---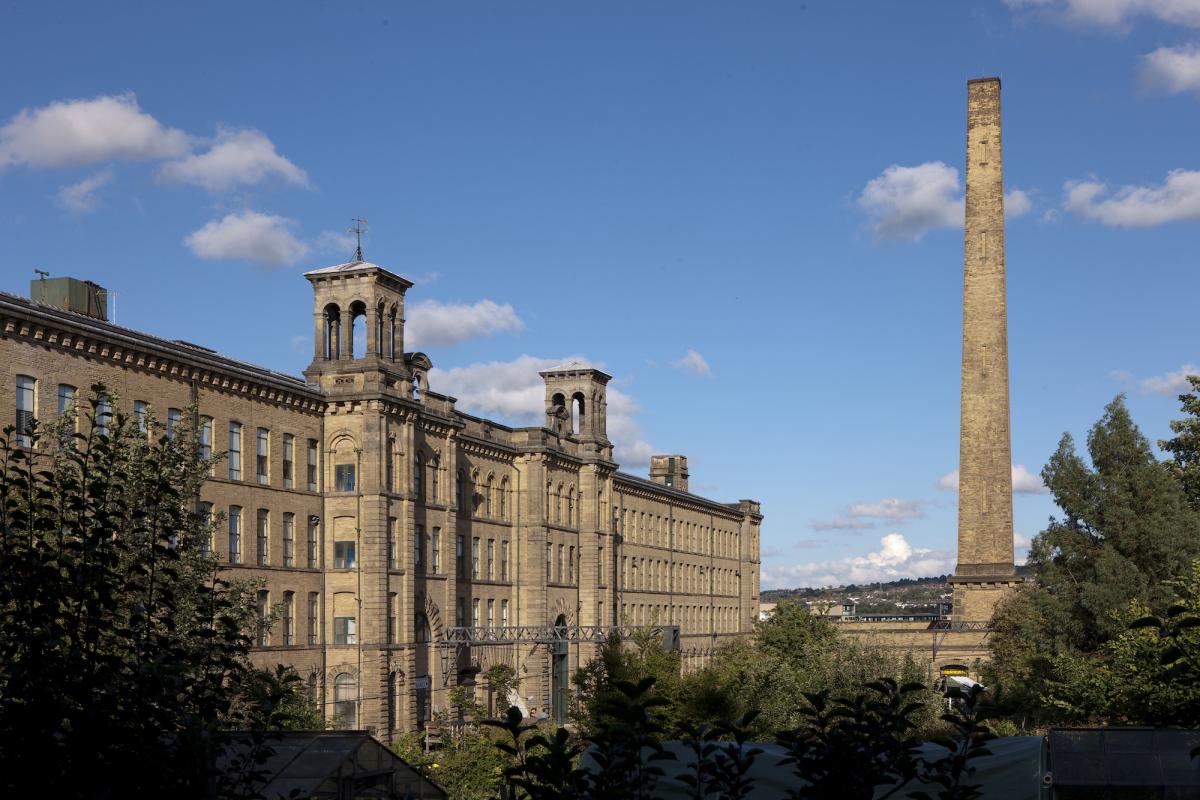 Salts Mill seen from the outside. Image courtesy of Salts Mill
---
Where can you find Salts Mill?
This colossal Grade II* former mill was once at the heart of Bradford's textile industry; it is named after its founder, Sir Titus Salt. The truly impressive Italianate building was completed in 1853, forming part of the beautiful, purpose-built village of Saltaire, designed to offer workers a greater standard of living. The entire village, only four miles north of the centre of Bradford, is a UNESCO World Heritage Site.
---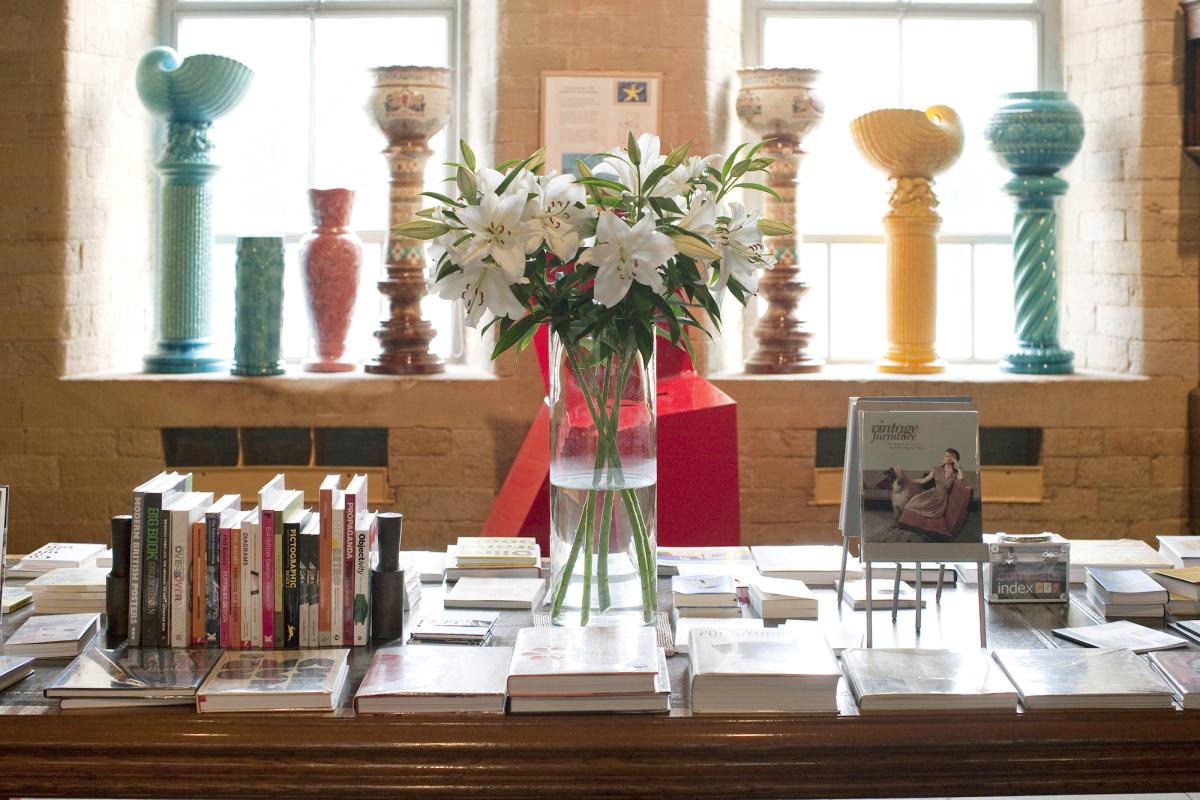 Flowers and decorative ceramics in the bookshop. Image courtesy of Salts Mill
---
Why should you visit?
When cloth production stopped at the mill in 1986, it was purchased the following year by the late entrepreneur Jonathan Silver. With a vision for its future, he saw it reimagined to become the bustling centre for arts, dining, shopping and business that it is today. There is now so much to see in this cultural complex that you could easily spend a whole day exploring. It houses a range of galleries and historical exhibition spaces, Yorkshire Music School, shops featuring antiques, homewares and art supplies, and a range of eateries. Along with the largest independent bookstore outside of London (always bedecked with flowers), the poster shop is known for its incredible array of archive posters featuring the work of figures like David Hockney, Frank Stella and Jim Dine.
---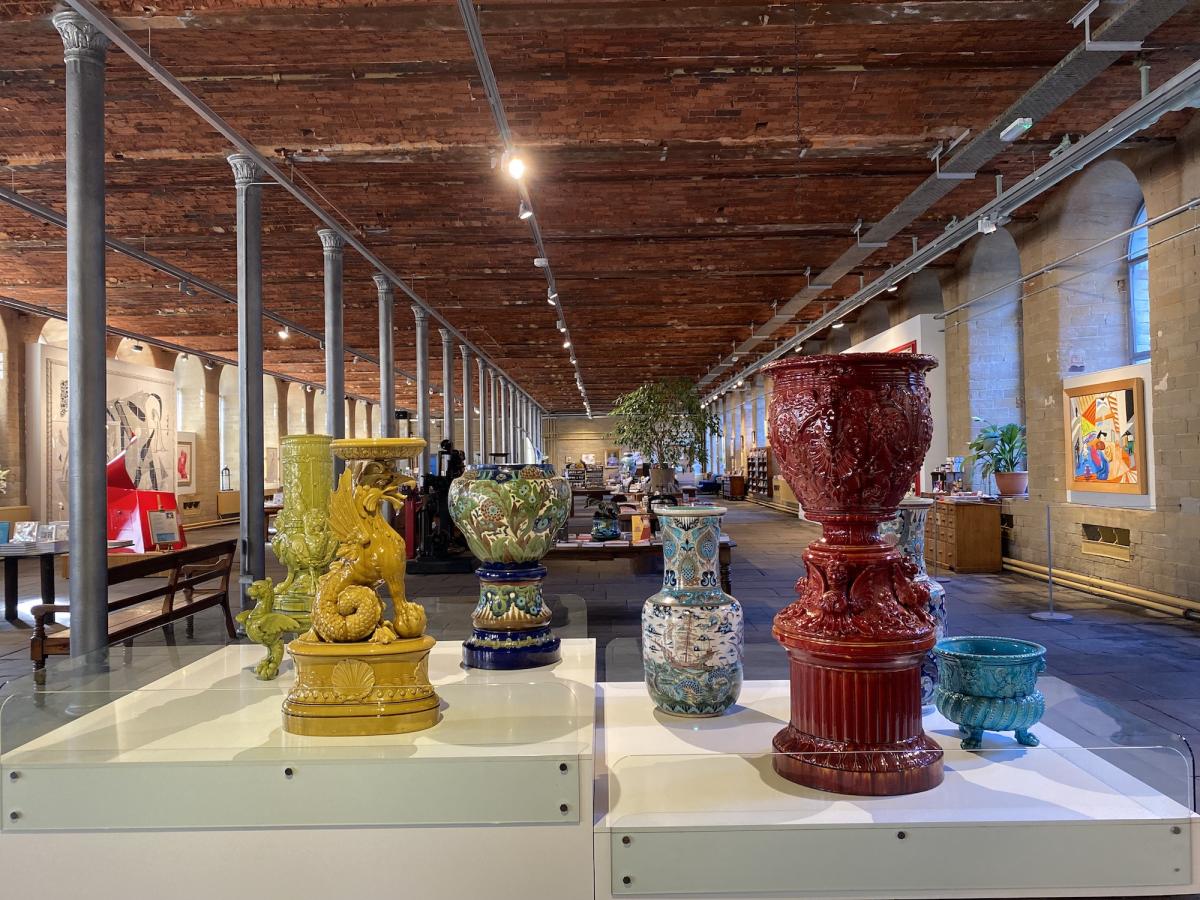 Examples of the outlandish Burmantofts pottery on display. Image courtesy of Salts Mill
---
Which exhibits are a must-see?
Check out the fantastic examples of Burmantofts pottery on show in 1853 Gallery. The Leeds-based company was known for producing outlandish Victorian ceramics that featured mythical beasts, exotic plants and brightly coloured glazes, often on a grand scale. Be sure, too, to learn the industrial history of the area in the People and Process exhibition.
What's on this month?
Celebrate Mother's Day on 19 March with a special lunch available in both the Salts Diner and Café in to the Opera. Booking in advance is advised, via diner@saltsmill.org.uk or phone 01274 530533.
---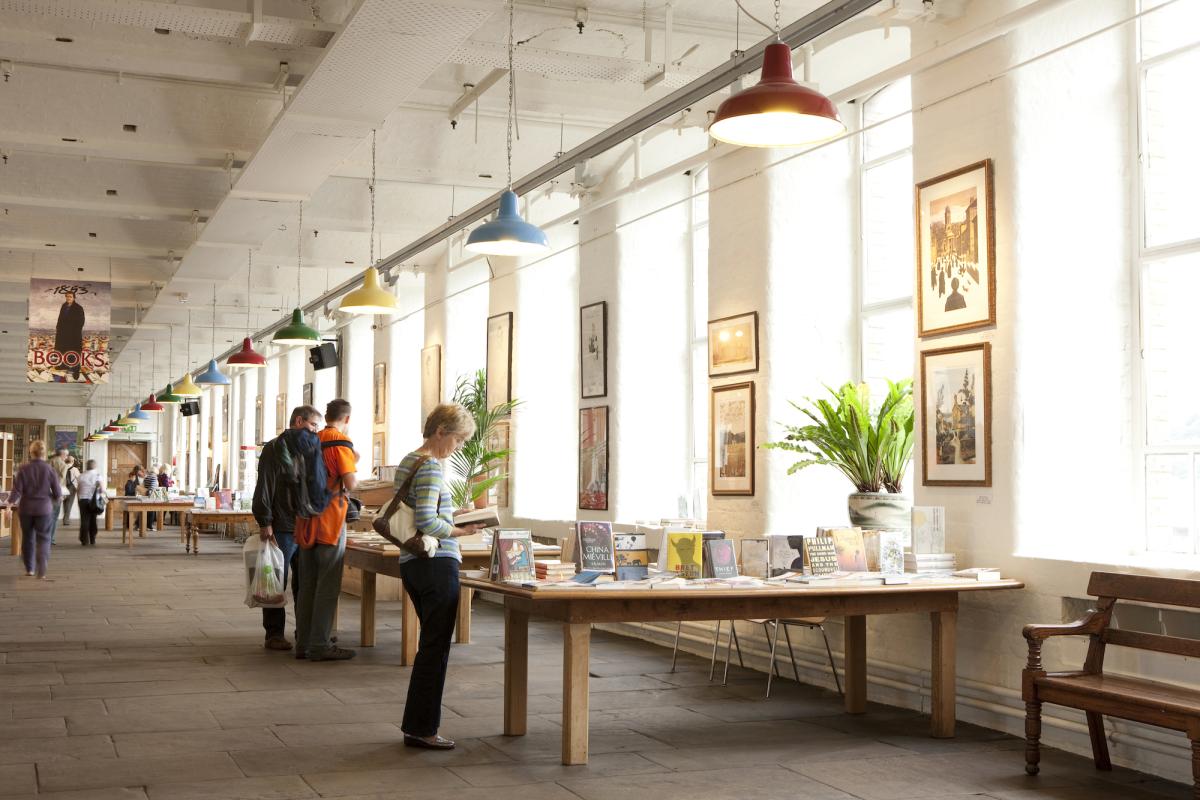 The mill's light-filled spaces are perfect for the display of artworks. Image courtesy of Salts Mill
---
Any special artistic connections?
The whole mill is filled with art, so wherever you go, pause to take in the latest works on show on the walls. A particular connection though comes with David Hockney, who was a friend of Jonathan Silver. Salts Mill houses an impressive collection of Hockney's work, including a permanent display of his art in 1853 Gallery and an installation of The Arrival of Spring series, drawn on his iPad, on the third floor. The Bradford boy has a long affinity with the mill, and even created the unique Punchinello mural for the 'Café in to the Opera' (so called because it used to stand at the entrance to a display at the mill of the artist's opera sets). You can still enjoy a sandwich among this incredible work of art.
---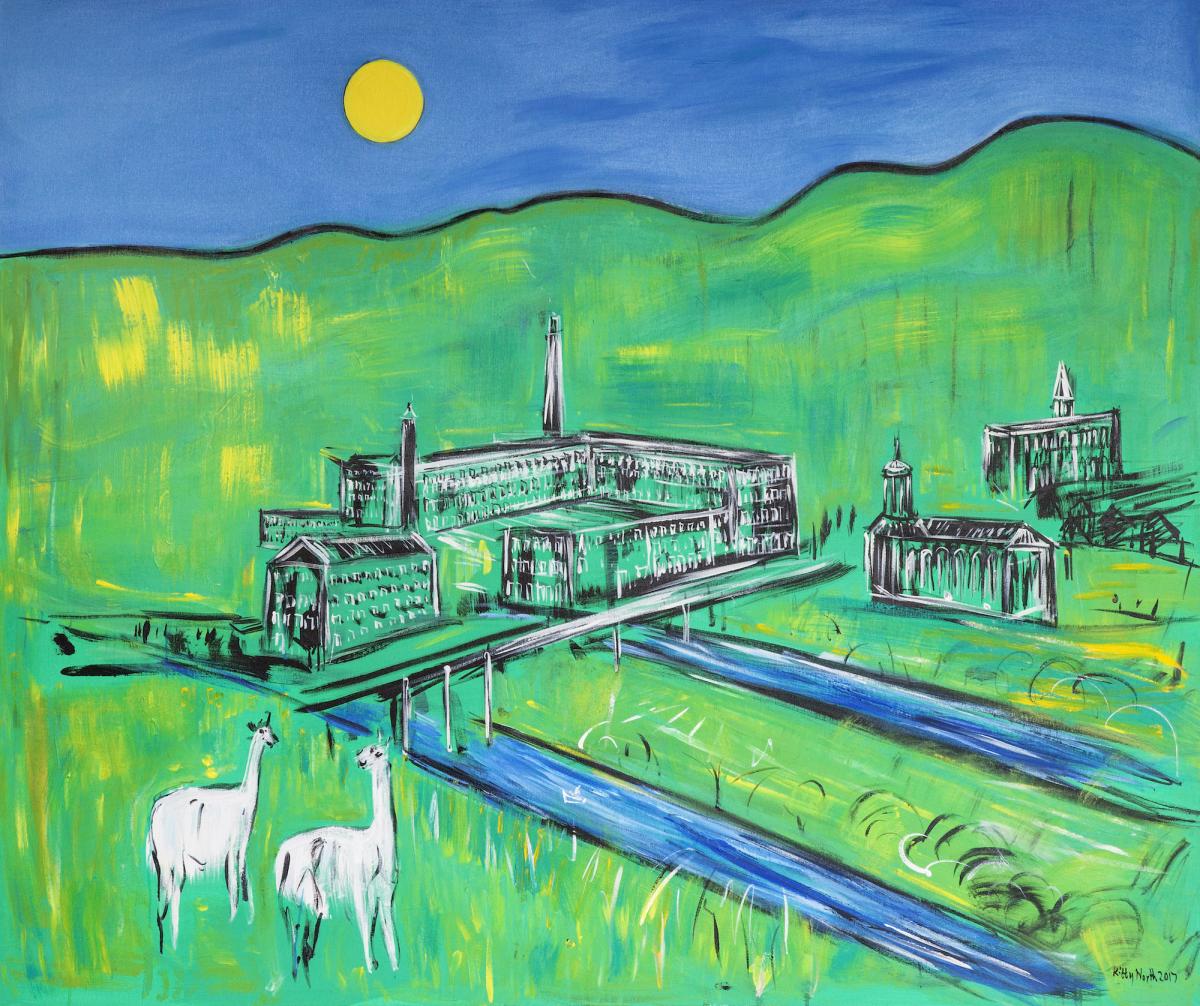 Salts Mill in the Landscape by Kitty North. Image courtesy of Salts Mill
---
Make a day of it
Once you've taken in the spaces and the artworks (don't miss paintings by artist Kitty North, a great favourite at the mill), take in the rest of the model village of Saltaire, including a walk along the towpath of Leeds & Liverpool Canal. The nearby National Trust property of East Riddlesden Hall is also a great place to visit, rain or shine. It is a fine example of a 17th-century manor house, with delightful gardens and a Great Barn, which tells the agricultural history of the area.
Here's a fun fact…
On completion, Salts Mill was the largest factory in Europe, featuring an enormous 600-foot room known as The Shed, where miles of cloth were produced by hundreds of workers every day.
---
Find out more at saltsmill.org.uk
Going local
Do you live close by – then why not join a local Arts Society?
The Arts Society Saltaire theartssocietysaltaire.org.uk
The Arts Society Halifax theartssociety.org/Halifax
The Arts Society Leeds theartssociety.org/leeds
Upcoming events include a talk on The Birth, Growth and Influence of London's Auction Houses, arranged by The Arts Society Saltaire, on 5 April, and Artist and Model – Whistler and Joanna Hiffernan, organised by The Arts Society Halifax, on 11 April.

---
About the Author
Holly Black
An arts and culture writer
Become an instant expert!
Find out more about the arts by becoming a Supporter of The Arts Society.
For just £20 a year you will receive invitations to exclusive member events and courses, special offers and concessions, our regular newsletter and our beautiful arts magazine, full of news, views, events and artist profiles.
FIND YOUR NEAREST SOCIETY