5 great art exhibitions to see this March
5 great art exhibitions to see this March
Grandes dames, sound sculptures and man's best friend – these all feature in the shows we're looking forward to this month
---
Pieces that echo? Art by Oliver Beer in Albion Waves. Image: © Jason Alden
---
1. Making waves
An artist who also studied music, Oliver Beer has brought his evocative acoustic installations to New York's Metropolitan Museum of Art, Sydney Opera House, the 2022 Venice Biennale and now a Roman temple in the City of London. For Albion Waves at London Mithraeum Bloomberg SPACE, a variety of hollow British vessels dating back over the past 2,000 years have been suspended from the ceiling, each equipped with a microphone to amplify its natural resonance. Visitors' movements trigger the microphones as they progress through the installation, orchestrating the hidden music of these objects. Look out too for Beer's 'resonance paintings' – strange geometric patterns produced by allowing fine pigments to vibrate to the resulting sounds.
Until 15 July
---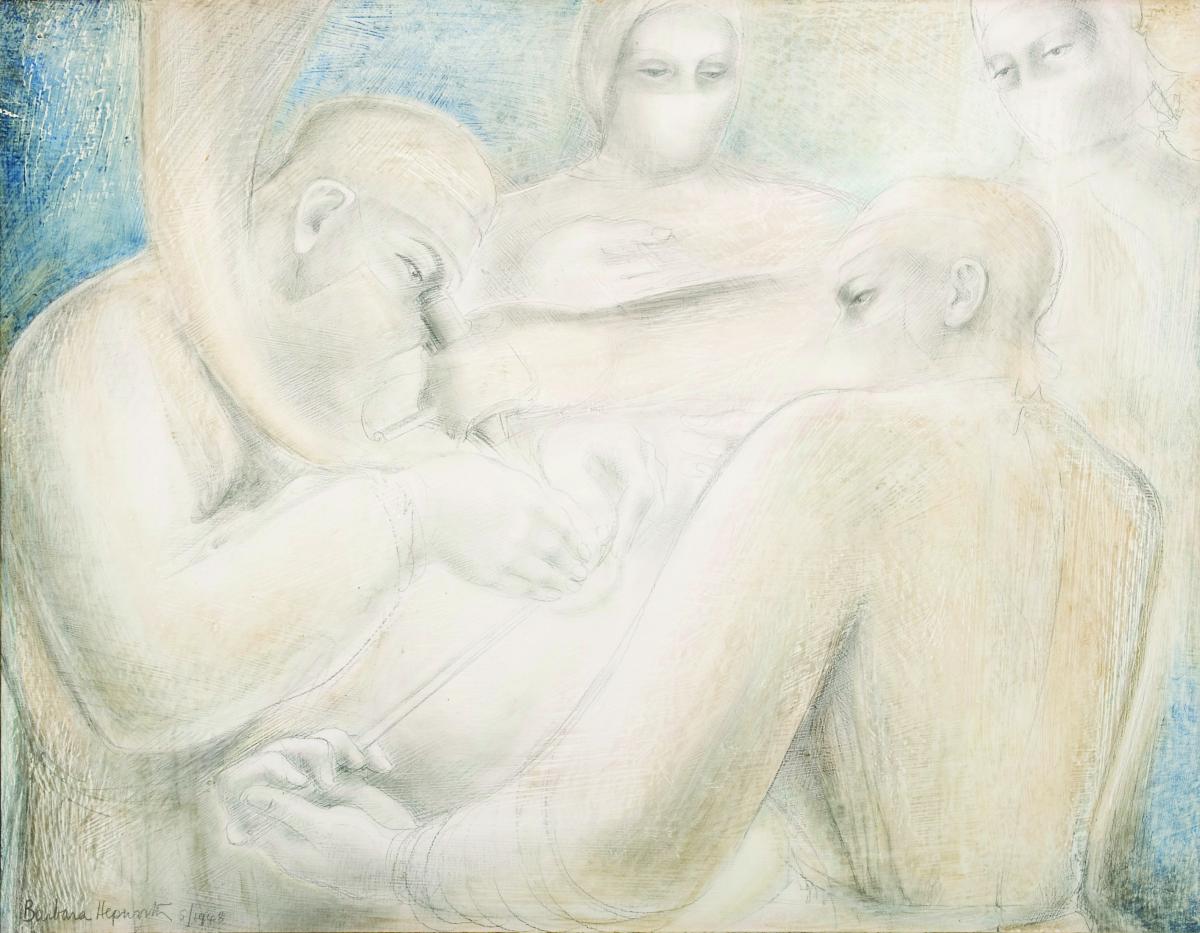 Barbara Hepworth's Fenestration of the Ear (The Microscope), 1948. Image: © Bowness. Courtesy The Ingram Collection. Photo © John-Paul Bland
---
2. Hepworth on home turf
As spring unfolds, there's no better time to plan a trip to Tate St Ives to catch the last couple of months of its blockbuster retrospective Barbara Hepworth: Art & Life. Alongside all the curved, pleasingly organic sculptural forms you'd expect, there's a wealth of paintings, drawings and other work by the multifaceted artist, including costume and textile designs. Evident throughout is Hepworth's preoccupation with human gesture and movement, as in Fenestration of the Ear (The Microscope), one of many graceful depictions of surgical operations she completed following her daughter Sarah's hospitalisation for osteomyelitis. This exhibition was first staged at The Hepworth Wakefield, close to Hepworth's birthplace, but this Cornish outing draws out her strong sense of connection with what she called 'the remarkable pagan landscape which lies between St Ives, Penzance and Land's End', where she lived and worked for nearly 30 years, until her death in 1975.
Until 1 May
---
She Forgot, 1984, by Sonia Coode-Adams MBE. Image: © Sonia Coode-Adams MBE
---
3. The female gaze
'The older woman is often overlooked, irrelevant, without currency,' notes Sarah Lucas. It's a prejudice that the always provocative and irreverent artist, now aged 60, sets out to tackle head-on with her latest curatorial project, BIG WOMEN, at Colchester's Firstsite gallery. Expect attention-grabbing sculpture, painting, film and fashion by more than 20 female British artists, including Lucas's friends and contemporaries among the Young British Artists group. The line-up includes works by Yoko Brown, Sonia Coode-Adams, Maggi Hambling, Princess Julia, Georgina Starr, Gillian Wearing and Lucas herself, who describes the show as 'both an endorsement and a celebration of women's achievement in the creative field'.
Until 18 June
---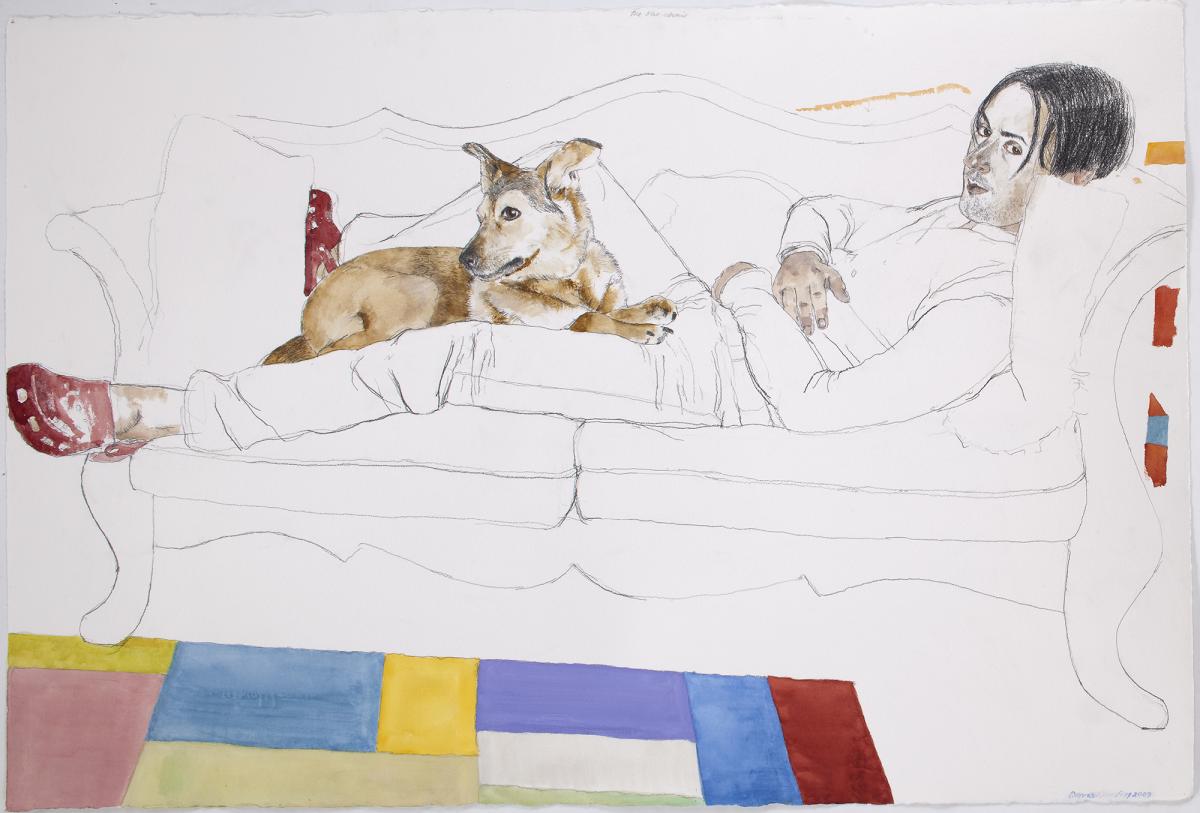 Alan Cumming and Honey by David Remfry. Image: © The Artist. Photo Christopher Burke
---
4. Pooches and people
By turns playful, tender and intimate, David Remfry's pencil-and-watercolour portraits of dogs and their owners reveal his enduring fascination with the human-animal bond. His sitters have included many of the artist's fans and friends from the art and showbiz worlds – look out for Susan Sarandon with her Pomeranian crossbreeds Rigby and Sam, Ethan Hawke and his Border collie Nina, and the Scottish actor Alan Cumming with his rescue dog, Honey. Cumming was one of many to sit for the artist at New York's Chelsea Hotel, a legendary haunt of celebrities and creatives, where Remfry lived for many years. His pet portraits are now on show at Rugby Art Gallery & Museum in David Remfry RA: People and Dogs Drawn Together. We Think the World of You. A delight for dog lovers. Remfry also selected the works on show in the gallery's current Rugby Collection exhibition (until 3 June), including pieces by Lubaina Himid, Paula Rego and Eduardo Paolozzi.
Until 3 June
---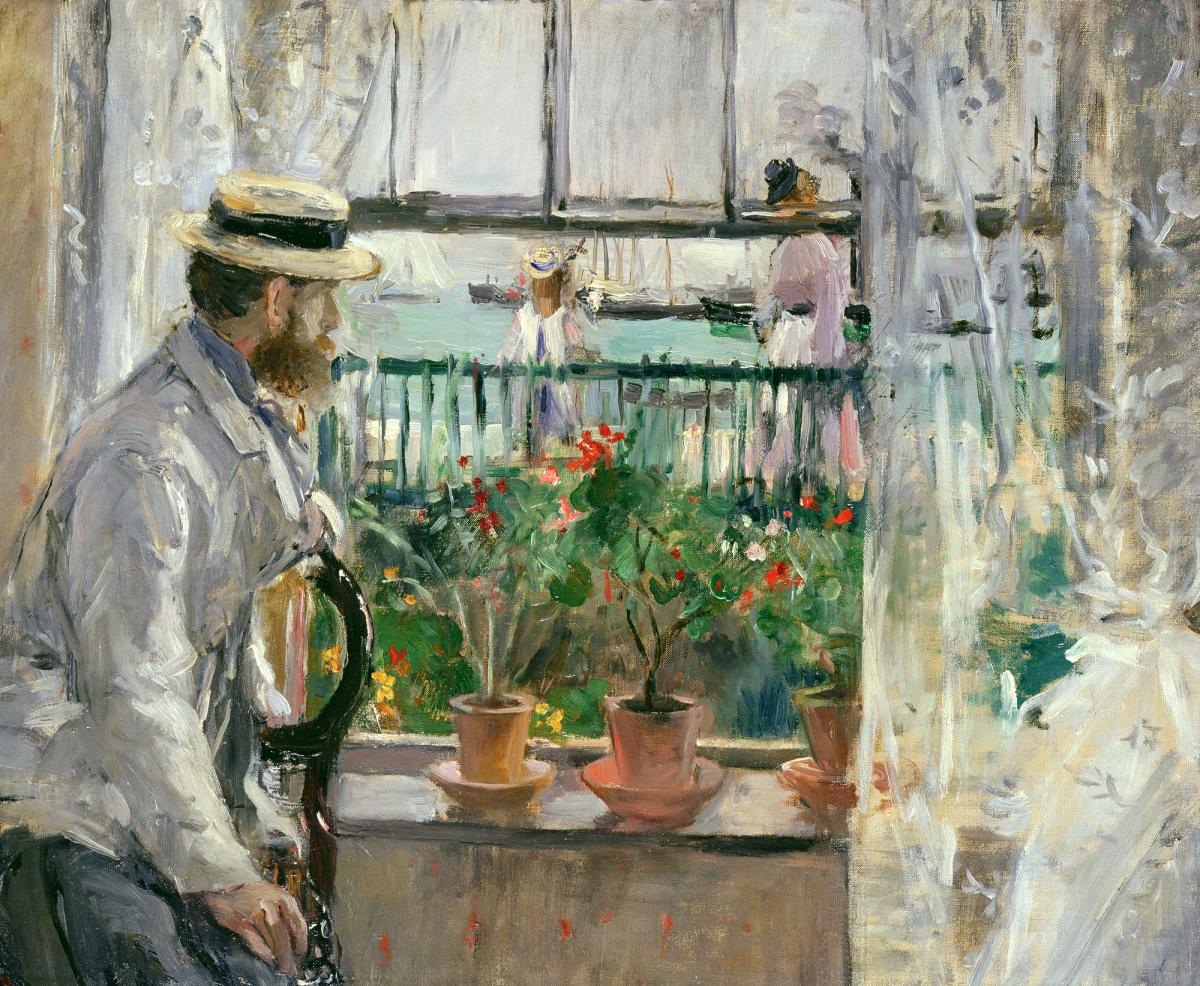 Berthe Morisot's Eugène Manet on the Isle of Wight, 1885. Image: © Musée Marmottan Monet, Paris
---
5. Impressionism's first lady
A founding member of the Impressionists, Berthe Morisot was the sole female artist to exhibit alongside the likes of Claude Monet, Edgar Degas and Camille Pissarro in the 1874 exhibition that launched their movement upon the world. Opening right at the end of March, Berthe Morisot: Shaping Impressionism at London's Dulwich Picture Gallery is the first major UK show of her work since 1950. Morisot's swift brushstrokes often captured the private and domestic moments of women's lives, and she regularly drew on friends and family as subjects, as in this oil painting of her husband Eugène, the younger brother of Édouard Manet, on their honeymoon. Radical as they were, the Impressionists did not emerge from a vacuum, and this show also aims to explore Morisot's relationship with 18th-century art and culture, bringing in works by Jean-Honoré Fragonard and François Boucher by way of counterpoint.
31 March–10 September
---
For more shows, see The Arts Society Magazine, available exclusively to members and supporters of The Arts Society (to join, see theartssociety.org/member-benefits). And for our online monthly '5 amazing art shows to see', sign up at theartssociety.org/signup
---
About the Author
Claire Sargent
Claire Sargent is an editor and writer with a special interest in culture and conservation
Become an instant expert!
Find out more about the arts by becoming a Supporter of The Arts Society.
For just £20 a year you will receive invitations to exclusive member events and courses, special offers and concessions, our regular newsletter and our beautiful arts magazine, full of news, views, events and artist profiles.
FIND YOUR NEAREST SOCIETY