Lectures at Home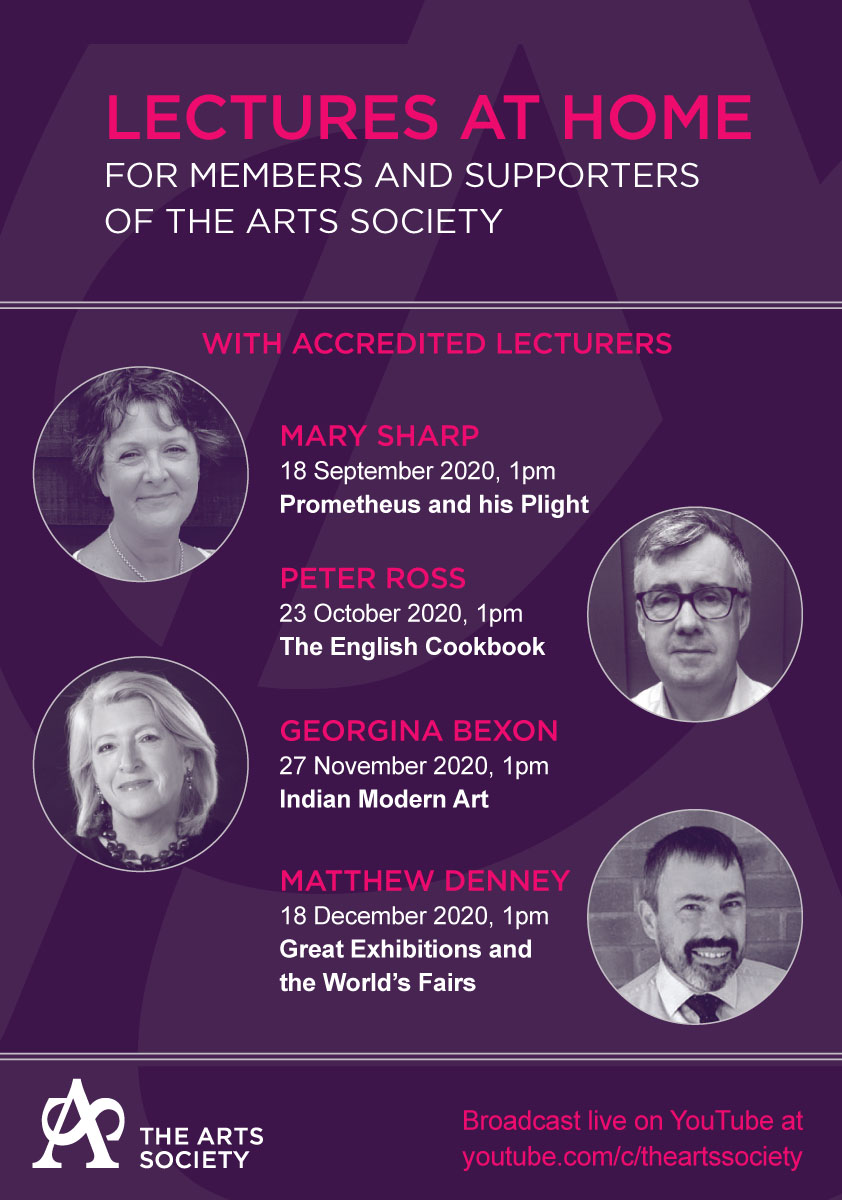 ---
From September to December The Arts Society will be holding live hour-long digital lectures for Members and Supporters, additional to Society events.
The talks will be given by some of our newest Accredited Lecturers; Mary Sharp, Peter Ross, Georgina Bexon and Matthew Denney.
Taking place on Friday lunchtimes, what better way to start your weekend?
The lectures will be broadcast live on the Arts Society's YouTube channel (youtube.com/c/theartssociety) and will only be available to watch at the advertised time.
Please share details with friends and family who might enjoy them too.
After the lecture, join the discussion and leave comments at connected.theartssociety.org/forum
---
PROGRAMME

MARY SHARP


18 SEPTEMBER 2020, 1PM


The Fall into Knowledge: the story of Prometheus and how his plight has captivated and influenced writers and artists over the years

Prometheus was a Titan who, according to Greek legend, created the human race and then famously incurred the wrath of Zeus by stealing fire from the gods to preserve it. The punishment that Zeus devised was both cruel and ingenious. This lecture goes back to original sources to re-tell the story, explore the remarkable parallels with Adam and Eve and trace its influence from Reubens to Henry Moore and from Frankenstein, through Great Expectations to the Alien movies. Mary will explore our enduring interest in the ideas that thread their way through the numerous adaptations and reflect on what they reveal about our changing attitudes to religious belief.

Mary is an experienced broadcaster and teacher with particular expertise in literature and drama. She worked for many years for BBC Radio 4 producing some of its most popular programmes including Start the Week and Woman's Hour before joining the senior management team as a Commissioning Editor. Mary has subsequently worked as a teacher and Director of Sixth Form at a leading girls' grammar school. She now runs her own company 'Opening Up Literature' which offers literature courses for adults including studies of Shakespeare and Creative Writing. Her most popular course is 'Telling Tales' which explores how writers and artists have reinvented classical stories. She is also a professional bridge teacher and lecturer.
PETER ROSS


23 OCTOBER 2020, 1PM


From the Saxons to Mary Berry: A Visual History of the English Cookbook

Across a thousand years of manuscripts and over five hundred years of publishing, English recipe books have reflected the eating habits of Kings and courtiers, the merchant classes, inn-keepers and restaurant owners, as well as home cooks and even the paupers who visited the soup kitchens of Victorian London. Cookbooks are full of extraordinary food but also extraordinary illustrations from medieval illuminated manuscripts, via the engravings of the eighteenth century and the colour lithographs of Mrs. Beeton, to the high-end life-style images of the modern TV cook. This lecture tells the story of the development of the cookbook and along the way will tempt you, or indeed disgust you, with a few choice recipes.

Peter has a History of Art degree, an MA in London history, a PhD in the cultural history of an English Criminal, and qualifications in the teaching of adults. Currently Principal Librarian at Guildhall Library, he has for 20 years lectured on a broad range of topics including the history of English books, portraiture, and London history. Peter has appeared on TV and radio as a consultant on the 18th century criminal Jack Sheppard and on the history of English food. His most recent publication, The Curious Cookbook, was published by the British Library.
GEORGINA BEXON


27 NOVEMBER 2020, 1PM


The Story of Indian Modern Art

At the birth of Indian Independence in 1947, a group of talented and determined artists set out to create a new art for a new country. They drew on ancient artistic traditions but also had a radical view of how Indian art could speak to its audience. This movement, known as the Bombay Progressives Artists' Group, created an art very much for and of its time – acting as witness to a country in turmoil and relating the fascinating story of transition and growth of the new India. This talk offers an exploration of how art in the subcontinent threw off the yoke of colonial influence to create modern masterpieces and a thriving global business.

Georgina is an art historian specialising in South Asian art who has lived and worked in the UK, USA and Singapore. Her practice includes lecturing, writing, consulting and collecting and she has developed a network of gallery and artist connections in Europe, the USA and India, which she visits regularly.

An official tour guide at Tate Modern and Art Historian at the Oriental Club, London, Georgina is also a guest speaker on luxury cruise ships for whom she has developed a series of art talks relating to Asian and Pacific destinations. She has been a visiting lecturer at UK universities, presents talks at leading art institutions including Christie's Education New York and the Museum of Modern Art, Moscow and speaks at international art conferences, most recently in New York, Paris, London and Lisbon.

Georgina holds a BA in Art History from Southampton University, an MA in Arts Management and Policy from City, University of London and an MA in Art History from SOAS, University of London. Georgina is a Patron of the Contemporary Art Society, has been a Trustee of Salisbury Arts Centre and on working committees at Tate and the Art Fund. She is a Fellow of the Royal Society of Arts and the Royal Asiatic Society.
MATTHEW DENNEY


18 DECEMBER 2020, 1PM


Exhibition History: The history of Great Exhibitions, Expos and World's Fairs, 1851 to Present, the British Contribution

From the very first Great Exhibition in London held in the magnificent Crystal Palace, to the awe-inspiring events in Paris, New York and across the world there have been many exhibitions that we would consider Great Exhibitions or World's Fairs. We won't consider all of these events in this talk, but we will consider the most important exhibitions such as London 1851, Paris 1900 and 1925, Brussels 1958 and New York 1964.

Tracing the development of Great Exhibitions from their birth in London in 1851 at the heart of a thriving Empire, to Europe, in particular Paris where many wonderful events were held, across the Atlantic to America and New York in the post-war period and further East to China, Japan and beyond in recent times. These events all tell of a city and people at a certain moment in history holding a huge and elaborate fair for the world to attend.

Matthew has worked with the fine and decorative arts all his life. He has worked as an auctioneer and valuer with a number of firms. He is currently a senior valuer and head of department at Lawrences in Crewkerne, one of the countries leading provincial auctioneers. Matthew has also worked in Higher Education as Course Leader and a Senior Lecturer on the no longer extant Fine Arts Valuation Degree at Southampton Solent University. He taught on a range of subjects including furniture, silver art and design history. He completed a PhD in the Arts and Crafts Movement and has written on design history for a number of publications. He has current research interests in 'Great Exhibitions', 'Post War Design and Architecture' and 'The Crafts in Post War Britain'.

Matthew loves to give talks to all sorts of different groups on the fine and decorative arts, his interests in the various Great Exhibitions since 1851 and Post War architecture and design are amongst his current favourite talks which have been well received by a number of groups over recent months.