In conversation: Composers at the Royal Academy of Music
In conversation: Composers at the Royal Academy of Music
For a number of years The Arts Society Greater London Area has supported Composers at the Royal Academy of Music through their grants programme.
Here, four of the composers - Joseph Howard, Nuno da Rocha, Xan Gill and Gareth Moorcraft - speak to Head of Composition at the Academy, Philip Cashian. The film includes excerpts from their compositions.
---
---
This is the second film produced in partnership with the Royal Academy of Music in which we will be collaborating to provide Members and Supporters with exclusive online content.
The Royal Academy of Music supports the musicians today whose music will move the world tomorrow. The Arts Society, which brings people together through a shared curiosity for the arts, is delighted to be partnering with the Royal Academy of Music to offer Members additional opportunities to enjoy the arts during these difficult times.
---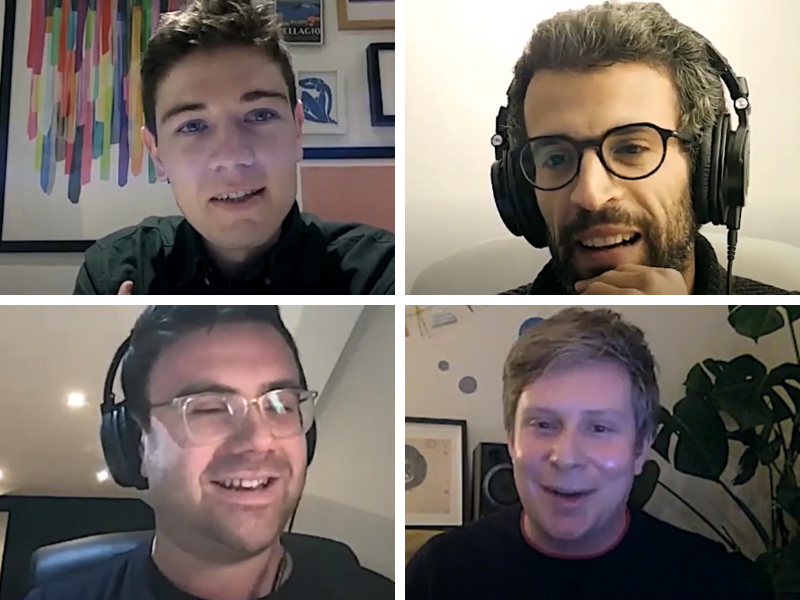 ---
Joseph Howard is an award-winning composer who explores uncharted spaces in between existing musical genres. Joseph completed his master's degree in composition at the Academy and continues his studies there, now working towards a PhD. joseph-howard.com
Nuno da Rocha is a Portuguese composer in the third year of his PhD at the Academy. He has held composer residencies at the Casa da Música, Porto and at the acclaimed Académie du Festival d'Aix-en-Provence. nunodarocha.com
Xan Gill is an award-winning composer from the North East of England, now working in London. His work prioritises organicism, making frequent use of unsynchronised lines and free time. Xan is a recent graduate from the Academy's MA in composition programme. xangillmusic.com
Gareth Moorcraft is a British composer based in London and South Wales. His music has been performed and broadcast internationally by leading ensembles including the Philharmonia, the BBC National Orchestra of Wales, Endymion, Chroma, Cellophony, the Britten-Pears Ensemble, and Sinfonia Cymru. Gareth is a lecturer and researcher at the Royal Academy of Music. garethmoorcraft.com
About the Author
Become an instant expert!
Find out more about the arts by becoming a Supporter of The Arts Society.
For just £20 a year you will receive invitations to exclusive member events and courses, special offers and concessions, our regular newsletter and our beautiful arts magazine, full of news, views, events and artist profiles.
FIND YOUR NEAREST SOCIETY