The only daughter of well-off parents, Beatrix Potter's childhood was spent in almost complete seclusion in West London. The ordered formality of the household made no concessions to the demands of children, so Beatrix and her brother Bertram created their own absorbing creative world upstairs in the nursery and schoolroom.
Inspired by summers spent in Scotland and the Lake District, she became a passionate amateur naturalist, drawing, painting, dissecting and examining whatever flora and fauna she and Bertram could smuggle back into the London house. By the time she was a young adult, still living at home, unmarried and still very much under the jurisdiction of her parents, her watercolour paintings of botanical and zoological subjects were meticulous, detailed and accomplished. She could undoubtedly have become a professional botanist – indeed a paper of hers on the spores of Fungi was read out at the Linnaean Society of London in 1897, but because she was a woman her theories were dismissed.
It was with the creation of Peter Rabbit that Beatrix Potter's private world became the key to her future independence; and those unique and exquisitely illustrated little books have ensured her place among the Immortals of children's literature. 
You may be interested to know that the exhibition "Beatrix Potter: Drawn to Nature" is currently on at the V & A Museum:, continuing until 8 January 2023.
THE ARTS SOCIETY ACCREDITED LECTURER
Mrs Elizabeth Merry
Elizabeth has over 25 years' experience lecturing on a range of subjects including classical art and architecture, aspects of the visual arts and the links between literature and art. Has lectured for the WEA, the Universities of Bristol and Southampton Departments of Continuing Education, Royal Society of Arts, Dillington House, Jane Austen Society, Thomas Hardy Society, Brussels Brontë Society, Finzi Society, the Art Fund, Dorset County Museum and literary, historical and philosophical societies nationwide. Has also lectured on study tours to Rome, Aachen, Cologne, Brittany and the Dordogne, as well as all over the UK. Lectured in Australia and New Zealand in 2011 and is returning to Australia for two further lecture tours.
OTHER EVENTS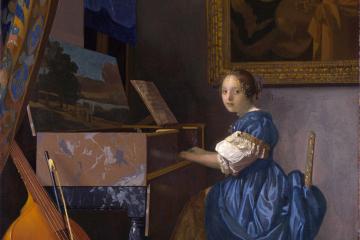 The lecture examines what musical instruments in works of art can illustrate. We hear replicas of historic instruments played.
The Cruck Barn, Alston Drive
Bradwell Abbey
Food, essential as it is, is often potrayed by artists. But why?  The reasons may be more intriguing than you imagine!