We look in detail at the human stories and the evidence pro and con in some notoriously undecided disputes.  The Metropolitan Museum called a press conference to denounce their own ancient bronze horse as a forgery, then exonerated it … almost. The Turin Shroud is a fascinating object, whatever your take on it. The Getty Museum frankly label the Kouros they bought as either Greek from the 5th century BC, or as a modern forgery - we just don't know.  Disputes are erupting with such frequency that the most topical cases we look at by the time this lecture gets delivered may not yet have hit the headlines.
THE ARTS SOCIETY ACCREDITED LECTURER
Mr David Phillips
Studied History at Oxford, and from 1968-82 worked for Nottingham Castle Museum. From 1982-98, Lecturer in Museum Studies and Art History at University of Manchester. Published a book about museum practice with Manchester University Press, Exhibiting Authenticity 1997. 
OTHER EVENTS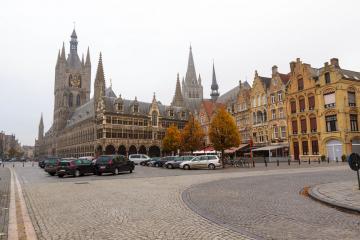 This lecture is accompanied by original images of Ypres before World War I, after its destruction, and the same buildings today.
38 High Street
Carlton House Club
At this Study Day, we will hear stories of the arts and artefacts discovered on explorations of the Silk Road.