The Chinese pavillion was built on the edge of the Royal Estate at Laeken, Brussels on the orders of King Leopold II between 1901 and 1910. He entrusted it to the French architect Alexandre Marcel. The King's intentions was to have the building as a luxury restaurant for businessmen with or looking to forge economic links with China. Work was begun in 1903, halted in 1905 and resumed in 1909. The pavillion, which owes its 'Chinese' look to the exterior panels imported from Shanghai, was opened in 1913, not as a restaurant, but as a further annex of the Trade Museum, just as the Japanese Tower.
Like the world-famous Eiffel Tower, the less famous Tour Japonaise was a feature at the International Exhibition in Paris in 1900. Though the world was taken by storm by the Eiffel Tower in 1889, by 1900 the Tour Japonaise seemed exotic, but still tame in comparison. Not everyone had become so jaded. The ruler of Belgium, King Leopold II was so taken with the building that he had it packed up and moved 266 kilometers from Paris to the park surrounding the Château Royal de Laeken, Brussels (Koninklijk Kasteel), home of the Belgian Royal family.
How to book this event:
Paid-up Members free
Guests pay at the door: €15     Students: €8
Students accopanied by parent: free
Zoom via registration: €8
Nathalie Vandeperre studied Sinology and Cultural Studies at the University of Leuven (Belgium). Today she is curator of the East Asian collections (China, Korea and Japan) at the Royal Museums of Art and History. Until the buildings closed for renovation, she was also Head of the Museums of the Far East (Chinese Pavilion, Japanese Tower and Museum of Japanese Art), an exotic site on the outskirts of Brussels. She took a particular interest in the hybrid architecture of the site and the export art collections of the museum. In 2016, she curated a successful international exhibition with the most beautiful Japanese prints in the RMAH collections and has prepared the Autumn 2022 exhibition on Shin Hanga prints, that will be on show at the RMAH (from 14 October 2022 to 15 January 2023).
OTHER EVENTS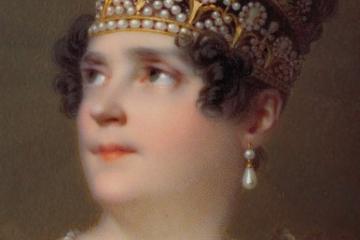 This talk will explain the range of her cultural activities, including her acquisition of a large collection of pictures.
This lecture will explore the fascinating and enigmatic life and work of the, sometimes called, 'primitive' artist Henri Rousseau.