The Drama Behind the Taj Mahal is based on the Islamic manuscript, the Padshahnama, the unique official history of the Mughal Emperor, Shah Jahan, who built the Taj Mahal. The Padshahnama is illustrated with 44 of the finest Mughal paintings in the world. The second part of the day concerns the British individuals who were dedicated to India and made great contributions to many aspects of its culture.The talk describes the very successful work in various fields of a series of Britons who are not often given the recognition they deserve.
The cost of this study day is £28 which includes morning coffee, a ploughman's lunch and a glass of wine.
Contact Angela Magness angelafaymagness@hotmail.com for further details
THE ARTS SOCIETY ACCREDITED LECTURER
Mr Oliver Everett
He was educated at Cambridge University and did post graduate work at the Fletcher School of Law and Diplomacy, Tufts University, USA; and at the London School of Economics. Following service in the Foreign Office, including postings in India and Spain, he was Assistant Private Secretary to the Prince of Wales,1978 80; and then Private Secretary to Diana, Princess of Wales, 1981-3. He was Librarian in the Royal Library, Windsor Castle, 1984 2002. He is now Librarian Emeritus following his retirement in 2002. He wrote the official guidebook and audio tour on Windsor Castle, taught a course on its history and advised on a television programme about it. He wrote articles on the Royal Library and helped with two books on aspects of the Royal Collection. He is advising on a possible history series for television. He lectures widely in Britain and abroad and also on cruise ships.
OTHER EVENTS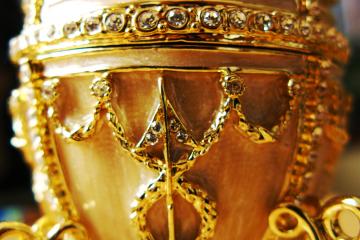 This talk analyses the mercurial rise of Carl Fabergé in pre-revolution Russia who, by his late 30s, was producing incomparable jewels and objets d'art for the Imperial Court and bourgeois Moscow and St Petersburg.
For the series Downton Abbey, Andrew was commissioned to produce many jewels for the main characters, and this inspired him to create a talk based on Downton and the changing styles of the time portrayed.