The empty chair has been used greatly within art from Van Gogh's Chair to Joseph Kosuth's One and Three Chairs and more recently in Ai Weiwei's Fairytale. It portrays the absence of the subject but also the presence of the object while enhancing and reinforcing the emptiness and abandonment within this space.
Over the past 150 years, artists have been using the humble chair as a conduit for profound ideas on themes from protest, absence and memory to domestic or everyday life. In Europe, Egon Schiele, René Magritte, Gerhard Richter, used empty chairs for personal expression. In America, Andy Warhol, and Robert Rauschenberg, used chairs to develop new artistic movements in the sixties. The Palestinian artist, Mona Hatoum, adapted chairs to explore female identity and the Columbian artist, Doris Salcedo, stacked 1,550 chairs between two buildings to remember anonymous victims of war.
These are just some of the many diverse artists and uses of chairs we will explore. And as in all Angela's lectures, her personal connection as an artist, will aim to bring the subject to life.
Join us in Betchworth, or by zoom from your home, on Monday, March 20th at 2.30 pm for this stimulating, illustrated lecture. It is free for members but if you are not a member (we are recruiting new members now) do come as a visitor for £5 either to the hall or by Zoom.  
How to book this event:
To book this event please contact Debbie Jones via tasbtours@gmail.com   
The visitor fee is £5 - please contact Debbie by the Friday before the event.
THE ARTS SOCIETY ACCREDITED LECTURER
Ms Angela Findlay
Angela Findlay is a professional artist, writer and freelance lecturer with a long career of teaching art in prisons in Germany and England. Her time 'behind bars' and later as Arts Coordinator of the London-based Koestler Arts, gave her many insights into the huge impact the arts can have in terms of rehabilitation. Though novel, her ideas were effective and in 2016 she was invited by the Ministry of Justice to support the case for the arts to be included in new, progressive programmes of rehabilitation and education. Brexit unfortunately reversed the direction of prison policy but art's role is still vital.
In the past decade Angela's Anglo-German roots led her to research Germany's largely unknown post-WW2 process of remembrance and the extraordinary culture of 'counter memorials' and site-specific artworks that emerged to express national shame and apology. With the current debates on statues and monuments, the ways Germany has tried to deal with its dark past is more relevant and inspiring than ever.
Angela has a BA(Hons) in Fine Art, a Diploma in Artistic Therapy (specialising in colour) and her paintings have been widely exhibited both nationally and internationally. Her book - In My Grandfather's Shadow - expanding on the above subjects was published by Penguin Transworld in July 2022.
OTHER EVENTS
'The Riddles of Ukiyo-e.  Women and Men in Japanese Prints'
Guided tour in English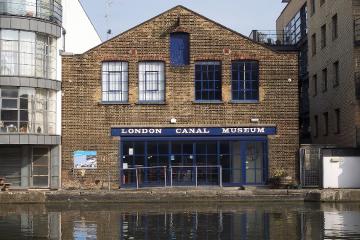 Join our visit to this unique waterways museum, housed in a former ice warehouse, and learn how Victorians made ice cream.