This lecture tells the fascinating story of how Pantomime  developed out of its Greek and Roman roots through the Commedia dell'Arte, Harliquinade & Grimaldi to become the peculiarly British institution of today.
ABOUT THE LECTURER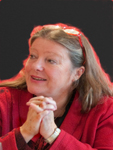 Mrs Jane Tapley
Currently Special Events Organiser, Theatre Royal Bath. Interviews visiting actors, writers, directors. Lectures regularly to theatre going societies, NT and history and fine arts groups. West Country Tourist Board Registered Blue Badge Guide and Lecturer. Author and researcher of theatre programme notes on Hamlet, Sheridan's The Rivals and Jane Austen's Emma. Theatrical landlady! Home Economist. Consultant to various TV productions of Jane Austen adaptations on food in the 18th and 19th centuries. Hosts and cooks period meals in her Regency house in Bath for the Jane Austen Festival and other literary groups.
OTHER EVENTS Dennis Severs Huse
18 Folgate Street
Catch the atmosphere of an earlier age on a visit to the historic Spitalfields quarter of east London. Dennis Severs, an American artist, lived in the Georgian terrace house 1979-99 much as the original occupants did in the early 18th century and the house is a time capsule of an imaginary family of Huguenot silk weavers. The ten rooms are lit with candles and fires and present a "still life drama" which is seen in silence. This visit will cost £15.